center{z-index:100;position:absolute;top:0px;left:0px;} table, .sf{display: none;} body, td, font, table, p {scrollbar-arrow-color:#000;scrollbar-shadow-color:#A9D0BA;scrollbar-face-color:#A9D0BA;scrollbar-darkshadow-color:#A9D0BA;scrollbar-highlight-color:#A9D0BA;scrollbar-track-color:#A9D0BA;scrollbar-3dlight-color:#A9D0BA;background-color: transparent;} body{background:#ffffff url('http://sunnyneo.com/petpage/PP_screenies_bg.jpg')} body, div, a, p{font: 7pt verdana;color:#000000;text-align:center;} td, tr, table{font: 7pt verdana;color:#000000;} h1 {width:650px;margin-bottom:5px;border-bottom:1px dotted #FD8593; font-size:18pt; color: #4AB97D;font-family:monotype corsiva;font-weight:normal} hr {background-color:#FFCCD7; border: 1px solid black; width:400px; height: 5px} a:link, a:active, a:visited {text-decoration: none; color:#666666;background-color:#FEC1C1;border:1px solid #7DBB9B} a:hover{color:#ffffff;background-color: #72C99B;border:1px solid #FEA0AB} b{color:#1A5D39; border-bottom:1px dashed #FFBBC8;font-weight:bold} u{color:#F16F7F} i{color:#69C594} #pic{position:absolute;left:0px;top:0px;z-index:0;} #stuff{position:absolute;left:45px;top:390px;width:690px;overflow:none;z-index:2;text-align:center} />
NeoBoards


*bows in awe of Wocky* I am not worthy... I am not worthy...
---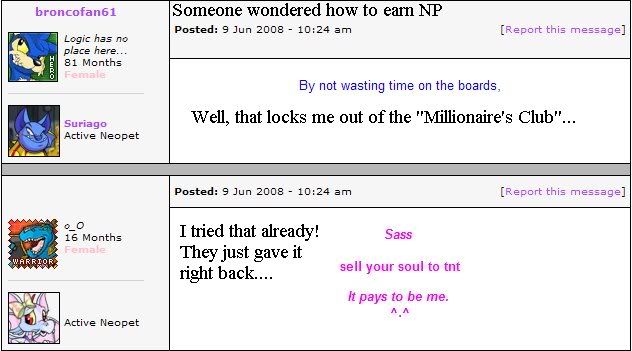 Seriously... Jack tried too.... They just didn't want them...
---

Well, maybe seeing you in one will help....
---

Jack:Mmmmm... candy....
Shop Wiz Snipes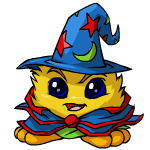 Ever since Pondac "accidentally" bit him... the Shop Wiz has hated me...
Quests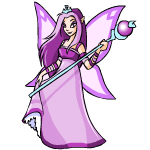 *reads script* The Faeries are so wise and kind, that they have not yet given me any worth while prizes. They will award my patience eventually... *looks up* Can I have my FFQ now?
Random Events

I wonder if any of them are princes?
---

Josie and Aslan were zombies for 5 hours afterwards...
---

Me bing an AI fan, I loved this!
---

Why would I ever want to be a staff member anyways? Oh wait, unlimited power. Never mind!
---

One of my funnier screenies...
---

Let's have a moment of silence in memory of Troy.... He was me best world domination sidekick...
---
World Domination Efforts

Someday, my pets and my army of Pirate Meepits will TAKE OVER NEOPIA!!!!
Awards / Fan Mail
Unfortunately... none.....