Prologue Part I » » The First Promised Ones
There are many different realms of possibilities in this universe, many different dimensions of power and existence. In these different dimensions lie the answers, reasons, and causes to how, and why, some creatures are born with magical, or spiritual, abilities and connections, and others are not.
Throughout history, there are many stories that speak of great spiritual Beings coming to live on earth as mortals, and whether you believe in these stories or not, the possibility of it happening has been explored through the ages.
And in the case of Yiore, it truly did happen.
Yiore was not born on this planet; furthermore, she was not born at all. In fact, Yiore was originally a powerful spiritual Being whose purpose was to monitor the balance of good and evil on Earth. In her many years "supervising" the balance, Yiore discovered a gradual growth of wickedness. She found that more and more creatures were falling into darkness, being possessed, or just destroyed by malice.
Yiore set out to create a method to protect the balance by protecting those with benevolent souls. This method was not to be similar to an average enforcement or guard, no; instead Yiore had a vision of certain creatures being born into a group of protectors with supernatural abilities. These creatures would have potential to fight with the strongest of force against evil. These creatures, chosen before they were born, would be under oath to shelter good and battle evil. These creatures would be born with a birth mark to indicate their role in the Promised Ones.
Yiore's aspirations were lofty, for giving living creatures power would mean that the power would have to come from somewhere else. Since energy cannot be created or destroyed, there had to be a sacrifice of power in order for that power to be distributed.
So, in becoming a mortal, Yiore sacrificed her role and status as an all powerful spiritual Being, in order to create
The Promised ones
.
It was a frosty morning when Yiore woke up on this planet in the form of a lupine. On this same morning, a litter of four pups were born in a mountainside cave. All of which were born with the same birthmark found on different parts of their bodies.
With their birth, and with Yiore now a mortal canine, there now existed the first five Promised Ones.
---
Chapter I » » One Frosty Morning
Cure, Keen, Shift, and Frost
- The story of Frost's birth, and loving family.
---
Chapter II » » Intertwined Fatalities
- Yiore and Frost fall in love.
- Close for years.
- Yiore goes missing. Next time seen she changed.
- Frost sees past Devil, for his love of Yiore.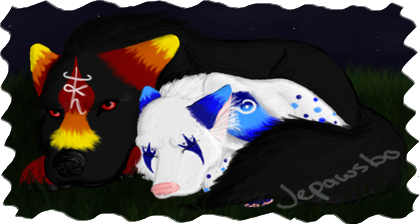 - Frost and Yiore have Fell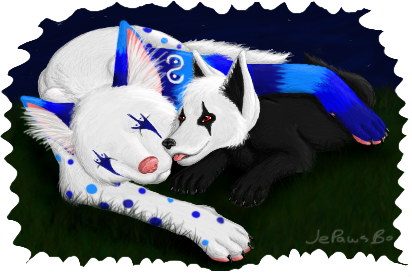 - Yiore loses to Devil. Devil kills. CARNAGE. RAWR.
- Yiore fights as much as she can, but she cannot any longer. Devil wins. Kills Yiore, and then enters Frost. Making Frost's body kill his entire family.
---
Chapter III » » Years of Apathy
- Darkness consumes everything. Even the strongest and purest of hearts can fall into it. Especially when the heart is broken.
- Almost killing Jessika. Death with Sacrafiice, Death with Suniitah and Striider's curse. ETC.
---
Chapter IV » » The Promise Memory
- Meeting the Angelic lupess named Memory.
- Demonized?!?!?!!?!?!?
---
Chapter V » » ?!?!?!
---
Chapter VI » » ?!?!?!
- Akela? Gifts... etc.
- Companions? Xee???
---
Chapter VII » » YET TO HAPPEN!! BUT PLOTTED!
- Yiore miraculously back?!?
- Learning new facts of a beast that has been in your company for decades.
---
Only Devil
Fighting back the past,
Fighting back the pain,
The memories they last..
Each day that is rain.
Love has failed me too,
Three times in this life,
Though my love is always true...
It stabs like a knife...
I deserve all the stir
About how I look,
Inside a monster....
A criminal, a crook.
Critisize me if you want,
But I ask you... please don't
It's hard to fight his taunt
I cant, and I wont.
I work hard to protect,
Even though he strives to kill...
If one second I neglect,
Death to you, believe me he will.
I hate his everything...
But I won't go to his level,
I would never kill a single thing...
Only him, only Devil.....
Poem/Character/Art ©tr0pz
JUUNNNKKK:
I have met many creatures in my life; however, it seems as though every creature I grow close to Devil scares away... or worse, he kills. Every time I get close to someone, as a friend, I vow to protect them from Devil...
But deep down I know that I am not always going to be able to do that...
In many ways I feel selfish for allowing others to keep me company because I know that there is a possibility that Devil may just get the best of me.. that Devil may just kill them.
Yiore
, was my first love, and in many ways my end. Through Yiore I got Devil... and Yiore was the first creature Devil ever took from me.
Fell
, my only son, hates me... and because of this hatred I never see him... and in many ways I know this is the best thing for him.
My second love, is now just a
Memory
... She fell into a promise, and twisted herself demonic.
My third love,
Akela
, helped me feel the closest to myself that I have since Devil chose to imprison me. She was priestest-- and I--
he
killed her.
I long for companionship; however, history always seems to find a way to repeat itself.