Zechire
Oh hello.
A bright light creeps through your eyelid. You notice the soft voicw of the ocean, and feel your body ache. You open your eyes slightly and let them adjust to the bright light. Upon adjustment, you learn that you are located on a beach that seems to go on for miles. You get up and attempt to brush the sand off your pants. You're not entirely sure how you got here, but given the climate and nearby jungle, you deduct that this is some sort of tropical island. The sun is burning bright, so you seek shade to avoid further sunburn.
Aside from your body aching, you don't appear to be injured. You slide down against a palm tree. You spend a while considering what to do now, as your nostril catches the smallest whiff of something cooking. Your stomach loudly tells you how hungry you are, and you decide to follow the scent.
It only takes you a few minutes of walking to locate the origin. You look through some bushes, and a peculiar sight meets your eyes. There is a bonfire with two succulent avian roasts on a makeshift rotisserie. Around the fire, walks a little chubby Lupe, who is mixing something in a little jar next to the fire. He does not appear to have seen you, and whilst humming cheerfully, he pours the concoction over the spinning meat, and an even more mouthwatering smell fills the area. The Lupe looks friendly enough, so you decide to announce your presence. The tiny Lupe clearly wasn't expecting company, and the surprise makes him jump three feet. After that he just needs a moment, but greets you with a cheerful but shaky voice, which makes you feel so ever welcome in his little sanctuary.
- Oh hello. Didn't see ya there.
Good to meet you, I'm Zechire! It's pronounced Zeh-cheer, a lot of people seem to have trouble with that, but you can call me Zech if you'd like!
He invites you to sit with him while the food gets done cooking, and gives you some fruit and water to start with.
Back to basics.
Full name: Zechire
Nickname: Zech
Age: 24 human years ()
Birthdate:
Height: I believe humans would refer to me as Corgi-sized
Weight: 150 pounds
Habitat: Unknown island
Species: Lupe
Painted colour: Island
Pelt: Brown
Eyecolor: Lightblue
Marking colors: Lilac, dark purple and red
Accessories: Fang Necklace


Memoirs.
After you have stuffed your face with delicious food, you feel a lot better. You ask Zechire how he ended up here. He smiles at you, sits back in a relaxed position and takes a deep breath.
I have always been the chubby one in the pack, but it has never really held me back from acheiving what I wanted.
I do not remember my mom or siblings, however I remember her warmth and her beautiful voice when she sang to us. She smelled like coconuts and chocolate, and it's the safest I've ever felt in my life.
Nobody knows what happened, but I have been told later, that a girl found me curled up in a seashell by the beach. She looked after me until I was big enough to take care of myself. I remember playing with her older pets, but they are all in iceland now. I really miss my best childhood friend Vihk, but at least I have the sweet childhood memories. I was teased quite a lot in Neoschool though, because of my size and odd colours; the other students had never seen anything like me before, but when I got older, they began to love my cheerful mood and jolly spirit. Despite the fact that I had many friends, the pressure of school and expectations of the adults in my life started to build up. It resulted in that the girl who had raised me kicked me out, because she didn't believe that I showed enough gratitude for getting fed and somewhere to sleep. I moved in with a friend temporarily, but the pressure was bigger than ever. One day I packed some stuff, left a note behind and went out into the world.
At first I had decided to go to Terror Mountain and help Taelia for a while, but in the mysterious ways of fate I ended up travelling in the misty mountains around Shenkuu, north from Altador where I, amongst other things, collected medical herbs for
Anshu's shop
. I learned a lot about flavours and food there, and surely gained at least 40 pounds there.
I have studied with the finest Neopian chefs and I can proudly say to have learned a lot. It is my dream to become a chef one day, but for now I just want some time and space for myself, not only to diminish all the stress in my life and live some memorable moments, but also to perfect my recipes. The meal you just consumed; the recipe was given to me by Neopians native to these islands, developed through generations. I am just proud to be able to convey this to the world!
Y/N.

YES
Food.
Relaxation.
Friends.
Fishing.
Favorites
Food; Roast chicken.
Altador Team; Team Mystery Island.
Game; Beach Volley.
Flower; Hibiscus.
Season; Summer.
Music; No music, just the sound of the ocean.
Color; Pink.
Scent; Fruits.
Neopian Hero; Defenders of Neopia.


NO
Big cities.
Ungrateful people.
Mold.
Being mocked for his size.
Least Favorites
Food; Zeenanas.
Altador Team; Roo Island.
Game; Basketball.
Flower; Is that even possible?.
Season; Winter.
Music; Anything too loud.
Color; Snot.
Scent; Rotten meat.
Neopian Villain; The Clown Chias.

Extended network.
Family
This is my awesome owner Duckie! She loves to make me food and groom my fur when I've been out playing with my friends!
Friends
| | |
| --- | --- |
| | Draiphin likes to go surfing near my home, and is trying to teach me as well. It's not going so well yet, but we have a lot of fun together. I'll bring a nice lunch, and then we'll sit and enjoy the waves when we are too tired to surf anymore. |
| | |
| --- | --- |
| | I came across Anessi when I was fishing one day. She screamed me an earfull because I was too close to a coral reef. I felt that it wasn't an argument I wanted to continue, so I offered to make some traditional Mystery Island Coconut Shakes as a consolation. Apparently that hit the spot, and we meet up frequently to catch up. She's fairly easy to get along with, and she can't get enough of my fruit salad! |
Mini's.
Look at these great little puppies! Aren't they cute? You just have to promise not to use them illegally and remember to link back to me at all times! They look best if YOU look amazing, and not your outfit, and I need a picture of you to do it no matter what! Status:
SEMI-OPEN
Mail
here
and ask for lil tiny puppers.
Painted:

Biscuit.


Blue.


Brown.


Camouflage.


Checkered.


Chocolate.


Clay.


Custard.


Fire.


Gold.


Green.


Grey.


Ice.


Jelly.


Mutant.


Orange.


Pastel.


Pink.


Plushie.


Purple.


Rainbow.


Red.


Shadow


Silver.


Skunk.


Snow.


Speckled.


Split.


Sponge.


Striped.


Tyrannian.


White.


Yellow.



Customs:
Count: 1.

Zechire.


Mini-me's.
Zechire's reference.
PLEASE use it!!!
Makeable is from
here
.
Art.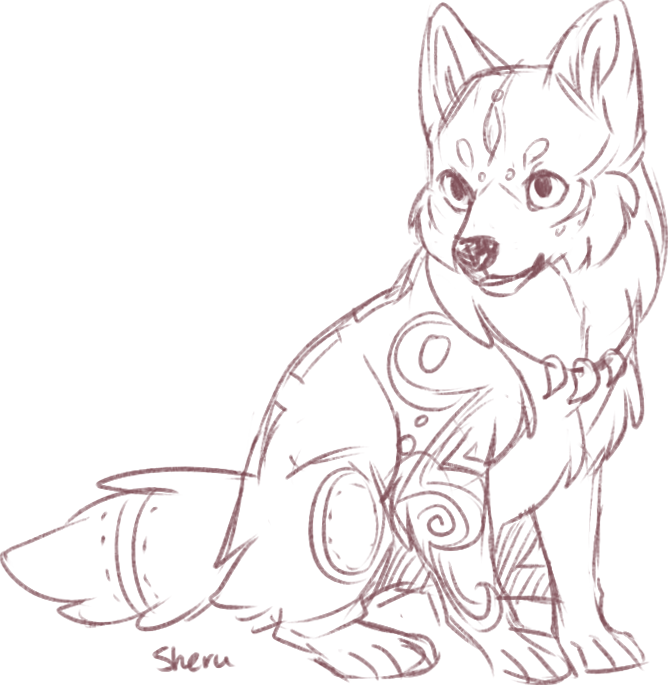 These also did art for me, but photobucket messed it up:
leef62661
demonic_sanctuary
hannah_da_brave
lastavenger
Meanwhile, in a closet.
Zechire looks at the ground, blushing.
- Uh yeah, I tend to collect shiny things I find on the ground. They just washed up on the beach one day.
Your way back.
Bye now.
The Lupe looks at you with a smile.

I sense that you want to find your way home.

You nod and get up from where you sit and the kind young Lupe asks you to follow him. You cast a last glance at the cozy lair and set off with Zechire.

For a while you walk together without speaking. Almost breathless, you take in the beautiful island nature with it's exotic flora and fauna. Zechire finally stops and shoves a few leaves aside. A gorgeous seaview reveals itself. By the shore you can see a little boat and in the distance, you can see a harbour.

You can take the boat for now. When you reach the other shore, find my owner. She will bring it back to me. Good luck in the future!

You thank Zechire for everything he's done and set sail. When you look back, Zechire is gone. Was he merely a hallucination? No matter what, you're going home.


Quilt.