Application for Kiodis
Introduction
Hey there, my name is Helen, this is my application for Kiodis, or Kio as I shall call her (I know Kio is a boy at the moment, but I would make her a girl). This petpage will give an idea of how Kio will fit into my little neo family. I shall try and keep to a minimum, as I realise you will have a tonne of applications to read through.
For your information I find this application views best in FireFox.
About Me
On Neo:
My favourite thing to do on neopets is customising my pets, because this is my forte, I will be sharing with you my plans for Kio's customisations.
I also enjoy collecting avatars and adding new trophies to my collection.
I have been on neo for over ten years, I had an account before my main
(_starryeyedsurprise_) but when I made this my main, I stopped using that one. In 2006ish I took a two and a half year hiatus, during that time my oldold account was purged.
I currently have four side accounts: _starrysidesurprise_, itsonlyforever_, padawana and starrysspare. Kio will reside on _starrysidesurprise_ . I have permie pets on each of these accounts and each is fully customised with a mix of NP and NC items.

Off Neo:
Outside of neopets, I work full time in an opticians, I teach people how to put contact lenses in and out. Its and interesting job and I meet a lot of interesting people.
At home I live with my husband of 4 years and our two cats, Dexter and Cortana.
I'd love to say I have an exciting life outside of neo, but sadly I really don't. Mostly I enjoy the usual things of watching TV and reading, exciting stuff, I know.
I suppose the thing I do the most is decorating our house, we bought it last year and its been my little project to make each room special.
Why Kio?
I thought about spinning a bunch of gumph here about how a UC faerie shoyru is one of my ultimate dream pets, but it's just not true, sorry about that.
I mean don't get me wrong they are absolutely amazing, I mean would i go to all this trouble if I didn't think Kio was worth it?
Let me explain where I stand on the matter:
Before I went on my hiatus, I always aspired to owning a faerie pet, their art was always my favourite. When I came back from my hiatus and saw that the pets had been converted, and that the beautiful art of faerie pets was now completely diffferent, I was truly gutted that I hadn't had the neopoints to realise my dream before my hiatus. I resolved to never owning my very own preconversion faerie pet.
When I saw Kio was UFA I fell in love instantly, I know it sounds cliche but her name is just perfect. I knew I had to apply. For me its about Kio, not what species she is. I won't lie, I am very intimidated about applying, up against what I can only imagine are some pretty seasoned applicants, this being my first ever formal pet application. But Kio is just worth throwing caution to the wind and trying my utmost.
Important notes: I will never trade/convert Kio *shudder* I can only imagine what demons you must be wrestling with in order to adopt out Kio, I personally couldn't adopt out any of my special pets, so kudos to you for that, the least I can do in return (if chosen) is promise to never ever spoil what makes Kio special, nor ruin this experience for you by using her as trading fodder, I can't think of anything worse to do to a fellow neopian, so you have my word on this matter.
Why Me?
I like to think I'm a good mummy to my neopets, each of my permies has a special place in my heart, be it whether I adopted from a quitting friend, or morphed and hand painted myself, each has a special meaning to me.
Click to here to meet them.
I think Kio would fit nicely into my little neo-family, and I know I would spoil her with pretty backgrounds, trinkets and garlands.
Exsisting family
Avabel: Ava is one of my favourite girl names, so this name has a special meaning to me, I also hand-painted Ava myself.


Awin: is my battle pet, I plan to keep zapping her until I have all the kyrii pb clothes and then either zap for or paint her stealthy.

Bakie: is a very important family name to me, therefore she holds special significance to me and will never leave my main account, she is also my favourite colour/species combo for a converted pet. I morphed her myself before draiks were as cheap as they are now.

Caveot: started out life as a baby grarrl, he got me my BGC avatar, I recently morphed him into a baby shoyru.


Dansena: I love kacheeks in general but disco is one of my favourite colours for them, Dansen is Dutch for dance and as my Dutch friend has all but quit neo, Dansena has special meaning to me. Her petpet is named after another friend who has quit altogether.


Doriann: was adopted to my by a close friend who means a lot to me.


Gersira: was adopted to me by another very close friend who has quit neo, i find her greyness very fitting as it reminds me of how sad I am that my friend has quit.


Glacise: my friend and I have matching baby bruces, hers is called Glacidys, our little twinnehs.


Eastly: is my customisation pet, everything suits her and i just *squishes* love her so much, her name reminds me of the South East coast I grew up on, apart from Bakie, she is probably my favourite pet, but shhhhh don't tell the others.


Joliyne: is a mispelling of Jolene, one of my favourite songs by the White Stripes, also baby aishas are so adorable how could you not love her?


Natalay: is a mispelling of Natalie, she's so wonderful to customise, and so pretty pink.


Ninbuh: I wanted to create a Harry Potter themed pet so I adopted Ninbuh from the pound because I thought his name sounded a bit like Nimbus. I handpainted him electric for the lightening bolt on his forehead.


Philippa: I traded my UC faerie peophin for Pippa, back when draiks were rare and expensive to create. I wanted a pretty draik to dress up and I couldn't afford to make my own, when I was offered Philippa I immediately accepted, Philip is my husband's middle name, so she has special meaning to me.

Priyia: on hissi day last year I created a bunch of hissi's to zap for pretty colours, Priyia was my favourite out of the names I created so when she zapped eventide I was over the moon.


Samdra: is a mispelling of Sandra, I love RG grundos, I think their colours are amazing.


Tezne: I adopted Tez from a dear friend, I think baby chombies are one of the cutest baby pets there are.

Toojio: there is a long story about how Toojio came to be, which I won't bore you with, all you really need to know is that a spotted koi was my first dream pet that I actually got and that Toojio was a replacement for that pet. Morphing and painting spotted kois has cost me more nps than I dare to think about.


Westron: is a RW for a language use in The Lord Of The Rings, I love Tolkien and when I saw this name wasn't taken I jumped on it. Westron is my Dr Who pet, he is modelled after the current Doctor, as played by Matt Smith.


Ywandi: I always wanted a usul to dress up and there is something about Ywandi that makes me love her so, she dosn't have any special story, significance or anything, shes just a cutie-pie who I love.

Future Plans
So as mentioned before I enjoy customising my pets and Kio will be no exception, I have a plethora of backgrounds, trinkets, foregrounds and garland for Kio to wear. Here are a couple of my customisation ideas for her: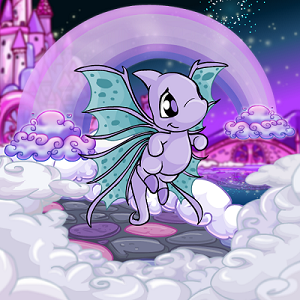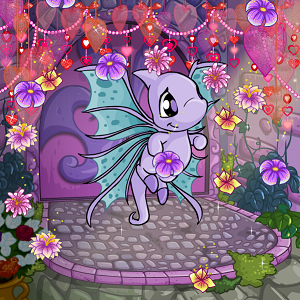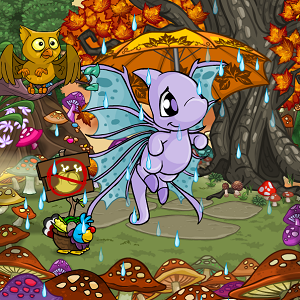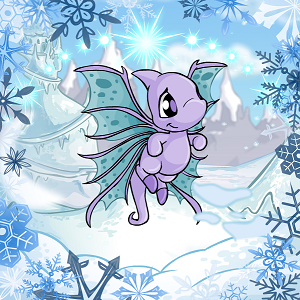 I plan to get a faerie snowbunny for Kio, as like Kio's their art is different from that of an ordinary snowbunny, therefore it seems fitting.



I'm not 100% fixed on a name for said snowbunny yet, if you have a name you would like me to call it, please do let me know, I like to name my petpets after friends, so I think it would be nice if the snowbunny's name was special to you, so that Kio could keep a part of you with her.
I also plan on making a comic starring Kio, but this is a top secret work in progress. I have had a comic published in the NT you can see it here, and I hope that Kio will give me some lovely inspiration.
Conclusion
So I hope from this petpage you can see how much I would love to own Kio, she would be a very welcome addition to my (rather large) neo-family.
I hope you find the perfect owner for Kio, and I really hope that that person happens to be me, but if it is not, then I want to thank you for giving me (and many others) the oppurtunity to apply for Kio, and for giving me a real reason to actually apply myself and reach for what I felt would be an impossible dream.
Disclaimer
I was in no way forced to make this application, I have chosen to do so of my own volition.
Coding made for me by my good friend Cortney, and edited by me.
NEOPETS, characters, logos, names and all related indicia
are trademarks of Neopets, Inc., © 1999-2013.
® denotes Reg. US Pat. & TM Office. All rights reserved.
PRIVACY POLICY | Safety Tips | Contact Us | About Us | Press Kit
Use of this site signifies your acceptance of the Terms and Conditions