Let me make it known that this position of power is against my will. I never asked to be their Prince and every day I wish they would just kill me. However, that would be ludicris to their society. They need me. And so, I stay. They are a needy people. They do not need nourishment or wealth, they need leadership. Why they have chosen a peophin like me is beyond my wildest dreams. There is nothing special about me. When I came to them I was a free spirit. Now I am captured and imprisoned in this Palace. Let me explain. I will tell the story of how I became the Prince of Hathor-Sakmet.
My Fond Memories
I was born wild as the ocean in a little colony in the depths between the ruins of Maraqua and Mystery Island. My parents were young and considered me a "mistake". Nevertheless, they loved me just the same. I was born a twin. My sister died at birth. I wonder if I would be different - how I would be different - if she had survived. I was safe within the protection of the Peophins of the Night. My grandfather was the herd stallion and ruled with an iron fist. My father quietly accepted his rulings no matter how ridiculous they may have seemed, and silently worshipped him. I never felt the way about my father the way he felt about his. He was often too busy for me and left me under the care of my uncle who could care less and mostly shooed me off to play on my own. I was a troublesome colt and got into any sort of mischeif I could manage. Soon after my first birthday, my grandfather's sister came to live with us, and she was not much older than I. I had finally gained a playmate and she and her best friend often looked after me. A few years passed, and a new colt was born to the herd. Shockingly, he was even more mischievious than I, and gained the reputation of the herd pain. However, I was grateful for the new creature and we became the best of friends. As we were playing one afternoon, we were kidnapped by his mother's grandfather. He took us to his clan of killers and murdered us. As we lingered between this world and Limbo, our mother's love for us revived our soulless bodies and we returned to this world. However, our revision cost us a dear price - we were suddenly warped to the late teen ages of 17 and 18. I had been five at the time yet my raising and experiences had left me with a mature mind for my age. My friend did not fare as well. His mind remained the age of a young child while his body sported that of a young stallion. His misfortune led to his exile from our powerful herd. But that is another story, and to understand it fully, he would be the best to tell it. This event unravelled the end of the Peophins of the Night, and we scattered the four corners of Neopia. I will always look back on this herd in kindness for I have tender memories of each member. Whether it was playing with Eva and Breephin in the sparkling waters of a summer day or teaching Radesty how to make a sand pie to chuck at his next victim, each peophin will be held close to my heart. They are my only grasp onto sanity.
The Journey
My mother fled with me from the Peophins of the Night in fear of my grandfather. A few months passed and we caught word that my own father had started a herd. We immediately left for it. Upon arriving my mother learned that he had grown a grudge upon her for leaving him and taking his only son with her. He no longer loved her. His treatment of her disgusted me and I lost any respect I had for him. He had become the near image of his father, who had been the reason for our first departure. I left near immediately although I did make one strange friend in my short month there. For a brief moment I may have believed there could have been something between us but there is no chance of that now. I've lost the innocence I retained when I knew her and it would not be the same. Of course, she had her own issues preventing her from strong emotion but once again, that tale is better told by someone else. I left my mother for the final time and set out on my own. I travelled for many months, going ashore and daring to do things I had never been allowed to for saftey's sake in my mother's care. It was when I came to the Lost Desert that I met the last peophin in my story I could call a friend. She wasn't much older than I, but was wise beyond her years. However, if time had played it's cards correctly, I should only be about eight years old instead of the nineteen I am today. She took me under her wing for a while, but her lifestyle was not suitable for me. She was an ex-military mare of her disbanded herd, and dedicated her life to an organization called the Long Patrol where she never ceased working. She was a slave to her work, yet she was quite willing. Patrolling was her life's ambition. I had dreams. I wanted bigger than her simple lifestyle - better. I wanted riches, finery, power. I was a fool. I thanked her graciously one day for her hospitality and her wisdom, and set off on my own once more. Coming ashore at this very palm tree, I saw a village in the distance. That is where the horror began. It sickens me to think of what emotion overwhelmed me at that time - pure excitement. At last, I could have what I always wanted. How foolish of me to not realize I already had what I dreamed of.
Hathor-Sakmet
I approached the city with wild expectations. Wandering through the desert I attracted strange looks from the villagers. They had never seen a specimen quite like me. My dark silver coat stuck out like a sore thumb against the blinding sands. I had always considered myself to be quite plain. I investigated the marketplace, sniffing srange foods I had never seen before. My diet in the ocean consisted purely of koi and the occasional rubbery kelp plant. What exotic flavors! I tasted a strange blue and orange fruit, it's sweet juice trickling down the back of my throat. Sometimes I wonder if that fruit was what sealed my fate. The stand's owner simply said "That will be 5np, please." NP? What was this odd currency? In the ocean, we took what we wanted when we wanted it. I did not understand. "What? You can't pay!? Well let's see what the guards have to say about THAT!" Suddenly I was seized by two burly looking creatures I had never seen before. I found out much later they were called grarrls. Living in the sea I only knew to fear jetsams and faeries. A new realization crossed my mind. This was an entirely different world. I was dragged to the palace in the distance to be thrown in front of a tall creature dressed in white silk plated with gold who wore a golden snake upon his head. I had never seen this kind of creature either. He was a deep red and had a thick fur coat. He had rather beady eyes and I immediately did not trust him. My instincts were correct. He was the current Prince wishing for what I wish for now. Freedom. He promised me true suffering. For a while I believed that my thievery was the true reason for my imprisonment. Soon I was taken from my cell in a dungeon below the sandy surface, but I was not released. I was brought before a court where they decided my sentence. It was here I learned the real reason I had been captured - my mother. They would not tell me what she had done, but that I must fulfill her role as the monarch over this kingdom. If I refused, they would kill her. I demanded a reason, but they did not grant me my wish. At first, I thought it was a strange punishment. Who makes their prisoner be their Prince? How bad could it be? I was dressed in finery which contrasted greatly against my dark skin. In the many months to come I lived in great pleasure. The sun began to bleach my coat and I became the light buckskin I am today. In my more daring moments, I even obliged to the tattoos that mark my skin today. I was a wild Prince, never avoiding complete debotchery. After a while I began to get bored, and wished to leave to return to my previous wild nature. A struggle with the court and guards brought my fate to true realization. I was a captive Prince in my own kingdom. The citizens adored me even though I had been a very unattentive leader. The streets reeked of poverty. I had destroyed the beautiful city. Shocked, I began to devise a plan to escape. I could not bear to view what I had done every day. These plans have become but a dream now as it is impossible to leave. I began to focus my energy on rebuilding the beauty of Hathor-Sakmet. While the functionality of the villagers is not the same before I let it slip, it has come quite a ways. My dreams of leaving have been torn from me. I will forever remain a captive soul. If I had only listened to my mother's wise words and stayed in the water where I belonged, my spirit would still be wild and free instead of contained and broken. I shall forever live with the consequences of my actions.
The Faerie
After all I had been through in my life, the fates must have thought it a cruel joke to throw her into my life. I met her in the alleys of Hathor as I strolled about one summer night. I found her wounded, and as soon as I had her in my arms, I was captivated. I brought her to the castle, unknowing of what she was. She was healed, fed, and rested in our finest facilities, and the next days we spent walking the streets of my kingdom. We grew fond of each other - perhaps more than was intended. The days whirled by with a plethora of happiness I had not felt in ages. I could not bear to see her leave - so I asked her to stay. She, perhaps as eagerly as I had asked, agreed.
It was not until later that the truth was revealed to me. We had gone to the annual Street Faire, where merchants and vendors from around the world come to showcase their goods and talents. We were sincerely enjoying our entertainment when much to my displeasure, a hoarde of faeries rained down on us - I could only assume they were after me, perhaps the last of my line, but instead they fell upon my new bride, enraging her into attack. I saw a display of power from my love I would have not thought capable from her sweet, innocent being. I was impressed by her power, but nevertheless, I knew something was not right. There, as we huddled inside a greasy tavern, she revealed to me her past. Truly a faerie, and royalty at that, cursed into her body by the same faerie who had so long tortured my family. In fact, she was turned into a peophin for confronting Fyora - defending my herd. Though shocked by her secret, and a little hurt she had waited so long to reveal it to me, I forgave her. Now, we are blessed with a beautiful filly, the new Princess of Hathor.
Statistics
Name: Xoaeir
Caretaker: mysticalhorsesguild
Alias: Xo
Pronounciation: Zoh-air, Zoh
Age: 19
Gender: Male
Level: 11
HP: 29/16
Strength: 15
Defence: 11
Movement: 11
Intelligence: 33
Color: Light buckskin
Markings: Tattoos under each eye, two on each shoulder, one on my tail and one on each tail fin, and one on my dorsal fin.
Status: Prince of Hathor-Sakmet
Petpet: Glyph the Djuti
Love: Ange
Children: Pechavi
Those Close to my Heart
My family is to say at the very least, very large. However I feel that I am more of a brother to some of my friends than I was ever family to that of my own. Nevertheless, I suppose I ought to start with my beloved mother, whom I miss dearly.
Kalarqi
My love for you shall never falter
My beloved mother, Kalarqi. Often adressed as Kala, she was one of the first members of my homeland herd, Peophins of the Night. Managing to steal my father's heart at a young age, I was to say at the least, a mistake. Yet she loved me fiercely and would readily lay her life down for me as I would for her. I do not know where she resides today and wish the best to her in hopes I may be reunited with her one day.
Cryptholder
Your past shall come to haunt you
While I speak so fondly of my mother, I cannot say I feel the same about my father. Young and scared, he did not know what to do with me when I was born. He ultimately decided to cast me upon the others to raise in order to finish his own childhood and never picked up the slack. He was not much of a father to me and when he cast my mother aside for wishing to keep me safe from harm my last bits of patience with his deadbeat ways were shredded. How could he judge her for wanting to protect her only son? I hear he is living in Meridell these days with my mother's best friend and has a child with her now. This rather disgusts me. He asked me to come and live with them, but in this case it makes me glad to be stuck here in the desert.
Dark Kishou
Your heart is pure, but your hooves are stained
While I do not respect my father, there is something about my grandfather that demands it. The last I saw of him he was quite powerful and dedicated to his family. Although some of his methods were unconventional, his truly cared for his family and watched in misery as every single one of them was ripped away from him. My father feels much for him like I do for my father, and has severed ties with him. I wonder if the tradition could be broken if I were to have a child, but that possibility is looking slim. The winds have brought rumors that he has joined the same organization my good friend worked for and has Patrolled an area in the southern waters.
Elinbia
Revenge shall be sought for you
My grandmother was a beautiful soul. She was much like my mother but had dealt with much pain in her life. Near the end of Peophins of the Night she and Kishou went to seek revenge on those who had made her life so miserable, and she never returned. The loss of Elin was one of the major elements in the herd disbanding as Kishou did not cope well and took out his frusteration on us.
Cleotome
Even in death, your memory lives on
My aunt Cleo I don't believe to ever have met, and if I did, I was too young to remember. The faeries murdered her in cold blood as my grandparents and parents watched helplessly. I am told she was a fiesty soul and briefly returned from Limbo as a ghost. I don't believe she stayed in this world long.
Apocoliypse
The purest of souls
I do remember my aunt Lilly, as she was younger than I. She was an odd one, being a vegetarian. My grandmother constantly went ashore to bring her cherries and other land fruit as kelp salad gets redundant and is rather bland. She was becoming extremely powerful when she disappeared along with Elin, and has not been seen since. I can't say I knew her too well, but she was always kind. Even Kishou's cold heart was softened when he looked at her. I think my father was jealous of the attention he showered her with, as when he and Cleo were born, he had been more focused on their saftey than whether they liked him or not.
Enthon
Missing, or scared?
My uncle Enthon was my mother's adopted brother. They had once romanced but lost each other, and when they found each other once again, each was in love with another. In fact, Enthon loved my mother's best friend and was the father of my own. When his son was exiled he left in despair and has not been seen since, leaving his love heartbroken and alone.
Evaenescense
Wild hearts can't be broken
My childhood babysitter was my grandfather's sister. Eva joined us after a long journey from her parents herd and shocked us with her appearance. She never minded looking after me and was a wonderful playmate. She instilled the wild spirit in me, always telling me that no one could take my freedom. Oh, if she only knew now. I wonder how she has grown. I would like to see her and her unbreakable spirit again. She shall never be tamed. No one has ever been able to command her, and no one ever will.
Zheyden
Your innocence is only temporary
I have only met my half-brother once, when he was born. Although he is my blood relative it makes me a little sick to see him as I am reminded of my father's faithlessness to my mother and makes me even sicker when I remember his mother was my own's best friend. However I realize this is not his fault and will try to treat him as if he were my mother's son.
Angelette_Queen
Truth, Justice, and Innocence
Ange and I came together through a lapse of judgement from the fates. Her equine body is not her own, but a punishment from her thirst for justice. I will always hold her in high regard for this. We share an enemy now, and hold each other ever closer for it. Despite the fact she is truly a Faerie of the North, I am fully dedicated to her. She is my one and only.
Pechavi
My Little Princess
Ange bore me the most beautiful filly I have ever laid eyes on. She and her mother are my world, and Chavi's daily antics amaze me every time. However, I am also frightened for her, not only because of the impeding threat of faeries, but to protect her from everday threats of my city - theft, rudeness, inappropriate words and actions. I am determined to be the best father I can.
My friends will always be dear to me. I long for their company in this lonely palace. Although I am crowded with servents and slaves in this kingdom, they see me as no more than their Prince. They accompany because they are required to, not because they wish to. Fond memories reflect upon my true friends whom I met in the ocean.
Radesty
The Exiled One
Radesty was even more of a trouble maker than I. His smart wits and desperation to be accepted in the herd led to his exile. I was saddened by his departure as he had been my closest friend. Being a wanderer, he sometimes visits me at this very spot, but can never stay long. He struggles with the concepts of every day life and currently lives with my father, his mother, and our half-brother.
Breephin
Vanity will be your downfall
Breephin is Eva's best friend and she assisted in babysitting me quite often. She was more obsessed with beauty and boys than Eva was, and let it get the best of her. She was smart-mouthed and had little respect for any of the elder members of the herd. I do not know what of her today, but I can assume she is attached to Eva somewhere chasing stallions like the wolf chases a rabbit.
Navruuti
Beauty is not only skin-deep
I met this strange creature when I returned to my father's herd. Navi was the victim of a cruel experiment, and she had different issues that I did not understand. However I longed to be her friend and for a while I believe she truly wanted to be mine, but alas, our ties were broken. I do wish to see her again. I hope she is faring well and she has conquered her demons.
Eriblynn
Wise beyond your years
I came across Eri before I became enslaved in this society. She shared much wisdom with me and mentored me into being ready to live on my own. I would have liked to stay with her, but her clockwork lifestyle was not on my agenda. Although she was intimidating at first she longs for the same thing as I, simple friendship. She visits when she can, but is very busy with her Patrol, as she is the only Patroller for the Lost Desert area.
Psywren
You Are Only As Free As Your Heart
Psywren was brought as a slavegirl to me. I was appalled to think I would have once enjoyed her services, but found myself enjoying her company instead. I treated her to our nicest guest room, a filling dinner, and a swim in the pool, then sent her out during the night to find her freedom. I fear my generousity may have led her to false conclusions, though I would surely value her friendship.
Augania
Looks Can Be Deceiving
Aug came ashore, and I was astounded to find he had found my grandfather, but had quickly been exiled from the herd for his rudeness. He wished to change, so I set him a task. In secrecy I financed him to wait by the slave trading docks and buy as many slaves as he could, only to take them to the desolate west end of Hathor and set them free. The work seemed to enlighten him, and though his appearance is still crude and brute-like, his heart is soft and I have found him to be a very valuable friend.
Adoptables
Art
Just drag the images into the address bar to see a bigger image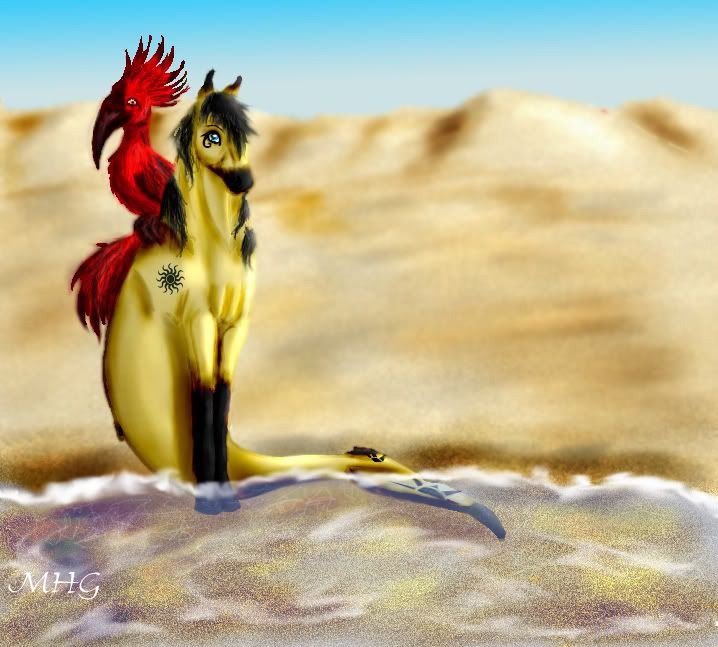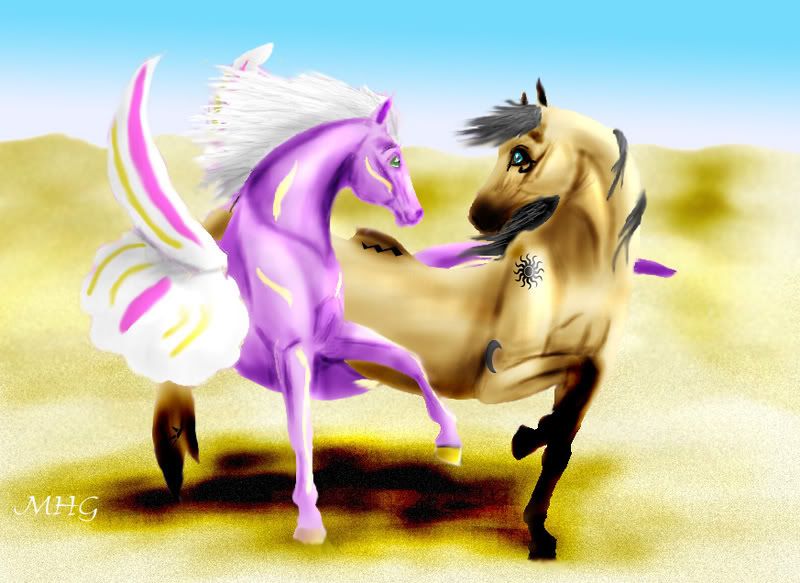 Fanart
Thank you to all who have contributed
Links
I would greatly appreciate another visit. I do not get much company often. Use this patch to return to this shore.

If you would like to visit some of my friends, try one of these portals.