HAPPY BIRTHDAY, COMITY!
As you all know, October is an especially momentous month for Comity. Comity was founded on the twenty-fifth of October, so we here choose to celebrate for the whole month. This year we turn 2! Similar to last year, we will have daily activities, game challenges, and hopefully several other fun things. It is my hope that everyone can participate and have a great time - giving back to Comity as she deserves. Thanks for another wonderful year; I couldn't ask for any better people to hang out with than you guys. x - Beth ♥
Anniversary Fonts & Graphics
What better way to get into the spirit of a party than party favors, eh?
Banner and font submissions are very much welcome! Mail
Beth
if you have any.
FONTS:


Pen Version:

Non-Pen Version:


Pen Version:

Non-Pen Version:


Pen Version:

Non-Pen Version:

BANNERS: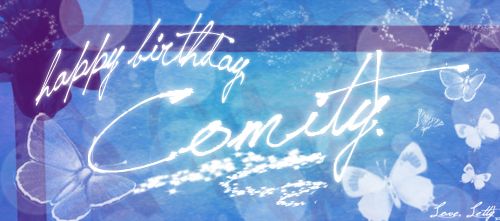 LOOKUPS:

Theme Days
The highly demanded Theme Days are back! They're fairly easy, if you aren't aware of how they work. Every day will have a different theme, obviously. To fit into this theme, everyone will alter their avatars/signatures to something related to the given theme. Some days will generate a little roleplay. Basically, just get into the spirit and have fun. :D
October 1st - Blackout Day; Let's start it off with something simple. No colors. Completely mo-no-tone.
October 2nd - Caps Lock Day; WOOOO COMITY IS TWO THIS IS JUST SO GREAT!!!ONE!1!11ONE!
October 3rd - Purple Day; Self explanatory.
October 4th - Emoticon Day;




← o.o
October 5th - Movie Day; Tonight is movie night, so how fitting. Quote a movie, maybe?
October 6th - Twin Day; Find a partner who will unashamedly be just like you.
October 7th - Book Day; Quote your favorite book.
October 8th - Neon Day; Ow. My eyes.
October 9th - Silly Song Day; "And now it's time, for Silly Songs with Larry. The part of the show where Larry             comes out, and sings... a silly song."
October 10th - Pirate Day; Avast, ye matey, lay a hook on me swagbag and walk the plank!
October 11th - Evil Villain & Horror Day; *obligatory muhahahahahahahahaha*
October 12th - SUPERHERO WEEKEND; Y'all remember how this works. Suit up.
October 13th - SUPERHERO WEEKEND; If we can't protect the world you better be darn sure we'll avenge it.
October 14th - SUPERHERO WEEKEND; You may have an army, but we have a Hulk.
October 15th - Nerd Day; Nerds love Mondays.
October 16th - Wise Saying Day; "It may be stupid, but it's also dumb."
October 17th - Medieval Day; Knights and dragons and princesses and stuff.
October 18th - Gangster Day;

D'as all, bruh.
October 19th - Toad Day;


October 20th - Derp Day; Need I explain?
October 21st - Throwback Caps Lock Day
October 22nd - Throwback Movie Day
October 23rd - Throwback Pirate Day
October 24th - Throwback Silly Song Day
October 25th - COMITY APPRECIATION DAY ♥
October 26th - Void
October 27th - Throwback Gangster Day
October 28th -
October 29th -
October 30th -
October 31st -
Game Challenges & Donations
Every year, we'd like to end the celebration off with a bang - And 1np auctions are a way that we would like to give back to you. But, we can't buy big expensive fancy items without money. Here we will display how much is currently in the guild bank account.

✱ 750,000 NP ✱
And, too, game challenges. Hopefully these will promote some money making. Keep track of the NP you earn while playing these games, so you can properly donate them to the
guild trades
.
Awards will be given according to how many challenges you complete!
Day 1:

Beth scored 936 at Kass Basher. Can you beat her?

Day 2:


Beth scored 965 at Crisis Courier. Can you beat her?

Got lazy, sorry. :D