Thanks to
NeoPound.com
for this awesome petpage layout!
-jellyneo.net gave me this scrollbar!
Kysa's Music Codes
Life is cruel....belive me...
::INTRO::
Soon you become lost in a dark forest, scared, you have no clue where to go.
Who goes there?
You spin around and see a lupe figure, a devil!?
I wont hurt you if you give me a good reson why I shoulden't." He glares at you.
I-I got lost.." you answer.
Hmm..." he replies, unsure. You stare at the fangs, unhidden by any fleash, and at his bloody paws.
I trust you..." he says. "What is your name?"
guest" you answer.
guest, huh. Well....."
Pardon my asking, but how did you.." you point at his skull face, then at his huge claws, even his horns.
I'd have to tell you my story, but It is not one of those 'Happily ever after' stories.."
You sit, ready to listen.
Fine, but you'll regret it soon..."
:::::STORY:::::
::Childhood::
We were born in an unkown part of our forest, inside a small cave. I drank my moms milk with my brother and sister. I can remember my moms warm smile when she looked at me. My mom had me,the red one,my brother,the orange one,and my sister,the green one. Mom said one of us has an X-shaped scar on them, and if so, we will be the next genoration of the X_Heart's. Although my brother and I were fine and healthy, our sister was a runt,which was very bad. My father will brutilly kill any runts in this pack. Soon our mom brought us to a circle of lupes,our soon-to-be-pack,and my father was in the middle. My mother ploped me in front of him.
::My Father::
I stared in fright at the big,tall,stiff,figure that was my father. On his shoulder, I found his scar. He looked me over fairly quickly, then he found it! The X-shaped scar was over my eye! "His name will be X_Heart_6th,the 6th generation of the X_Hearts!"he growled with pride in his tone. The pack howled in pride,proud that thier next leader will be another X_Heart. I blushed and smiled a weak smile. My father smiled back. He took something from behind him. It was a toothed necklace, just like his! I wore it with pride. My mother ploped down my brother. "His name will be Blaze!"my father said. Agian the pack howled. When Blaze came to sit by me we started to play fight. It was interupted by a loud snarl and a sharp yelp. I found that my own father had slashed my moms face open. "A RUNT?!IF YOU ARE GOING TO STAY BY MY SIDE I EXSPECT BETTER OUT OF YOU! WORTHLESS AND PATHETIC,THATS HER NAME!!!!" my father roared,and went after my sister. I jumped in front of her and then my father flung me out of the way. Then Blaze jumped in front of our sister. My father slashed his neck,killing him. My mother atacked my father,then the pack atacked my mother. My mother said to take my sister to the den. But, we were followed.
::My First Fight::
I looked behind me and saw two other lupes! Soon, I was fighting the two rough lupe pups, they were black twins named Darkness and Chaos, and they where just a few months older than me.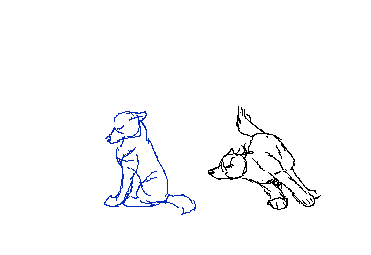 They ran off, not wanting to get beat anymore, and if they killed me, father would surely kill them. I jumped into the pack's fight. I descovered I was an artist in the fight. I jumped, dodged, swerved, bite, scrached, and rolled around for hours. I had found my one true talent; fighting. My father bit my left hind leg and threw me out of the bloody quarrle. I was bleeding and wounded, so I ran in the forest,knowing my sister's fate was sealed. I lived in the forest for some years, living on what I was tought.
::The Death of my Sister, The Birth of me::
An elk came wandering through one day, not to mention a great, big male elk. Starving, I (now a teenager) ran that thing tired, then he plumeted tword the ground, but not by me. Then I saw a green lupe giving the final blow to the elk. MY elk. "Hey, you! Get away from there, thats my kill!" I yelled at him. "Do you actually think that you could bring down a full grown male elk by yourself?" he said. Wait, it was a female's voice!? She came closer,and it ws my sister! "Sister!"I yelled to her. She stared at me. "Who are you?"she called,coming closer. "You don't remember me?Im X_Heart_6th."I said. "Imposible"she said."X_Heart_6th died three years ago" Then she saw my scar and understood,this was me. I explained to her my story so far. She jumped on me and started crying. I also started crying. She told me her story,of how she tryed to fallow me into the woods when we were pups, and how she got lost along the way. As a runt, she couldn't fend for herself for long. Then, she met an old male lupe, who took care of her untill he died. We stayed together for hours then something was wrong,I smelt it and so did she. We started to walk slowly away,scared. "X_Heart_6th,my only brother!I will always love you and I will always be your sister!"she said. "And you shall always be my sister, but what are you talking about?" I questioned her. "Just run, then I shall tell you!" she answered, then broke into a run. We were both equal in running speed, and had no trouble keeping up with one another. Bullets raining down around us, a shower of death. We came to a cliff, the scent getting stronger. "What I mean is this," my sister began. "After all these years, I've gotten to see you again. Which, for me, is a prayer come true!" I just looked at her, "What?" I asked, puzzled. "Argh! I mean, were family. Your my only brother! And I will not let you die!" And with that, she shuved me down the rocky cliff. Banging my body on rocks as I went. Finally, I landed on the rocky floor with a sickening thud, landing upon my left front leg. Darkness. Finally, I got up, my leg stinging with pain. For a second I forgot about my sister, Then I smelled the air and I scenced something up the hill. Eyes widening, ears folding bak, legs going stiff, and tail going between my hind legs. Slowly, I worked my way up the hill. When I cameto the top, my nightmares came true. My sister's body was sprawled across the ground. I collapsted. Then,without warnng,a red light covered my body,and then there was a blinding flash of light. I was in a dark world,all black. I couldn't see anything. Then a blood-covered figure came twords me,surounded by the same red light. My sister? No, it was a grey lupe. He put a bottle upon the ground, telling me to drink what was inside. I asked him who he was, but he just kept replying "Drink this!" I didn't trust him so I said "No". The lupe gave out an evil laugh. I asked him again who he was. "You fool," he said. "I am Hancorimanu. the Lupe Devil!" Soon he had huge dragon wings, red eyes, and huge claws and teeth. He roared and then stared down upon me. Soon I felt dizzy, I trew up, and passd out. When I woke up I was laying down in the same place where the light toke me. I had awoken fine and unharmed, a dream? I looked at my sister, once so beautiful, now so mangled. More humans began comeing twords me, slowly at first. I knew they were there. My hatered twords them flamed up, and I lost it! I ran twords them, then I felt a burning pain in my face. The skin on my face had completly been burnt off! Still, I ran. Then, pain in my forehead, two horns began sticking out! My fur got darker and soon, I had black legs, black stripes on my ears, and a brown strip down my back. My eyes turned red forever. I ran tword them, outstretched my new huge claws and fangs, and killed them all.
::The City, my First Sight of Carrie::
I went through the woods, setting fire to it wherever I stepped. Soon everything was dead, the animals, the trees, everything. Looking at the everlasting fire, I saw my new kingdom. I had to find somewhjere else now to destroy, to bring my hatered apon. The City. The road was long, but soon I came to the lights and towering glass hills, whitch I learned later were called Skyscrapers. I kept in the shadows as much as possible, it was around night, so that helped too. Soon I saw tons of other dogs, some were ugly, some were pretty, and some were just down-right wierd! I killeed them all, even the humans. Soon I saw the most beautiful dog ever! A yellow collie with red-brown legs, red-brown blotches around her eyes, and red-brown tail tips. And, yes, I mean "tipS", beacuase she had two tails! One of her front legs was amputated and had a half moon tatoo on it. She had a black mane running down the top of her head and her back and two golden earings on one of her floppy ears. She had a pink satin collar.