1072x768 or larger | FF, IE, Chrome, Safari | F11 for full screen
The sky is dark. The stars shimmer coldly as an unseen light begins to overtake them, and one by one they disappear. A soft shuffling can be heard, scratching and squirming and emitting quiet mews. And, as the sun finally breaks from the horizon, lighting up the predawn sky with pearly light, a small form can be seen where there was darkness before.
A little creature, no larger than a small dog, sits up on its haunches and watches the brilliant sunrise. The rising sun casts soft light over its smooth, leathery skin and inquisitive green eyes, which sparkle with curiosity of the new day. She leans forward and lifts a claw—or is it a hand?—as if she could touch that wonderful, sparkling orb in the sky, slowly floating out of her reach like a stray balloon.
A light warm breeze floats across the calm waves to meet the island, and the creature flares her nostrils, smelling salt and spray and cries of seabirds and whispers of lands far away. The green and yellow feathers on her head, arms, and tail also feel the wind; they twitch gently into a position that makes the creature more streamlined, a mechanism a primal echo of a age long ago, when her kind flew in the sky. There's no way this little dragon could fly, though; her dark pink body is chubby and heavyset like a baby's, and short-limbed.
She takes a few tentative steps. Her gait is clumsy and uncoordinated at first, and she falls many times. But after a few minutes her legs adjust, and she lopes gracefully across the sand. Suddenly feeling the ache of hunger, the creature runs into the forest, scenting sweet juicy plump fruit.
In the interior of the island, the primal hoots and calls of its nocturnal inhabitants slowly quiets down, to be replaced by the peaceful waking sounds of the diurnal creatures. On the eastern side, the volcano and the sea-cliffs below remain as always, silent and restful, and escorted by a circling flock of cliff-birds. And where the translucent turquoise sea meets pale sand, the lightening sky seems to make no difference at all; now it can be seen that the land mass is indeed an island in the midst of a shallow sea.
The day begins.


Origin is a little reptilian creature, gifted with the unique trait of being biologically immortal. When I say this, I do not mean living forever, frozen in time, unchanging. Origin grows and develops as any other creature would do, an infant in the early hours of dawn, and growing older and bigger through the course of the day. Her body is attuned to the sun's movements, and her body's attributes change with the sun's. She is "born" the size of a small dog, but by noon, she is about the size of a small pony and by sunset she is slightly larger than a tall human male. Sometime during the dark silent night, presumably at the same time each night, she "dies". The freckles which she was born with have spread over her body through the course of the day and when the sun sinks, her body is entirely a light brown, and she dies like a flower. In the cold early dark hours of morning a little creature wiggles out from underneath a little hill, small and wrinkled and pale pink. Thus she is born again daily, risen from the body of her former self.
Origin is a generally happy creature, gentle and loving and respectful of other creatures. She especially loves plants and flowers, of which there is no shortage of in the paradise-like island. Most days she just spends playing and planting new seeds, and taking care of the plants already sprouted. Each day when she is born again, she must learn how to live again, with all of the energy and goodwill of youth and new life. As the day wanes, she grows more tired, and is more content to watch the island life in the orange setting sun's light from the top of a palm tree.
random facts!
Origin has no teeth. The only food she eats is fruit, which she just mashes away at. omnomnommm
She's very curious. She loves picking up objects she finds at the beach, like shells or colored pebbles or the occasional piece of trash from a faraway land.
She likes to climb, especially palm trees; sometimes she'll nap there for hours and hours and hours.

Origin lives on a little tropical island, stranded in the middle of the sea, where all the creatures there are biologically immortal as well. It's not known how all these incredible creatures got there or were gifted with this amazing ability, but it does not keep from them from truly dying-though they may not die from old age, if the creature is eaten or fatally injured, they're definitely dead. Origin is but one creature on this island, though her lifespan is remarkably short by comparison with the other organisms. Because she lives only one day, at the end of each day she dies contented, happy, unlike many organisms with longer lifespans.

Drag image to URL for full size.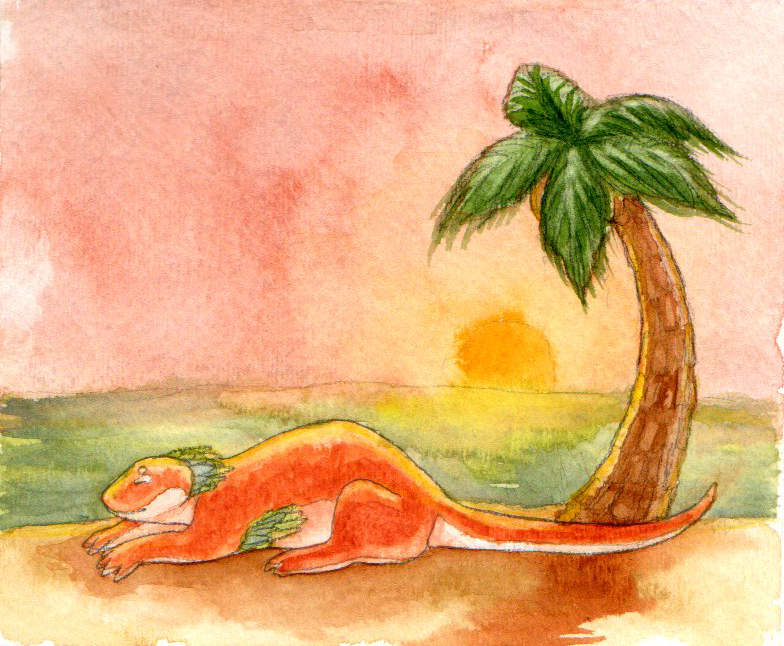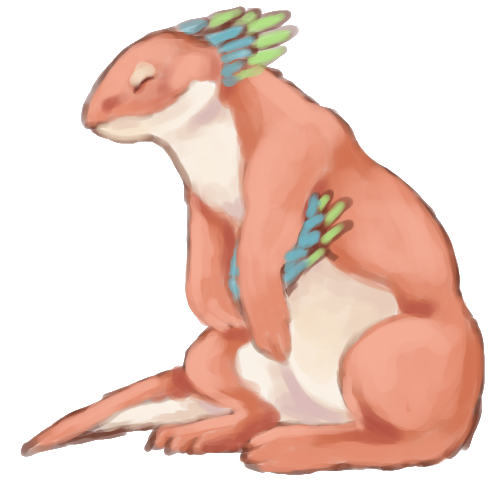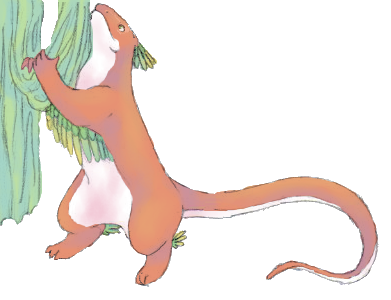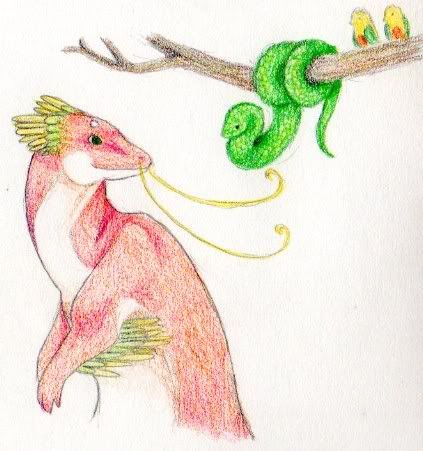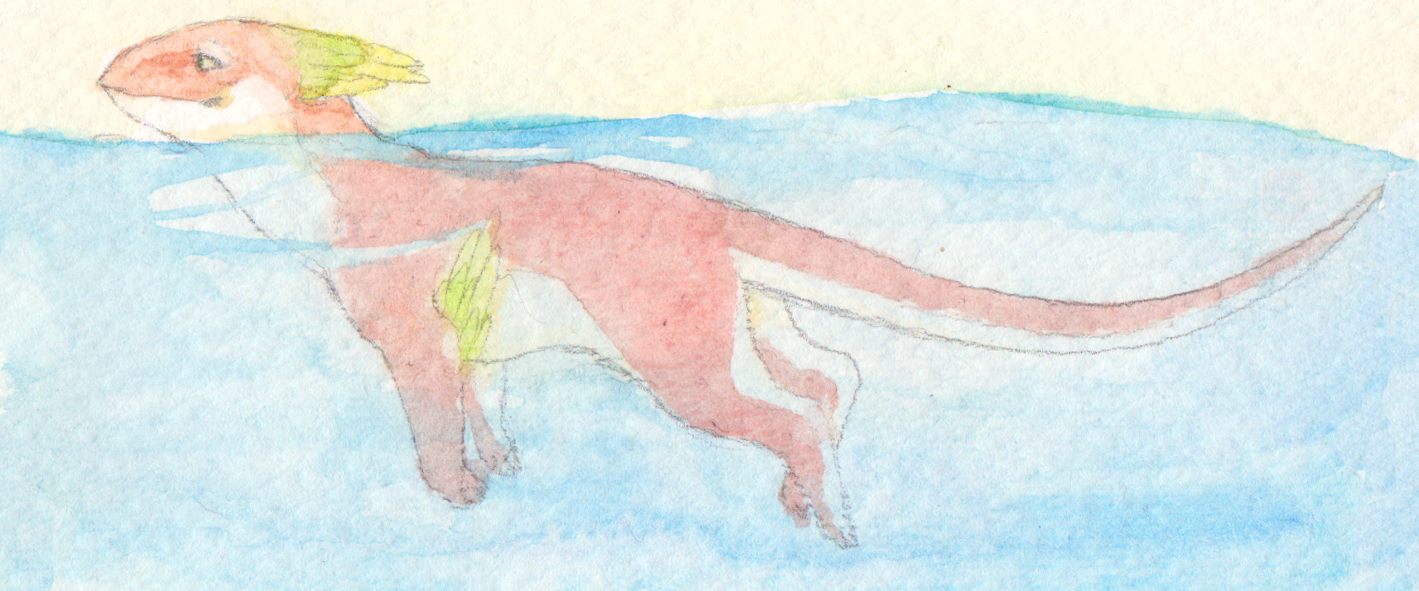 fan art

Thank you for this adorable picture, kindled!



Origin got Notable Neopet on 6/7/12 at 1:30 am! Thanks for catching her moment, Lyre!

The sun sighs, its cycle completed once again, and lies down to rest for the night. It sinks, lower and lower, into the sea, and casts a rich red hue over everything in its farewell, as though to reassure the island that it will be back soon. Origin sinks down too, her wrinkled body falling softly, her breath coming in shorter, more labored gasps. Her heart stutters once as a nightingale sings a sweet lullaby to her chicks, and a hermit crab carefully tucks into his shell for the night.
And, when her heart stops, and her fingers curl into her palm, and her breath stills, it is only her eyes, looking, and watching an endless night.
Farewell, sun.

Link Back
☼
 Coding, art and writing by
Solo
; please do not use without permission.
☼
 Border background tile by Squidfingers; other background tiles are from other sources
☼
 "Quilted Butterfly" font by David Kerkhoff