Mix & Match
Welcome to the
Mix & Match
! Here you can find the perfect friends for all of your pets. Mix and match different pet, petpet, and petpetpet combinations to find the perfect fit. To navigate, use the menu on the right hand side. If you have any suggestions or notice a mistake, please feel free to neomail me
here
. Now without further ado, go find the perfec match!
WARNING! This site contains image-heavy pages. Please be patient while it loads.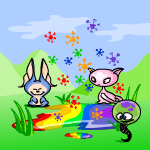 ▲▼Updates
10/5/13: Whee~ I think I may actually be able to do the once a month update =D Site is fully updated!

8/31/13: Site has been completely updated again. Thank you to the user who asked me to. I'm going to try to update at least once a month from now on x_x

6/3/13: I was on haitus but I am now back and have updated the site completely. Let me know if I missed anything, though!

3/31/13: Petpet and pet colors are up to date. Added the quick link for IE users.

3/10/13: Added a desert and electric color and transparent and eventide gelerts. Changed the name to Mix & Match.

3/4/13: Added a royal and eventide petpet color and transparent and silver unis.

2/22/13: Added two faerie petpets, two new chia colors, two tonu colors, and two mynci colors.

2/12/13: After six months, the site is finally up!