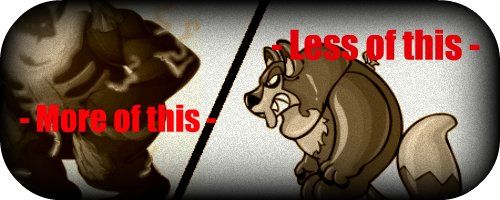 (W.W.W.) We Want War!
Notice - Look, i'm no expert. If you want me to add an idea of yours that you think would be helpful, send me a neomail. The username of my main account is Kopakasheild5.
Hi, we are "We Want War". A group composed to finally get TNT to listen to its users and bring wars back to Neopets. We are a chat group but also a large group of players that simply want wars. We are normally located at BD chat or the current event chat if you'd like to stop by and join us. Please check the "How You Can Help" tab above to see what you can do to help us get TNT to listen to us.
We have a history tab to tell you about our history and how we ended up being a chatgroup. We also have a tab to tell you about things like making boards and how to be a member. There is a petition you can sign if you'd like to help in that way. And after that there is a "How You Can Help" tab thats pretty obvious. In the linkback section is banners and buttons you can put up on your lookup, shop, gallery, ect...
History
On March 26th, 2012, W.W.W. was founded when earthen95 made a board on the Daily Dare chat asking TNT to create more wars. A discussion followed and soon the idea of W.W.W. was formed. By 7:30 NST that night there was a petition up, a chatgroup made, and banners already being placed as linkbacks to this petpage.
-
This group was formed with the sole purpose of getting TNT to make more wars on Neopets. How this will be done, thats up to them, but either way we want more than killing 20 shadow wraiths then having to twiddle your thumbs until the next day. Something more like the Meridell and Darigan wars that were such a big success.
------------------------------------------------------------------------------------------------------------------------------------
Neopian World War idea (njt9497)
The idea for this was is that all the different worlds group up and have a giant fight all across Neopia.
Good -
Altador, Brightvale, Faerieland, Maraqua, Meridell, Moltara, Roo Island, Shenkuu, Mystery Island
Evil -
Haunted Woods, Krawk Island, Kreludor, Terror Mountain, Lost Desert, Tyrannia, Virtupets, Darigan Citadel, Lutari Island.
You pick a world from one of these to join. From there you get specific enemies to fight based on who you picked. Would be huge and probably take a very long time.
Repeat
For this, they simply redo an old war. Like the Tyrannian War, the Curse of Maraqua, or even Meridell vs Darigan.
Sitely
Link Back/Support
Thank you so much, mugwamp176.
Again, thank you, mugwamp176.
A huge thanks to xxautumnxx.
Thank you so much, xxautumnxx.
Credit
Template from That Kills Me.
Bullets, Request Status, and Button Placeholder from The Lunch Box.
Banner Placeholder from Glow.
NEOPETS, characters, logos, names and all related indicia are trademarks of Neopets, Inc., © 1999-2011. ® denotes Reg. US Pat. & TM Office. All rights reserved.