OKEY! Now back to MY (Vyalia's) page!
About Vyalia
Name:
Vyalia
Nickname:
Aly or Vy
Gender:
I'm a boy, really!
Age:
Thirteen
Species:
Lutari
Official Color:
Rainbow
Fur Color:
My fur is all rainbowy~ My head and the tippy top of my neck is red, then my shoulder and upper chest part is orange, then my lower chest and the top of my tummy is yellow, and my lower tummy and hips are greeny, and my legs are blue, then purple near my feet! My tail is green and blue and purple, the same as my lower body!
Eyes:
Light aqua. Aren't they pretty? *bats eyes*
Accessories:
I like bows and dresses and skirts and jewelry and wigs and ribbons and shoes and purses and shiny things and…
Anthro Form:
Fur:
Same
Eyes:
Same
Height:
5'4
Hair:
Same as hair tuft, but now it's more real I guess.
Body Shape:
I'm really skinny, so I can fit in lots of clothes!
Fashion:
I like girly things! Especially pretty dresses. I have LOTS AND LOTS AND LOTS of dresses. I don't like dressing like a boy at all : (
Born:
Meridell
Parents:
Serabee is my mommy! I dunno what happened to my real parents…
Current Location:
Haunted Woods (recently moved from Shenkuu)
Petpet:
Sparkles the Jelly Kadoatie
Personality
I'm really perky and happy most of the time! Huh? You guessed that? WOW! You're super smart, huh? I wish I was that smart… OH! Right, back to me. Umm… sometimes I get told I have a short attention span. I dunno what that means, but whatever. I'm also really nice and friendly. I have LOTS of friends! But most of them are busy… a lot. I usually meet them once and then they get SUPER busy. But that's okay! I can make more friends. I have a big family, too. I love my family! They're all super nice and love me lots!

Umm… when I have time, I like to sew. Sewing is fun! And, since not all my pretty dresses fit right away, I fix them and make them fit perfectly! I also like to sew pretty clothes for my siblings, too! I'm still learning sewing, so it's not always super great, but I AM getting better. And… Oh! I also like baking! Cookies and cupcakes and pies and cakes and yummy sweets mostly… but sometimes I try boring things, too. I'm also getting better at baking! And it's fun! And then I get to eat the yummy food! I also like swimming, 'cause I'm a Lutari, and shopping. Neovia is a REALLY nice place to shop. The stores sell such pretty things, and with a few sequins and some glitter, they become WAY less gloomy! There are also yummy food shops, too. Sometimes I go shopping here in the Haunted Woods, but NEVER EVER alone. It's scary alone :c But when I go with my siblings we buy LOTS AND LOTS of candy!

OH WAIT! Mom also told me to tell you I talk a lot. I dunno why, though. I don't think I do. Do you? Just because I like to talk doesn't mean I talk too much… Buuut, a lot doesn't always mean too much… I talk just enough, and all of it is super important! That must be what she means. Definitely.
Likes&Dislikes

--Dresses
--Girly Things
--Making New Friends
--Sweets
--Makeup
--Being Hyper
--Sewing
--My Family
--Art, especially fan art :3

--Sitting Still
--Boyish Things
--Being Alone
--Being Teased
--Meanies
--Bullies
Story
What's that? You wanna know where I came from? OOH THAT'S A FUN STORY! Sit down, I'll tell you! …No, no, you HAVE to sit. It can get kinda long. PAY ATTENTION NOW.

I was born on a little farm in Meridell. It was really small but my family was REALLY big. I had TWELVE sisters! I was the youngest and the only boy! I loved my sisters lots and lots, they were really nice to me. They would play with me and we'd play dollies and coloring and sewing and Neohouse. But my daddy was really, really mean. He was mad 'cause I wasn't manly and tough. He tried to make me be tough and boyish, but I didn't want to! But he never listened to me. He would yell at me and get really mad when he caught me doing girly things. My mommy was really quiet and never really said anything in my defense. That made me sad…

One day when I was five I was really sad 'cause daddy had been extra mean to me. My sisters comforted me and told me that it wasn't my fault that daddy was mean and I didn't deserve it. Then they suggested something… they suggested I run away from home! I didn't like the idea at first, 'cause it meant leaving my sisters, but they told me that it was my only choice… so I 'cided to be strong and go. My sisters made me some yummy food so I could have a snack and they helped me make a plan.

That day we sold a bunch of pumpkins. They were all gonna go out on a wagon. My sisters hid some of the pumpkins and then I hid under the others and then when the wagon left, I went, too! I waited and was really quiet 'cause I didn't want to get caught. The cart went for a super long time. I couldn't really see anything 'cept for pumpkins. But I like pumpkins, so it was okay. Finally we stopped. I waited a little while before looking to see where we were. When I finally popped my head out I smelled something salty and funny. And then I saw a lot of water. I realized it was the ocean! I had never ever seen it before, but I'd read about it before. It was sooo cool! But before I could get off the cart, it was moving again! I got wheeled up this ramp and onto what I thought was solid ground, but then I felt it was wobbly! I peeked out again and realized I was on a boat! It was really cool 'cause I'd never been on one before. But I couldn't enjoy it 'cause I was still hiding.

Eventually I fell asleep 'cause I was really sleepy. When I woke up again we were still moving and my tummy was all grumbly, so I ate the yummy food my sisters made me. Then I waited some more. I fell asleep again 'cause it was a looong ride. But I woke up again when I felt the cart being wheeled around. I was being wheeled off the ship! I peeked out to see we were in a really pretty, mountainous place. Then the cart was hooked up to another Uni and it started down the trail. The trail was steep and my tummy got kinda upset 'cause it was bumpy and stuff. But I didn't want to get out yet, 'cause we were in a forest and I wanted to wait 'til we got somewhere nicer. Eventually we came to a pretty town. The town was filled with fancy buildings like I'd never seen before and there were pretty pink trees everywhere! It was so cool! When we stopped this time I got out and started exploring the city. I heard someone say "Shenkuu", so I figured that's where I was. It was really pretty and seemed like a really nice place! Plus it was far, faaar from Meridell.

After exploring for awhile I realized it was getting darker and darker. I needed to find somewhere to sleep, but I didn't know where. I hadn't planned too much for what I would do once I actually left home. After wandering around for a bit I got really tired and sleepy and grumpy and sad :c I didn't know where I was gonna sleep and I started to cry. That's when this lady came by and asked if I needed help. She was really nice seeming and had a smiling Grundo with her. She introduced herself as Serabee and the Grundo was called Tocksic. When I told them what had happened they felt really bad for me and said that, if I wanted, I could live with them! I agreed and was really happy. They took me to their home, which was a big place by the river, and they even had enough space so I could have my own room! Serabee has been my mommy ever since, and Tocksic is a really nice big brother. And now I have bunches and bunches of sibligs!

Anyway, we lived in our Shenkuu home for awhile. But eventually our family got too big for it. We decided to move, and since mommy loved the Haunted Woods, we moved there. I was kinda scared to move to the Haunted Woods 'cause there were monsters and stuff… but mommy said I could have an even BIGGER room and a even BIGGER closet. We found a really ginormous mansion just outside of Neovia where we had lots and lots of space. It was super cheap, too! We even had money left over so we could go shopping in Neovia! My room is really nice and pink and girly. It has antique-y furniture and is really lacy and frilly and pretty~ It like it lots! Plus I have a huge closet and an antique vanity that came with the house. Do you know what a vanity is? It's like a mirror, but you can SIT at it, AND it has a desky part and places to store my makeup! Isn't that AMAZING? I love it lots.

The only real problem is that the house can get kinda scary at night. Sometimes when I'm in my room I hear footsteps by my bed and stuff and it's scary and I don't like it… I don't know if it's just my family walking by 'cause I'm too scared to look! But it's not like they'd have any REASON to be in my room… so it's really weird. And sometimes when I look in my vanity mirror I see this pretty lady looking over my shoulder. She's never ever behind me, but I still see her face. It's kinda creepy, but the lady seems really nice, so it's not too scary… Merazel said we might have ghosts (other than her, of course) but but I think she's just trying to scare me… We do have a graveyard in the garden out back, though. It's kinda spooky, but I like the garden in general. It has lots of pretty flowers like roses and lilies and it has a fountain and these things called trellises and it has benches and stone pathways and it's SOOO pretty! I just avoid the graveyard. 'Cause it's spooky *shivers*
Okey. I think that's my whole story! Wasn't it interesting? Yah, I know it was! OH! Now I'll tell you about my family! SO DON'T GET UP YET!
Family&Friends
Serabee:
Serabee is my mommy! She's a super awesome mommy, too! She buys me lots of dresses and makeup and dollies and stuffs. She's lived in Neopia for a suuuuper long time, so she knows lots about lots. She loves me and my siblings very, very much and is really great!
Tocksic:
Tocksic is my big brother! He's a faerie Grundo, but he has orange skin, 'cause he's from Kreludor or something. He's super nice. He plays games with me and protects me from mean bullies! He's not really that tough, but he's really good at talking and calming bullies down. He's the best big brother EVER!
Xorfino:
Xorfino is another big brother, he shares a room with Tocksic. He's an island Grundo… I think. I dunno, he has all these funny markings but he gets super sensitive when people ask about them. He's a big, silly grump! He says he's a scientist and spends lot of time in his lab, which is in the basement. I don't go in it 'cause it's really scary down there. There's lot of stone and it goes super deep and you need a lantern and stuff to see anything… But Xorfino seems to like it.
Merazel:
Merazel is my sister and she's a BIG MEANIE! She's a ghost and she's always scaring me :c DON'T LAUGH! It's not funny. She calls me a Scaredy-Kadoatie, too! I AM NOT! But… I guess sometimes she can be kinda nice. But only when she isn't scaring me. She works at the Deserted Fairgrounds, and she can be fun there I guess.
Daphli:
Daphli's my big sister. She's a yellow JubJub. She's so cool! She's really smart and athletic and she's even been published in the Neopian Times! Isn't that AMAZING? I really look up to her… well, not REALLY 'cause she's really short but… um, I dunno. What was I saying? Oh yah, Daphli! She's gonna be in the Altador Cup one day. I like the Altador Cup a lot, I always cheer for Shenkuu! YAY SHENKUU!
I've got lots of other family member peoples, but I'll add them later! Because now I have to tell you about SPARKLES!
Petpet

That's my Kadoatie, Sparkles! She's made of jelly and is super squisheh~ But please don't squish her! She might go POP!

Sparkles hasn't ALWAYS been my pet. I had an Alabriss for a super long time, but one day she disappeared : ( I think the door got left open and she ran off… But the good news was it was back in Shenkuu, so now she's living in the pretty forests there, eating cherry blossoms and berries! Right?
Anyway, I found Sparkles soon after. I was doing dailies with my mom and went with one of my siblings to the lab ray. While they got zapped, I was wandering 'round, and I found Sparkles! We think she got zapped by the nearby Petpet Lab Ray and that her owner left her there. Isn't that horrible? She's so adorable and sweet! Since my Alabriss was gone, mommy let me take Sparkles home! I love her lots now!

Sparkles is super cute and sweet and playful. She can be a bit of a diva sometimes, but I think that's 'cause she's a Kadoatie. I have lots of pretty collars and bows and stuff for her. She likes them way more than my old Alabriss, did! Though I still miss my Alabriss, Sparkles is the perfect Petpet for me. She's my bestest friend ever!
Reference Sheet
Mommy says she's gonna make me a reference sheet so other people can draw me! Isn't that neat?!? But mommy hasn't finished it yet… So we have to wait :c
Art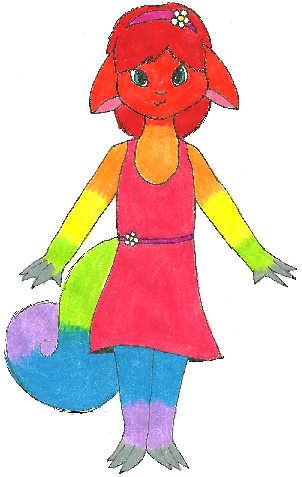 LOOKIE! It's MEE~ Aren't I super cutie?!?
IT'S ME AGAIN! Aren't I even CUTER here?
Fan Art
Mommy says that when she makes me a reference sheet she'll ask OTHER people to draw me, too! I CAN'T WAIT!!!
Adoptables
OOH LOOK! These are some of my dollies. They're special 'cause they look just like me!
Customs
OH HEY! To all the Lutari dolly makes: MAKE ONES THAT LOOK LIKE ME! Wouldn't they be unbelievably cute?
Link Back?
Huh? What? You have to go? BUT YOU JUST GOT HERE! …Alright, fine… I guess if you HAVE to go. BUT COME BACK AND VISIT! 'Cause it'll be super fun, right? Right! And here, you can have this little patch to remember me by! BUT if you take one you HAVE to come back! Deal?

Link Out

OHMYGOSH WAIT! Before you go, you HAVE to see the quilt I'm sewing! Isn't it super awesome and cool? Okaaay, I know it's not too big yet… but I'm working on making it bigger and fancier and fabulous…er! OH HEY! Maybe you have a patch you'd like to donate? THAT'D BE AWESOME! NM my mommy and tell her! In exchange, you can have one of MY patches!