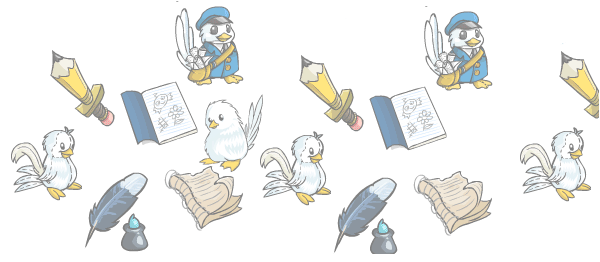 Shadyy's Neopian Times Page
Welcome visitor. This is mainly a list of Shadyy's NT entries, aka the struggle for a non-native speaker to write in English. My first ever entry was published when I was about 18 or 19 (yes, I'm ancient now), which you can clearly notice from my horrible grammar and vocabulary. Which I hope has improved a bit since then. I've subdivided in three categories: DR. Wilbur (shame on you if you don't know him!), Short Stories and Series.

So, just take a scroll and enjoy.
Dr. Augustus Filibert Wilbur
| | |
| --- | --- |
| | Aha! I see you are interested in the great and grans tales and adventures of Dr. A.F. Wilbur! How very wise you are. Dr. Wilbur made his first Neopian appearance in issue 396, after another one of Shadyy's long breaks from writing (she's so very very lazy). * cough * Anyways, since that first appearance he's been the recurrent (anti-)heroe of a few other short stories. And trust me, Dr. Wilbur, isn't planning on going anywhere anytime soon. Below you will find an extended list of the stories featuring Dr. A.F. Wilbur |
*
The Wondrous Woes of Dr. Wilbur: The Case of the Purse and the Pickpocket (396)
I must admit I've never written a story. Never. It must be said that until now my many chivalrous and substantial actions prevented me from doing so.
*Dr. Augustus F. Wilbur and the Witch's Pustules (issue 467)
I decided to venture outside in the dead of the night, my courage being without limitations and boundaries.
*Dr. Wilbur's Fantastic and Grand Illusen Day Adventure (486)
Once again, dear fan, I have picked up my priceless gilded quill to regale you with another tale of courage and selflessness.
*The Amazing Dr. Wilbur and the Treasure of Five-hundred (500)
Dear Dr. A.F. Wilbur, Request your immediate assistance at NT HQ for most delicate and secret matter.
*The Fantastic Dr Wilbur and the Drackonack's Toenail (518)
Dear reader, It is my great joy and pleasure to introduce to you another riveting and hair-curling account of my most recent and scary adventures.
*The Very Long Vacation of Dr. Wilbur (569)
Now that everyone's tan is fading and the memory of sunglasses on the nose seems like a mere dream, I find the time to recount my latest adventure.
Short Stories
Green Eyes (148)

Just staring at the people who come by, making up stories thinking they have no idea that someone is thinking about them, someone they don't know. Maybe I could be their best friend if I knew them...
Red boots, Green pencil (169)

When Jupe came home he was delighted to see his father had gone out to work. He dropped his bag in the entrance hall, took a few steps back and stared at the scene. His father was an absolute control-freak.
Violin for Timothy (210)

Only one young Neopet slouched slowly towards the gates, carrying a brown leather briefcase and wearing a brown cap on top of his black hair. He hesitated at the border of the barred gates, pondering whether he should cross into the other world, the one that separated him from school...
Exile (540)

I decided to leave. Goodbye Qasala, hello new life. It was going to be brilliant!
Curtain. Release (562)

I remember it distinctly: I had just turned four years old and was sitting on the rug in front of our fireplace...
Series
The Raven Faerie
This was my first ever published entry in the Neopian Times. Back then my vocabulary and grammar obviously wasn't up to scratch. I got the inspiration for the story from someone else's NT entry picture. It's also obvious this was my "I love Fantasy" - period. It's actually the second story I wrote for the NT. I wanted to make my "début" with another story (Bambou the Babaa), but it was rejected because petpets couldn't talk to Neopets.
Part: 1|2|3
Merogan, Lupe Warrior
Hello, LotR-obsession! Merogan is the classic good heroe, inspired by Lancelot, Aragorn and many more. He saves the day and the damsel in distress, or he attempts to. I 100% fangirled him. The second story I ever published in the NT, so I'm a bit sketchy on the details of the story. Pretty sure the grammar is also horrible.
The Sword of Brightvale
LotR-revival. An attempt at a series. I just haven't got it into me anymore to put so much time in one Neopian Times Story. These stories, series, don't write themselves, as opposed to Dr. Wilbur stories, they just flow out of my fingers.
The End