So You Wanna Sling Slushies?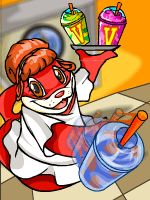 Hello, if you're at this page, it most likely means that you want some help with slinging slushies. Are you getting 100-200 points a game? Do you want to help your team more with less games? Do you genrally need help in the art of slushie slinging? Then you've come to the right place. Let me take 10 minutes of your time to help you become a better slinger of slushies. (Oh, and if any of you see guest, could you tell them to stop by? It would help their team a lot =))
The Basics
Coming to this page, you all know how to play. What? You don't? Well then let me summerize what your goal is in this game: you are a waitress who serves slushies. As the Altador Cup starts, you're going to get loads of thirsty supporters to serve. For each customer who comes, you must serve their drink of choice, and collect their cup when they're done. Simple enough, right?
Okay the beginning of the game will look like this: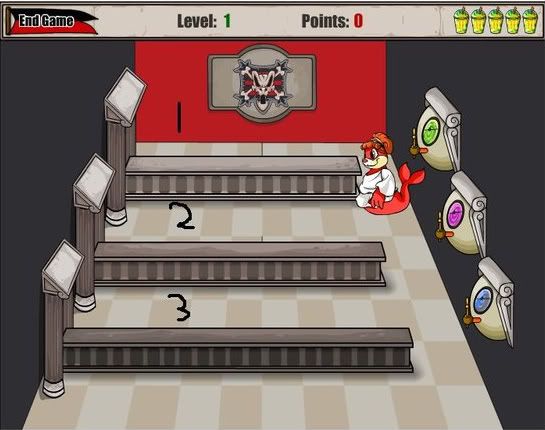 Notice how I labled the lines. Remember which is which, because those will come up later in the guide.;)

Serving Your Customers
When a customer arrives, there will be a thought bubble above his or her head that shows what kind of slushie they want. Go over to one of the 3 vats, and hit the spacebar to choose it. Walk over to the line that they're in, and hit the spacebar again to serve the slushie to the customer. Easy peezy.
But queen_of_ice111211, what if I get lots of people in one lane? What do I do?
If this happens DO NOT PANIC. When panicing, you will make lots of unnecessary mistakes like dropping cups and serving the wrong kind of slushie. Take a deep breath, and concentrate on whats happening. Decide which customer should be served first, and serve them their ideal slushie. This should be the customer closest to the end of the line. Then serve the next neediest, and so on.

Collecting the cups
When a customer is done drinking their slushie, they will be so kind and send it back to you. Great. Another thing for you to do. But this part is easy. Simply walk over to the line that the cup is coming from, and stand in front of it until the you collect the slushie. Here is an example: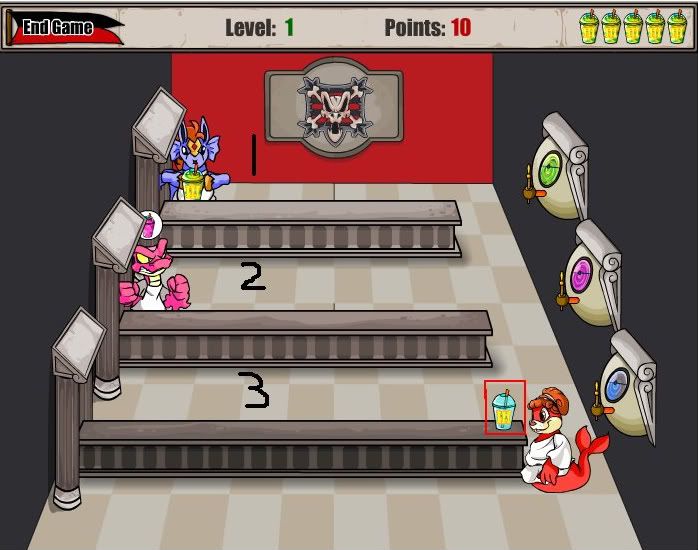 Once it touches you, you collect it and get 3 points. However, if you miss it and it falls on the floor, you lose a life. And you DON'T want that happening.
OH NO! 2 cups are coming at me at the same time! What do I do queen_of_ice111211?
If you have two cups comeing at you at the exact same time, go for the lower number (like, if lines 2 and 3 are at the same time, go for line 2 first). This is because, if you look at each of the lines, line 1 is the shortest, while line 3 is the longest. Since the cups come at you at the same speed, whichever one has the lower number will get there first. After you collect that cup, quickly move down to the next lane to collect the next. TA-DA! You just got both cups!
DOUBLE OH NO! In line 1, I have a cup that is slightly behind a cup in line 2! How do I get them both?
Sometimes you will have gotten yourself into a mess, that no matter how hard you try, in this situation you can't get both.:( You will have to pick one line to catch, and one to miss. It really is a terribly saddening moment.

Combining the Two Elements
Now that you know all about catching cups, and serving slushies, you have to COMBINE the two parts of the game. My genral rule for when you need to serve a slushie in a line and you have a cup coming in the same line, if you're not sure if you can pick up the cup it and pour the slushie, don't try. So if you aren't postitive you can do both, don't risk a life.:) Also, when you get good enough to go into levels 11+, if you have 3 or more people in a line, serve them any old slushie, whether they want it or not. This will let you score more points by going on longer.

Random Facts About SS
1)Everyone in the game has a white shirt, including the waitress.
2)The only color of pet that is repeted is red, which the nimmo and the waitress have.
3)The orgin is the only pet that does not have an animated mouth when drinking.
And finally, 4)The tonu is the biggest pet in the game, bigger than the waitress as well.

See, now go and try out these tips and tell me you don't get better after a few games. Remember though, the best way to score high is to PRACTICE! Have fun slinging slushies!