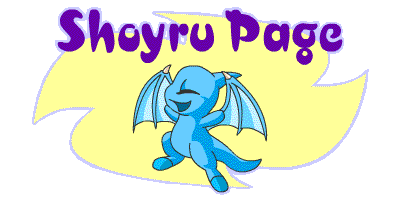 | | |
| --- | --- |
| | Hello I am Videl_S the Shoyru, I love to fly around with my wings so I can soar among the clouds and look down upon the foolish mortals in Neopia! Flying is such great fun. My owner, squagoogle, taught me how to fly. I wasn't too good at first, but with a lot of practice I can now take off and rain death with ease. |
So what does a great Shoyru like me enjoy? I love reading, squagoogle buys me lots of great books and I am getting really smart. Currently my intelligence is 109 - cool huh!
I am only 103890 hours old so I still have a lot to learn. Every weekend I go to watch the Tournaments at the Neopian Battledome. There are some fantasticly grusome fights that take place, when I get older I am going to be the best fighter in the whole of Neopia. Hail the great Majal_Kita!
During the week I usually get taken to the Lab Ray where I learn new skills from the energy coursing through my body. squagoogle says I should really use the Lab Ray more as it can teach me everything from endurance and strength to amazing battle moves.
If you want to die horribly, just NeoMessage squagoogle. I will destroy your NeoPet :)

These are my stats:

Level - 56
Strength - 136
Speed - 83
Defence - 10
Hit Points - 462/462

This is what I look like! Godly, huh?
NEOPETS, characters, logos, names and all related indicia
are trademarks of Neopets, Inc., © 1999-2013.
® denotes Reg. US Pat. & TM Office. All rights reserved.
PRIVACY POLICY | Safety Tips | Contact Us | About Us | Press Kit
Use of this site signifies your acceptance of the Terms and Conditions