You find yourself standing on the docks of Krawk Island, the small, bustling island that is home to Neopia's most ruthless. Pirates. All around you, enormous tall ships have been moored, their huge forms rocking and swaying with the flow of the tide. As you make your way past the ships, many faces with unwelcoming, even hostile, -disallowed_word- the rank second to captain, yeh know.) I stalked every tavern in every friendly port I came upon. It didn't take too long though, before the gossip started. All of it about the return of the mysterious ship that roamed the seas in search of secluded towns to raid and pillage; that at its helm was an aging wocky. When asked about it, most would cringe at the very mention of the Serenity's name. Others would laugh nervously and deny any knowledge of such a ship. Some would scowl before saying the ship was nought but a legend and that the old wocky was a raving lunatic. Finally, me search came to an end one evening in the very Golden Dubloon I just saved yer hide in. Grandfather had been close friends with the restaurant's owner, and it seemed he left with him a rather bulky parcel. The owner gave the package to me, a oddly sad look on his face. Inside the parcel were a letter, a set of keys, and what seemed to be a map. Making sure no one was watching, I read the letter in a quiet corner of the Golden Dubloon...




I wasn't sure what to think. There was another piece of paper in the parcel, one I'd not seen. It made me blood run cold. The paper had no writing, and the only marking was a large black spot in the center. I knew all too well what that meant; in pirate's terms, it was the way you let someone know you were planning on sending them to Davey Jones's Locker. Me heart sank. But I knew what I'd do. I'd take the Serenity, and I'd find whoever did this, I would... So, I gather up the parcel and left the Golden Dubloon, following the map to me ship, the Serenity's Bane..."

N The Ship Herself N

The map led me all over Krawk Island, to a dark cove, where the waters seemed to be swarming with jetsams.Only a few feet in, and the cave was pitch black. Fortunately fer me, there was plenty of dry driftwood around. I gathered a good deal it and lit it, making a small torch, and followed the narrow pathway for what seemed a mile. Finally I saw her. The lavender hull... According to Grandfather, the hull had been carved from the strongest trees in the Haunted Woods, trees that were said to have been cursed by old Edna herself. This made it so that the hull of the ship could withstand running aground, or even enemy fire.

The figurehead was carved in the form of a pretty lady wocky, her arms outstretched and hands cupped, holding what looked to be a rather ominous looking raven. Emblazoned in gold on the port side of the ship was the name. My gaze quickly went from the bow of the ship to the three large masts. And to the enormous golden sails. The sails had been woven from Spyder silk by the finest weavers in Meridell, making it the strongest fabric one could buy, regardless of how flimsy it may have looked. I stared at it in awe. Never did I expect to see such a thing. Now there was only one other task that was one of me Grandfather's last wishes... To find a suitable crew..."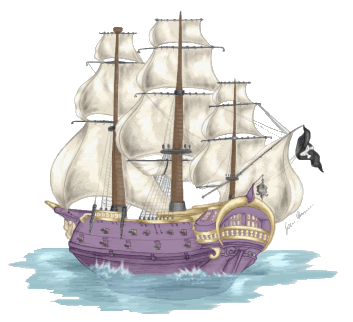 N Ship's Manifest N

Alas, thar be but only three members of the crew, currently, Kalia, Freya and me. Though, if yeh're willing to prove whether yeh're worth yer salt, perhaps I'd allow yeh to join. Yer name will show up here if yeh're deemed worthy...

N Me "Family N


Freyalise.
Miss Freya is a very interesting uni indeed. Even though we trust each other fully, I honestly know very little about her, and her past. All I've been told is that she made her money through petty thievery, pickpocketing the great mass of tourists that visited her homeland, Mystery Island. And although she never says much, she really doesn't have to. She's quite the intimidating uni. Miss Freya is in charge of the sails as well as navigation, and it's something she's quite good at. It still baffles me though, how one can tie up the heavy sails when one only has hooves...
Princess Kalia.
Ahh... Miss Kalia. Or rather, Princess Kalia. One could hardly call her a crew member, and I haven't known her long enough to call her a friend. She's a very mysterious character, she is. While Freya and I were gathering supplies in Meridell, she came to the dock looking very nervous and asking for the ship that was leaving right away. Since we were the only ship leaving that day, she convinced me to take her aboard. I can only really guess at what or who she was fleein', and she certainly doesn't want me to mention her at any of our future stops. Still, I have to say for a Princess, she's a hard worker, scraping barnacles off the hull and swabbing the decks. I may make a pirate of her yet...
N Guntershplikenstein N





Yes, I know he's got an odd name. Got the idea for it after seeing a pet in the pound with it. And it sort of stuck. But seeing as we are just simple pirates, we just call him Gunter. Gunter isn't all that special, and he doesn't really have any duties aboard the ship ('tis hard without limbs, I s'pose), but he is a fairly good fighter. And he adds a good element of surprise when we're raiding other ships. Because there is little scarier than flyin' napkins with eyes.


N Maps of Neopia N

On me many travels across Neopia, I have acquired quite a few maps. Maps that are unique to their respective locations, and seem to have a sort of magic within them.
Of course, I have no use for such maps. But considering the amount of work that went into them, I can't simply toss 'em aside. So I offer 'em to ye. They don't do much aside from look pretty on yer petpage. Hover yer mouse over 'em to see their descriptions.

How'er it would be much appreciated if ye did not edit nor take credit for these, or enter them in a contest. I'm sure their creator would not be amused by that.

N Spread The Word N

Ah, so yeh must be off? Well, I'm sure yeh'll give fair warning to other ships who feel like crossing paths with us? Or perhaps yeh'd like to find your way back? Just so happens I have a piece of map here that will help you do that. Freya and Kalia have the other two pieces.



...And this be where my piece goes...







Or, yeh could use a simpler link.



N Friendy Ports N




NEOPETS, characters, logos, names and all related indicia
are trademarks of Neopets, Inc., © 1999-2013.
® denotes Reg. US Pat. & TM Office. All rights reserved.
PRIVACY POLICY | Safety Tips | Contact Us | About Us | Press Kit
Use of this site signifies your acceptance of the Terms and Conditions