First, a little recent history.

Magic. That's what the sign said hanging outside the aging theater. "Verhale Partent's Magical Exhibition, Every Hour, On the Hour," it declared boldly, displaying a Shoyru in a suit, top hat, and short cape. The Shoyru was smiling softly, frozen in a slight bow. Behind him there were white weewoos flying away. This person was Partent. The one inside was really Nathanial Ginton, and while he wasn't bowing, he was ducking to avoid a shoe flung from the audience.
"The watch is just fine! It's not broken! I just don't know where it… ouch!" A second projectile, this time a half empty perfume bottle, had found its mark. Namely, Ginton's ear. There weren't very many people throwing things, but on the other hand, there weren't many people in the first place. "Everybody's a critic," muttered the would-be wizard as he hid behind the table. In his most commanding voice, he recited, "Months of the season, seasons of the year…" Something heavy thumped against his improvised shield. "Skip the spell, I'm out of here!"
Nathaniel grabbed the top of his defense, and slid it along the ground, with himself protected behind it. As soon as he reached the edge of the stage, he made a dash for the door, narrowly missing a can of Achyfii. Once you informed the audience that you were unable locate the Rolex after smashing its presumed location repeatedly with an oversized mallet, which you had just demonstrated was quite sturdy, relations tended to go downhill.
Rounding a corner, he met you. (This is his pet page, after all, and you are on it.)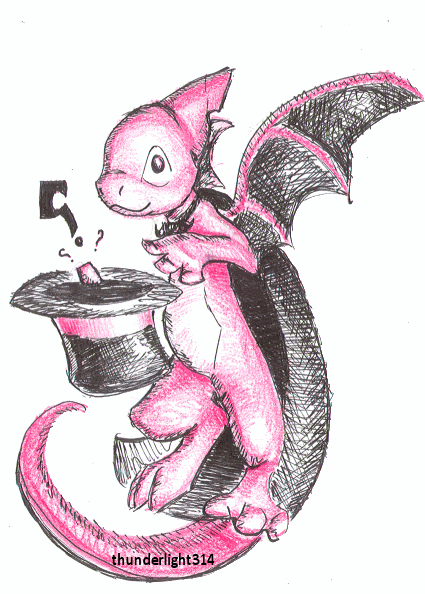 And now we've arrived at the present.
Nathaniel starts with surprise as he sees you. "Ah! I mean… um… Alakazam! Oh, never mind. I'm the famous Verhale Partent. Perhaps you've heard of me? No? In that case, I'm really Nathaniel Ginton. Nice to meet you, guest." With a practiced twirl of the hand, a card slips out of apparently nowhere. Unfortunately, he doesn't manage to catch it, and it goes sailing past your head. Maybe it wasn't so practiced after all…
I'm going to assume that you would do something roughly equivalent to stammering "How did you know my…"
He grins at you. "I know a lot of things. For instance, you are wearing a name tag, you do not take much time thinking about what to wear, and you are absent minded." He gives a mock flourish and bow. You give a glare. "All right, so it's not the most impressive trick. I should have gone into comedy. After all, everybody says my act is a joke. And you have no idea how many cracks I get about making the audience disappear. But such is my lot, I suppose."
Classifieds (Work Section)
| | |
| --- | --- |
| Stage Name : | Verhale Partent |
| Actual Name : | Nathaniel Ginton |
| Species : | Shoyru |
| Gender : | Male |
| Seeking Work As: | Stage magician |
| Favorite Trick : | The hat that snaps shut on anybody reaching into it |
| Outfit : | Magician's top hat, suit, and cape; never without a trick or two on him |
| Personality : | Eccentric, cheerful, resigned to regular unemployment, funny, theactric |
Around the City
Oscen Telarius is the sort of person who gives people like me a bad name. He's a con who's decided to settle down here for the time being, at least until the water gets too hot for him to handle. We don't really see eye to eye on our area of mutual expertise, card tricks. And whatever you do, don't let him work out which pocket your wallet is in.
Voror is the sort of person people like me give a good name to. A fire eater, but not your garden variety. He takes the title as literally as it gets. The show would've been unnerving enough even if I hadn't known there was no gimmic to it. Not exactly the sociable sort, either.