Hello, My name is Valahrien. I am silvermoon_fox's third lupe. I was painted desert not long ago but as you can see, the pigmentation just would not stick to my fur.
Now adays, I live in the desert in a distant oasis with my simple followings of three serving petpets. I am a princess of this land, though now my people are disbanded wandering aimlessly in the desert. I long that we can be gathered together again and rebuild our city. We never lived in anything other than tents as we are nomadic in many ways. My lovely tent, filled to the brim with gold, jewels and fine silks, has not been moved from this oasis for some time. With me, I have two guards who I send out in search of my missing people.
I am not horribly lonely. At times, my lovely sister, Fanta leaves her meadowy valley to come visit me. She brings me trinkets and fine things that other neopets give her in return for healing. It always fascinates me how her paws bring life to the ground. From here to her valley there is a trench of flourishing flowers and grasses, every where where she walks.
---
My sister to the north, Fang, also brings me lovely things. She flies from her cold mountain tops to bring me bits of gold and rough diamonds that my petpet servants work into lovely jewelry. She never stays long though. Her fur is thick for mountain dwelling and the hot humid climate here makes her uncomfortable. As you can see, mine is very fine, soft and short and thus comfortable for this weather.
---
And let's not forget my lovely brother. He is a mercenary, a warrior for hire. He made quite a reputation for himself during the war for Meridell. Such a fierce creature, he is. He rarely comes out here unless it is for some favor. Though now and again he brings me a horde of treasure for me to hold onto for him. He never asks for it back, however...
Valahrien's Likes
Jewels
Silver
Gold
Her many petpets
Warm desert air
Her missing people, most of all
---
Valahrien's Dislikes
The cold
Muraders
The curse that caused my people to flee
Scarabugs
Violence
Valahrien's Stats
Age: 93767 (thats nearly five years old!)
Gender: Female
Specie: Lupe
Color: Desert and White
Special markings: Pink nose and footpads, has Egyptian eye paint.
Clothing/Accessories: Various jewelry. Almost always wearing bangles around neck and same face mask. Other jewelry varies.
Character: Slightly demanding, strong spoken and strong willed ( she has to be in order to rule a powerful kingdom), hopeful, bluntly honest, diplomatic, just, and judgmental.

Art of Me
Drag and drop image into your address bar to view them fully.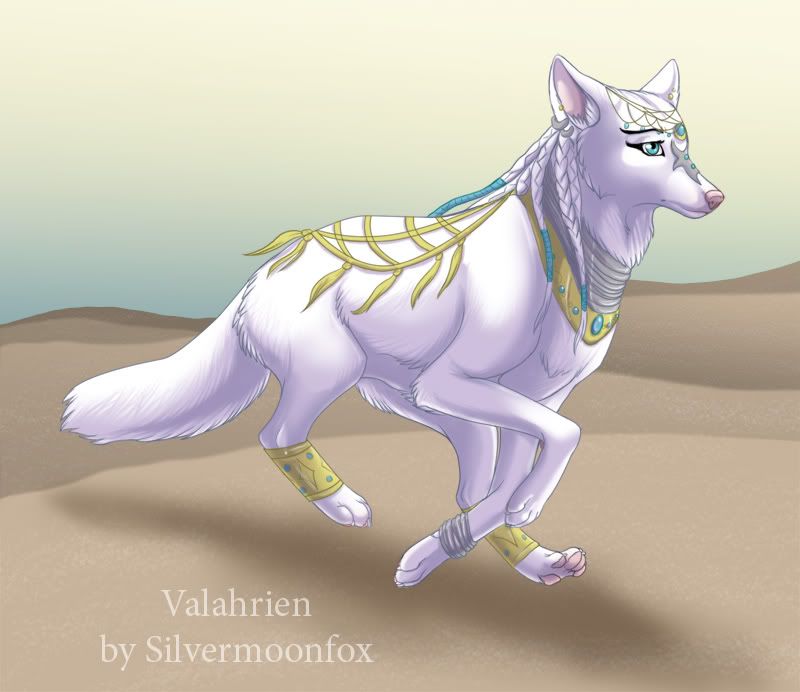 Adoptables
Rules:
don't claim them as your own
don't remove the signature or link
don't alter them much (aka, butcher them)
don't enter in contests
enjoy :3
Temporarily removed until I can fix the coding.

Link Back to Me
Links to Family
Links to Others