Be who you are and say what you want to say, because those who mind don't matter and those who matter don't mind.
-Dr. Seuss
Good plan? Yea right
Honestly, you had no idea where you were, other than the fact that you were in the middle of...well...nowhere. Everywhere you looked was just sand. You sigh as you walk forward a bit, the small particles of sand causing your foot to sink deep into the dunes. A growl of annoyance escapes as you quickly trudge forward to avoid being trapped in quicksand or something of that sort.
I should have never listened to those rumours. You think to yourself as you struggle to stay above the sand, body practically drenched in sweat from the desert sun. Supplies were dwindling and your water supply could probably last another two days or so, perhaps four if you managed to draw it out. But it was no easy task to return to Sakhmet since it took almost a week to get out here in the first place. And this was all for what was possibly some nonexistent treasure that was probably made up in the first place. Well, good thing you had a compass to help in your return. You turn around, fully intending on returning back to the desert city when a small rumble could be felt beneath your feet. The sand shakes loose and the dune breaks under the movement, your feet slipping beneath you as you tumble towards the bottom of the dune as a loud yelp of surprise escapes your lips before sand fills your mouth.
Something coming up from the ground can be heard next to you, but you're too busy with coughing up sand rather than paying attention to what had appeared...until a voice interrupts your colourful stream of cursing. You slowly turn around, eyes finally catching the sight of what seemed to be a draik of some sorts...but a rather odd one.
This draik had no arms or forelegs of any kind...instead, two powerful wings as well as two more beneath the ones at the shoulder blades were attached to the body while slim but powerful back legs helped support the draik's weight. A long tail with what seemed to be some sort of fishy like fins adorned the tail while a dorsal fin could be seen at the base of where the tail met the body. Fins aligned the top of the draik's head and if it weren't for the fact that the Lost Desert was far from the ocean waters, you would've thought that perhaps this draik was from Maraqua. Rings pierced the two largest wings and the draik's scales shimmered orange underneath the scorching sun. Calm blue eyes gazed curiously at you as you take a step back from the creature, for indeed it was rather...taller than you.
Well, this is a shock. The draik says in a feminine voice as she shifts slightly. Movement can be seen right above her shoulder as a black Seti stares at you from its perch on her shoulder. Never would have thought another treasure hunter would try to steal my thunder.
E-excuse me? You say rather incredulously. Who was this draik? Said draik gives scoffs slightly in ridicule as she draws itself to her full height. Well, obviously, you're looking for the rumoured treasure as well, right?
True, that had been your intention at first, but now you just wanted to get away from all of this blasted sand and just lay down and forget about this mishap. You shake your head and slightly tense as another scoff, this time of disbelief, is heard from the draik. Yea...and I'm a Mynci's uncle.
All I want is to return to peaceful and proper civilization you manage to ground out as the draik stares at you. You could almost imagine a fake eyebrow raised up in an 'oh really?' fashion. I'm tired of all of this...stuff...and treasure or whatever rumours can be spread. All I want is to return to the city. This time, the draik raises her head slightly, her eyes seems rather thoughtful.
Well...if that's the case.... she begins as she sticks out a blue tongue slightly from between her teeth, the Seti gazing curiously at the draik as it gives off a tiny squeak. She nods slightly before looking back down at you as you once again back away in case she became hostile. Well, I'll take you back to the city, alright? Your eyes widen as you hesitantly nod, not sure yet if you should trust this draik, but almost desperate enough to do anything to get back. The draik smiles cheekily before resting close to the sand, her wings laying almost flat on the ground while her thumbs and palms supported her weight.
Well, c'mon! she says as she motions with her head for you to get on her back, the Seti sitting comfortably between her shoulder blades and staring at you still. We haven't all day. You shrug as you accept the invitation and try to get comfortable on the draik's back while the Seti clings onto its position. A flap of her wings is the only warning given before she dives into the sand head first, but not enough for you to be too affected. You gasp in surprise as the draik begins to surf the sands, gliding smoothly as though it was just water. Your eyes widen at the thought that this was a Sand Glider draik...before sand strikes your face and you cough again, trying to get the grit out of your mouth and eyes
And what sounds suspiciously akin to laughter escapes the draik as she glides on with her passengers on her back.
Always a mistake
A snort of pain escaped my snout as my head bumped painfully against the hard cavern wall. One of my thumbs came up to rub against the growing and throbbing bruise that was obviously beginning to form as a small squeek and a 'fump' sound came from beside me. Peeking open one eye, I stared rather boredly at the tiny little Seti that was in an awkward upright curled position and gingerly poked at the bump on my head again, hissing and cursing beneath my breath as a streak of pain coursed through my cranium.
That's definitely going to leave a mark I sighed as I helped the little Seti up from its odd position, tiny squeeks of protest resounding off of the cave walls as it managed to unfurl itself and stare up at me with beady yellow eyes. The little thing's look of accusation had me raising my wings in surrender, my eyes narrowing into an almost joke-like glance.
Alright, alright, it's all my fault. I admitted as the Seti gave a 'hmph' of annoyance before turning away. I sighed again as the Seti gave off the feeling of a disgruntled Aisha, a rather irritating thought that I rather would have avoided. But there was no point in contemplating my strange little companion's thoughts as I turned my head around, my eyes glancing this way and that at the sealed off walls. The obvious proof of a cave-in that lead to us being stranded down below the earth in some unknown tomb had me scowling. Well, definitely won't be going back through there I muttered beneath my breath as I heard another huff of disapproval sound beside me and a thin tail whack at my wings. Ignoring the actions of the little Seti, I gave a cursory glance to see if there was any way to get out of here, but there seemed to be none.
Eh... I began rather cautiously since I could practically feel the rather creepy death glare directed at me from such a tiny little thing. Any ideas on how to get back? I said rather sheepishly. The only response was another whack on my wing and a louder squeek of annoyance and a quiet curse from myself which echoed endlessly from the walls of the sealed chamber.
Yep, we were definitely trapped.
Treasure Hunter 101
Oh! I guess I should introduce myself! I'm Uellio, treasure hunter and tomb raider extraordinaire! (Here, a loud snort of what seemed to be disbelief could be heard from beside this...'Uellio') HEY! It is true! Don't mind Tallos (the weird draik thing says as she points at the Seti), he's just a grumpy grump. Ow! Hey, what was that for?! (Said Seti humphed after he bonked the draik on the wing with his tail)
Well, whatever. He's not important (sticks out tongue at the Seti...real mature) since I am talking about my absolutely lovely and dashing self.
But wait, aren't you female? Not many females call themselves...'dashing'... (as far as normal females go, really)
Well of course I'm a girl! But I can be just as dashing AND as lovely as the next treasure hunter and tomb raider! Well, then again, most have bad teeth. But not I! I practice proper hygiene as well as hunt for rare shinies beneath the sands! (Here, she gives a rather wide grin)
Onto the lovely statistics like how most 'normal' petpages go! How boring.
Uellio
And it's pronounced
You-Eh-Lee-Oh
by the way.

Nickname
: Lio (Like Leo)
Personality
: Rash, arrogant, daring, and a bit hyper...or a lot...
Age
: Around 20 or so
Gender
: Female
Specie
: Draik
Colour
: Desert
Mistress
:
Zaro
Occupation
: Treasure hunter and tomb raider
Residence
: Lost Desert (best place for treasure hunters, if you ask me ;D)
Clan
: Sand gliders
Haha, I have a LOT to talk about when it comes to yours truly. I'm the best of the best treasure hunters there can ever be! (A snort is heard beside her) What?! It's true! Don't listen to Tallos there, he's just jealous.
But I bet you're wondering; what's so great about treasure hunting? The answer...? EVERYTHING.
The THRILL of finding shiny prizes and raiding ancient tombs, then showing off what you find? That's just awesome. And the adventure leading up to the prize is just fantastic! It's so awesome and cool as to what you can find and what traps there are in ancient structures like... (and she goes on for awhile)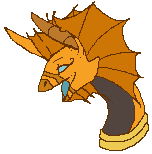 Likes
Hot weather
Treasure
Anything shiny
Exploring
Adventures
Lost Desert
Tombs
Marketplaces
Jewelry
Ancient structures
Tallos (I guess...)
Dislikes
Cold nights
Junk
Getting lost
Mirages (I GET LOST EASILY)
Sandstorms
Being bored
Liars
Other treasure hunters
Thieves
Scammers
Cave-ins
Sometimes Tallos...
The what gliders?
Wwwhhhattt, you don't know what Sand Gliders are really like? She huffs at you in disbelief.
Well, to say it simply, Sand Gliders are...obviously...creatures that travel through the sand.
Oh sure, you have fish in the sea and birds in the skies, but c'mon! What's more impressive than a draik that can glide through the sand? We're a small clan and normally, Sand Gliders travel by themselves instead of with another, so we live a kind of lonely life.
But that's okay! I mean, I have Tallos....even if he makes my life a pain. Hey now, don't glare at me like that, you little demon. You are a pain...a-alright, just calm down now, Tallos. We're getting to your part right now.
Mr. Grumpy Grump
aka, Tallos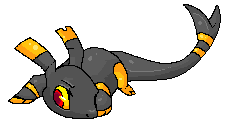 I honestly don't know how I came upon this little guy. One day, I was busy treasure hunting and getting lost again, the next day, Tallos started traveling with me.
I guess you can call him my confidant, but really...he's more of a conscience or something for me. A really annoying conscience...(whack)...OW! What was that for? It's trruuueeee.
Tallos is a Seti if you haven't been able to tell and the family he belonged to are well developed in traveling through sand. He was the runt of the new litter, apparently...haha, you're tiny...hey hey, don't hit me again. I kid, I kid...
My 'Handsome' Self
I'm just such a dashing fella' that people can't help but draw my gorgeous self!
By Zaro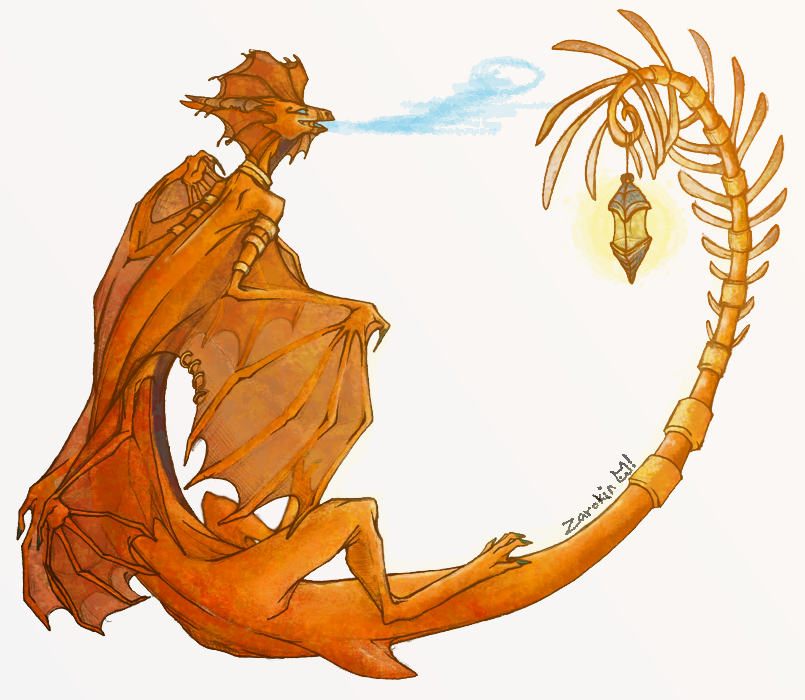 Miniatures of yours truly
Whoah! These little guys look just like me! Of course, don't get them confused as yours truly since I'm obviously more dashing than some imitations, but it's rather flattering that I'm so famous.
Treasure hunt again?
Oh hey, you want to treasure hunt with me again? Well, that would be 5000 NP (another whack)...hey! Wow, so violent. Maybe I should get one of those annoying Kadaoties or something...
But feel free to come back anytime! Just follow the sand trails and juicy gossip about lost treasure and you're sure to find me! Or take that link below. It's just covered in sand though...


Interesting people
Haha! These guys are my best buddies...you should visit them too!