Introduction
A cold touch of water slinks past you as you enter the page, pillars of rock surround and frame the otherwise formless sea. Slowly, carefully you proceed, unsure of how you discovered this dark place in the first place. A wave, a nudge, something pushes your limbs forward in the water. Turning around briskly, you see nothing but darkness and... What's that? A pair of eyes?

The eyes are coming closer now, but despite their alarming appearance you don't feel afraid. Instead they sway you into a feeling of pity, sadness.

Who are you?
Hello Marianne, and welcome to my application for Okreo! Before I begin, I'll put in the obligatory disclaimer that in no way shape or form was I forced to make a petpage application, but rather did so out of my own inspiration. (:
To navigate the page, please use the links up above!
About Me
Before I start getting into any plans, you may want to know a bit about me! My name is Lynn, and I'm a 17 year old artist, writer, and roleplayer here on neo. I'm currently part of a character development guild called Revolution, as well as many different roleplays that I use to help me miraculously splash out all of my creativity on to paper. Neo here is my outlet, and it's been so for around 7 years!
Character development is the main thing I really love about
neo, and continue to work with, but one thing that really got me going was HTML/CSS. In real life, I aspire to be a Web Designer, and without neo I have no idea who I'd be today. That said, I absolutely love the artistic, design portion of neo, and improving with my pets by designing their lookups and pages. Designing custom pages, and lookups, is what I sincerely love here on neo. That said, a few of my pets are UFT, so don't be intimidated if you see any blank pages, for they're looking for new owners themselves. ;D I've received almost all of my pets through trading up or adopting, but as soon as one gets a character they're stuck with me. I've never traded out any pet I've adopted, nor do I ever intend to.
Despite that rather stern statement, I'm a pretty relaxed person all together! In real life, I'm a full time college student, somehow managing to put together school, friends, games, horseback riding, and all my work for neo. I have an incredible horse named Goliath, a very supportive family, and am aspiring to have a computer science (Web Design/Programming) major. In my free time I ride Goliath, unwind with neo, as well as draw, write, and forever alone with me and my lovely technology until my friends decide to dig me out every once in a while.
Why Okreo
I'd love to own Okreo for an incredible amount of reasons! UC Grey Peos have been a goal of mine for quite some time now, and one of my very last goals here on neo. Not only have UC Greys captured my heart, but I think UC Peos are the most well drawn and adorable ones around. Okreo would be an amazing addition to my family, and even though I'm an artist and a writer, art and writing are what makes me really love a pet, and I have an insane amount love for my plans for Okreo!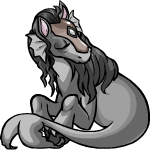 Peos in particular are inspiring pets for me because of their horse-like features. As I said earlier, I ride horses nearly every day, and I'm always inspired to draw and create horses like Okreo. Peophin's aquatic spin on horses gives me an inspiring new ways to draw them.
Aesthetic reasons aside, okreo's name is such a short, quick masculine name that I couldn't keep out of my head! I had to stop myself from getting distracted and drawing a million different poses of Okreo on the side of the current drawing you see, and have plans to make one of those peophins adoptables! Drawing and writing is the way I really adore my pets, and work hard to show the world my ideas for them.
Okreo's one of my very last dreams here on neo, and I'd love to have the honor of adopting him.
Plans
My plans for Okreo are very similar to the rest of my pets! Over time I'd give him a customized lookup, like that of Judeshias, Charismatically, and Aeyet's. And a page, to match, of course! Either way, I've been addicted to neo for years, and I can't imagine quitting. No matter how short of a time I have to be online_ neo is always my creative outlet. All of my characters are loved and developed over time, as I add and create their stories and art.
A way I love develop my characters is roleplay. Now I'm very rusty at the moment, but I'm ready to exercise those typing fingers again. A lot of times you'll find excerpts of roleplays on my pets pages as my own personal way of figuring out their own unique quirks over time. It's not really a, finish everything now and let them sit with full pages for me, it's more of a gradual relaxing process of developing them over time. Another way I love to get this side out of my is my guild,
Revolution. This amazing kick in the butt has really made me see into my characters a lot more, and with events like petpage bootcamp, and BC Week, there's always an opportunity to work on someone. I'd love to include Okreo in this mix.
With all petlookup, petpage, and roleplay aside, I also
love
to draw. It's a little funny, because as I've grown I've strayed away from writing, and began to draw more. I used to aspire to be a great writer when I was younger, and I wrote much more then than I do today! But what I love about bringing new characters into the mix is that there's always a chance to let new inspiration out.
I do BC sometimes. I do draw a lot, but spamming over boards and boards gets tiring for me quickly, so I usually only participate in the contest when my guild holds events. My boy Oro has two shiny trophies of which I've earned for him, to show for my BC!
But now, what do I do when he's already got a petpage, lookup, BC entry, and a funtastic roleplay going, you say? Well. My guilty pleasure is customization. When I'm stuck in a rut creatively, there's always the original petsite I'm attracted to here on neo, and that's when I start dressing up my boys in cutesy wootsy dresses.
I'm only kidding. (: But! Despite being an UC, Okreo would not escape this dress up fest, oh no.
If adopted, I would like to adopt him on my main account, lynneai, where the bulk of my NC is. (: I'd also love to keep Cmulus, his Grey Cirrus with him, as it's already an adorable fit!
Conclusion
Thank you so much for taking the time to read through this application! I apologize for not being able to make it to my 100% incredible due to school starting up, but I hope to be able to be given that chance in the future! I absolutely love drawing and customizing Okreo, and wish I could promise the world for him, but unfortunately I only have a short amount of space to do so! After missing out on trading for him before I couldn't possibly miss the chance to apply for him!
Thank you for your time, and best of luck choosing an owner for Okreo! Whoever you choose, I hope they'll be an absolute belle ;D