Welcome to The Neocash News, your source for all things Neocash!
Current Articles
April 23, 2017 -
New: Crac.ked Magical Negg + Mall Items
April 23, 2017 -
Trending: Sunny, sunny, sunflowers!
April 23, 2017 -
Popular: Scattered Light Shower
April 23, 2017 -
Hidden Gem: Flower Jars and Vines Garland
April 19, 2017 -
New: Babaa with Flowers and Neggs
By Megan (dragador).
April 23, 2017.
This week was full of high and lows. We had a couple mall releases that were gorgeous, and the Festival of Neggs provided some cute and some unpopular items. Between these new releases and the GBC sale over the weekend, boards were hopping!


Breezy Dots Dress and Dark Roots Blonde Wig
These two spring shop items appeared in future fashions on April 17. The pastel colours and dainty details are perfect for feminine spring outfits. The Breezy Dots Dress is long and flowing, but the off-the-shoulder top looks a bit awkward on quadrupeds. Dark Roots Blonde Wig fits well on almost every species and has a pleasing ombre effect.
This week's Festival of Neggs had a mixed reaction. There were a couple cute items and a couple duds in the Crac.ked Magical Negg.





Glittering Negg Staff, Glass Wings, Spring Glass Dress, Glass Shoes with Flower, Negg Shaped Terrariums



Bonus: Glass Garden with Neggs
Here are all of the items put together:
It's an eclectic mix!
The big favorite from the negg was Glass Shoes with Flower. They are translucent, delicate, and feature a pleasant bit of pink. Negg Shaped Terrariums are a cute, flowery take on the festival. Many people expressed disappointment in Glass Wings do to awkward placement, but they look cute on some species. Glittering Negg Staff is usable, but not really a stand-out item. Spring Glass Dress will shine come autumn, but seems out of place for April. The real coup de gras, however, is the bonus. It left most people scratching their heads and wondering, "What were they thinking?!" Glass Garden with Neggs is bright and rather nonsensical. The grass look like underwater kelp, but pink clouds float by in the background. The neggs are oddly shaped and don't really look like neggs. To top it all off, the colours are loud and clash terribly.

Open it and receive one exclusive springtime-themed item.
Later during the week, Springtime in Neopia Mystery Capsule appeared in Future Fashions. Many users scrambled to tear these open and enjoy the brand new items inside! The outfits made from these items are popping up all over:
Aren't those stunning? We'll be seeing these items around for a long time. Just kidding. We've just been teased with amazing item names that were never activated. Eventually, the caps were removed from the mall and inventories, but the broken items remain. Hopefully we'll see these beauties early this week!
Here are some actual outfits featuring the new items.
Hoig, owned by gr8caesarsghost, plays off the pink of the new dress with Dusty Pink Lamps and Cupcake Curtains. Jisae, owned by axcravia, uses the new mall items in an enchanting customization featuring an original use of Rustic Summer Frame.
Shannon's Ashne and Trendei are both rocking the Dark Roots Blonde Wig. Ashne looks ready for swimming fun, while Trendei is bundled up for autumn chills.
Two more cold weather looks with supahangel's Rowan wearing the Spring Glass Dress and Shannon's Ashne wearing the Breezy Dots Dress.
Aerolusia, owned by supahangel, shows off the terrariums in a warm, summery outfit. Kjelly123 managed to make the bonus background look good with this Blumaroo's outfit. The addition of Nighttime Sky Garland and Dark Prismatic Flowers FG make the wild colours seem more appropriate.
Next week we have one more negg full of items, and hopefully those new caps will finally be activated! Check back next week for a run-down of all those exciting releases.
Back to Top
By Kay (kaychung).
April 23, 2017.
Here comes the continuation (of what seems to be becoming a flower series) of my last Trending article that was all about Cherry Blossoms. This time we move to something a little SUNnier and yellower! Sunflowers are one of my favourite flowers. They're just so bright and cheerful, they never fail to make my day better if I see them. Luckily for us customisers, TNT has provided us with some beautiful sunflower pieces.






Premium Collectible: Sunflower Fields Background, Radiant Sunflower Arbour, Sunflower Garland, Sunflower Shorts, Sunflower String Lights, and Bunch of Sunflowers.
Want to see how the NCC is using these sunflower items? Check out the customisations below!
This Korbat is looking all sorts of spring-like and fresh surrounded by fields of sunflowers! Keeping with the bright yellow theme, I paired the background with the original Golden Scattered Light Garland and the Dyeworks Yellow: Cherry Blossom Garland.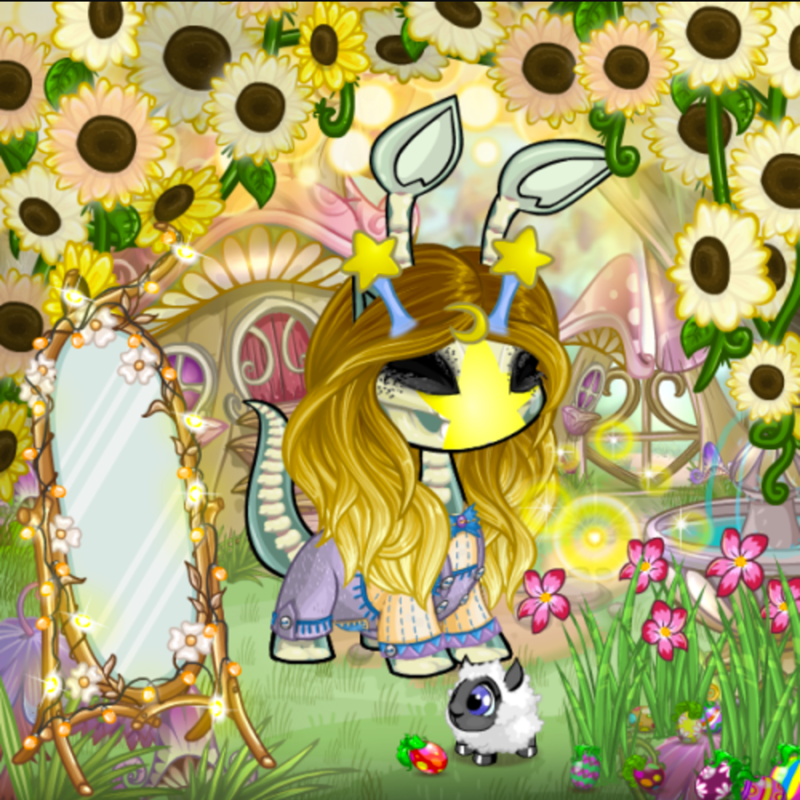 But if yellow isn't your colour, that's ok! Cazari owned by sweeran and Emelis owned by springsummer_ show that sunflowers can basically be paired with anything! Both of these customs use the Sunflower String Lights to really bring a pop of floral to the outfit.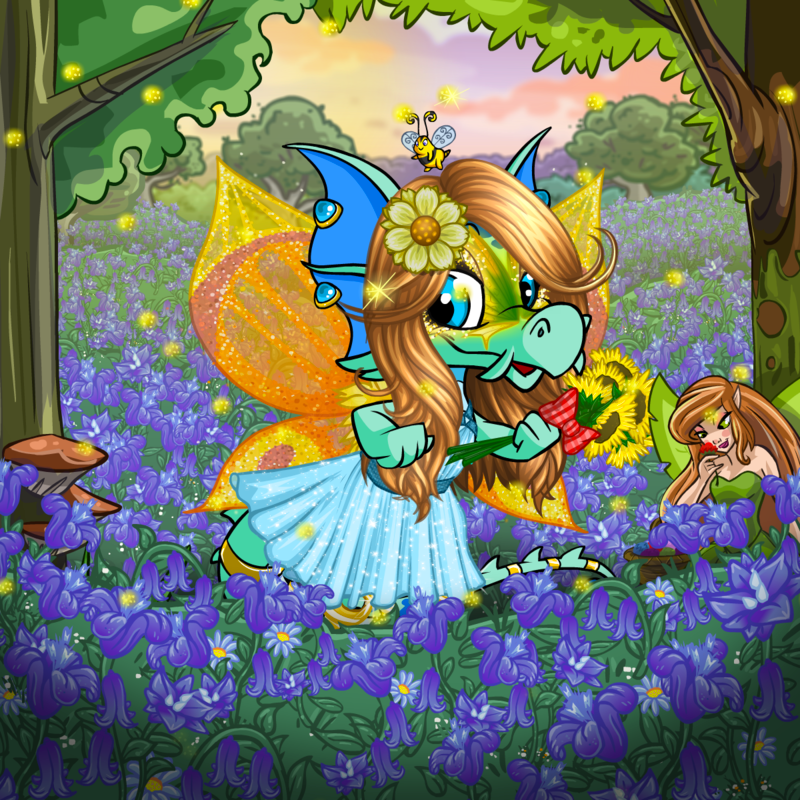 This Draik custom by fiery_white_dragon uses multiple flowery items to create this seasonal custom. The Bunch of Sunflowers is a lovely handheld that acts as an accent piece to match the Draik's wings and hair.
Ok, I'll be honest. Those were the only customs that used each of the sunflower items individually. When I asked around the NCC for models it seems like we all just can't get enough of these flowers. And I agree, they all looks so smashing when paired together. So here are the rest of the looks… (not separated by item even though that was the plan when I started this article).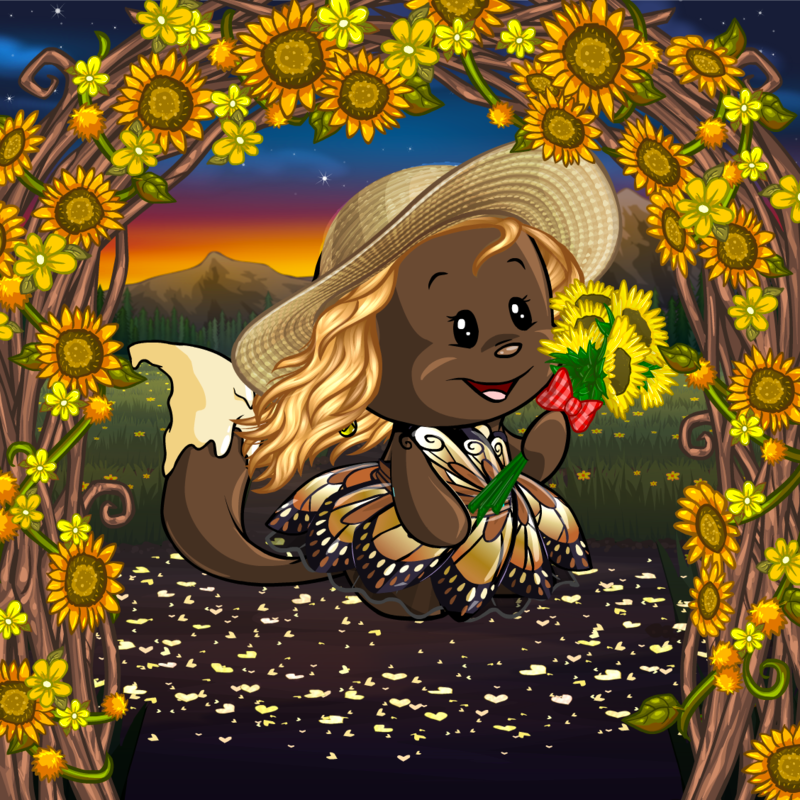 Sabeina owned by unottweety1 and Trendei owned by Shannon both wear the Sunflower Arbour in a night and day custom, while Pinkelillie, also owned by unottweety1, and Trendei wear matching Sunflower Shorts with the Tied Yellow Top.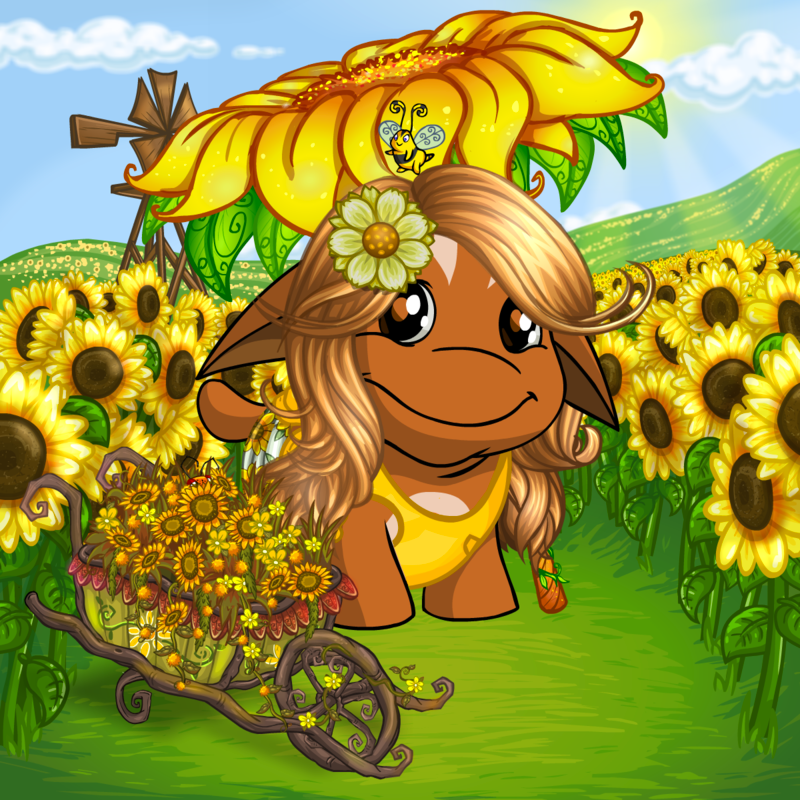 Photocyte owned by wintersunboheme, this Poogle custom by ag112288l and Joga owned by felipegyn are all wearing the only background on the list, Premium Collectible: Sunflower Fields Background. Albeit all with different items they all match the yellow and green theme found in the background.
And some more looks by Shannon, KatharineMae and Xanze share the Bunch of Sunflowers and Sunflower Garland but that's where the similarities end! Yet the both seem all dressed up and ready for the spring weather!
You can use these sunflowers items for at least 2 seasons (even three as the Radiant Sunflower Arbour is often a great transition piece into the fall) making them ideal for any of your upcoming customs. And with this GBC sale that just happened perhaps you were finally able to cross some of these off your spring/summer wishlist!
Back to Top
By Shannon (shannonnbananonn).
April 23, 2017.
This week's popular item is personally one of my favorite items, if not my favorite item (sorry RGEM). It adds the perfect touch to almost any customization. This, of course, is why Scattered Light Shower, or SLS for short, is so popular.

What colourful lights!
Scattered Light Shower adds a nice lens flare effect to your customization, which works well with seasonal customization. Since it is zoned as a Background Item, it can be paired with all of your favorite higher foreground and regular foreground items. It is ~10-15 in value, which won't break the bank, however it is not the easiest item to track down either.
Here are a few ideas of how to use Scattered Light Shower in your customizations.
The most common way to use Scattered Light Shower is by using it in outdoor, seasonal customizations. Sefanie, owned by Missy (knightwriter2010), is on the left, and Dasp, owned by Vicky (xxdemilovatoxxd) is on the right. Both are using SLS in their Spring customizations.
Scattered Light Shower can also be used in customizations that are up in the clouds! On the left, Missy pairs SLS with City in Space Background in this UC Faerie Yurble's customization. On the right, SLS is paired with Cloud Castle Background in Xeja's (owned by Vicky) customization.
The lens flare effect of Scattered Light Shower is perfect for underwater customizations, as shown by Siriyn on the left, and for indoor customizations featuring windows, as shown by KatharineMae on the right.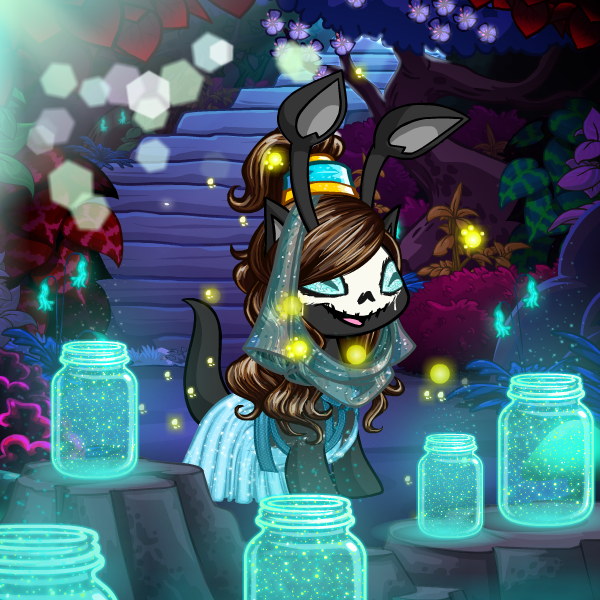 Scattered Light Shower makes perfect sceneries for invisible pets, as shown on Pixu (left). Meanwhile, it is also a great addition to more magical customizations, as shown by this Shadow Aisha (right). Both of these stunning customizations were created by Kirsten (amureux).
Scattered Light Shower is a must-have item in your closet. I hope this article inspired you to try some different ways to incorporate this popular item in your next customization. Also good luck to all of those who are currently seeking it (and sorry to those who just added it to their wishlist because of this)! (:
Back to Top
By Sashell (urredneckgirl1128).
April 23, 2017
Creating customizations can sometimes pose a challenge with what items you can use that are not only easy to add to your closet, but also look amazing. Those little pieces that are staples in your closet are generally your hidden gems, or things you go to that you love and work perfectly with so many outfits. One hidden gem that I love is Flower Jars and Vines Garland.

With enough light, these flowers will grow by themselves
Not sure if they will literally grow by themselves, but they sure do light up a custom!
Restitched, owned by me, shows you that you can create different looks by layering this garland with others in fun ways. The Flower Jars and Vines Garland is classified as a foreground while most others are classified as a high foreground. Yay for layering!
Think outside the box and toss them in with your Autumn and Fall customizations too. The floral notes add a nice pop of color to an otherwise monotone customization that actually works!
Inspired by monkeylv88's Sael, I created this custom built for a stealth Peo. The garland doesn't stand out here, but instead blends and compliments the custom overall creating a nice and light spring custom.
Don't think you can use these jars for outside customs only! Bring nature inside too and add them to your favorite indoor customs. Who doesn't love the smell of fresh flowers anyway?
Layering is so important for unconverted pets. This ability allows you to not have such a 'bare' custom. Flower Jars and Vines garland is the perfect item to have in your closet when you are customizing unconverted pets!
Ready for a day in the warm spring air, this little Ixi didn't leave home without her gorgeous accessories.
Sometimes all it takes is one small item to tie an entire custom together and create something really stunning. The Flower Jars and Vines Garland is just that item for you to lock into your closet forever. Its versatile for many customs throughout most seasons and holidays, and even events! Maybe you could tie it into your Altador Cup Custom this year? With just a value of ~1-2, it should be an easy item to obtain if you are seeking it out!
Back to Top
By Shannon (shannonnbananonn).
April 19, 2017.
Yesterday the bonus for dusting the Cloudy Magical Negg was released! If you dust your negg five times, you will receive the bonus item: Babaa with Flowers and Neggs.

This adorable little Babaa seems quite excited about the hidden Neggs!
This cute little item is already super popular, probably because of it's adorableness. Here are how NCC'ers are using this brand new item.
Perfect for spring, as shown by Tudl (owned by spabl) on the left and Prairie (owned by purplebee2000) on the right.
It's perfect for baby pet customizations, as shown by Pantz (owned by wykedgrl). On the right is Kadmint (owned by wut_ever02) who is admiring the little babaa.
That wraps up all six of the items from the Cloudy Magical Negg. Stay tuned Sunday for a recap of the items released from the brand new Negg!
Back to Top
By Shannon (shannonnbananonn).
April 17, 2017.
This week we were treated to new items galore! First up, two pretty new items entered Future Fashions on Tuesday: Wispy Blonde Ponytail Wig and Negg Jar Foreground.


The foreground and wig can currently be purchased in the NC Mall for 150NC each. Next up, another item entered Future Fashions on Friday: Colourful Glass Bottle Garland.

Upcycle your old bottles into beautiful planters!
This garland is also currently in the NC Mall and can be purchased for 150NC. Lastly, the currently most buzzed about item on the NCC was released on Saturday. I am, of course, talking about the brand new Premium Collectible: Overgrown Tracks Background.

Take a walk along the tracks.
This stunning new background is extremely sought after at the moment. It personally reminds me of all the hype that occurred when Premium Collectible: Blue Moon Field Background was released. Luckily, if you purchase premium between now and May 14 you will get not only this pretty background, but also next month's premium collectible! Since one month's worth of premium costs $7, this puts the technically buyable background at ~3-4 until it retires.
Stuck on how to use these brand new items? Here are how some NCC'ers are using them.
Wispy Blonde Ponytail Wig sits perfectly on Aishas (left: Skellarina owned by _rodeo_, right: Angelesa owned by nineoneone_)...
...and on Blumaroos (left: Glamerous owned by flaries, right: Yora owned by toreani). It's perfect for glamorous occasions as shown above...
...and in more casual, spring customizations as show by MindyPop (owned by catz1) and WandaMae (owned by unottweety1).
Jeridene (owned by wenchleeuh) and Gama (owned by aesare) use the Negg Jar Foreground in their spring-y customizations.
Eeyh (owned by aesare) and this transparent aisha show us that Colourful Glass Bottle Garland is made for indoor customizations.
Lorrion (owned by skro) pairs the new PC with Cherry Blossom String Lights and Forget Me Not Foreground in his Stand By Me-esque outfit. Meanwhile Dolores (owned by wykedgrl) pairs the PC with pinks and blues for a more magical look.
Chealy (owned by indebtedness) and Shivvra (owned by _chocolates) show us what is likely to be the most popular combination, the PC paired with Dyeworks Blue: Field of Flowers Foreground.
That wraps up all the lovely new items from this week! I said it last week and I'll say it again, TNT is on a roll with these new Spring Shop releases. I don't know about you, but I can't wait to see what new items are released this week!
Back to Top
By Shannon (shannonnbananonn).
April 17, 2017.
Bust out your thinking caps and your best negg items! Festival of Neggs is finally here. Topsi has planted three magical neggs around the site for the NC portion of this event.


If you are new to the NC portion of the Festival Neggs, here is a brief low-down. There are 15 days to this event and every 5 days you will get a new magical negg to dust after completing the NP portion of the event. Yes, that means it is against the rules to participate in this event on side accounts. On day 1 we received Cloudy Magical Negg which means on April 19 we will receive the second negg, and on April 24 we will receive the last negg. Each negg can be dusted a total of five times. You will receive the items from each negg at random, but you will only get one of each item total. On the fifth day of dusting (or the fifth time if you wait to do them all at once) for each negg you will receive a bonus item.





Above are the five items available from Cloudy Magical Negg. The bonus item will be released tomorrow! Here are a few ways to use these brand new items.
This shadow lenny is modelling the new Blue and Red Dip Dyed Wig, which eerily has similar coloring to the elusive Galactic Traveller Wig. Will this be a replacement to the ever-so popular wig? Probably not, but it does look nice on some species. LindyPop (owned by catz1) uses the Bicycle Planter with Flowering Neggs in her flowery customization.
Ahy (owned by aesare) pairs her Floral Trousers with bright yellows, pinks, and purples to match the floral print. Meanwhile this lovely transparent blumaroo (outfit created by Kay) pairs her trousers with more pastel themed colors.
Kharma (owned by wykedgrl) and Kadmint (owned by wut_ever02) show us how pretty, yet subtle Spring String Garden is.
Geme (owned by aesare) and Chealy (owned by indebtedness) are wearing Tiered White Top in their spring customizations.
That wraps up the first five items from this year's Festival of Neggs. Stay tuned for a midweek recap of the bonus item from the first negg, and next Sunday for a recap of the next five items.
Back to Top
By Sashell (urredneckgirl1128).
April 17, 2017
With Spring in full swing, customizers are not only looking for adorable new items (great job TNT with this season's pretties!) but also, beautiful classics to utilize for pretty customizations to match the season. One particular item trending now is the Lovely Layered Lilac Dress. More specifically, the dyeworks versions of this full and flowy dress.



Dyeworks Blue, Pink and Yellow Lovely Layered Lilac Dress
A stunning dress with real garden flowers
While the classic is still beautiful, the dyeworks versions are a bit more sought after and harder to part with once you have them in your closet! Their soft and pretty colors match well with many spring items and accessories and make the perfect addition for your girly customs!
Pink Lovely Layered Lilac Dress
The Dyeworks Pink: Lovely Layered Lilac Dress goes perfect with so many items which makes it a versatile piece for your closet!
Hauntin (owned by _rodeo_) || Zycy (owned by aesare)
Two beautiful customizations done by ari218 and urredneckgirl1128 (respectively)
Sael and Swirls (owned by Monkeylv88)
Meggi (owned by stalkkyou__later) || A customization by sulfurbutterfly
Blue Lovely Layered Lilac Dress
While not as popular as the other two, the Dyeworks Blue Lovely Layered Lilac Dress still proves to be a beautiful focus piece for many customizations.
Gama (owned by aesare) || Sael (owned by Monkeylv88
Ditz (owned by sulfurbutterfly) || A custom by ari218
Yellow Lovely Layered Lilac Dress
The Dyeworks Yellow Lovely Layered Lilac Dresses accent sunflowers, lights and make more muted colors stand out adding that special pop to an outfit!
Galaxey and Sael (owned by monkeylv88)
Keaua (owned by Jessicaazhao) || A custom by starspangledsky
Beautiful customs by _rodeo_ and knightwriter210 (respectively)
As you can see, all the dyeworks versions of the lovely layered lilac dress are so pretty and extremely versatile on a number of pet species which makes them the perfect staples to add to your closet. All three colors run in the ~3-4 cap range according to /~Korolie which isn't too for such a pretty item! Start your seeking board today and lock these pretties away in your closet!
Back to Top
By Shannon (shannonnbananonn).
April 17, 2017.
One of the fan favorite events that occurs yearly in the spring is Festival of Neggs. It requires a bit of logic and thinking to solve the clues to find the neggs and the NC portion of the event usually yields pretty spring themed items. To celebrate the start of this event and this time of year, dress your pet in outfits filled with neggs!
The first order of business is to decorate the neggs for the Festival! This white kacheek turned her kitchen into a negg painting station, using Negg Painting Workshop Background and Negg Painting Bucket Foreground as her backdrop. Embroidered Negg Garland hangs from the ceiling to serve as her inspiration while painting the neggs. She is wearing Ruffly Negg Apron to protect her clothes from the paint, but she got some on her face (this illusion is made with Sugar Frosting Face Paint). Her Oversized Paint Brush may be a little big, but it does the trick.
This transparent blumaroo is spending a day during Festival of Neggs to visit a negg farm. In her customization Negg Farm Background, Rustic Iron Trellis, and White Picket Fence of Neggs Foreground serve as her backdrop. The cute little snowbunny hopping around adds to the feeling of being on a farm. The blum is holding Easter Tulip Bouquet, which matches nicely with the coloring of the trellis. Also the carrots at the bottom bouquet serve as a nice snack for any snowbunnies that she may run into while on the farm. While this outfit is perfect for the Festival of Neggs, it also serves as a pretty customization for the whole spring season.
Do you have an invisible pet that you want to customize for Festival of Neggs? I took a page out of Raquel's (wut_ever02) book and decided to use a little plushie to customize. The pet in this customization is the Kacheek in Cybunny Costume Plushie. This cute little plushie is sitting in her Festival of Neggs basket (Festive Basket Background paired with Yellow and Pink Negg Garland are used for this purpose) waiting to be picked up and played with by a neopet celebrating. I used an invisible kau to customize around because I found it places the plushie inside the basket, which doesn't work as perfectly with the other customizable invisible species. Other plushies that would work for the purpose of a toy in a basket are:
Flower Mazzew Handheld Plushie
Overstuffed Spring Snowbunny Handheld Plushie
Stuffed Carrot Handheld Plushie
Speckled Negg Plushie
Wocky Gnome Handheld Plushie
Slorg Handheld Plushie
I last minute added Chocolate Snowbunny Handheld Plushie to this customization because it looked like a chocolate bunny that are often found in Festival of Negg baskets.
This little baby kacheek is all ready for Festival of Neggs! She is sitting in a cute little basket (Baby in an Easter Basket Background) for a nice photo opportunity. She is dressed for the occasion, wearing Baby Wig with Snowbunny Ears and Spring Baby Dress. I added Bunny String Lights to the customization because of how adorable they look with baby pets.
Want to create a similar look for your non-baby pets? Lighted Nest Background gives off a similar vibe to Baby in an Easter Basket.
The best part of Festival of Neggs (besides dressing up for it) is going negg hunting! This transparent aisha is all ready to go. Negg Gazebo Background, Negg Arboretum, Hanging Neggs Trellis, and Sneaky Neggs Foreground serve as her scenery during the negg hunt. Other options not pictured that can be used to create the perfect scenery include:
Negg Hunting Background
Night Time Negg Hunt Background
Sunrise Negg Hunt Background
Negg Hunt Foreground
Negg Background
Flowering Neggs Window Box Foreground
Negg Flower Box Foreground
Search for Neggs Foreground
Hidden Among the Grass Foreground
On the ground next to the aisha is her trusty Snowbunny Basket of Brightly Coloured Neggs, because everyone knows that you can't complete a negg hunt without a festive basket to hold them all in.
I know customizing with negg themed items can be a little daunting, especially since how tacky some of the items may look. However, there are a lot of pretty items and combinations that can be used to make the perfect outfit. I want to see your Festival of Neggs themed customizations! Enter your pet in this week's spotlight.
Back to Top
By Kay (kaychung).
April 17, 2017.
I know I mention snow shoveling in almost all my winter articles (forgive me, but I'm Canadian), but don't worry, now that the colder weather has passed I'll be complaining about mowing the lawn. Not just any lawn though! This week's Budget Beauty is an oldie but a goodie! Grass Foreground (this is the lawn I'm talking about just in case I lost you…) was released 7 years ago (can you believe it's been that long!) but is still considered a highly sought after popular valued at 20-25. The simple animation style and design yet bright green colour makes this foreground very versatile and can be used in so many spring/summer customisations. This article will hopefully help those like me who crave this item but can't afford the price point (or the allergies). (Ok, I'll stop abusing the parentheses now.)

This grass is lush and pretty, but it might make you feel a bit itchy.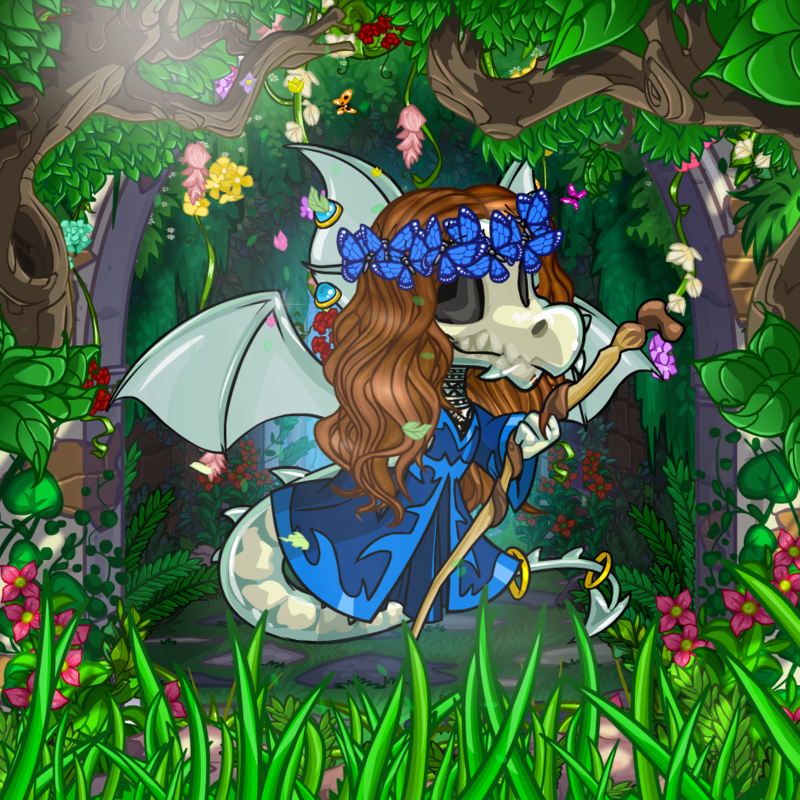 This Transparent Draik is certainly enjoying the warmer weather. The Grass Foreground is the epitome of 'simple is best' in this custom, framing the rest of the outfit without being too in the way.
The first alternative is the Hidden Among the Grass Foreground (3-4). When you search 'Grass Foreground', this item, released from the Mutant Easter Gram, comes up as well because it shares the same name. Perfect! It's basically a more detailed version of the original, just pretend you forgot to cut the grass. And another bonus is that it fits so well with the current Festival of Neggs event!
My favourite alternate for the Grass Foreground is definitely Swaying Caittails (2). It's probably the most similar in terms of movement and colour compared to the other substitutions in this article. The added cattails also match really well with the Butterfly Crown Wig (or any brown wig) used in this specific custom.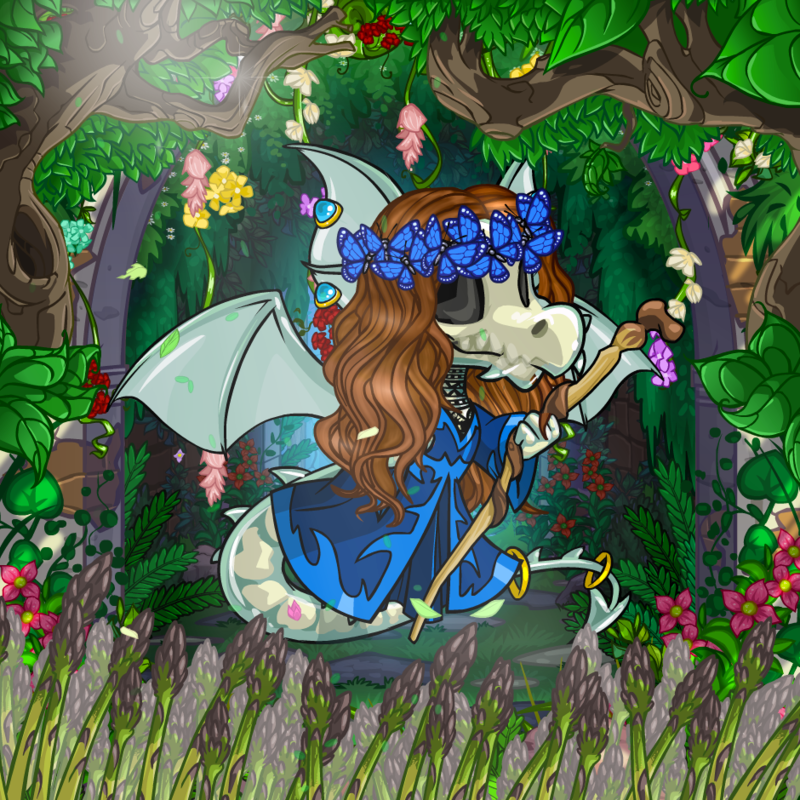 Asparagus Foreground is only valued at 1-2 making it a super affordable alternative. The colours are a bit more subdued but that just allows the rest of the outfit to stand out and have centre stage.
Here are some more substitutes that are a little more floral and fitting for spring than the original Grass Foreground:
Dewy Snowdrop Flower Foreground (1-2) is easily obtained as it is still a current Wood Tier prize from Patapult. This is my second favourite item in this article. The Snowdrops don't stand out too much, and you still get the lush green blades of grass intermixed with the flowers.
This Pretty Tulip Foreground (3-4) keeps the gentle swaying movement but loses most of the green colour in the original foreground. Yet this foreground works well in this specific custom as it matches the colours in the background as well as the Delightful Flowering Vines.
Premium Collectible: Spilling Flower Pot Foreground (2) on the other hand lacks all animation but provides the rich greenery mimicking the Grass Foreground. It's a pretty substitute that can be easily found up for trade.
And lastly, I had to sneak in this beauty even though I'm cheating a little as it's an NP item. I hope you don't mind!
With a price tag just under 100k, this is my bonus-round-neopoint-edition Budget Beauty. Sneaky Neggs Foreground, just like the Hidden Among the Grass Foreground is perfect for Festival of Neggs, so make sure to pick this one up when you're dressing your pets for this event!
Perhaps the Grass Foreground is greener on the other side, but that doesn't mean another item can't compete for best lawn! Next time, try out these other items before settling for this 20-25 cap popular!
Back to Top
By Megan (dragador).
April 17, 2017.
So, you've got a perfect outfit planned for each month. Or, you finally landed your dream permanent customization. What now? Many users find themselves losing motivation after a certain point, but you can avoid it! Remember, customizing is something we do because we enjoy it. Also, most of us have sunk large amounts of Neocash into our collections. If you feel yourself losing motivation as you rifle through your closet, consider some of these tips to help keep your interest!
We get it! After you've landed this outfit, or something like it, the rest might seem pointless.
Chase New Dreams
Some of us really thrive on chasing obscure or hard-to-get items. Maybe you already have all of the populars you think you'll need, so visiting the boards seems a bit pointless now. If you live for bumping boards, find something new to chase. Maybe you could collect all of the items related to your favorite petpet? Or maybe you would like to track down some old mystery capsules or NC game prizes. Finding a random goal like that will keep you engaged and also hopefully last for a while! Create a new gallery or a category in your existing gallery, then start hunting things down.
Celebrate Everything
Most NC'ers dress their pets up for the big holidays and seasons (Valentine's Day, Festival of Neggs, Halloween, Advent, etc), but not many dress for every holiday. Make a calendar and start planning outfits for all of the holidays. Do your pets have a Sloth Appreciation Day customization already? What about Gadgadsbogen? And you have to be ready for Usukicon! You could easy plan a new theme for every week of the year. If that doesn't keep you busy, I don't know what will.
Refresh Your Closet
If things are feeling stale and old, force yourself into newer fashions. Consider holding off on planning some of those bigger outfits and wait to see what the mall offers. Plan your outfits around whatever new things are released. It can be a fun challenge to go through your pages of backgrounds to find the one that best matches that new garland just released. Building a customization around something totally new to you can help you see your old items in a new light, too.
Use Challenge Items
Similar to using newer items, consider forcing yourself to build an outfit around "challenge" items. Dig through your closet and find something truly bizarre (looking at you Handheld Snowman Mask or Starry Cloud Wig!). Design an outfit that makes that item look good. Seriously, try it. It can be a lot of fun! Either go for a joke outfit that makes people chuckle or try to make it look like it really belongs in a cute or pretty outfit.
Enter Customization Competitions
A friendly competition can act as a great motivation-booster. There are dozens of customization spotlights and contests all over the board. The Neocash News hosts a weekly, themed spotlight here! If you aren't entering your pets, you are missing out! Not only do these contests help keep you motivated, showing off your unique ideas helps keep others motivated, too! There are enough different spotlights being advertised on the boards that you could spend most of your time just keeping up with all of these.
Change Up Your Pets
Desperate times call for desperate measures. If you are truly in a slump, and none of the above ideas seem like they will help, then you need to change your pets. Maybe you've been dressing up Draiks and Blumaroos so long, you already know what everything looks like. Try a new species! Rukis are becoming very popular for their dress-wearing. Peophins can present a fun challenge. Acaras are truly under-rated. Want to really switch things up? Go Maraquan, Mutant, or Baby. This will change your entire customization approach and send you on the hunt for many new, hard-to-find items.
If you find your creativity or motivation waning, give the above suggestions a try. Sometimes you need to change your approach or change your goals. Also, keep in mind that sometimes real life does get busy. It's ok to leave your pets in a winter customization for a few months while you only have time to do the dailies for a little while. They'll be there waiting for you when things slow down and you have the time to plan a nice, new outfit. For the love of Fyora, don't do a 1gbc fire-sale on your beloved NC collection because you didn't feel like changing their outfits for a month!
Back to Top
By Shannon (shannonnbananonn).
April 9, 2017.
This week we were treated to four new releases in the NC Mall. Surprisingly, all four of the new releases have been major hits among the NCC, which is a nice surprise given the Daily Dare items this year. Here is a recap of the new items that were released this week!
Shumi Collectors Robe
It's a new month which means a new collectors item. The newest edition to the Sidekick Squad Collection was released this past Monday: Shumi Collectors Robe.

As tough as the mighty sea.
This brand new item costs 250NC as per usual, and is available through April 30. Here is how some NCC'ers are using the new collectors item:
On the left is Lumornel (owned by catz1), who is wearing the new robe in her Shenkuu-inspired outfit. Meanwhile, the Lupe on the right (outfit created by skuria99) shows us that the robe is versatile and can work in wizard-themed customizations as well.
Spring Shop Items
On Tuesday two brand new items entered Future Fashions: Pastel Dyed Dress and Bakery Macaron Display.


Pretty and pastel.
Both of these pretty new items are now available in the Spring Shop in the NC Mall for 150NC each.
Lastly, another pretty item entered Future Fashions yesterday: Rainbow Tulip Bouquets Foreground.

When one bouquet just isnt enough.
This new foreground is currently in Future Fashions and costs 150NC. These last three items are the latest editions to the 2017 10/10 Spring Shop (seriously, all of these new spring items are fire). Here are some ways that NCC'ers are using these beautiful new items:
Looking for the perfect dress for an elegant night out? Pastel Dyed Dress will do the trick! On the left, Shauna (alara_niteflower) created a whimsical look for a pastel blumaroo. On the right is Aretsy (owned by bartlelina13) who looks gorgeous for her night out on the boat.
On the left is Ciace (owned by vampireslayer142) who pairs the dress with other similarly colored items such as Cotton Candy Tree and Cloud Castle Background for a perfect backdrop. On the right is KatharineMae, who wears the dress in a magical look by pairing it with Handheld Moon Balloon, Magical Lotus Stream Background, and Fancy Sparkles Shower.
On the left is Laff (owned by zeroreason). She pulls off a bubblegum-y pink customization by pairing the macaron display with Fantastical Marshmallow Backgound, Dyeworks Pink: A Rolling Fog, and Cupcake String Lights. On the left is a zombie blumaroo (customization created by Zero), who uses the macaron display in a more spooky way. Dyeworks Purple: Jewelled Pink Spyderweb Garland works with the pastels in the display and also adds a layer of spookiness to the outfit, while Deadly Poison Bottle gives us the feeling that maybe there isn't something quite right with the macarons. Yikes!
Meanwhile, Smoresss (owned by autumndreamer70) and Gama (owned by aesare) are the epitome of sweetness in their candy themed customizations. Smoresss pairs the display with Candy Dot Curtains and the MME15 Gingham set, while Gama adds Candy Floss Wings and Candy Floss String Lights to her sugary sweet look. Both use Charming Bakery Display Background for their backdrop.
Dolores (owned by wykedgrl), left, and Mhezi (shylady_04), right, show us how perfect these two pastel colored items look when paired together.
The new tulip foreground was absolutely made for Tulip Background. Leryssa (owned by unottweety1) and this Vandagyre (outfit created by skuria99) both pair the tulips with the neopoint item Spring Tulip Bouquet to tie together their flower-y look.
Zeba (owned by zeroreason), left, pairs the new tulip foreground with Ornate Altador Fountain and Garden View Background to make a gorgeous scenery. On the right is Meppie (owned by sulfurbutterfly) who is enjoying a nice spring walk among a path of flowers. In her customization, the tulip foreground is paired with Cheerful Day Background and Rustic Summer Frame, which also feature pretty tulips.
That wraps up the new items from this week! Make sure you get these lovely new items before they eventually retire. Oh? Do you think I'm forgetting something? What about the brand new Daily Dare items from this week? Stay tuned for a full recap of this past week's items which will be published on Tuesday!
Back to Top
By Sashell (urredneckgirl1128).
April 9, 2017
Each season has it's handful of populars that are constantly sought out each time the calender rolls around. This Spring is no different. Among the Daily Dare boards you may have noticed one particular item that is trending:

Fancy Floral Tea Wig
There is just the right amount of fancy in this hairstyle
This cute little hair style is perfect for the spring season. The brunette locks pair perfectly with the muted colors in the flowers making it a perfect addition or star piece to your spring themed customs!
Draiks wear the locks very well, as shown here with two outfits created by Sigris, for a pair of lovely water draiks.
_rodeo_'s Madihlyn is fashionably ready for a day of shopping and enjoying the beautiful weather!
Heading out for a picnic with some friends, my little Restitched, has donned her best pieces for the day!
In yet another beautiful customization created by sigris, this adorable pink poogle is sporting her Fancy Floral Tea Wig which compliments the purples and pinks throughout the rest of the items used.
Jadeinae, owned by unottweety1 and ixiban, owned by wintersunboheme show us that the wig is versatile enough for day or night customizations!
The Fancy Floral Tea Wig has a current value of ~12-15 according to /~korolie, but don't fret! There are quite a few of them around up for trade for other popular items. And it's worth the search to add this beauty to your closet c:
Back to Top
By Shannon (shannonnbananonn).
April 9, 2017.
Spring is here! The sun is shining, the birds are singing, the flowers are blooming, and nice weather is upon us (well hopefully). We can finally dress our pets up in their flowery, outdoors-y customizations without feeling weird since it's not the season.

This peaceful garland is perfect for dreamy spring days.
This week's popular item is Dream Catcher Garland, and it was released in the NC Mall exactly one year ago. Valued at ~7-9 on /~Korolie, this garland makes the perfect addition to any customization. Below are some lovely ways to use the Dream Catcher Garland.
Two of the most popular ways to use Dream Catcher Garland is to pair it with Cloud Castle Background or Window with Twinkling Lights Background Item. On the left, Ashe (owned by monkeylv88) pairs the garland with both of these items for her golden look. On the right is a future customization for Spellseek (owned by wut_ever02). Raquel pairs the garland and background with Fancy Sparkles Shower for a truly magical look.
Dream Catcher Garland also looks lovely with pastels. Mirarmi's customization is simple yet perfect, pairing the garland only with Rose Gold Vases with Flowers. Meanwhile, Asfy's outfit is full of sugary sweet pastels. Cupcake Curtains look amazing paired with the garland. Both of these pretty pets are owned by Vicky (xxdemilovatoxxd).
The garland is also extremely versatile. On the left is Vudhu (owned by sulfurbutterfly) whom pairs the garland with Sea Glass Chandelier for a pretty beach day outfit. Meanwhile desstinee (owned by pinkpuppies) uses the garland for a woods-y look.
My baby Ahdorabelle and Bya (owned by gameboyknight) use the garland in their stunning (pun absolutely intended) spring-y customizations.
Are you dying to use Dream Catcher Garland but can't afford it? Have no fear - there are Dyeworks versions of Dream Catcher Garland!



The Dyeworks versions come in black, green, and orange.
Luckily since these went through Dyeworks last May, they are still relatively low valued and can be found for ~2 a piece. The orange is the most popular, as it is extremely similar to the original, however all three of them are just as versatile as the original.
kaylao (owned by Kay) used the Dyeworks Black: Dream Catcher Garland in her dreary Valentine's customization. Kuminka (owned by minkypinkypandakid) and Enchantrerina (owned by wenchleeuh) use the Dyeworks Green and Dyeworks Orange: Dream Catcher Garlands in their Spring customizations.
Dream Catcher Garland (and its Dyeworks) is the perfect staple piece to add to your closet for these upcoming seasons. Good luck to all of those who are searching for it!
Back to Top
By Megan (dragador).
April 9, 2017.
Prepare some sad smiles and try to dry your eyes, Grey Day is April 14th. On this holiday, we "celebrate" everything grey, include Baelia the grey faerie, grey pets, and any other dreary things. If your pets want to "celebrate" this week, peruse these outfits for some inspiration. To kick off the festivities, all pets featured in the article are painted grey.
Just because you can't fly, you don't have to hide out in the caves.
A great way to help make Baelia feel loved this week would be to dress your pet up in her honor. Grey Faerie Dress and Grey Faerie Wings are perfect choices, though the buyable Grey Silk Dress would work, too. Shiny Silver Wig resembles Baelia's hairstyle. Any faerie themed background will work, but the NP item Faerie Caverns BG has a lovely grey scheme. Just be sure not to use any backgrounds in the clouds because Baelia has a difficult time visiting up there. Someone must have enchanted the Floating Grey Faerie Doll, giving it the ability to fly. Another great NP item to use this week is Single Grey Flower. It's grey, sad, and looks good with just about any pet.
Well, you won't run into Baelia up here, but it's still pretty gloomy.
Black and grey Dyeworks items are a perfect fit. DW Grey: Amongst the Clouds BG is stunning for a grey outfit. If you can't don't already have one, Field of Clouds BG is an acceptable substitute. DW Black: Cherub Wings and DW Black: Dream Catcher GL are also suitably miserable in the right situation. Winter Faerie Dress and Short Plague Doctor Wig are generally unpopular, but they shine this week! Forgotten Old Flower adds a splash of color, however muted it may be. Overall, entirely black and white looks like this are some of the most effective for Grey Day.
Just because you're grey and sad, it doesn't mean you can't be beautiful.
Despite the mood of this holiday, some pets can't let go of their glamour. Black Rose Dress and Ash Blonde Wig with the NP Black Lace Gloves are gorgeous and give a formal look. Grey Tulle Dress or Sparkling Silver Dress also work if you want something lighter. Black and White Tree has a nice damask pattern along with a string of pearls. It adds a nice focal point to the somewhat flat Forest Fog BG. Dreary Grey Bouquet and Broken Heart Shower add an extra, sad touch. For an indoor outfit, consider Mysterious Hall of Grandeur BG.
Take your sadness on the road and spread the holiday drear!
The fairly new NP item Grey Road is a perfect background (also consider A Grey Day BG). The sky is grey and foggy and the tree is bare and lifeless. DW Black: Field of Flowers remind us that this holiday does take place in spring, even if our hearts are still cold and bare. Black and White Lace Skirt and Black Beaded Skirt offer some nice options for separates. Gothic Flower Skirt would also work nicely. The Lit Pinecone Flowers Bouquet is included because it matches grey pets' eyes so nicely.
It's impossible to cheer up when the skies have opened and rain is pouring.
Do April Showers cause Grey Day? Maybe. The Peophin saw the Rain on a Window FG and decided to stay inside with the Arch of Lost Hearts BG. She's wearing DW Black: Deathly Union Dress and Caroller Caplet with Dark Wavy Hair Wig. Wire Dream Catcher adds some movement in the stagnant, grey room. Unfortunately, the Mynci was caught outside during a sad violin concert. Gloomy Sky Tower is an excellent choice. It's blue undertones are a perfect match for most rainy items, including Ombre Storm Clouds with Rain and Rain Puddle FG. Sweet Silver Violin is a perfect match, but the much cheaper Mosaic Violin is an acceptable stand-in. Plaid Quarter Sleeved Top, the recent mall release, is a moody grey choice for male pets.
You can take the pet out of the grey, but you can't take the grey out of the pet.
Grey pets aren't just a reflection of their surrounding. No, the frowns and tears come from deep within. A fun way to celebrate Grey Day is to take your saddest of pets and drop them into otherwise cheery surroundings. The contrast makes for interesting customizations! The sad Xweetok says its her party and she'll cry if she wants to. Tears of Caylis Face Paint provide an unending amount of tears, sure the last the whole duration of Ombre Tea Party BG. Tissue Paper Flower GL and Dusty Pink Lamps GL add to the fun, and any cheerful items will do the same job. Dusty Grey Bouquet Box and Delicate Grey Dress keep things from getting too happy. With the Kougra, you have to wonder is it allergies or something else? Secret Garden Pathway BG, Pretty Tulip FG, and Rainbow Butterflied GL surround the pet with amble colour, but her outfit tells another story. Heartfelt Tears Makeup add tears and a red-rimmed look to her eyes. Deadly Beauty Wig and Dust Dress tone down the spring and reflect the true spirit of the holiday.
This week, take a break from the bright, new colours of spring. Instead, pull out your dark, grey, and dreary items. Take a moment to remember that not all faeries can fly and not all pets can truly smile. Grey day isn't about being goth or about spooky, it's about those deep, painful feelings that we all have lurking inside of us. If these outfits weren't enough to inspire you, watch a sad movie or read a tragic tale before you begin digging through your closet.
After you have your outfit ready, enter your pet in this week's Pet Spotlight. The theme this week is Grey Day!
Back to Top
By Kay (kaychung).
April 9, 2017.
While this week's Budget Beauty item is only listed at 3-5 on value guides, it's still a toughie to find up for trade. Rainbow Petal Shower originated from the Hidden Altador Gardeners Rest Enchanted Compass, released as the NC component of Altador Cup IX. Like I said, this one might not rob you of everything you own when you trade for it, but that's if you can find one up for trade in the first place (don't let that deter you if you're seeking it though, I've always believed that good things come to those who wait!). But for those of us who lack patience, perhaps one of these alternatives can tide you over this upcoming season.

Look at the leaves and flower petals scatter in the wind!
The Rainbow Petal Shower is a spring essential. With the delicately animated petals and the way it lights up any custom, it's no surprise that this shower is highly sought after but also hard to find. This transparent Blumaroo wears it in this lovely floral custom.
The easiest 1:1 alternative uses the Dyeworks Purple: Faerie Dust Shower (1-2). The movement is just as unobtrusive as the Rainbow Petal Shower and it matches the colour scheme of this custom as well. However it doesn't provide that illumination as the original.
Due to zoning issues and the dual effect of the petals and sunlight, there are very few 1:1 replacements for the Rainbow Petal Shower. I've tried my best to recreate the original custom by substituting other items as well. The next three customs replace the shower as well as the Vintage Lantern Garland in the original custom (which believe me, is a good thing because that garland is another one of those impossible to find, really expensive items).
Pastel Rose Petal Shower (1-2) is probably the most used replacement to the Rainbow Petal Shower. It was released as the bonus item from the Share the Love Community Challenge in 2015. The pretty pastel palette (try saying that three times fast) and the petals that surround your pet makes it another great spring item.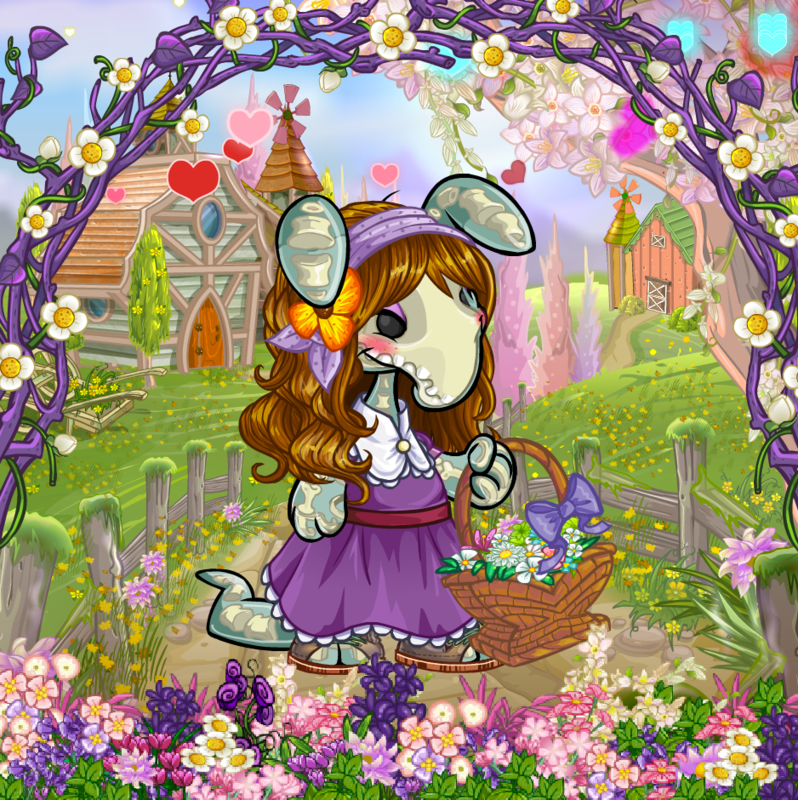 I debated with myself about including the next two customs because of their higher values, but I ended up putting them in this article in the end. Soaring Hearts Shower (3-4) is one of the most expensive replacement item in this article being only around 1 cap lower in value. It's another item stemming from the Sweetheart Grams event, this time as a limited edition item from the Enamoured Sweetheart Gram released in 2014.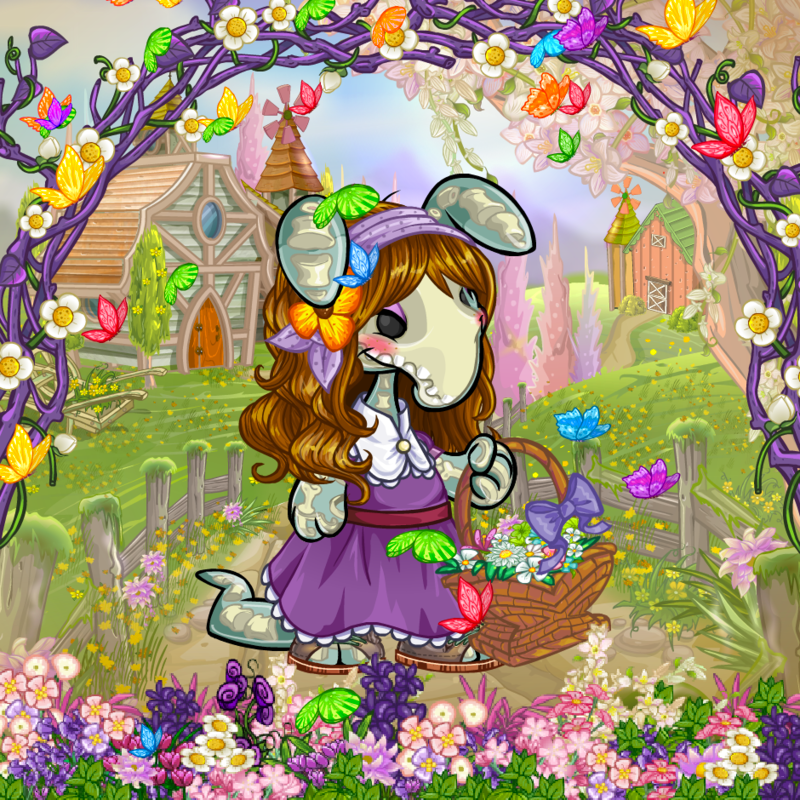 Rainbow Butterfly Shower (3-4) may share the title of 'the most expensive item in this article', but it simulates the multi-coloured petals in the shower. Butterfly Shower (1) and Dyeworks Purple: Butterfly Shower (1-2) also work well as a replacement and are less expensive. I pair these butterflies with Golden Glitter Shower (2-3) to create that translucent shimmer in the custom. Combined, these items are valued higher than the original Rainbow Petal Shower, however these pieces look great individually and I personally believe they are easier to find up for trade.
The next two customisations change up the Decorative Branch Archway along with the shower. I tried to keep the integrity of the original outfit by either keeping the same colour scheme or the arch-like shape.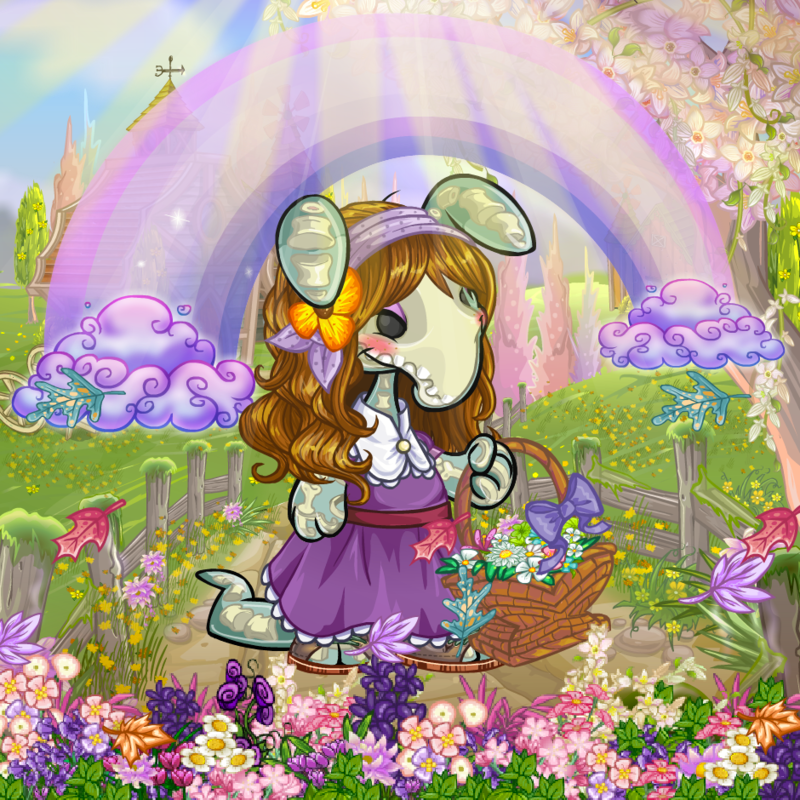 The Dazzling Faerie Rainbow (1-2) mimics the arch as well as the colour of the Decorative Branch Archway in this alternate look. But the important part, and probably the part that makes the Rainbow Petal Shower so unique, is the shaft of light incorporated with the petals. To replicate this effect, I use the buyable Sun Shower (1). It's super affordable and provides that same glow.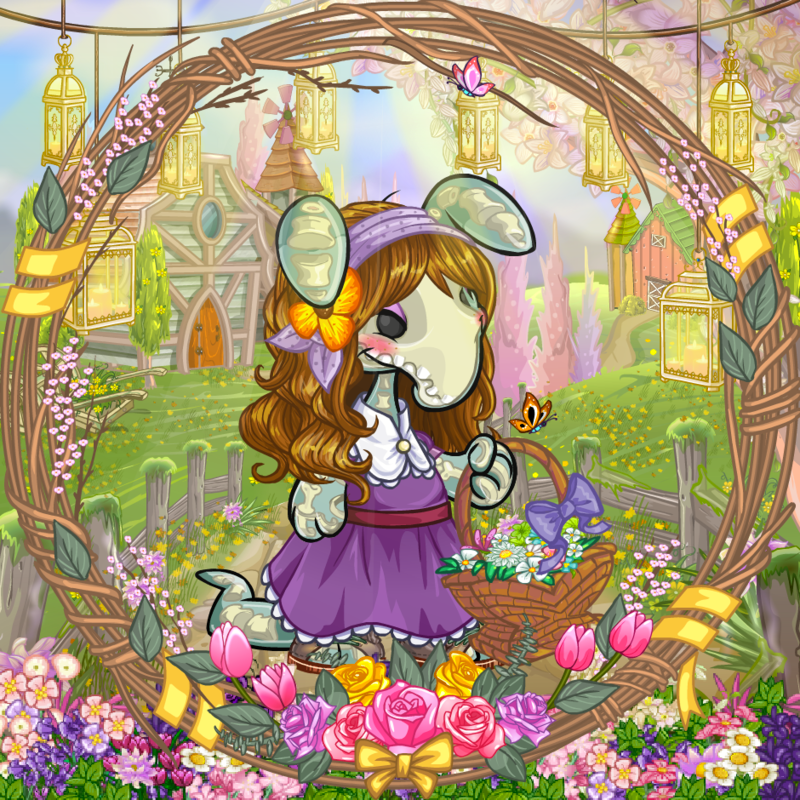 This outfit option loses the shades of purple in the original custom but keeps the radiance of Sun Shower. Instead, I use Rustic Summer Frame (2) to reproduce the archway to frame the entire custom.
This Budget Beauty was actually quite difficult to write. There aren't that many items that are similar to the Rainow Petal Shower to begin with, let alone one that only occupy the foreground zone like the original. So I had to play with and replace some of the other items in this custom as well. If you have any ideas for items you'd like us to find a Budget Beauty replacement for, let us know!
Back to Top
By Sashell (urredneckgirl1128).
April 9, 2017.
When creating customs I try to use every zone possible to create the perfect and seamless backdrop for my pet. High, low and center foregrounds are popular, but don't forget about the background items too! One in particular that I have found to add that perfect final touch to customs is the Floral Backdrop

Floral Backdrop
A lovely floral backdrop will make your birthday memories stand out!
This item is big enough to be noticeable, but small enough to not overpower your customization. And it's not just for birthday customs!
I created these two customizations while applying for a lovely UC Royal Girl Aisha last year. It was then that I realized that this item worked wonders for both converted and unconverted Pets!
littlegirlydude, owned by Sapoga, isn't all that girly in this customization featuring the pretty little flowers hehe.
dragondancer007 and i_like_animals show us here that the backdrop compliments uc maraquan gelerts perfectly!
The hanging flowers even work with holiday customs as shown here by my lil_egyptian_queen in her Valentine's Day 'outfit
_rodeo_ with Hauntin(left) and jayaswati with Anooradha (right) show us that this backdrop works for converteds just as well as it does ucs. The backdrop ads just enough in the background to compliment the colors throughout the rest of the customs, and that it pairs well with the dyeworks white: cherry blossom garland.
I was lucky enough to find my floral backdrop in a 2:1 sale, but with a value of just ~1-2 it should be an easy item to add to your essential closet items. It's perfect for both converted and unconverted pets and versatile enough to use in a variety of seasonal customs.
Back to Top
By Shannon (shannonnbananonn).
April 4, 2017.
Last week had a lot of new releases, keeping the boards extremely busy. Here is a short recap of all the new items from last week!
Daily Dare Items part 2
Last week was the second week of Daily Dare, which means there were seven new items for us NCC'ers to enjoy.

When youve got more cosmetics than you need...
Lipstick Fence was a hit or miss the day it released, with most people confused about how to use it. Pro tip: pair this foreground with pastel-like items such as Ombre Tea Party Background or Window with Twinkling Lights Background Item (though there are plenty of other pastel backdrops out there) if you're unsure how to make use of it.

Recycle your beverage cans by turning them into cool bangles!
Diet Neocola Can Bangle is the newest edition to our collection of bracelets, bracers, bangles, and cuffs. Pro tip: These bangles are perfect for summer customizations or customizations featuring red, white and blue!

Can you tell this flower is made out of screws?
Screw Flower is for sure a hidden gem of this event. This pretty handheld can be used in a variety of different customizations. Pro tip: pair this handheld with other similarly colored items like Rose Gold Vases with Flowers or Summer Couture Dress.

This little guy just cant sit still!
Crawling Turdle is a fave from this event for many. Pro tip: this cute little turdle is perfect for island or summer themed customizations, and would even be cute with invisible pet customizations.

Some paintings are so pretty, they make you want to step right in!
Beautiful Green Painting Background is without a doubt the fan favorite of the entire event (yes, the event isn't even over yet). Pro tip: this background looks amazing when paired with other blue and green colored items (there are way to many to name).

This dress has beautiful patterns printed on it in black and gold.
Green Printed Dress is another pretty item from this event so far. Pro tip: this dress was absolutely made for layering! Pair it with caplets, shoulder armours, jackets, and/or scarves if you're not sure how to use it.

Tough to believe, but this dress is made entirely out of dust!
Dust Dress was the last item to be released last week from Daily Dare. I am not quite sure why it's called Dust Dress, and I'm sure others are just as confused as I am, but it is a nice little black dress. Pro tip: use this just as you would use any other little black dress.
That wraps up the Daily Dare items from last week! Don't forget that all of these new items are buyable for 150NC until the event ends on April 9!
Spring Princess Mini Pack
Last week TNT surprised us all with a nice spring treat: a brand new mini pack! It has been a long time since a pack in the NC Mall has been released, so this was a wonderful surprise!

Rule the flowers and nature.
This brand new mini pack contains four pretty new items, one of which is a bonus item exclusive to the pack!

Magical Lotus Stream Background

Spring Princess Tulle Gown

Spring Princess Wig

Enchanted Spring Bouquet
If you aren't a fan of all the items from this new mini pack, fear not! You can purchase the background, gown, and wig separately for 200NC, 150NC, and 150NC, respectively. A better deal though is to purchase the mini pack as a bundle for 450NC, and then you get the bonus bouquet! Since the mini pack costs 450NC, this would put the bouquet at ~2 in value if you are looking to trade for the bouquet on it's own.
New Spring Shop Item
The last new item from last week entered Future Fashions on Saturday, April 1 and can currently be bought in the Spring Shop in the NC Mall.

Need any fresh flowers today?
Flower Market Background can be purchased for 200NC. It occupies both the background zone and the lower foreground zone, which may make it hard to customize at first. However, there are loads of pretty foreground, higher foreground and background item zoned items that work well with the new background! Some of my favorites include Window with Twinkling Lights Background Item, Colourful Flower Bucket Garland, and Enchanting Flower Arbor.
That wraps up all of the new items from last week! Stay tuned for a recap of the new items from this week on Sunday.
Back to Top
By Shannon (shannonnbananonn).
April 2, 2017.
As soon as I was done writing this extremely long article (because so many new items this week) that took me two and a half hours to write, my computer shut off before I could save because Macs and Chrome stink (seriously though, just my luck). I also, of course, deleted all the outfit links I used as I was writing, so I lost all of that too (typical).
So uh. I hope you all enjoyed the new items from this week! Stay tuned next week for a recap of the next set of Daily Dare items (as long as my computer doesn't hate me and crash again. Spoiler alert, it probably will).
Back to Top
By Megan (dragador).
April 2, 2017.
One wig keeps popping up in the NCCer's floral spring customs: the Mint and Aqua Wig along with its three Dyeworks: Yellow, Brown, and Red. It's an obvious choice with its large crown of flowers and greenery. When wearing this wig, your pet will look like part of the spring bloom. With the colour options, there is a Mint and Aqua Wig for any spring outfit you design!




Original, Yellow, Brown, and Red
Original M&A Wig
The cool green of the original wig is a natural fit for the pastels and mints that are so popular right now. Spring outfits are all about softness. We aren't ready for the bold colours of summer yet. This wig keeps things soft and delicate—perfect for new spring greenery.
Ashe, owned by monkeylv88, matches the wig with a few other excellent, minty items such as DW Green: Dream Catcher Garland and Iscas Dress. Beautiful Green Painting BG also has soft greens that pair well with the wig. Aqne, owned by bently_and_mira, uses the wig to compliment the soft pinks of Cherry Blossom GL and Rosie Dress.


Vudhu, owned by sulfurbutterfly, is adorable with several other minty items: Mint Shorts, Mint Green Lace Shirt, and Mint Lacy Scarf. Tovall, owned by soccersar16, looks great with the flower-filled Rainbow Field BG.
Yellow M&A Wig
This Dyework has surpassed the original in popularity. The straw-coloured tresses, pink flowers, and minty greenery combine to form a quintessential spring wig. It compliments many of the other flowers in common spring items and adds colour without being overwhelming.
Lyedia, owned by stalkkyou___later, matches the wig with Garden Flower Dress; the trim is perfect with the wig's flowers! The wig's flowers could have been plucked straight from Flower Arrangement FG. KatharineMae, owned by Shannon, is gorgeous with Cherry Blossom SL and Pastel Rose Tulle Dress. Rose Gold Vases with Flowers warms up the cool pinks in this outfit.


Sulfurbutterfly's cute pink Blumaroo went all out with Pink Willow Tree BG and Pink Lemonade Stand FG. Pink is everywhere in her delightful outfit. Chubzybunny, owned by stalkkyou___later, is bursting with flowers. Enchanting Flower Arbor and Assorted Potted Plant FG fill the area with new, spring blossoms while the wig brings the flowers front and center.


Seiorse, owned by hulkmania6191, is at the Shenkuu Warrior Training Grounds BG, wear soft pink petals float down into the river below. Even tough pets like Drumpf, owned by shaggyeren, are getting into flowers. Blooming Garden and Branch of Singing Weewoos GL surround the Jetsam with even more flowers.
Brown M&A Wig
The brown version of this wig features yellow flowers and a subtle sparkle in the hair. The yellow makes it easy to match with a multitude of different yellow items.
Sael, owned by monkeylv88, and Snottee, owned by sulfurbutterfly, both show off two excellent items to match with this wig: DW Yellow: Lovely Layered Lilac Dress and Sunflower String Lights. Sael's outfit is a perfect combination of greens and yellows. Snottee adds in extra spring colours.


Iralind, owned by soccersar16, is adorable with Cheerful Day BG and Pretty Spring Flower FG. Aramaia, owned by akashama, also uses the foreground against Green Meadow BG.
Red M&A Wig
The red wig is the least popular of the group, but it still makes some very pretty outfits. Its stark white flowers are great for adding crispness. The bold red hair is an adorable change from the usual blondes and mousey browns we see so often.
Ashne, owned by Shannon, uses the wig with Rainbow Field of Daisies BG and Dewy Snowdrop Flower FG. The sunflowers and dress add some sunny oranges to warm up those whites. Emmaelyn, also owned by Shannon, channels her inner-faerie with Among Flowers Bg and Trapped in a Jar.
Wear some flowers in your hair this spring with Mint and Aqua Wig or one of its beautiful Dyeworks!
Back to Top
By Ren (xenobia_clair)
April 2, 2017.
As we welcome the first signs of spring, what better way to celebrate than to utilise the Branch of Singing Weewoos Garland? This garland falls to ~10-12 on /~Korolie and is definitely a hot number for the upcoming springtime. While it may be in demand, not everyone will be able to afford to get their hands on one. So here at the TNN, we will be providing a couple of alternatives to this beautiful and elusive garland!

Nothing is quite like a branch full of beautiful singing Weewoos! This was an NC prize for visiting the Make Some Noise Hall during Altador Cup VIII.
A customisation by Violet (harleychick1235588) features a plushie kacheek embodying spring. Paired with the Hidden Garden Door Background and Window Box Planter Foreground, she incorporates the Summer Orange Root Blonde Wig beautifully in this customisation as well. The garland and wigs are the more expensive items in this customisation, with both of them sitting above ~10 caps. A gorgeous alternative is the Green Island Flowers Garland which is buyable through the Island Bruce Key Quest Token (300NC) in the NC Mall! The flowers in the garland give an added depth to the customisation and matches the background's green perfectly.
It seems that the Summer Orange Root Blonde Wig is a hit with spring customs as well. Here, Eleyne owned by wkyedgrl takes a gorgeous walk during springtime, picking flowers as she goes. Paired with the Cheerful Day Background, Bouquet Purse and Dyeworks Green: Blue Polka Dot Dress, this customisation also incorporates some Neopoint items in the mix. Adding a slight shimmer to the customisation is the Gold New Years Shoes cause these shoes are definitely made for walking! A lovely alternative is the Dyeworks Yellow: Peaceful Tree Garland which is also currently still dyeable from the NC Mall under the Dyeworks tab. The garland adds in a slight variation of colour, that still manages to complement the background and foreground.
Bring that bounty! Rowan owned by Karen (supahangel) proves that the garland can be used not only in flowery customs but swashbuckling ones as well. Paired with MME14-S4b: Brilliant Treasure Trove Background, Dream Pirate Tricorne Hat, MME4-S7: Shimmering Star Ball Gownand World of Neopia Magnifying Glass, don't you feel the urge to hunt down some treasure?! Karen herself showed us how she replaced the Branch of Singing Weewoos Garland with the Birthday Ball Chandelier Garland in this custom and we have to say it looks like an amazing alternative for the weewoo garland.
A customisation by Sashell (urredneckgirl1128) for a transparent aisha pairs the weewoo garland with Iridescent Light Dress, Gathering in the Glade Background and Golden Ombre Wig to create a dreamy twilight custom. A lovely alternative to this custom would be the original Peaceful Tree Garland that fits the colour palette and creates a slightly softer glow for the customisation.
Geme owned by Vally (aesare) in this incredibly gorgeous custom for a desert draik, before Geme was zapped maraquan. (oh poo, maraquan draiks are gorgeous as well) Paired with Rainbow Field of Daisies Background, Altadorian Wig with Gold Ribbon, Feathered Dress, Brilliant Yellow Faerie Wings and Dyeworks Orange: Pretty Little Daisy she is just a vision of gold and white. Some alternatives include the Sunflower Garland and Sunflower String Lights which still stick to the bright, beautiful theme and matches the gold highlights in the customisation.
Some other alternatives also include Dyeworks White: Cherry Blossom Garland, Dyeworks Purple: Peaceful Tree Garland, Dyeworks Pink: Peaceful Tree Garland, Lamplit Branch Garland.




Back to Top
By Kay (kaychung).
April 2, 2017.
…who's the fairest of them all? I may have gotten line that wrong, but trust me, you can definitely see your reflection in this week's Hidden Gems item. Put some dimension into your next customisation by using a window! Windows are a great way to add depth and layer in an outfit in terms of foreground and background zones. There aren't that many unfortunately, but still, there are some lovely choices. The following are some of the cheaper options for windows currently available, all within the ranges of 1-2 in value, however there are a select few that are quite popular as well.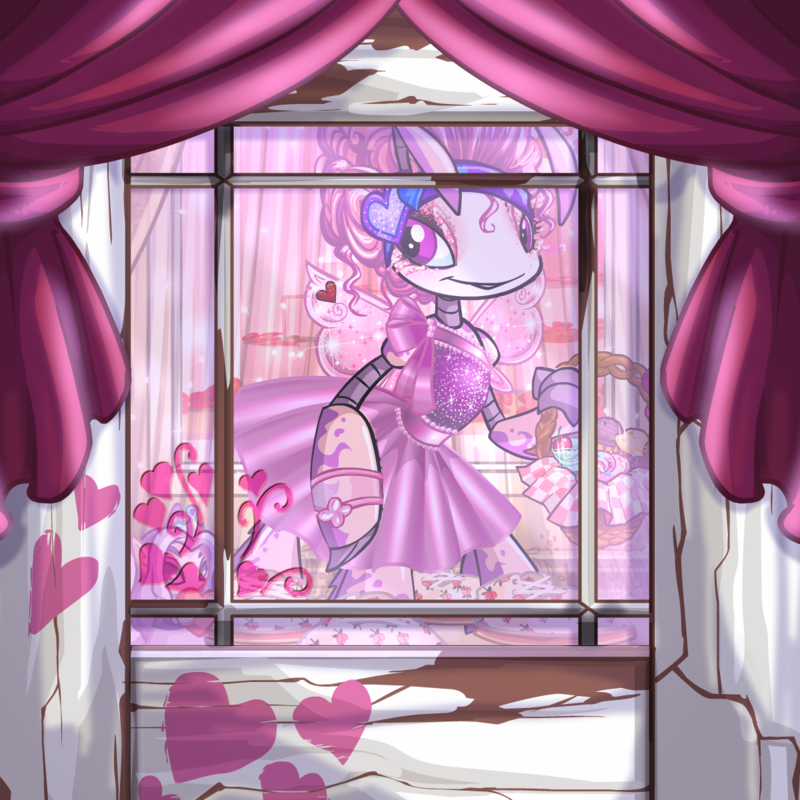 Valentine's Day may have just passed, but that doesn't stop Buzzilyn owned by buzzy2sweet and CheekyBabie owned by bejeweledinmyhonour from rocking the Valentine Window Foreground. It's lovely pink tint and whimsical heart decorations make it an easy window to love and customise. There are also some lovely Dyeworks versions of this item, but they're actually more expensive than the original!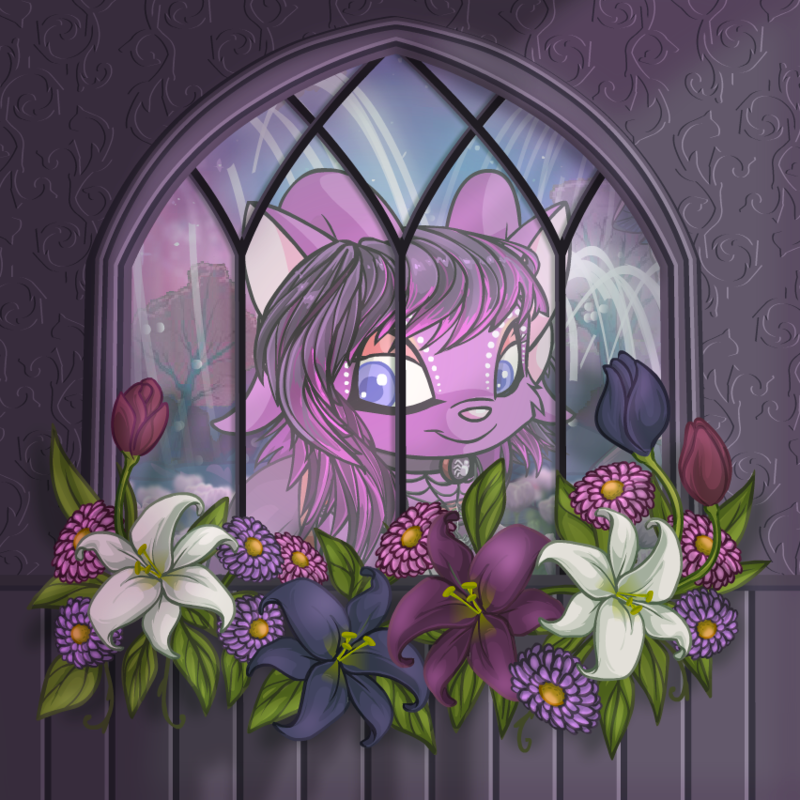 Now if you're one of those unfortunate people who didn't receive a Valentine (like myself), perhaps the Dreary Spring Window Foreground is more fitting for this season. It's a little harder to customise because it blocks a large part of the background and it's quite 'dreary', but Galaxey owned by monkeylv88 and this Royalgirl Acara custom use some purple accent pieces to lift the outfit. The flowers in the window box also lead you to believe that spring is just around the corner.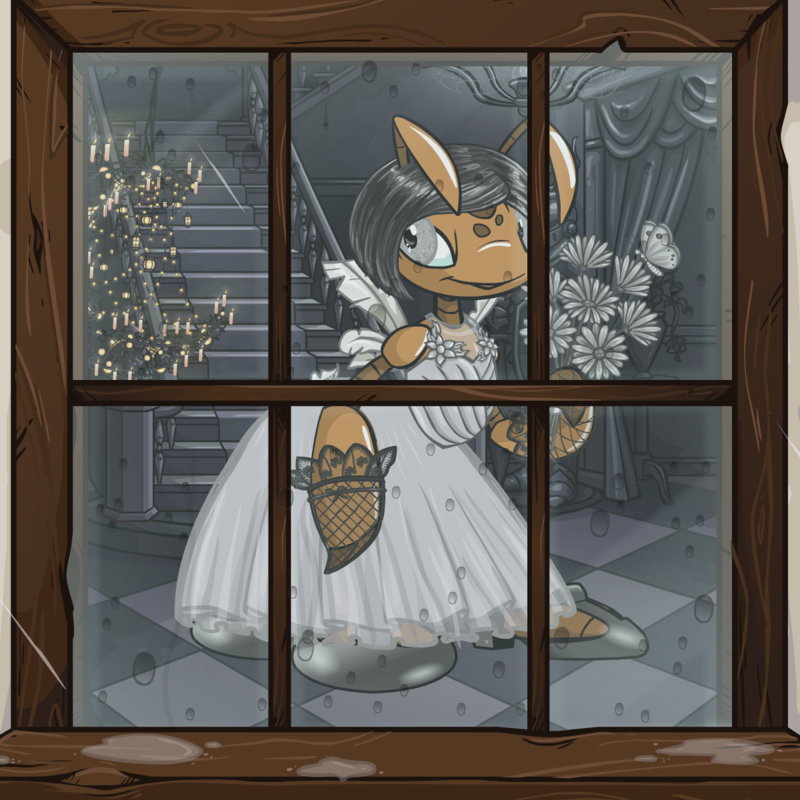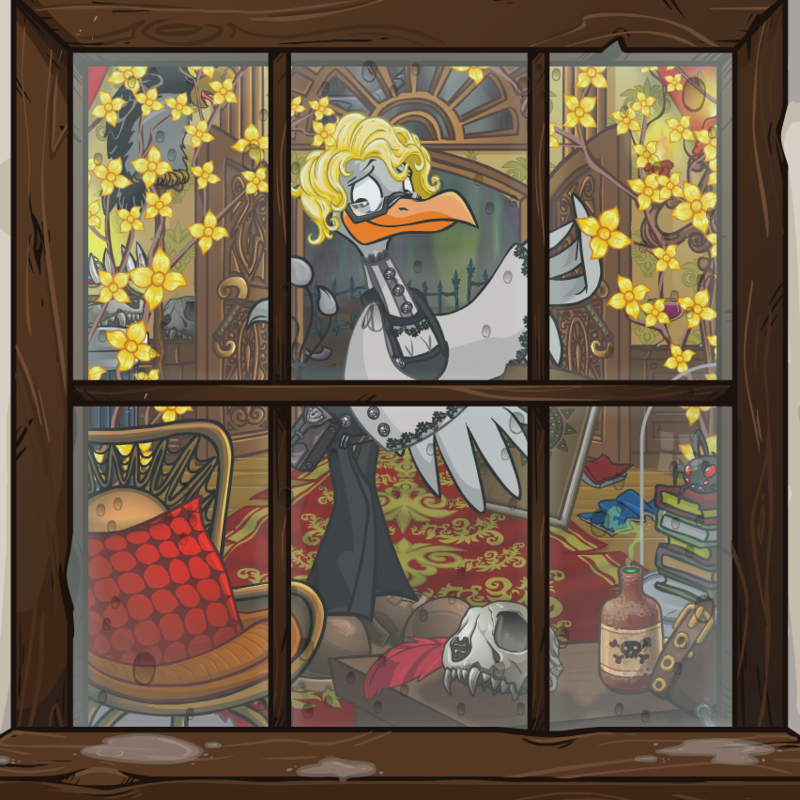 If we're welcoming spring, we're also welcoming rain. Rain on a Window Foreground is the perfect item if you want your pet to stay nice and dry indoors when it's pouring outside. I'm quite partial to this window because it's one of the few foreground zoned options that don't hide almost half your pet enabling you to show off a more detailed custom. Eleqent owned by Megan and this Grey Lenny custom model the window here.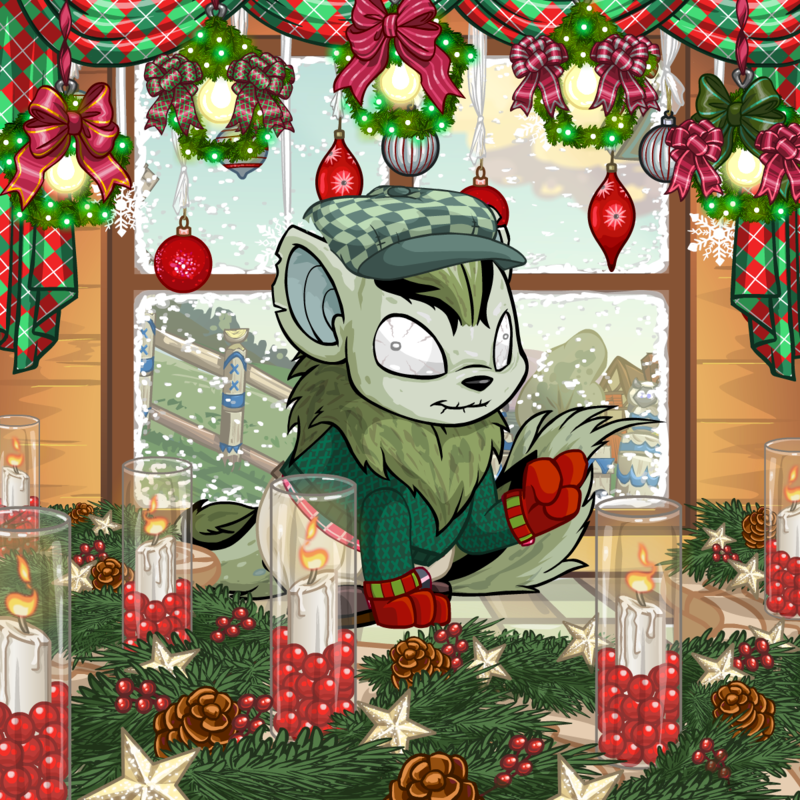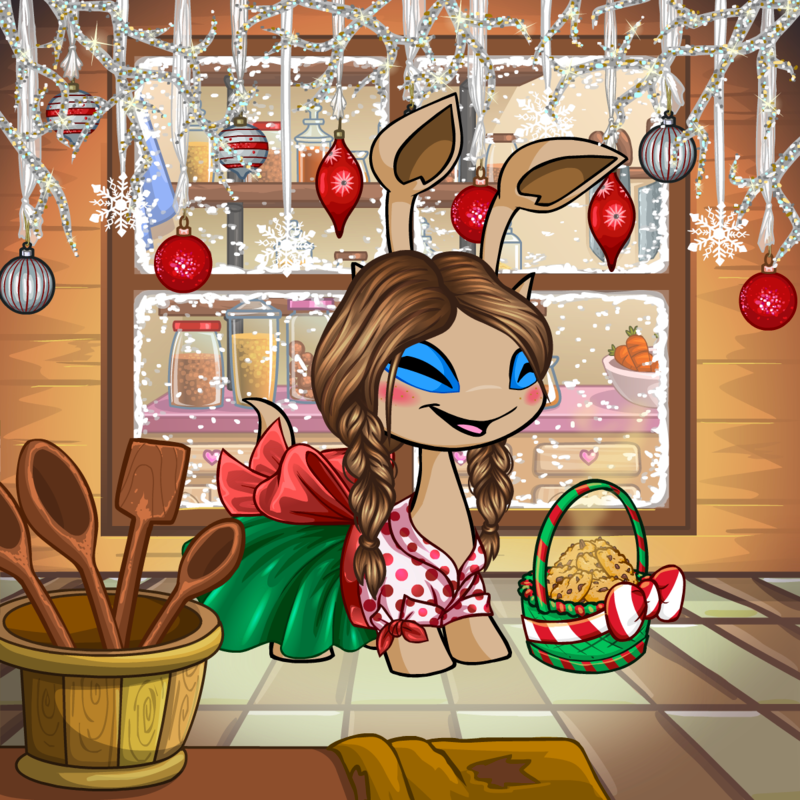 Let's wind the clock back a little further and reminisce about the holidays (even though I'm really glad there's no more snow to shovel). Eliotty owned by _evadne and love_lux owned by skuria99 use the Snowy Window Background Item in these cute themed customs. It's the details like the hanging ornaments and the frost on the windowpanes that make this item pop. It is also the first in this article to be a background zoned item instead of a foreground zoned item, making it a little more adaptable in terms of customising.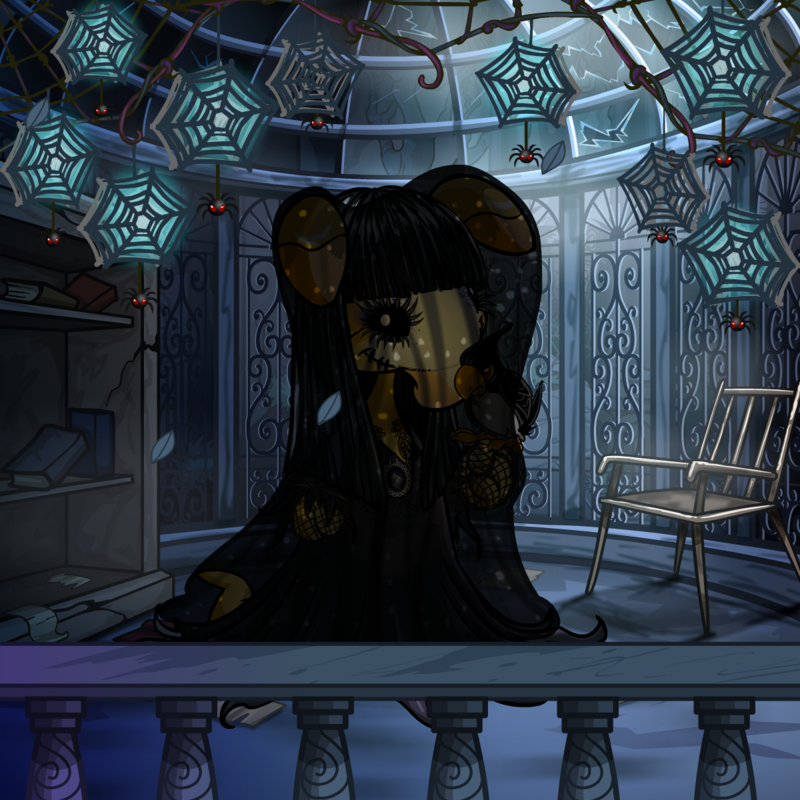 Turning back the clock even more, we hit Halloween. I'm not sure why, but the next three windows are all spooky/dark/creepy themed. Headspaced owned by nineoneone_ and nelalein owned by pinkpuppies model the most recently released item in this article, Spooky Sunroom Window. It's pretty different when compared to the other items in this article, with it's curved shaped ceiling and intricate iron wrought detail.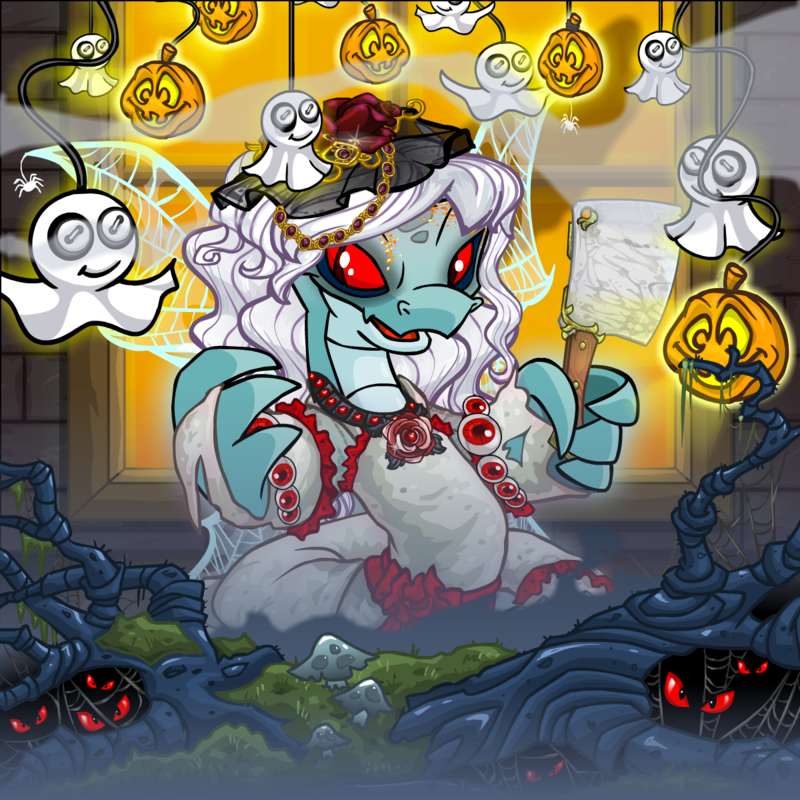 This White Korbat custom and Severeielle owned by jayaswati are wearing the Haunted Silhouette Window Background which was released through Haunted Hijinks. The orange glow and creepy ghost-shaped shadow definitely confirms this as a Halloween themed item. This is another window option that is background zoned, giving you more flexibility when putting together an outfit.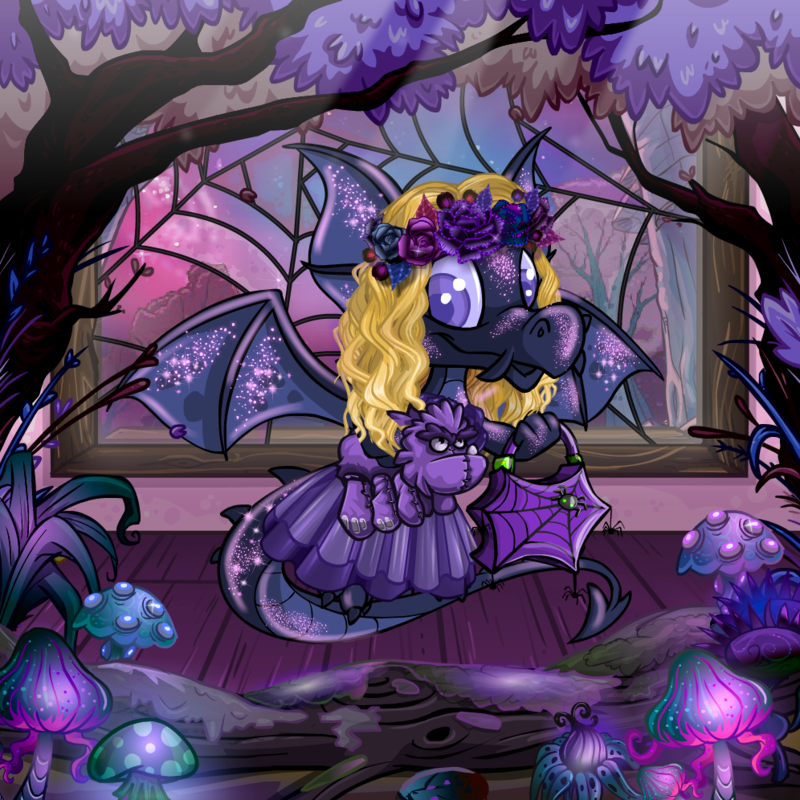 Lastly, we have the Spyder Heart Window Background which is again, another background zoned item. Vudhu owned by sulfurbutterfly and Saethria owned by tigeriscool625 show two different ways to customise this window proving that this item is more versatile than it first appears. You can either stick to the creepy/haunted theme, or stray from that and try a more colour-concentrated custom.
Here are some other windows that are available (though some are valued higher than ~1-2):
Ornate Frosted Window Foreground
Window with Twinkling Lights Background Item
Holiday Windowsill Foreground
Holiday Window Display Foreground
Dyeworks: Valentine Window Foreground
Stained Glass Window Background
These window pieces can really change up an outfit by altering the perspective of your Neopet. Hopefully TNT continue to bring out these unique layering items in the future, I'd love to see one that is autumn themed, or one that is similar to the Dreary Spring Window Foreground but less of the 'Dreary' and more of the 'Spring'. Let us know what kind of Hidden Gems you'd like to see featured next!
Back to Top