There's a place in my mind
No one knows where it hides
And my fantasy is flying.
It's a castle in the sky!
It's a world of our past
Where the legend still lasts
And the king wears the crown.
But the magic spell is law.
Take your sword and your shield,
There's a battle on the field!
You're a knight and you're right
So with dragons now you'll fight!
And my fancy is flying
It's a castle in the sky
Or there's nothing out there.
These are castles in the air!
Fairytales live in me.
Fables coming from my memory.
Fantasy is not a crime,
Find your castle in the sky!
You've got the key
Of the kingdom of the clouds!
Open the door,
Leaving back your doubts!
You've got the power
To live another childhood.
So ride the wind,
That leads you to the moon 'cause...
Fairytales live in me.
Fables coming from my memory.
Fantasy is not a crime,
Find your castle in the sky!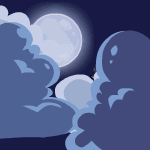 Tigerry94 (known as Tigerry) was born in a swarm in a far off land, where he lived with his many brothers and sisters. Survival as a larva was no easy task, but his odd coloring became his saviour in the wild lands. With pale tan flesh, he was able to survive his larval years by hiding within the leaves and bark - avoiding being eaten, as was the fate of so many other creatures.
Fortunately, the larval stages of a Buzz do not last more than a few weeks and soon he was able to morph and change. Where a wriggling fleshy worm once stood, now a young Buzz flew. Dashing, or so he had wished. His hands and feet end with large talons, his large red eyes glisten; and on top his head, spines shoot upwards. His wings, being a Buzz from the woods, resemble large leaves, veiny and jagged. His flesh was now a bit thicker, not thin and fragile as it once was. The tannish brown color remained. With such dull colors, he was indeed an oddball amongst the rest of his kin who were normally so brightly colored. The end of his clublike tail also formed differently than the others. While many a Buzz gave off lights from their tails to communicate in the night sky, his stayed dark. Tigerry could not light up no matter how hard he tried. It was because of this that Tigerry was not able to join in with the others dancing about in the darkness... But his large red eyes watched the flickering lights intently as he grew.
Tigerry was by no means a wild savage Neobeast. He could speak and think. He did not scurry around like a deranged creature, he walked upright or buzzed about with his humming wings. However, when traveling into neovillages, he was often met with screams of terror or made fun of for his odd looks. He was a natural mutant. As he grew older, he became more and more used to these reactions and thought nothing of it. He was who he was, a natural mutant beast. Ugly was in the eye of the beholder, and to him, he was handsome in the inside. Though he did often wish for people to accept him.
Tigerry's travels took him from the dense jungles of Mystery Island to the tops of Terror Mountain. While the strange residents of the Haunted Woods seemed nice enough, not acting so skittish around his strange form; it was the ones in Faerieland he was most impressed and saddened by.
It was such a beautiful land, floating on puffs of white and pink that supported a kingdom of high beings called Faeries. Lovely pets, fluttering about silently on sparkling wings; and mouth watering food he had never seen before, sitting in window display of food shops. He wanted to call this place home. He wanted to live forever in Faerieland where everything was so calm and happy; where all worries would wither into nothingness. But again, his looks had cursed him. The residents of this land did not take kindly to him. The faeries themselves, on the other hand, saw Tigerry as just another Neopet, and they were kind. In thanks, Tigerry would preform tasks for the great Faeries in the hours where most Neopets would be resting or enjoying themselves. Fetching items whenever asked, the Buzz found a place where he felt he belonged.
Not only was he rewarded with coin to buy his daily bread and water, the Faeries also granted Tigerry with 'strength', 'agility', and 'stamina'. At first the young Buzz did not notice these changes in himself, but as time passed it was hard not to. Whenever he found a moment of spare time, Tigerry went off on his own to exercise. He thought keeping fit would surely make use of the Faerie Blessings that were bestowed upon him. In return for his dedicated fitness, he noticed muscles gradually forming in his arms and legs. By the time Tigerry was considered a young adult Buzz, he became just as toned and strong as a Grarrl!
During Tigerry's time in Faerieland, he saw many a Neopet wandering around like royalty. They must have been rich, or had rich owners pampering them, with how they would strut around in the most expensive robes and trinkets Neopoints could buy. Tigerry would often just sit and watch the crowds. He couldn't go and talk to them- he had tried many times before and was either shooed away or ignored entirely. Such was life for a mutated monster like him though, he had accepted this fate...Or so he thought.
It was a bright sunny day, as it often was in Faerieland. The breeze was strong, yet at the same time, gentle and warm. Having bought himself a training sword, Tigerry was upon a cloud at the edges of the floating island, enjoying his hard-earned purchase. He swung outward, moving swiftly. His clawed feet barely touched the ground, for his buzzing wings kept him just above the surface of the cloud. Tigerry had no target but the air itself. All the work for the Faeries had made him strong and quick. Carrying such heavy items as fast as he could back to the proper Faerie was great training alone, and combined with the magical blessings from each one? Well... We can safely say he was becoming quite powerful!
He was so immersed in practicing the ways of a blade (fantasizing about being a strong handsome knight that everyone loved and flocked overwhile doing so), that he did not notice that he was not alone! It was only until he bumped into the small figure that he snapped out of his trance and focused his large red eyes upon the female. Female... Tigerry had bumped into another Neopet! He gasped and buzzed back, then paused to take in the sight. She was a Buzz, like him. Her body was small and delicate. Her hide was a beautiful shade of plum, decorated with a few rose pink spirals and swirls across her hips down to the base of her tail. While her body was purple, her stomach scales and wings were the color of the sun itself, sparkling as such. Hot pink hair flowed freely from her head down to her shoulders. Long curly antennae stood perked on her skull, twitching and bouncing while her large raspberry pink eyes stared into his.
In all my life, I have never seen such a beautiful creature." He thought to himself. But he quickly shook this off and offered the she-Buzz his clawed hand, his jagged fanged mouth struggling for words until at last he could speak.
I'm so sorry. I did not see you there! Please forgive me, miss.
The female trembled with fear. He looked like a beast, but his voice was deep and smooth. This one did not sound like one that wanted to harm her. Timidly, she would take his hand and allow him to assist her back to her feet.
Are you wounded? Tigerry asked. The last thing he wanted to do was damage someone as fragile looking as she. He was relieved when she responded with a quick shake of the head. Things became silent. Only the wind and the distant sounds of those within the walls of the faerie city could be heard. Neither knew what to say.
Suddenly, the Buzzette (clever, eh?) turned, her wings beating furiously in the air, lifting her small body up. But as she flew over the wall, Tigerry finally found his voice! WAIT! Wait please! Don't go... Please... His voice trailed off and his head hung.
My name is Nashnai! A voice called back to him. Tigerry peered upwards, staring at the she-Buzz he had knocked down not too long ago. Nashnai is my name. I live here in the castle.
Tigerry fell silent again, repeating the name over and over in his head. Nashnai fluttered there just over the violet bricks of the wall, watching the male before again speaking out. I need to go. And with that, she fluttered away, leaving Tigerry standing there with his training sword, alone.
Although he had met a few friendly Neopets in the Haunted Woods, he had never been so close to a faerie Neopet that didn't just scream or smack him with something. This... This Nashnai was kind, he could tell. He had bumped into her, and she had not yelled at him! Sure, she was a little scared, that was clear. Tigerry gulped and rubbed the back of his scaley neck, head dipped down slightly while he thought these events over. He felt like crying. Maybe, just maybe... He could find a friend in her.
No... No she would not want to be friends with me. She is pretty, and I am hideous. That is the way of things.
Tigerry took up his practice sword once more and tried to continue with his training, but his mind was elsewhere, thinking of the female Neopet he had met. He had not even given her his name! These thoughts turned his normally peaceful training into enraged swings and grumbling. He was upset with himself. What he felt was his one chance at making a real friend was gone! How could he let this happen?! He paid no attention to the time, unaware that day was quickly turning to night. He did not stop even for a short rest! His body was becoming wet with sweat and his breathing heavy, but even this did not stop him. For one normally so calm, he had become so upset.
Finally, the Buzz fell to his haunches, propping himself up on the wooden blade to gasp for breath. The sky was now dark, the warm air turned cool by the nights breeze. He clenched his free hand into a fist, when all of a sudden something caught his eye. Tigerry lifted his head and looked off to the side in the direction where it was coming from. A flashing light near one of the Faerie castle spires. Strange. But he ignored it for the time being and returned to his rest. But the light was now coming for him! He was not aware of this till he felt the gentle touch of a hand upon his shoulder. Startled by this, he looked over his shoulder.... Only to see a dragon right in his face! Tigerry's eyes widened and he quickly scrambled away. The dragon was only slightly bigger than he was. Its scales of aqua painted naturally with white swirls. Long tendrils hung down from the snout and antennae from the skull. A Faerie Ukali. The beast let out a soft rumble from its throat and inclined its chin. The touch had come from the hand of Nashnai, who was standing right next to the Ukali. Her tail flashed faintly, lighting up the cloud they were standing upon.
You did not flash back to me. The Buzz girl said, her voice soft, but curious. Tigerry looked to her, still in a slight state of shock.
I cannot. I have no light. He paused, then spoke up quickly. My name is Tigerry! I was not able to tell you before you left.
Nashnai smiled the best a buzz could, offering her hand to him this time. A pleasure, Tigerry. Sorry for being in your way today. I wasn't looking where I was going.
He couldn't believe what was happening. She had come back. She was being friendly and treating him as a normal Neopet.
Many years had passed since the meeting of Nashnai that day. Tigerry had gained something which he never thought possible. A friend. A friend that he would visit at the end of every day of working for the Faeries. Nashnai was not ashamed to be seen with the mutant-like Buzz, but Tigerry did not want others to see him with her. He was worried for her and did not want his dear friend to be judged as harshly as others judged him. It was in the darkest hours he would come to see her to spare Nashnai from being ridiculed by others. But once the two were together, they put all that behind them and would laugh for hours.
When Tigerry finally left Faerieland to wander, he promised to visit Nashnai whenever he could and tell her of his adventures. He had grown much stronger and wanted to wander the land helping those in need like the Knight he had always dreamed of becoming. He didn't mind that others were disgusted by his looks and hated him for that sole reason. He could have had a price on his head and he still would be set on going to help others in need. Why? He knew what it felt like to be alone. To need help and not receive it. And he now knew what it was like to be given a chance. Tigerry wanted to give others a second chance, and so he left. Nashnai was saddened that her friend was going to be away for so long. For they were close. They had shared so many secrets and laughs. Not wanting to be forgotten, she gave to Tigerry her beloved Ukali, whom went by the name of Kanilo. He was the very same Ukali that startled Tigerry the day him and the female met, and was MUCH larger now. As Tigerry flew down from the clouds of Faerieland with Kanilo, he looked over his shoulder and waved farewell to Nashnai, who in return waved and flickered the light of her tail.
Together the two winged beasts traveled the globe side by side. It was nice to have someone to talk to for Tigerry, even if they could not talk back. This Ukali, like Nashnai, accepted Tigerry for who he was and did not judge him. They had adopted one another.
Tigerry and Kanilo assisted many a Neopet with small things, such as helping to find young lost Neopets and returning them home, as well as smacking down the Pant Devil more than a few times. It felt nice to help out, even if he was rewarded by horrified looks. He did not care, nor did he a need reward. Tigerry would usually just nod while the ones he had helped with their problems stared in horror at his looks, then leave with his Dragon friend. Things were not really going how he had imagined it to go. He was not the knight in shining armor that everyone praised and loved. But it was close enough.
It wasn't long, however, that the Buzz and his companion heard of a king that had suffered much hardship in his kingdom. An object of great importance stolen, which caused famine and poverty soon after it was taken, this news was terrible. Tigerry could not believe such a thing. To make matters worse, the one who had stolen it was rich and fat, greedy and uncaring about the fate of others. He had never felt such rage building within his being- He was boiling mad. How could someone do such a thing? How could one just watch and laugh after making so many suffer?! Tigerry would have none of this! He and Kanilo made their way to the poverty stricken land to lend whatever help he could.
Upon arriving, Tigerry was horrified by what he saw. Large strange looking Neopets all over the place, struggling to survive on what little food was left. But it was not these strange almost mutated Neopets that bothered him, it was what poor shape they were in. He would not stand by and let this happen. After talking to a few of the citizens, he was able to locate where the king to this land was... In the clouds... In a castle. Faerieland? No. It couldn't be. But he needed to be sure.
The two left the poor land to go find this castle in the sky. He prayed that it wasn't Faerieland, and it seemed his prayers were answered! For it was not the Faeries' castle that was hovering, it was a large dark citadel sitting upon jagged rocks as if it had been torn right out of a mountain. It was no trouble at all to reach, for both Tigerry and his friend had wings. While Tigerry did not look much different from these strange lumbering creatures... Kanilo did! As a Faerie Ukali, he looked MUCH different and got many a strange look, which would then pass on to Tigerry for being with such a magnificent beast. At first, they were thought of as spies and were surrounded by heavily armored skeiths. Sharp jagged spears were pointed at the two while a strange lanky techo barked out questions about where they were from and what business they had here. When Tigerry explained himself, weapons were lowered and he was brought inside the citadel to join Lord Darigan's battle.
Blades were sharpened and the metal of armor clanged together as the Darigan forces marched towards the land of Meridell. Tigerry and Kanilo were among them. They stuck together, keeping to the skies as part of the aerial forces. He could see for miles... Miles of armored Darigan Neopets. A carpet of purple and red beasts clad in dark protective shells. The ground quaked as they moved onward to reclaim what was rightfully theirs!
And so the first wave began. Meridell was caught completely off guard at the beginning, but it wasn't long before their armies returned fire. The once happy lush land became a warzone in a matter of moments, and Tigerry was in the middle of the fray! It was now he would find whether or not he could be the knight in shining armor. It was now that his strength would be put to the test. Him and Kanilo soared over head before diving down to the battle below with claws and swords at the ready. Kanilo's talons would wrap around a small group of Meridell soldiers that were separated from the rest. His wings suddenly thrust downwards, pushing his large body back into the air with his prey. The Ukali spiraled into the clouds, the soldiers screaming and swinging their weapons. Meanwhile, Tigerry threw himself into the battle. His large powerful wings buzzed loudly, struggling to keep his body lifted with all that heavy armor. A Meridell knight came right for him, roaring out a battle cry as their blades locked together. For a short moment, they were face to face, teeth bared and eyes narrowed.. Trying to force one another back. Tigerry and this knight were well matched it would seem. But the longer they remained locked like this, the more danger they were both in from being struck from behind. Tigerry suddenly jerked to the side, causing the knight to stumble forward. The Buzz was able to come up behind him and out of harms way. But the knight escaped into the crowd.
There was no time to chase one enemy down. He had to focus on the big picture. Tigerry cut his way through Skrall's army with the other Darigan forces. But as the others fell around him, Tigerry found himself closer and closer to the front lines. He could not fall back though. No. He was not about to cower and flee like that. He pressed on! Tigerry's sword swished and clanged against armor and blades, using all his strength behind every swing. He was victorious against many, but would not come out unharmed.
Tigerry's left lower wing was ripped and torn by a battle axe slicing for his mid section. It was by pure luck that only his wing had been damaged. For now, it hung limp behind him. He winced in pain, but pressed onward still! He had a battle to win. So many were suffering, this was going to be the fight to end it all! He paused for only a moment, shuddering slightly. The Buzz had only stopped for a few seconds at best, but already this had made him a target. His eyes widened before he cried out. An arrow had ripped through the membrane of his upper right wing, going straight through. Again, only a wing, but it still hurt! Tigerry now knew he could not afford to stop even for the smallest amount of time. He took a deep breath and roared out, charging once more into the battlefield.
The fight lasted for days, weeks, maybe even for months! When the first battle had ended, much of the land was destroyed. Crops were burned into nothing but ash. Weapons and armor laid scattered over the sundered earth. Kanilo, who had been fighting beside his Buzzy friend most the time, was now alone. The Ukali scanned the landscape searchingly. A deep throaty cry escaped his jaws. He was calling out! Kanilo swooped down low, what was left of his armor hanging on by a few ripped straps and dragging on the ground while he was down looking for signs of Tigerry. Suddenly, the dragon-like creature stopped and touched down on all fours before dipping his head down to sniff the ground. Out from a pile of rubble and shields, a clawed hand burst up from the mess, grabbing for the skies. Kanilo carefully took up the hand by the wrist between his teeth and tugged, helping the owner of the limb free. It was Tigerry! He was alive! The Buzz coughed and groaned. His armor was a mess. With his free hand, Tigerry kept his right eye covered. His armored tunic was gone and in its place was a large cut down his chest. His wings dangled behind him, two of the four tattered and torn. Kanilo growled softly while the remaining soldiers of both Dargain and Meridell were tending to the wounded. For the moment, there was a short truce. The battle had been won. But this would not last. This was only the start of things to come.
For now, Tigerry was too injured to continue on. Kanilo had brought him upon his back to the citadel to recover. His wounds were deep, but not fatal. Kanilo could not fit inside the building, but would stay just outside the window to keep close watch over his friend. When Tigerry awoke and was strong enough to sit up, he was allowed to see what the war had left him with. At first, he thought he was having trouble fully waking up. But when he looked in the mirror, he found that was not so. His right eye was not responding. It was pale and scarred heavily around it. A clawed hand reached up, moving up his stomach to his chest to trace over the large scar that had been left. Slowly Tigerry would spread his wings out to his sides, staring at the large tears that he knew all too well would hinder his flight for the rest of his life. But he had survived. They had won! All was well!
If only that were so. Things were far from over, for General Kass had now taken the Lordship that Lord Dargian once called his own. At first, it seemed that this large Eyrie's goal was to strike back while Meridell was unaware to protect their land from harm. As time went on, it became clear that this was not the case. Kass was different then Lord Darigan. He wanted power. He wanted to rule all of Neopia!
Kanilo snuck Tigerry from the citadel on his back while Kass prepared his flank. Surprisingly, these two were not alone. Many who had fought for Darigan were leaving now as well. What Kass was fighting for was no longer right. He must be stopped. However, most that were of the Darigan army could not break away. Something had them and had Lord Kass. The ones that were not taken by what ever had snared the others, left to join up with Meridell.
Tigerry was wounded and could not use his wings very well. He was afraid that he would not be able to assist this time. Just as he was about to give up hope, his trusty Ukali came to his aid. Armored with only a saddle, he took Tigerry up onto his back and the two of them would soar once more with the aerial squad. Battle was where Tigerry belonged, fighting for what he thought was the right cause. He would defend those that could not defend themselves, no matter the cost!
Turtums armed with ballistas and catapults shook the ground while knights scurried about at their feet. The land had hardly any time to recover and already it was a warzone again. While the battle waged, so did it in the skies. Tigerry, wielding nothing more than a pointed stick, held tight onto the scales of his companion. They zig zagged their way through the winged beasts fighting for Kass, knocking them out of the skies with Kanilo's whip like tail and Tigerry's quick strikes with the lance.
Out of nowhere, a dark purple and wicked looking Scorchio dropped down onto Kanilo's back. There was no question that he fought for Kass. The Scorchio's sharp claws dug into the Ukali's scaley hide to keep from slipping off. Tigerry and his friend had felt the unwelcomed boarding, but before Tigerry had time to react, the Scorchio lashed out with his front claws, cutting Tigerry on the back of his neck. The Buzz snarled and swung around, now facing the intruder. Again the Scorchio attempted to claw at the Neopet, but this time, Tigerry was swift. He brought up his lance in front of himself, using it to block the claws from reaching him. While the Darigan minion tried to rip the lance out of Tigerry's grasp, the Buzz would work himself to his feet and wrestle with his foe, the two shoving at each other with the long pointed stick between them. Kanilo had no choice but to fly as straight as he could, for instead of knocking the Scorchio free, there was a chance that Tigerry would fall instead.
Noble as he thought he was, Tigerry was running out of options. The Scorchio had wings and could easily send Tigerry flying off over the edge at any second while his were rendered useless. It was time to fight dirty. While he tugged and shoved at the lance, one of his legs would swing out from under him, trying to trip the creature up. The Scorchio stumbled, and when he did. Tigerry widened his stance and swung the invader off his dragon-like friend! Once he was rid of the minion of Kass, he sat himself back down, panting slightly, but kept alert. After all, it had wings. It might be back!
Kass was fought back and rumor soon spread that Lord Darigan had returned. It was after the deranged Eyrie was put in his place that the Darigan soldiers returned to their normal state of mind. Again, a truce was made between the two warring factions. Peace had once again returned to the lands, and now both the Neopets of Meridell and the strange Darigan Neopets were working together to restore the land. No more was anyone starving. Harmony had been restored.
Tigerry and Kanilo, now no longer needed in Meridell or Darigan, gathered themselves to make their way elsewhere and recover. Neither regretted what had been done. Siding with Darigan in the first war, to Tigerry, was the right thing to do. He knew in his heart that the battle he fought along side them was for good, not evil. He knew that when he had turned to fight along side Meridell, he again was fighting for good to ward off the evil that had corrupted the General. Tigerry was finally a knight. He was a wandering knight, perhaps never to be celebrated in his life time, but this did not matter. He had done the right thing. For now he could rest.
Many years had passed since the Battle for Meridell and much had changed. Life in Neopia always seemed to have some sort of struggle in the many lands scattered throughout the globe. Nevertheless, peace always came after the dust of war had settled.
Tigerry would always be there, fighting for those that needed protection with Kanilo by his side. The two of them were growing up to become strong heroes indeed. Their battle scars were many, but this did not stop them. Each scar had a story. A story which he could go back and tell to his friend who sat waiting for him in Faerieland, Nashnai.
While Tigerry was out wandering through the Haunted Woods, Kanilo's large form flying over head, he could not help but notice that the normally spooky scenery was some how much more unsettling then normal. At first he shrugged off the feeling, but as he neared the lights of the Marketplace he heard something unusual. A scream. Many screams. Terrified screams followed by loud, warped, rumbling roars. Tigerry paused for a second in surprise, then grabbed for his blade at his side and went rushing to where he heard the sounds. His Ukali followed. Something was terribly wrong. These were not normal sounds, even for these woods!
Skidding his large clawed feet across the ground as he rounded the corner, Tigerry came face to face with a large blob of a monster. Its body towered above the trees and was dark as night. The body of this strange beast gave off a bright purple glow. It looked like it was a living flame, body unstable and seemingly changing shape. It was not alone. Wraiths... There were others as well chasing around the residents of the marketplace and destroying the stalls. The beasts would fly off with neopets that could not get away, some even being stuffed into the jagged jaws of these strange beasts for easy transport.
Tigerry had seen enough. He rushed forward, holding his blade out to his side as he charged. Pushing up with his powerful hind paws, he would lift off from the ground and slice through the side of the nearest Wraith. The beast let out a shrill scream and swung around to face Tigerry. To horror of the Buzz, the large cut he had left was stitching back together! Just as the Wraith was closing in to abduct Tigerry, Kanilo swooped down and ripped through the center of the Wraith creature, causing it to dissipate. The Buzz looked to his companion and nodded. Now they knew how to deal with these creatures, but they still didn't know what they were or what they were doing here! That didn't matter right now though. Right now, he had to save these innocent Neopets!
The two of them rushed into the fray, slicing and impaling the wraiths. A few of which, when cut, would spill out the terrified Neopets they had eaten. Tigerry loaded the young and others that could not fight onto Kanilo's back so they could be flown to safety. Kanilo did not want to leave Tigerry's side, but he knew he needed to get these ones some where safe. While Tigerry battled on with the others that did indeed have the might to hold their own, Kanilo took off with the more fragile Neopets high into the air, looking for a safe spot to set them down. From this height, the Ukali made a terrible discovery. The Wraiths just kept coming... They would not stop!
Tigerry was noticing this as well. When he and the others had managed to vanquish one, two more would arrive in its place! Tigerry widened his stance and lowered his head, panting ever so slightly before speaking in a loud proud voice. Stand firm! We will not give in without a fight! We will fight to the end for those we hold dear! There will be songs of glory for our efforts here today!"
And with that, Tigerry and the fellow Haunted Woods warriors charged into the never ending swarm of Wraiths! Their battle cries echoed from the woods, traveling for miles. Each thrust of the blade met its mark in the middle of the monsters mid sections where they seemed the weakest. With the weapons tearing them open from their core, they would turn into mist. But again, more took their place. Tigerry was determined though. They were gaining ground at a slow pace, and this was enough for him. Nothing was going to stop them. They were to fight till the end! Tigerry would not falter, even from a powerful blast of raw pulsating energy to his left shoulder from the dripping maw of one of the Wraiths. It stung and he hissed in pain, but a winged Kougra, body dark as the midnight sky would leap up from under the wraith, slicing it from bottom to top, ultimately saving Tigerry from further damage. The Wraith poofed into a thick cloud of mist and again they could move forward to deal with the others of this army of monsters.
Just as it seemed they were about to hit a clearing, something caught the eyes of many, including Tigerry's good eye. Even the remaining Wraiths turned their attention skyward. The once blue atmosphere looked to be on fire, tainted with purple and blood red flames... And something was falling, fast. Tigerry's eye widened and his jaw slackened, as did many. But from his mouth escaped one word. One word that turned into a desperate scream. NASHNAI!!! He cried out. Faerieland was plummeting to the ground.
Everything suddenly became silent before the loud explosion from impact. It hadn't landed too far off from the woods either. Seconds after collision, a large cloud of dust and debris came rushing towards the group. Both Wraith and Neopet struggled to keep their footing while many were blown away from the force. Tigerry fell to his knees, tears streaming from his good eye. He reached out towards the dust storm with one of his hands, as if some how he could seize his friend from the mess. But he was helpless to assist her. Dust was filling his lungs, making him cough and gag. He was not blown away however, his clawed hand that remained on the ground was sunk deep into the soil which helped him stay in place. He could feel the ground quaking under him and could see bright flashes through the wall of smog.
From the air, Kanilo had a perfect view and was out of range of the explosion. The Ukali and the others upon his back just stared in disbelief. Did... Did Faerieland just crash? How could this be!? They had heard rumors of the Faeries turning to stone, but now this?! While those on board began to cry or chatter about what they had seen, Kanilo turned and made his way to Brightvale where he could hopefully find a safe spot for his many passengers. But even Brightvale was under attack, though the castle was a fairly secure area for innocent Neopets to hide.
How could this had happened? What was done to deserve such a cruel fate? Tigerry just did not understand. He was speechless. Once the dust had settle, he could see the full extent of the damage. Trees had been ripped from their roots and the ground was torn asunder. The once green land was dark, burned and buried in debris from the crash. In the caved in earth only a few miles away, once might towers and walls of the Faerie's home lay crumbled and broken, smoldering. The once beautiful Faerieland now lay in ruin, Tigerry's best and only friend somewhere among the rubble.
But there was no time to sit and stare, for the Wraiths were arising once more around the remainder of the Haunted Woods warriors. With gnashing teeth and splayed talons, they surrounded the group, ready to take them away forever to where ever the beasts were taking Neopets. One of the warriors, this time a Zafara, grabbed for Tigerry's right arm, trying to tug him to his feet. Get up! The fight is not won yet! We must fight!"
But Tigerry did not stand. He couldn't find it within him. The Zaffara continued to tug and plead with him to join with them in battle, but the Buzz felt broken. Another called over however, her words striking Tigerry where he was now so tender. Arise and fight! Fight for those lost, there might still be hope!"
And so, Tigerry took his blade, his good eye blazing with hatred and passion. His jaw unhinged, roaring from the depths of his vocals. Though he was hurt from the Wraith's blast and the force of the explosion, he staggered forward into the wall of Wraith beasts. Others followed, fighting with all their might. I'M COMING, NASHNAI! I'M COMING! HANG ON! Tigerry would scream out towards the ruins while he stabbed and slashed at the monstrous beasts. He was frantic, desperate to get to his best friend in all of Neopia! The Wraiths could sense this and were coming from all over the woods where they were hunting. More and more. Endless waves. Overwhelming! His fellow warriors were being scooped up and carried away until only a few others remained. And then, it happened. Tigerry could fight no more. Weak from battle, he stumbled and fell upon a knee, only to feel the cold talons of a Wraith grabbing him. Tigerry could only watch himself being lifted off the ground towards the open jaws of the Wraith where others awaited inside. Other Neopets like him that were too tired or to wounded to carry on the battle. He was going to be taken away, he could feel it.
Just as it seemed this was the end, something had suddenly changed. All the Wraiths began to screech in agony. Their bodies spasmed wildly, their unstable shapes flickering like flames of a dying fire. One by one, they exploded into nothingness, leaving the Neopets they had gathered laying on the ground confused. Tigerry looked to the one who had him within his clutches. The twitching Wraith dropped Tigerry to the ground, and would also explode into a poof of smoke... Then nothing. The Neopets it had gathered in its belly for transport lay piled ontop of one another, wondering what had happened. The beasts were gone. None were left. It was over.
With the wars gone and passed, Tigerry would now set aside his blade and rest. The fire that had once burned so brightly inside him had dimmed, but was not completely gone. With Nashnai gone, Tigerry felt he was half of what he once was. The only friend he had left was the Ukali that refused to leave his side, Kanilo. While he missed the female Buzz, he was thankful to have such a loyal companion. At least he would never be truly alone. A friend that would last till the end of time and one that would remind him of the one he had lost forever.
The two would no longer visit the towns or cities. Visiting Faerieland was out of the question, for every time he came near the ruins of the once floating city Tigerry would burst into tears. Even the occupants Darigan citadel would notice that the battle scarred Buzz no longer made an appearance. Kanilo and Tigerry kept to the forests and mountains of Neopia. Every so often, a wandering Neopet would stumble upon the two. But instead of trying to make contact, Tigerry would crawl ontop the back of his Kanilo's back and take his leave, only leaving a bit of coin or food if it seemed the Neopet had been lost, some times a map. Never a word though. Before long, Tigerry's existence would become nothing but legend or myth. Stories of a ugly mutant monster that fought for what was good and right, finally broken and wandering the world endlessly on the back of a beautiful beast.
One day, when Neopia would need him.. Tigerry would again take his blade and fight with a new burning passion. Fighting for those he had lost, in their name.