Hi guest, welcome to the Wocky's Guide to the Neopets Battledome Challengers!!
Before you go to the Battledome to look for a worthwhile battle, it might be best to know which opponent you're going to fight first. That way, you won't have to waste your time to buy potions or go to the Healing Springs. :)
Note:The HP shown in this page is when you first fight the opponent. Also, the opponents are listed from easiest to hardest.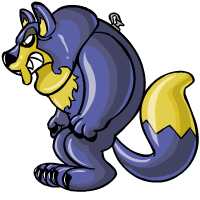 Inflatable Balthazar
HP: 1
How to get: N/A (maybe he's one of the first challengers on your list?)
This might as well be the weakest Battledome challenger you'll ever face. Just one hit and--BAM!! It lost. It might be even be ridiculous for you to lose just ONE single battle to this challenger. However, this doesn't count for your battle status; only for your battledome user lookup, and the battledome count on your lookup.


Punchbag Bob
HP: 5000/5000 (or was it 500/500?)
How to get: This will be one of the first opponents you get to battle.
The good things about this challenger is that 1)he doesn't attack back, which means you won't need to use elixirs or that special ability, and 2)you get a trophy after your first match. The bad thing about Bob is that he has ton of HP, which might take you a long time to defeat if your pet keeps attack with 10 damage or so on. You might even be forced to withdraw from the match. I can't think of any tips right now, so all I have to say is keep trying.


Chia Clown
HP: 10
How to get: This will be one of the first opponents you get to battle.
Despite how much HP this guy has, it's not that easy to beat him. Watch out for tricks in his sleeve, and you'll have a very bad time fighting if your pet isn't strong enough.


Mr. Chuckles
HP: 10
How to Get: Refresh at Coconut Shy.
You need to fight this opponent for your 1st DoN2 mission. He's really easy for such a DoN opponent. Just make sure your pet has high HP.


Boochi
HP: 15
How to Get: Random Event; he has to fire his gun at you (doesn't matter if he hits or not)
I don't know much about this opponent, so let me know if you have fought him before.


Pant Devil
HP: 22
How to Get: Random Event
The Pant Devil likes to steal precious items from people. Soon, you'll have to defeat him for your first Defenders of Neopia mission. If you don't watch out though, you could get in trouble.This is from my friend colilyfulz: the annoying thing about the pant devil is that he can use this healing ability at the very end of the fight when u're almost dead. so i suggest that if this happens, go back to the status page and try again. if u go to the status page when u still have 2 or 3 hps, u can still go fight punchbag bob. and since he doesn't attack u, if u have any faerie ability that allows u to heal without buying elixirs then u can use them to heal urself b4 trying to fight the pant devil (or any opponent!!) again. another strategy i like...go to the healing springs b4 u go to the battledome. if she says "all ur pets gain 15 hps" then if ur pet was 10/10 now u have 25/10!!! normally, the first hit that ur opponent makes is less than 15, so u'll have full 10/10 while u've already done them some damage (even if they do less than 15 damage u will automatically be back at 10/10 hps).


Eyrieki
HP: 25
How to Get: Go to the Temple of 1000 Tombs, and click on any door.
You have to fight this opponent for the 2nd DoN2 (Defenders of Neopia 2) mission. Although he's slightly harder than Pant Devil, he can heal himself up to 20 HP. Not recommended if your pet's stats are low.


Ghost Lupe
HP: 32
How to Get: View a Neohome (I don't know whose, but their street number is 131).
You have to fight this opponent for the 2nd DoN mission. Watch out for his Ghost Lupe Plasma Gun. Also not recommended if your pet has low stats.

Also from colilyfulz: this is a lil something about faeire abilities. the most useful faerie ability is anything healing so be sure to get more earth faerie abilities. not only that, some abilities can ATTACK AND DEFEND at the same time!!! (ex: lava spit) these abilities are very useful. as are the abilities that defend ur pet from any damage of a certain type. BURROW is my favorite since it protects ur pet from ALL damage. when u use burrow, use ur healing elixir so that u can actually gain hps. of course..ur spare item can attack. okay that was a lot. it wasn't for any specific opponent...just some tactics i use for all of them!

I'll update as soon as I get more info. Neomail me, blueblossom23292, if you have any info or questions.