The Monster Herself
Name: Teratur
Nickname: Ter (tair)
Age: 43
Gender: Female
Species: eyrie/demon
Color: Halloween
Abilities: Time limited necromancy, weak magic, and flight.
Strengths: Strong willpower, healthy immune system, sharp claws and beak.
Weaknesses: Missing front legs, magic is unreliable, weak hearing, low IQ.
Personality: Mistrustful, Volatile,
Reference: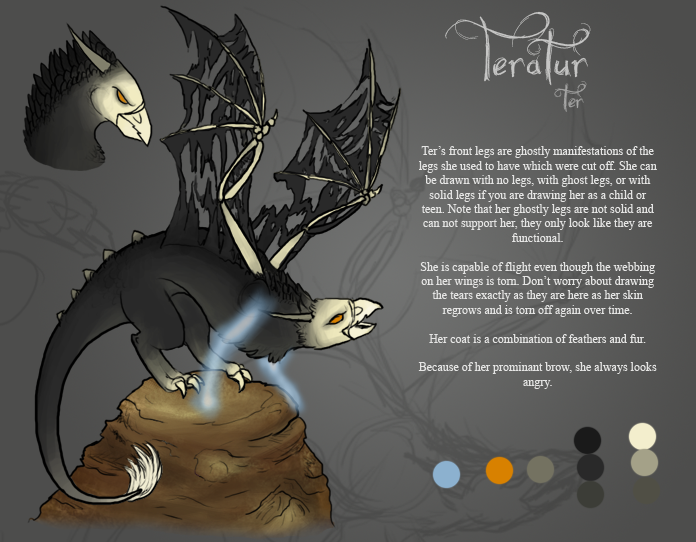 Friends and Family
This is a picture of what I think my mother would have looked like had she been alive. She's dead now.
This is a picture of what I think my father probably looked like. He's off killing people, I'm sure. Probably too busy to visit his daughter.
Here's what I think a friend would look like if I had one.

And this is Bone Dancer. He's... well I'm not really sure what he is. I accidentally animated him one day while I was sleeping I think. I just woke up and there he was, cuddled up next to me. He hasn't left my side long enough to fall back into death. At first I tried to push him away. He's an unnatural creature who is going against the laws of nature simply by existing.
... But so am I. I'd say that makes us a pretty good match.
Story
I think I am Teratur. I can't be so sure. I can't really even be sure I exist some days.
In the past, the world was infused with magic. There was magic everywhere. From the billowing clouds of skies, to the deep burrows of the magma giants, and even the depths of the ocean where few life forms could survive, there was magic. It flowed through the world like water. Sometimes it influenced the world around it in major ways. Sometimes it did nothing. Every being knew it existed, but they lacked the knowledge of how to use it. For the ancients, magic was a force of nature, much the same as wind or rain.
However, as time passed, the beings of the world grew more and more discontent. They saw the gifts that magic could sometimes give, but it was so wild, so unpredictable. They wanted to harness the magic of their world for their own purposes. As time passed, they slowly worked first on understanding magic, then on controlling it. At first the knowledge was only shared with a select few who were able to pass a series of difficult tests. They were governed by strict rules.
This still wasn't good enough. Those who did not know how to use magic wanted to learn. Those who could wanted to do so without rules. The world revolted. The knowledge was ripped straight from the heads of those who possessed it and given freely to all.
At first there was peace. There was joy. No one needed for anything. If they were thirsty, they created water. If they were hungry, they created food. Still, the beings weren't content. They wanted more. No matter what wonders they could create using magic, they always wanted more.
And then it all ended. Magic wasn't infinite. It was never meant to be used. It exploded in a rush of fire and the whole world burned.
Luckily, a few prophets saw it coming. They created shelters, little packets where they wove our reality into others. When you stepped into the spelled areas, you stepped into the realities that could have been, should have been, might have been. Those who were lucky managed to hide in those pockets of alternate reality. Not all realities are kind and those who were luckier managed to survive them.
When the fires died down and the smoke cleared, the survivors stepped back into our reality and found themselves in a barren world. All that was left of magic was twisted, corrupted remnants of what had once been. Strange creatures roamed the lands, savage animals whose bodies had been warped by the explosion of magic, but hadn't been killed. The water that wasn't instantly evaporated was foul, unfit to drink. Plant life was almost nonexistent.
Only the strongest survived.
I don't really understand all this magical junk. Who really cares about history anyway? It's all in the past... all in the past...
Ter was born to an eyrie clan living in a mountain village hundreds of years after The Burning. Her world is a harsh one. The broken remnants of magic travel still through the world, acting upon it in horrible and unpredictable ways. Those alive now refer to the twisted bits of magic as demons. If a demon encounter a living creature, it posses it and fills it with strange, horrible new abilities.
Life is hard enough when you have to fight for your own survival. You never know when a demon will come along and make life just a little to hard.
Ter's mother was a wanderer who joined the clan for protection. Like most, she preferred to keep the harsh stories of how and why she had been wandering alone in the world to herself. She was accepted into the clan quietly. It was rare for a newcomer to make their way to an isolated clan and without fresh genetics, the bloodlines of the clan would weaken and mutate. Life continued as normal for some time.
One day, she turned on the clan, spouting venom and fire from her mouth and eyes. Knowing there was no cure once possessed by a demon, the clan was forced to kill her. It was only after she was gone and they were cleaning out her cave that they found the eggs.
When the babies were born, the members of the clan thought it would be a fresh start for them. A simple of rebirth. But it wasn't. Something was obviously wrong with seven of the eight new babies. Their eyes never opened and they seemed to lose weight as the days went by, regardless of how much they were fed. They stumbled around and made horrible mewling noises, oblivious to the world around them.
The eighth babe seemed to be a normal, healthy eyrie. Her wings were a bit small, but they began to tear and regrow within hours of her birth, something that was normal, even considered healthy, among her kind after The Burning. She was curious, exploring everything, and she heartily ate what was given to her. The clan chief named her Teratur after her mother. After a few weeks, she finally opened her eyes. They were a bright and clear orange. It was decided that she be moved away from the other hatchlings for her own health and safety.
Teratur was settled in with a nice, young eyrie couple who had always wanted children, but were unable. The other babies laid on their sides for a few hours after their sister was removed, making noises far worse than any they had before. They screeched, screamed, moaned, and growled. The eyries watching them fetched the clan healer and they returned to find them all lifeless on the floor.
After further examination, it seemed they had been that way for weeks.
I don't remember much of my younger years. I wasn't well liked and I didn't really care. I wanted to explore and fight. I dreamed of one day starting my own clan. But the dead haunted me.
At first the clan was horrified and confused, but as time went by it become obvious that Ter had some sort of control over the dead. When she went hunting, prey sprang to life under her paws and ran away with wounds too great to have possibly survived. At one point, she found that one of the elders had passed in her sleep and went to fetch help. The elder got up from the bed and went with her.
I never meant for any of it to happen. I didn't understand.
As more and more of the clan put two and two together, people started to demand Ter be kicked out of the clan. Some even wanted her dead. Something was obviously very, very wrong with her. Some even said that the demon which had infected her mother had fathered the eggs.
I didn't know. How could I know.
Her adopted parents tried everything they could to calm the people and stop her strange powers from manifesting themselves.
I tried to be a good girl.
The chief finally called for an end to the madness. He stormed into Ter's room while she slept and knocked her unconscious. He wanted to kill her, but her adopted parents intervened. Strange as she was, they still loved her. Instead, the clan took her out into the wilderness and left her. When she awoke she was alone in a strange forest.
I survived, though same days I wish I hadn't.
After wandering for years, she began to form a purpose for her life. She would find the twisted magical remnant which had infected her mother and fathered her egg. While she was only one, young living creature, she wasn't helpless. She had "magic," the first which had been seen since The Burning. It was the strange, foul magic of necromancy, but it was still a power she had which others didn't.
Over the next few centuries, she roamed the world, learning what she could about her abilities, searching for the leftover scraps of magic. When she found them, she attacked them, breaking them to harmless pieces, and scattering them so that they would have to take years to gather back together. Physically it was easy enough, but mentally...
There's nothing at all wrong with me. I think. I think. I think of dreams and dances of fire tongues licking over the surface of the world. Stars. Stars fall off the sky and burn me. My mind hurts so fiercely. I hurt. Why do I hurt? Did I do that? Maybe I'm not ok...
She knew she was sliding into madness and that the power of necromancy was corrupting her. The dead aren't meant to live again and those who witness the unnatural event of unlife aren't meant to survive long. Fearing that the power she had nurtured to help her fight the demons of the world was beginning to take over her mind, she cut off her arms. Without them, she could no longer touch the dead to transfer her dark powers. Without touch, the dead stayed dead.
But the power within her had grown too strong, and it had taken on an almost sentient life of its own. It wanted nothing more than to be used and to breath "life" into all the dead. And so it gave Ter two new, ghostly arms against her will. With them, the power could be active once again.
It seems I cannot stop this monster I have become.
To this day, she still wanders the world. On her better days she remembers who she is and what her purpose is. On her worst days, she is completely controlled by the magic, performing unspeakable acts against her will. Most days, though, she aimlessly travels, talking nonsense to herself and to whoever will listen.
Some day I should work more on this page.
Here's some fan art.