You walk into up the path to an old house. It's supposively haunted, but believing in ghosts is for little kids. And hey, you think, I'm no kid!
Your friends down the street dared you to go into the house, and stay there for a night. Triple dog dared you. Everyone knows that you can't say no to one of those.
You slowly step onto the porch's step, and it creaks as you put your weight on it. Luckily, you don't fall through. You near the door, and put your hand on the doorknob. A shiver runs down your spine, but you shake the feeling away. Suddenly, you let go, and the door cracks open by itself.
You stand there, bewildered. You swallow loudly, before slowly creeping into the house.
You seem to be in the living room. The many pieces of furniture are covered in white cloaks, looking like ghosts. But your mind is playing with you. You smile weakly and force a laugh to make yourself feel better.
It doesn't help.
While observing the room, something in the corner of your eye catches your attention. Instinctively, you turn swiftly on your heels, and you gasp, stepping back into the door, which is now closed, as if by magic.
The thing giggles, and reveals itself. It seems to be a Ghost Ixi. Flames of blue engulf it, and it's horns look like they are made of gold. His hoves are yellowish, and they seem to sparkle. His crimson eyes are mysterious looking, but you can't put your finger on why. A fuffly Ghost Babaa is sitting next to him, blinking her big, red eyes. "Yo, whatya scared of?" He asked, head cocked. He waits for an answer, then hurries on, as if he can read your mind, "Well, I'm Teiruit, or Teir for short! I welcome you to my home, but may I ask why you are here?"
You smile at him; he seems to be friendly, "Hi. My name is guest. I was dared by one of my friends to come here. A triple dog dare. I couldn't turn THAT down. I have to spend a night here."
He grinned, "Ah, it isn't the first time. Well, why don't I tell you about myself and my home? I mean, you are going to stay with me for a day. Do you mind?"
Of course not." You reply, nodding.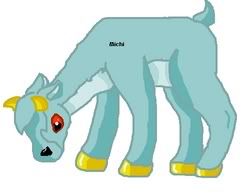 Yayy! Well, where to start.... Ah! I know! First, this house isn't haunted." The Ixi's eyes glowed a deep red, his pupils disappearing. The lights flashed on, "This is the basement, where me and Wendy sleep.... Upstairs is where my owner and my other brothers live."
In light, the furniture was covered in the white cloaks, but, you could now see that they were still in use. Fur covered the blankets, along with crumbs from Teir's preivous meals. Toys were scattered across the ground, and a petpet bed layed on the ground, near the stairs.
You're dumbstruck. You stand there, blinking, a slow smile washing onto your face. You giggle.
See? I told ya. You people just need to look around!! Now, the oldest out of my family is a Lupe, Caniada. He's going to be a Darigan Lupe. He's real strong. Cool, huh? Then comes Eberhard! He's a Tyrannian Moehog... And my last brother is Keyail. He's a nerd. He likes to read." For some reason, Teir is on the ground, laughing, "READ! Can you believe him? Why READ?" He snorted, getting up, and pawed at the ground with a hoof, "Now, let's go to moi! I was created 92551 hours ago. Hm. Well, I'm an Ixi, a ghost one." Teiruit beams, sticking out his chest, his head is being held high, "And I have powers!"
You smiled quickly at the Ixi to hide your true feelings. Powers, you think, this Ixi must be mad! You can't have powers! "Umm... Really?" You say, your smile tightening, "How... er... Nice."
Teir frowns at you, "Really, I do. Watch." Again his eyes glow red, and you hear something being thrown down the stairs. You look over to where the stairs are, and see a Kau snorting at Teir. He stands up, glaring at the Ghost Ixi. He doesn't seem too happy. Smoke is flying around his nostrils, and the top of his tail is ignited with fire, which is flowing freely.
I'm telling Mother, Teir. You're gonna be in trouble!! Big trouble." He grunts angerily, his tail swishing gently behind him, and with that, the Kau sprints up the stairs.
You look over at Teir, who's rolling his eyes and shaking his head, "It was just a joke." He murmured, the glow disappearing in his eyes. "We might as well go upstairs. C'mon, guest and Wendy."




Code by Michi's Super 1337 Friend Hobbs.=3