NOTICE: If you've come here because you're considering lending me your Super Attack Pea, I thank you so very much, I currently have a Pea Chia stored on a Neofriend account waiting to be moved over for a lend - I always have my transfers open on my main account. So if you think I am worthy of your lend, please Neomail me and we can sort something out. Thank you so much!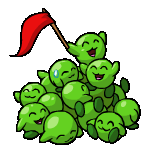 Hello! My name is Georgina (or Geo for short), I'm 21 years old and I'm from the UK. Like so many others, I am seeking a SuAP lend, please? Whenever I get an item lend, I ALWAYS have 49 items in my inventory and a lot of the items will be Pant Devil Attractors.

Just to clarify, I'm a "veteran" player and have had to start again – that is why my account age s so young. Please don't think of me as a newbie though!

I'm a rock chick, I love anime and I collect ANYTHING I find interesting, both on Neopets and in real life. I can't help it, I have piles of stuff I don't "need" but haven't got the heart to throw them away.

I love to chat (most of the time) and can usually be seen around the AC/HC/PC/NC. I also love to trade, and that is where the PC/NC come in. I'm a Hissi fanatic and am trying to have 20 beautiful snakies in my family. I'm constantly trading for my snakes and I'm not toooo far from my goal. My ultimate "dream" pet is a UC Darigan Hissi, but that is just a dream – for now. Hopefully I will be able to trade my way up!

I'm addicted to NC. I spend far too much on it and buy lots of stuff I don't (again) need. Currently I am working on completing my main account pets' customisations. A fair few of my pets have complete customisations, but I still need to finish several more of them. My gallery is dedicated to NC items I want to keep and/or trade.

I was originally working on training up Taylers, but that was before I found an amazing pet with 580+ HSD, I trained her up to 770+ HSD and recently traded her for a UC Darigan Grundo. I eventually traded around to my favourite UC pet - a UC Darigan Hissi. Now MsBlotty is my labrat battledome pet with approximately 710 HSD (will update by the 10s - ish). I battle with her everyday to get items to sell. I also ALWAYS have Lab Ray cookies, so I zap her more than once a day. I am also using Faerie Quest cookies on Cen to increase her stats as well, I'd like her to be a little more even than MsBlotty. I intend to stick with the FQCs for a while and then I will even up Cen's stats.

Taylers is my most precious pet. He is named after someone very, very close to me and I would never, ever part with him. Cen is also a close favourite because I love her name so much - and because I'm so happy with her customisation.

I'm currently working on giving all of my permanent pets Petpets and Petpetpets. Taylers, Valust and Kontesse are the only ones who have been completed so far!

The reason I am collecting avatars (and trophies/Neodeck cards/stamps) is because (as I said before), I like to collect things. There's no deeper motive really, I love to collect. Although, I am a perfectionist and I do want my account to look good – for me mainly, not so I can run around the boards going: "HUR DURP, look how brilliant I am". Not that I care if people do that, I just don't.

The avatar I found the toughest to get was the Buzz FFQ one. That one took me a while to decide upon. I've been buying the FQ cookies from the NC Mall and eventually got a FFQ from one. My jaw dropped. I kept it on my account for about 3 weeks, I couldn't decide whether I should save it and offer it as a custom OR to use it for the avatar. I eventually settled on the avatar. I have my highest converted dreamie and I think I'll need an amazing pet to offer the FFQ before I even come close to my UC pet!

The avatar I will never, ever get is the Maths Nightmare one. I can't really do maths. Well, I can, but I mix numbers up (similar to the people who mix letters up – I don't know if I'm allowed to say the word on here). And because of the mix up, it takes me too long to play the game 

My favourite avatar is EITHER the Snowager one, which is always my active avatar, or the Bon Apetit one. I was surprised I got them both!

I've rambled on a bit. I think I'll finish off my little "About Me" speech with a burst of the things I like and don't like.

Like: rock music (metalcore/punk/metal/screamo/emo etc), Batman, PS3, COD, squirrels, chickens, Mario, Sonic, Spawn, Deadpool, Wolverine, manga and anime (Higurashi no Naku Koro ni, Naruto, Claymore, Elfen Lied, Gankutsuou, Black Blood Brothers, Death Note, Fruits Basket, Bludgeoning Angel), snakes, sharks, the smell of freshly cut grass, Harry Potter, vampires (refer to dislikes), superheroes, DC, The Moomins, drawing, the cinema, reading, Jimmy Carr, the sound of the rain, Tron Bonne, Yoshi, True Blood, Darren Shan, the colour black, Iron Man, learning about other cultures, finding new things to obsess about, my family, my friends, the other people in my life and finally my cats. (Oh, I'm both a cat AND a dog person). (Neopets: Hissis, Krawks, that feeling you get when you complete a tough goal)

Dislike: Twilight, being cold, the snow, Superman, Wonderwoman, The Hulk, generally the colour brown (with exceptions), text talk, wasps, spiders, when I break/lose things, dirt, bad hygiene, people who don't look after books, people who are ignorant and are proud of it, things that smell bad, scrambled eggs, leeches, dancing (I can't dance), when I can't get a drawing right, being a perfectionist (it's both a good and a bad point), when my cats are ill, certain actors/singers who are stupidly famous for no reason, people who get offended over the dumbest of things*. (Neopets: People who make "pounding if no offers" boards, people who beg, Gnorbu, Kiko, JubJub, Chia, Kacheek, Aisha, *goes here too, people who complain that they don't know how to make NPs, boring trolls)

I hope you had fun reading all of that! Although, TL;DR is incredibly fitting for my about me sections! I don't mind if you didn't read it all, I probably wouldn't either!

My stats:
Avatars: 288
Trophies: 21 (not inc. Talisman/NC)
Collectable Cards: Had to sell (24 unique)
Stamps: 174
BD wins: 1204 out of 1256
Pets: 19 permanent Hissis (inc. UC Dari Hissi)
BD pet: 710+ HSD
Habitarium: Lvl 50
Gallery: size 93 (full of NC)
Shop: size 28
Games played: 266
KQ tokens: 8
Site themes: 9
Been lent for free: MSPP, BGC, Meowy, FQD, ZDAP, Chokato, Adam, Icy, Robo and IQ
Collat: 8 mil


I have vouchers:
Bl222, Interceptorhon, Leinacine, Not, and Yangwendi.
If you'd like a list of some of my closest NFs as well, please let me know! As previously stated, I have known some for years and they know pretty much everything I do on Neo!

Avatars I Have!




































































































































































































































































































I need 53 Avatars to Finish off my List!


Item:


Expensive:



Random:





Competitive:







Stamps:








Games:


































Item Lends I Need



Screenies of Lends


I'd just like to start off by saying THANK YOU so much to all of my lenders, you all really have my gratitude!
Next I'd like to say that I will never give out the identity of any of my lenders, so please don't ask. I'm not trying to be rude, but I don't want them being hounded and I also don't want to be held responsible for your lend. I will only be a voucher for people I know incredibly well.
About my MSPP lend: The lender specifically asked me not to screenie ANY of the lend - I'm not entirely sure why as I would have blocked out any information, but I've kept my promise and haven't screenied the lend. This may not count as proof of a lend, but I have the avatar sitting in my collections and I think that's proof enough.
Been lent for free: MSPP, BGC, Meowy, FQD, ZDAP, Chokato, Adam, Icy, and Robo
Fishing Avatar finally got the avatar on 3rd March 2013, with Valust (fishing level 93)!