Welcome to the Triplesss Tournament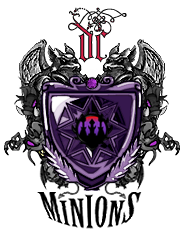 Welcome to the DC Minions: Triplesss Tournament!
DC is looking to bring the cup home again this year!! In order to motivate our fellow minions and further raise the stakes, DCM is hosting a tournament! Read below for more information about how to enter and the details of the tournament.
Disclaimer: There is absolutely no monetary reward and we are in no way forcing anyone to participate, any and all participation/entry into the tournament is done voluntarily by the entrants.
The ACVIII Triplesss Tournament signups are open!
Passed Winners and Trophies
AC VII WINNERS
DIGTRIO DREAM EATERS--|CHAMPIONS|--FEEPITS ON ICE--|CHAMPIONS|--THE NOTORIOUS NOODLE SQUAD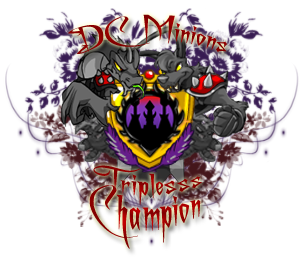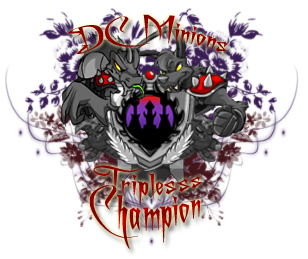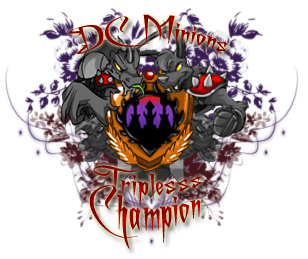 DIGTRIO DREAM EATERS:
Metal (Fullmetal_ed_lover05)
Leaf (Leafblade0)
Xanar (STHxanar)


FEEPITS ON ICE:
Ryan (Kopakasheild5)
Hermes (20birdofhermes13)
Kit (Kit_angel8497)


THE NOTORIOUS NOODLE SQUAD:
Allison (Rich_man321)
Neq (Kellyclarksonfan234)
Erik (Ihangwithvampires)



DIE - DEADLY INCREDIBLE ELITES -|PARTICIPANTS|- PEGACORN -|PARTICIPANTS|- HYLIAN HEROS



DIE - DEADLY INCREDIBLE ELITES:
Andre (Cutienandz2)
Kelbs (Kelbie23)
Jelly (Jellywolffy)


PEGACORN:
Leah (Vanilla_paw)
Lexi (Church_punk_122)
Daisy (Daisyymaiisyy)


HYLIAN HEROS:
Nic (Njt9497)
Max (Vx_redshift_vx)
Pri (1_pri_1)



All Trophies and Medals are made by: Metal

Trophies and Medals are for the use of specified users ONLY. If you see anyone using the Trophies/Medals that are above, please report them to Metal.
All You Need to Know
Three players will form a group.

The group with the most points by the end of the cup wins!

The winners will receive a trophy to display on their lookup AND bragging rights for their accomplishment!

When you have your team decided please neomail me (Metal) with your TEAM NAME and your TEAM MEMBERS.

Entries for the tournament are OPEN
Question & Answer
Why are there three S's?
The three S's stand for 'Shoot, Shout and Sling' to represent all the games.
Do I have to join?
No, you do not have to join in the event. This is just for fun. :)
How do I join a team?
You can look around the board for players who are currently looking for a teammate. Once you have three players and a team name please neomail your TEAM NAME and your TEAM PLAYERS to me.
Do I have to play ALL of the games?
No. You can play what you want. (Just remember to play a lot to help the team!)
When should we send in everything/when is the deadline?
You can send in anything from now until the end of the official Altador Cup Signups.
How are scores determined?
Scores are determined in the same way Ranks are.
If you have any more questions, feel free to neomail me.