Hey, there I am Tahlice the Bruce and I love cold weather. That's when I feel like dancing the most. Each winter a grand dance is held at Secret Location (its secret to keep pesky Lupes and Meercas away). My owner, bia_cardi, takes me every year. Last year I didn't do so well because my flippers kept getting in the way. This year is a different story, well, I sure hope it is. Either way, it's always fun watching all the new dance moves being performed by the most talented NeoPets. Remember: The last Bruce standing wins!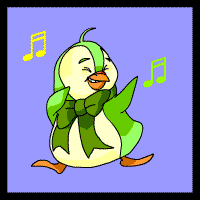 Strutting My Stuff!
| | |
| --- | --- |
| I am still quite young ( I am only 87449 hours old), but when I get older I know I'm going to win the contest. The prize is a Golden Juppie and a lifetime supply of Chia Pops! I absolutely go mad for Chia Pops. They are wickedly fantastic! | |



You probably don't know this but I'm pretty crafty in the Battledome... well, as long as I have my trusty Fish Slingshot and Shield of Resistance. My fighting technique is pretty much unstoppable with my tailor-made weapons, though I should hit the Training Academy more often. It doesn't hurt to be the best!







I think you all should know about the most famous Bruce in all of Neopia--ME! Just kidding, it's the super cool Brucey B! Do you know about him and his lucky coin? If you ever see him don't tell him I said this, but he's the worst Cheat! player that ever lived.
Here are some other famous Bruces that grace Neopia with their presence:
| | |
| --- | --- |
| Brucey B | Denethrir (ok hes not real, but he's cool) |
My picture will be up there one day... just you wait and see!



| | |
| --- | --- |
| | When I am not strutting my stuff, I love a good snowball fight. You can't beat 20 odd NeoPets all pelting each other with snowballs and getting soaking wet. It is terrific fun! Afterwards we normally head back to my NeoHome, where we have hot toasted crumpets with chocolate and marshmallows. Anyway, enough about me, how are you? Why not drop bia_cardi a NeoMessage, maybe you could become great friends! You never know. |