Internal Links: Welcome | Rules | Message to Members | Scorekeeping | Goodies

Shield by kirjing







We're a team! :)
The DC Minions is a board that supports Darigan Citadel in all the game categories. We are a devoted group of people that are dedicated to win! We strive to play all those mini-games as best as we can, and we also step up in YYB when the time calls for it. We work very hard to maintain a good atmosphere amongst all players and are not so lenient on disturbances. We want this to be a place where everyone can join so we can all have a good time working to our common goal, which is the second win for Darigan!
ATTN: NEW TOURNAMENT FORMAT!
25-31 May, signups
1-6 June, First Round
7-12 June, Second Round
13-18 June, Third Round
19-24 June, Fourth Round
The sixth day in each round is being used as a tie-breaker round. Those teams that are tied will face each other. Other teams who are not tied will face the practice team for that day.
Randomly during the Cup, one of the four games will go into Bonus Mode. During that, the game will award more points for your team. Neopoint rewards from the game will remain the same.


Listen up, all! This actually is important!
Rules of the DC Minions Board
The DC Minions Board is a free environment for everyone to come in and play what they want.

Every DC Minion board is made using the same title format:
:K DC Minions #---: insert slogan/witty phrase here :K

Everyone can have a chance to make a new board. At around Pg. 24, please claim dibs or respond as a group to who will make the next one. If you made the current board, let another have a chance to make it. If you're the only one, please make it.

Be respectful to team mates! We win together, not apart.

Be respectful to other teams! They are our competition, not lifelong enemies. We don't want to anger them to make them play harder.

Sometimes we formulate plans which get passed on to our players. Please do not discuss them with different teams.

Last but not least, just have fun! These boards are a fun, free environment for DC players to play whatever they want, yet at the same time helping the team smash goals. Hopefully you enjoy the company of others as well.


We rule because we have rules... and because we have DC swag. ;)
To All Members, Both Old and New
So come in and play your hearts out! We would love to know more about you, so if you happen to be new this year, please tell us a bit about yourself. Veterans! Feel free to re-introduce yourself to our newer members.
Being a member of DC Minions doesn't just mean posting your scores on our boards once in a while and pasting a pretty DCM shield on your lookup. We expect dedication, diligence, and a positive attitude. Be a good role model for everyone else out there and people follow suit.
We have a lot of pride in all of our Minions. We look for quality, not quantity. There could be 5 of us on this board, but if we all strived to be All-Stars, it would be better than 100 people only at Rank 2.
A Word on Freeloading...
Definition: A freeloader is someone who joins a team during the Altador Cup but only plays a few games throughout the entire cup. Too many freeloaders can pull down the team as a whole (hence why sometimes small teams trump the power houses).
We look down upon freeloaders. And I want to clear that up now. We will not shun you if you play poorly. We know that things get in the way. Life, school, work, etc. It happens, we deal with it. But if you are coming onto our boards, simply to chat with our members, and not play a single game of YYB the whole tournament, that's a problem. That's where we get irritated slightly. I don't mean to sound harsh, and I hope I don't come off that way. We want people to have fun playing, we want people to talk and have a good time. It is, after all, a game. But when we have our mind set on winning, and people are distracted from playing by little trolls, that's an issue. And we tend to resolve those quickly.
So please, be serious about this. We are not going to say, "Go away, we're not chatting today, we're playing." Most definitely not. It's a chat board, it's the internet, you are free to do whatever you wish and whatever you please. It does, however, get to be a bit much at times. Especially when we are playing the stronger teams. We need each and every member to bring their A game--focus, dedication, and the DC spirit.
For the sake of many of our sanities, if you are a freeloader, go join another team. Or even better, don't come to our board. If you want that shiny gold DC trophy sitting on your user lookup, you have to EARN it, just like everyone else.


The remains of the last smart–aleck freeloader who tried to troll DCM boards...
Scorekeepers of the DC Minions
How To Post Your Scores:
Everyone will post their score in a format as such:
+#### -insert game played here-
Example:
+14 YYB
+600 SlSl
+5854 MSN
+1200 ShSh

Yooyuball: # of goals you scored subtract # of goals scored against you. (minimum score: every winning game)
Slushie Slinger: your score (minimum score: 285)
Make Some Noise: your score (minimum score: 3000)
Shootout Showdown: your score (minimum score: 1 goal)
To save the scorekeeper time, you can also hoard your points and post all at once!
How To Scorekeep:
Why keep score when the other teams can just peek and try and beat them?
Honestly, it doesn't matter if they see our totals. The team with the most points isn't necessarily the winning team. The algorithm used to determine which team wins is much more complicated than that. The reason we keep score is to keep us all motivated. With a common goal to reach, we will find the endless yooyuball games much more bearable.
The basic rundown:
Score keeping is pretty simple. It does, however, require a ton of patience, as well as a calculator (or if you're a math genius your head). Anyone can scorekeep, especially if no one is playing at the moment. More than likely if you're score keeping, you don't have much time to play. We try and round up all the multi-taskers that are able to do this. It is advised that if you are newer to the board, to hold off on score keeping until you think you're ready.
Alright, so our score board generally looks like this
YYB: ###/xxx
SlSl: ###/xxx
MSN: ###/xxx
SHSH: ###/xxx
@username ##:##am/pm
### is the current number of points we have accumulated in that game.
xxx represents our current goal.
@username is user we stopped calculating the totals at.
The time, obviously, is when that user last posted.
When we reach our goal, it is nice to inform the members that the goal has been attained and to write a new goal beside it (Eg: MSN: 51,749/50,000 GOAL SMASHED! New goal: 100,000).
I understand that this could be quite confusing, just reading an explanation of how it works. But once you see it in action, I promise you'll be able to understand everything.
Here is an example of how to collect and add up scores:
So let's say these are the new scores at the beginning of the day:
User 1 12:17pm: +15 YYB
User 2 12:17pm: +5749 MSN
User 3 12:18pm: +455 SlSl
User 4: 12:20pm: +3600 ShSh
User 1: 12:21pm: +12 YYB
All you have to do is take the scores and add them together:
YYB: 27/1,000
SlSl: 455/5,000
MSN: 5,749/50,000
ShSh: 3,600/40,000
@User 1 12:21pm
Simple as that! If you are adding up scores during the middle of the day, start from the post noted in the last score update and add the new scores to the existing scores.
DC Minion Goodies
Shields
Custom made shields for the exclusive use of the DC Minions board members. Please do not remove the credit and/or link back.
Shield by astrogrilledveggie. Members feel free to enjoy this graphic but others, please do ask for permission before use.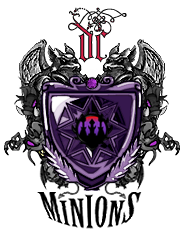 Shield by Kristen (lennargirl). This shield replaces the age shield on your user lookup.
Link Back Buttons
Feel free to spread the word and link back to the DCM board webbie on your lookups and petpages. :)
Button by dragons_rock_493.
Button by Leah (vanilla_paw).
User Lookups
For the exclusive use of the DC Minions board members. Please do not remove the credit and/or link back.
User lookup by vanilla_paw.