The porcelain teapot regained its proper place on the table once the cup filled to the brim. A warm aroma of chamomile wafted throughout the small room, ending where the sweet scent of sugar cookies begin. Accompanying the teapot were several other matching tea cups, each already partnered up with the corresponding stuffed animal that stood behind it. The perpetrator of the delectable smell was none other than a silver platter of various sweets, complete with sprinkles for the cookies, and a cherry for the cakes.
A girl sat beside the low table, knees bent and feet curled under the rest of her weight. Her fingers carefully slipped away from the teapot's handle once she finished. By now, the arrival of a new visitor caught her attention and she quickly glanced up. Loose hair in her eyes prevented her from getting a good look at the new stranger, but a swift turn of her head brushed the lesser obstacles away. Hello!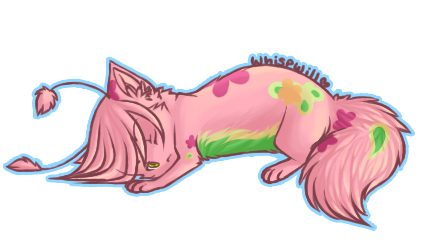 The voice might have come out as a surprise. Such amiability certainly disrupted the calm atmosphere that had presently taken place. No matter; that was no longer relevant. She was being welcoming, and that was the most important task at hand. I'm Super.
A curious glance met with the visitor's. She spoke with a soft tone, but it was very steady. She mastered the projection of her voice very well; no matter the decibel level, it would stay sweet. Never had it been sharp or broken.
Perhaps her most captivating feature were her eyes. Jade, they were. A pretty pale color. Dull, but animated. They shone whenever that childlike voice rang out. The bright pink hair that bounced as victim to her quick movements fell neatly about her visage. Though her eyes were not the most attractive for their shade, it complemented well with her hair.
She rose to her feet in one movement and, without stumbling, she made her way towards the newcomer. She reached for the stranger's hand, delicately, yet firmly encasing it in her own. Smiling, her gaze moved upwards so as to look the other in the eye. With beaming excitement, she spoke, Let's play.
Profile
Story
Petpet
Family
Friends Diary

Hello! Shin let me have the money to buy this pretty diary I've been looking at in the shop display. Now I can write about all my adventures! Oh, you know, Odin doesn't write, but sometimes he'll tell me of his stories. It's a pity, he meets lots of new people, what if he forgets them all?

23 May 2008

Huwaaah, Odin, you went really far this time. How did you end up on some satellite in space?! Are you sure

she

isn't an alien of some sort?

???

Odin's really lucky. He gets to meet all sorts of people. I don't know what he was doing outside in the streets, but he told me a little

kid

up and went and approached him! Yaay, Odin! You're making friends fast!

???

Odin got lost again. Really now, even I don't get lost as much as he does! This time he ended up in bar or cafe thing, or at least I think so. He described it as some place with music and food. Well, Blu serves food, right? And she works in a cafe? So Odin must have gone to one!

He had to deal with the

waitress

.

???

Yaay, Odin found someone today. A friend, I mean. He met a little

Aisha

at the park and even played with her for a bit! He says they made grass angels, but that didn't work so they ended up burying Odin in the sand. Can you believe it? He'd have fun without me! Oh, Odin. This means you have to let me bury you in the sand next time!

???

Hey, hey, guess what? Odin told me the other day that he got lost while trying to find his way home! He's so silly. I guess apartments and buildings are all the same to him, you know? It's so funny, getting lost? That's something a little kid would do!

It's okay, though. He met a nice

girl

who fed him. He says he had to work first, though. At least he got a job for a bit! Do your best, Odin!

Art

Please drag and drop the image into the address bar to see the big picture. Thank you!

Quad Anthro Fan Art

Please drag and drop the image into the address bar to see the image in full size. Thank you!

Adoptables

Customs

Super

Gisael

Saique

_Madhatter_

Kyietai

Hymns_Melody

Ellbell_the_great

Enuio

Trinitarr

Calipur

Aerestian

Komone_Sama

Kainumi

Cyappu

Asruntal

Kahoruii

Zombieno

Daull


Hoolphal


Sapphire_Beautifly


Aquarriee


Eikatsu


Emylii


RoyalTruffle

Adopted Adopted Customs Links Hika's Other Pets Other Aishas