• • •
Add me to your Favorites - this page will be updated with every new plot twist and turn!
• • •


This guide is all about helping you to solve the puzzles and plot twists yourself. There are no walkthroughs here, and no programs or cheat guides. I truely believe you will enjoy the plot more, and feel happier with your result if you go it alone. Everything included here was discovered by me, with a few wise words from the lovely people on the boards at PPT!

Chapter 1 - Clear the Deck
Chapter 2 - Beat the Monster
Something has washed up...
Chapter 3 - Giant Beasts!
Codebreaker Puzzle
Chapter 4 - Beating The Moach
Chapter 5 - Rebuild The Ship


So far, 55 people have told me that this page has helped them! Let me know if you have been helped - this page took me ages :)



Affiliates



Here are some other fab plot-help sites for you to browse




Happy to add more if I like your page, neomail me!



Link Me



Here is a lovely button for you to use if you wish to link to this guide.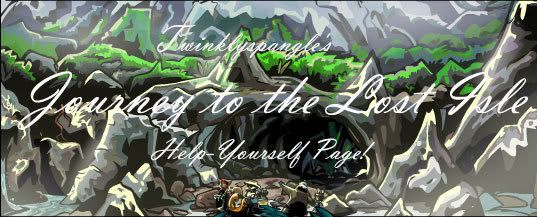 • • • Last Update 7.58am 18/05 - Rebuilding The Ship • • •

I recommend that you read each part of the plot as it is released. Following the storyline will give you an excellent background in solving future puzzles.



Chapter 1 - Clearing The Deck



Some people have found that once they have read part 2 of the story, they are unable to get back to their puzzles. Here is a link that will take you back.

1. Do not give up at the first hurdle. You will geniunely feel happy with yourself if you are able to solve these on your own.

2. Place your biggest, most oddly shaped piece (usually an anchor, but if it's a cross, unless you have the one-piece barrel, beware of placing it in a corner) flat against whichever side it can go against. If you have two, you can put then both in:

For example:




Then fit your other pieces around them. If your first attempt doesn't work, just jiggle them by one or two spaces and try again. I used this technique and have been able to solve nearly every puzzle that I have seen.

NOTE - There are some puzzles that this technique does not work with. If you find you have more than three mops, at least two will need to be placed first instead of the anchor. This is because together, the mops make the most irritating pieces to fit.

If you have three anchors, one will HAVE to be fitted around another, because there just isn't room otherwise - these are the hardest puzzles.

If your most oddly shaped piece is a ropey-style one, place it in the middle of the bottom of the board and work from there. Again, you may need to go back and wriggle it a little.

3. Have a rest! I promise you, if you have been looking at it for half an hour, your eyes will be blurred and your brain will have shut down. Take a five minute break, (even if you just get a drink or something) and then come back. I can pretty much guarentee you will be able to solve the puzzle on your return - fresh eyes!

4. Finally, these puzzles are produces by a computer. They are ALL solvable, and should not take you more than an hour to do all three. If you have spent this time, and still want to abandon ship (!) see if someone else can help you, it's probably an obvious solution that your poor tired eyes are missing



Chapter 2 - Beating the Ravenous Monster



Click on the last section of Chapter 2's comic and you will meet the Ravenous Monster!
The Leaf Shield has risen dramatically in price, to around 30K, because it is an excellent defense against the monster.




I recommend beating him as much as you can, then selling your shield before the prices drop, which they will over the next few days. Make a profit, why not?

Hopefully, you already have enough equipped from previous battling to beat him at least once. Remember, you do not need to beat the monster more than once to advance in the plot

Some people are chosing to beat him again and again, in order to rack up more points. Feel free, but make sure you keep a healing item (I like Greater Healing Scroll - heals 50HP) on hand as he gains 1.5HP each time you beat him.

Once you have satisfied yourself that you have battled the beast enough times, have a rest, because that is as much as has been released :)



Something has washed up...



This is a Red Herring - NOT something to do with the plot.
The item "Ship In A Bottle Snowglobe" is buyable from the Smugglers Cove - you can purchase it, if you are lucky, for 25 dubloons. They are currently selling for around 1.5mill.







Chapter 3 - Giant Beasts!



Chapter 3 appears to be simply a comic chpater, with no additional puzzles, tasks or battling to be done. Have a good read, this is a good time to really get to know the characters. We do have a few small plot developments though. Look closely at the beasties, do they remind you of anything?

In the spirit of my guide, I'm not going to give it all away, but try this little puzzle:

Three items available on Neopets look surprisingly similar to the beasties in the plot. Match them up and find the odd item out!







Figured out what the beasts are yet? This tells us a little more about the plot...



Codebreaker Puzzle





• Apologies for the lack of updates over the weekend, folks, and thank you for the neomails telling me I needed to update! I haven't been feeling very well (I'm pregnant!) and have spent the time in bed sulking. It won't happen again! •



The next stage of the plot invloves another puzzle. If you are familar with 'Time Tunnel' or the board game 'Mastermind' you have a head start. Here are some tips to make it a little easier for you!

1. As with the first puzzle, do not underestimate the value of taking a short break. Even though you can rest this puzzle and get a new one, your brain can easily become addled with odd symbols, wheels and general confusion. You will have a much better chance if you just go and grab a drink and start again!

2. This puzzle is different (better?) because you can get a new puzzle if you hate your current one! Just click the big red button until it resets to a spangly new combination

3. My tactic was this:

Fill the selection area with all one symbol





Since I know two of them are there, I'll keep two, and fill the remaining spaces with the next symbol.





Now, we can see that there are two in the correct position, possibly the two original symbols, and one of the newest symbol. So we have three of the four.

What I did next was to switch the three around until I got all green lights, each try adding a different symbol until I got all four.

4. Remember, if you have only two yellow lights and the rest green, it's simply a case of swapping around two symbols for your correct solution!

5. You will probably have better luck if you note down each combination you have tried on a piece of paper. Just simplify the symbols, and put ticks for green lights, circles for yellow lights, and crosses for no lights. This way you can prevent yourself repeating combinations, wasting tries.

6. If all else fails, click through, get a new puzzle and start again!



Chapter 4 - Beating The Moach



Before you understake this task, I recommend reading both the comic pages, and the Doctors diary. As I have said before, you will gain a good insight into what eactly is going on, which should help with future plot steps. Puzzle over these questions:



• Why didn't the Doctor mention in his diary that he got into the temple? Have we not reached that part yet? If not, how did his sketches get in there?
• How did the giant moach get in? And how did she lay eggs, there must be at least two of them.
• Why are the plants now attacking aswell?



After you have puzzled, it's time for some battling. Again, clicking the last section of the comic will take you to fighting the Moach.

This dudette (mama protecting her eggs!) is mean.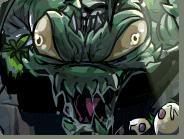 If you weren't able to beat the Ravenous Monster you will not be able to beat this terror. Don't panic, just start training as much as you can for future battles. It's certainly worth racking up at least one kill if you can, you'll definitely get more points at the end of the plot, and it may even be an essential step.

Some tips, by people who have beaten the beastie are:

Anything fancy & overpriced, such as Ramtors Spellbook, Honey Potion, Royal Wedding Ring will probably get you a kill. Try and use in conjunction with Drain Life, if you have it, top really cut a chunk out of her.

You will need an excellent healing weapon, especially if you have lower HP than the Moach. A Scorchstone that heals you totally will probably be the best choice, or a greater/lesser healing scroll. I have to say, if the Lesser Healing Scroll heals you completely (25HP), you'll find this one tough.

The Moach is much stronger on Attack than Defense. Get in there with your strongest attack weapon and a defence one (Leaf Shield or Ugga Marbleshield defend well against the Moaches Earth attacks), or Burrow if you have it.

Weapons such as the Cloudy Wand of Storms, should be around 100K and defend a little of the Moaches attacks as well as lowering it's HP. Search Battlepedia (I can't link here, but search for Battlepedia on Yahoo!) for weapons that both defend against Earth or Physical and have a good attack value.

I finally managed to beat him myself using Thick Smoke Bombs (They block all attacks, but to be honest, are quite expensive), an Ugga Marbleshield, Greater Healing scroll, Scarab Ring, Downsize, Stone Club & Enchanted Wooden Bow



Chapter 5 - Rebuilding The Ship



There are three phases to this puzzle.

1. Find the 9 items you will need to rebuild the ship. Each person has 26 different screens of paths and jungle. You can have anything from one to five (thanks for letting me know it wasn't four!) pathways on each screen. Some may look very similar. There may only be a difference in the place of a rock, the curve of a path, or the position of a tree. The items you are looking for are shown below.





Most of these are lying around on the paths. You should start with the thorns. The jawbone, which you need to release the branch you get from clicking on a very small point on the map page of the journal. I'll leave you to find that out yourself, as this is a Help-Yourself guide - but as a small clue, you may want to try searching on, or very near to, the mootix.

2. Find your way back to the ship. This can be the most frustrating part of the whole thing. You'll just need to keep track of where you are going - some people have found it helpful to make a map. Use 26 squares and be careful to fully mark on it tree positions, path curves and rock placements. You will find your way back eventually, it's just a case of patience, luck and memory!



• This is another puzzle where that classic tip; "Take a break, have a walk/drink and come back with fresh eyes" will work wonders •

3. You now need to rebuild the boat. This should be relatively straightforward, you'll just need to use the items you have collected, by clicking on them, in the correct order. Give it a go!

Breathe a sigh of relief and have a rest fom plotting until the next stage comes out!

Please let me know if the infomation here has been of use to you, I really appreciate it.


• • •
I have received some really nice neomails thanking me for the guide. Here are some of them!
• • •


Thank you! Your guide helped me a lot! *has added to favorties* Well. . . . . . . .um, that's all I had to say. So bye!
- thunderboltusa

thankyou for posting the plot guide i was stuck on a bit and your guide is real easy to follow
- hifi1007

I luff your plot help page! I'm bookmarking it now. Keep up the great work, and I'll continue using your guide!!
- healinghorn

Your "Help" page definitely helped me. I never really fought in the battledome before and I really wanted to participate in this plot. The info was very much appreciated!!! THANKS!!!!!!
- julesgems

Your guide was REALLY helpful! Keep up the good work!
- kanna175



Pressies!



I have received some presents, to my great shock, it was really a lovely surprise to check my events and see your gifts, so a big thanks to the following people:



julesgems
hifi1007
pinkrbow