Best viewed on IE at 1024x765
Press F11





Prologue
Silence is a scary sound.
Nothing. You are floating in space; there is no sound, nothing at all. You are surprised that you can breathe here, but you have no idea how you got where you are. Stars float by you silently, planets float eerily whilst their moons silently orbit them. The sun seems so far away; you cannot feel its heat, and you are freezing. You shiver, hugging your knees. There is no help for you now; you will be stuck here forever. The stars seem to create shapes in the sky; you watch them, knowing nothing else you can do. They form a strange shape, like a wolf, but it has wings. It creates patterns on the wolf's body, zigzagging in and out until they stop. You blink at this strange picture.
Suddenly, a bright light bursts from nowhere. It is blinding you; you clamp your eyes shut but the light is still too bright; you feel like your soul is being torn from you. You sigh, your breath escaping your lips. Your body goes limp, your eyes still closed. You fall into a deep sleep, wondering what it will be like when you wake up; that is, if you do wake up. You awake suddenly, the bright light still shining through your eyes. You scream silently, pulling your hands over your eyes. Suddenly, a furry body scoops you up onto its back. You dare to open an eye a fraction. You gasp. A wolf-like creature has dimmed the light, growling at the sun. The wolf then lurches forwards, sending the light even darker until it disappears. The wolf then flaps its angelic wings, and flies away with you on its back.
You fly past so many planets and stars whilst the wolf has you on its back that it feels like you are flying in circles. Eventually, the wolf retires from its glide and lands on a giant star. It drops you on the star's surface, making you suddenly close your eyes. You peel them open to find yourself looking straight into golden orbs. You squeal, scrambling backwards, and almost toppling off the edge of the star. The wolf gives a sharp bark just as you are about to fall to your doom. You yelp, scattering forwards. The wolf leaps smartly back as you crash where it had stood only seconds before. You groan, and look up. The wolf is like no other you have ever seen. Its pelt is a glossy dark blue, but its head, front paws and the tip of its tail are all a sleek white, with a shiny gold outline in zigzags. You gasp. This is the wolf that the stars created. You look on its back, and your thoughts are true. It has large, angelic wings with beautiful white and gold feathers billowing out from them. Its golden eyes glitter, and as you look closer, it seems like a million stars are twinkling in its eyes.
You swallow, and speak up. "Hello." The wolf fixes his golden eyes on yours. "I am Sulvis." The wolf replies, bowing his head, and bending his wings in a very formal gesture. "I am a Star Guardian; a Lupe of the skies." You blink, and try not to show your confusion. Sulvis gives a sharp bark. You fall over in surprise, just as a strange bird soars above your head. It swoops down and lands gracefully on Sulvis' head. It has a magnificent coat of feathers, in shades of brown, blue and gold. A plume of gold runs from its head down to its back, and runs along the top of its large wings. The creature squawks, ruffling its feathers. Sulvis sighs, and turns to you. "This is Skylan, my Star Chaser Airax." Sulvis watches fondly as the Airax flexes its wings and looks straight at you with beady gold eyes. "I've had him since he was young. He never leaves my side." Skylan squawks and flies away, his tail billowing out behind him. Sulvis watches, then turns again towards you. "He wants to show you something. While we're going, I'll tell you about myself." Sulvis scoops you onto his back and flies behind his Airax, following him to somewhere way, way out in space.





Story


Stars whiz past you as you fly at top speed through space. Skylan is already way ahead, and Sulvis is fighting to keep up. Suddenly things slow down, and he begins to tell his tale.
There was once a time when the world had not yet been created; only empty planets. Stars soared through this lifeless world; the planets twirled and moved silently as their moons orbited their growing bodies. The sun's heat beat down on this airless galaxy, but no heat could be felt from its blazing body. Some do not know if there were any life forms back then; but I do. The ancient clans of Earth and Mars, of Sun and Stars. These clans were the only things able to survive in the harsh climate of space; the only life forms ever known that did not have to breathe. I was one of them. My mother was an ordinary Winged Starry Lupe from the Star clan. Back then all of the clan members had wings; otherwise they could not survive. My father was a Winged Fire Lupe from the Sun clan; an illegal relationship by the ancient laws. No clans may mix unless it is a clan meet, but even then they must try not to communicate. Each clan had their own area of the Galaxy, and they must never cross the boundaries of another clan's borderline. My mother had always been a bit of a daredevil. She never really listened to the laws. She never listened to the clan elder; her own father, who tried to find her a mate in her own clan. She never told anyone that she actually dared have a mate in another clan; and nor did my father. He was the leader of the Sun clan; a magnificent job to help enforce the laws of space. He did try to enforce them, but secretly seeing a member of the Star clan was the worst thing to do.
Everything was running smoothly, until my mother had me. When I was born, my mother gasped. I had the markings of the Sun clan, but in the Star clan colours; the Sun clan markings were a pitch black pelt, a red coloured head, red coloured front paws and a red tail tip, all outlined in a gold zigzag pattern. They had red wings, with golden feathers underneath. My mother's eyes filled with tears when she saw me; she knew that the clan would know that she had betrayed them. I was a deep blue, with a pure white head, white front paws, and a white tail tip. These too were outlined in a gold zigzag pattern. My wings were angelic and white, with gold feathers billowing out from them. I was the spitting image of my father; with my mother's colouring and eyes. My eyes were bright gold, glittering like a star even though there was nothing to reflect them. My mother broke down, tears streaming down her dark blue fur. I blinked, barking at her. The Elder's ears pricked up and he came over to see what the commotion was. He gasped when he saw me. "It is infected with the markings of the Sun clan!" The Elder picked me up by the scruff of my neck, letting my dangle by his fingertips. He then turned to my mother, his eyes blazing with fury. "Who is the father of this wretched child?" My mother sobbed into her paws, howling into the galaxy. The Elder kicked her, and she picked herself up. "The pups father." she stuttered. The Elder roared, gripping me harder. For an old Lupe he certainly could roar.
The Elder called a clan meet for the Sun clan and the Star clan. The leader of the Stars, Yenja, did not look at my mother for the entire journey to the Sun grounds. When the Star clan finally reached their destination, they were greeted by the Sun clan, and their leader, Sulha. My mother looked down, not wanting to catch her mates' eye. Sulha looked at her, then at me. His own emerald eyes sparkled with pain and his own tears. The Sun Elder came into view, looking straight at the Star Elder. "Welcome, Star clan." the Sun Elder said, his face contorted with effort. He was a lot older than the Star Elder, and spoke with a raspy voice. "The laws have been broken by our own leader and a member of your clan." My mother whimpered, tears rolling down her face. The Sun Elder continued, not bothering to look at her. "We have no choice but to banish them to the Deep."
The clans gasped. I had no idea what the Deep was. I wagged my tail, looking at all the stern faces around me. "Or perhaps" The Star Elder said, looking at me with daggers in his eyes, "We should banish the child and not the parents." The clans gasped again. Someone from the Sun clan spoke up. "It was the parent's fault, not the child!" There was a murmur of agree from both clans. The Sun Elder bowed his head. "Very well. The child will be banished and our Leader and your kin will be spared." My mother looked at the two Elders, her eyes twinkling. "Thank you, sirs." The Elders nodded, and the Sun Elder continued. "It will be the job of the two clan Leaders to take him to the borders of the Deep. In this case, the pup's father and the Star Leader. Take him away." The next few hours were a blur to me. The two lupes picked me up, one of my front paws clasped in each of their jaws. I howled to be put down, but they ignored me. My father's face was twisted with the pain of having to banish his own son. The border of the Deep was a black hole. I looked into it, whining. The Star Leader released my arm, and flew off. My father's tears rolled down his face. "My son." He said, looking into my eyes. "You must journey on alone now. But I will always be your father." He looked away, and just as he was about to push me in, he whispered something to me. Then he flew away as I fell into the darkness, writhing and pathetically flapping my wings to no success. I thought about what my father had told me before he flew away. I whirled in the blackness, thinking of this. "Your name is Sulvis. Remember it."
17 years later
It had been seventeen long years since I had been banished to the Deep. I had managed to cope so far, feeding off the strange planets which dwelled down there. There was nothing to do; only float and hope that someday I'd find a way out. The Deep was never ending; no matter how far I flew I would never see any other form of life. I missed my clan desperately; now I was in the Deep I did not count as anything. I was just Sulvis the Lupe. It was one day, however, when I came across another life form, that I found hope. I had been searching for food; I hadn't eaten for days. I was searching a crater for something when I heard a squawk. I cautiously went towards where the noise had some from, bracing myself for an attack. I peered into a crater, and blinked in surprise. A small bird looked up at me, its golden eyes sparkling. I lifted it out, and it spread its magnificent wings. I gasped. It was beautiful, with feathers of gold, brown and blue running down its body and wings. It had a magnificent plume of gold feathers running from its head right down to its tail. The plume ran along the tips of its wings, ending delicately in more feathers. The bird ruffled its feathers, and gracefully flew onto my shoulder. I decided to keep him. I named him Skylan, after the famous Star Chaser from my clan.
I found a way out one day when Skylan flew away form me. I followed him, hoping it wouldn't lead me to danger. He didn't. He lead me to a swirling vortex, with magnificent colours swirling inside it. Skylan flew inside, not bothering to wait for me. I flew in excitedly after him, wondering where it would take me. I popped out the other end a few days later, after swirling for hours and hours. Skylan landed back on my shoulder, squawking triumphantly. I looked around myself with awe. It was the grounds of the Star clan; except there was no one there. I searched for them for days, but I never found them. To this day I've been living there, with Skylan for company. I've grown used to my life now, and I'll never leave.
Sulvis follows Skylan, who lands gracefully on another star. Sulvis lands just after him, letting you down. He stretches out, and begins to tell you about himself. You listen, fascinated by this strange Lupe.





Statistics


Name: Sulvis
Alias: Sully
Gender: Male
Age: Unknown but not immortal
Species: Lupe
Colour: Starry
Crush: None
Mate: None
Offspring:None
Dame: Unknown
Sire: Unknown
Siblings: None.
Eyes: Gold
Special Markings: The ones on his head, paws and tail.
Petpet: Skylan the Airax





Preferences




=) Stars
=) Space
=) Skylan
=) Humans

x Coldness
x Earth
x Jumas
x Kougras





Friends/Family



Shoy
Gaz
Growl
Aer
Mirz
Lae
Canti
Joha
Vessy
Tia
Ara
Ezza
Jak
Sil
Jiji
Euxa
Rax
Sabras
Love
What is the feeling of love? To have one so close you feel that you will die without them? I have never felt that close to one. Maybe some day I shall get lucky, but for the time being, I will wait.





Petpet


Skylan comes to rest on Sulvis's shoulder. Sulvis smiles, and strokes his pelt lovingly.
(Image coming soon!)


This is Skylan, my Star Chaser Airax. He has always been there when I needed him most. His odd colourations are from many years wandering the endless skies of space, so that he may blend in with the rest of the universe. He is one of my closest companions. I don't know what I'd do without him.





Adoptables


Soaring High Lupe Adoptables
Sulvis holds an armful of Lupe adoptables; you take one, grinning. Sulvis smiles back, and tells you the rules.
Rules:
1. Do not remove the link.
2. Leave my name on.
3. Do not edit.
4. Do not enter in the Beauty Contest/Art Gallery
Basic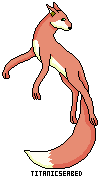 Red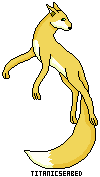 Yellow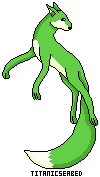 Green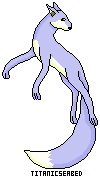 Blue




Customs:
Sulvis also has some Lupes that look very unlike the others. You decide to leave these and Sulvis tells you the rules for these.
Requests: Open/[Closed]
Trades: Open/[Closed]
1.Same rules as above.
2.Do not take a custom that is not yours.
Custom Request Form:
Pet Name:
Reference Picture:
I cannot add extra heads, but most things are okay. I will tell you if I cannot add something to your adoptable.
My other Lupe adoptables are here, here and here ;)
Custom Pickup
None at the moment :)





Fan Art




Thanks, baby_everything!



WOW! Thank you so, so, so much rory321363!





Trinkets



Awards
Link Back


Quilt Patch


Quilt Patch 2




Links Out
















Epilogue


Sulvis smiles, and fades away. You blink, and you fall. You land in Neopia Central. You look to the sky, but all you see is a star riding across the sky.
Credits: Art/Story/Layout/Characters/Character Designs all © to titanicseabed.
Please do not take music. Thanks.