Updates 3.13.12
Making updates~ I think Kuu-chan will be getting a revamp instead soon~
Sukuue's petpage will be finished~ so far story is being written and adoptables being made. C:
Thank you!
Thank you to everyone who voted for me in the BC! (3/12/10) I ended up with first place and 6th overall with an amazing 596 votes. c: Thanks for all your support and kind mails!
What Lurks Amidst the Night?

It was nearly midnight in the quiet park of Neopia. There was not a noise to be heard, not even crickets were sounding. Walking on the dimly illuminated park path, it seemed like the trees grew taller with the increasingly dark sky. Objects seemed more obscure and blurrier than ever; you decide to take a rest on the bench nearest to the lantern.
Phew, what a cold night. But I'm definitely more alert now.
You sit there for a while, looking down at your shoes and observing the chewed laces. Finally you decide you've had enough of your nightly outing and get up, off to walk back the way home. The lights flicker and sparks momentarily zap out. All of a sudden, you feel an intense rush of wind flow past you- a blur of pink whips that slowly trailed behind the motion. Staring closely at the disappearing transparent traces, you notice that the trail is dissolving in the shape of butterflies.
What could be lurking at this hour?
To be continued...
Classified
Highly restricted file- only viewable to authorized personnels.
Profile
Name: Sukuue
Nickname: Kuu
Occupation: Private Government Assassin
Age: 21/24
Species: Xweetok
Hue: Skunk
Identification: Pink Butterfly
Stats: Active

Personality
Intelligent, sharp, inquisitive.
Compassion: already removed

History
Sukuue used to be a ballet dancer before her accident. Blue accented eyes, silver hair, and pale complexion added to her unique quality of captivating her audience.
Preferences
Likes:
-Doing things well
-Butterflies Dislikes:
-Being confused
Personality
Intelligent, sharp, inquisitive.
Compassion: already removed
Story Ideas
Don't read if you don't want to read ahead lawls.
Sukuue was a girl who went through a terrible accident that damaged most of her spine and ultimately her brain. However, due to the huge advancements in technology in the year 2918 the state-of-the-arts doctors decide to reprogram her genes and modify her brain so that 1) she grows wings that properly align & support her spine 2) her "compassion" part of her brain is locked/removed 3) she is physically fit again under the condition that she works for the government. Sukuue however doesn't remember much of her past so she accepts the job anyways because she has no money to pay up.
Thus she starts her life, placed in a college school environment as a 21 year old majoring in Biology and taking a part time job at the government labs. Sukuue notices herself that she has no fear of dissecting things, and in fact actually enjoys it to some degree. She doesn't know that at night, she becomes a lethal assassin. Many times when she wakes up, she finds pink butterflies resting on her body. She has no clue that she is a killer as everything she does is through her subconscious.
Programs
Currently undergoing morality check.
My Story
File 001
Isn't she lovely?" a voice asked.
We could use her. Convert her." the other one said.
I felt someone gently lift my eyelid- momentarily I could see a dim room with two dark figures peering over me. My world was pitch black again. I heard the scribbling of a pen on paper and then footsteps fading way as something like a door clicked.
Why couldn't I move, or do anything and why is everything dar-

...

Can you hear me?" someone said, caressing my face and checking my pulse.
Groggily, I opened my eyes. There was intense pain as light flooded my eyes. I tried to speak, but it came in a hoarse dry crackle.
Hey honey, you've been in a bad accident. Luckily you still have everything, and you'll be discharged soon," a tall man in a doctors coat cooed while stroking my hair softly.
How... long... here?" I rasped, my weakened voice hissed.
3 months. Sorry about your throat; we had to stick a tube down there for a while to feed you," he replied, shifting his glasses back onto his nose.
I nodded, or at least I think I tried to, and fell back into my pillow.

File 002
The next several days were a very quite blur... going in and out of consciousness. Most of the times when I had the strength to be awake, I stared at my wiggling feet underneath the thin hospital bed sheets. What was I supposed to do, with all these drips connected to me?
The window blinds were habitually drawn in the morning by a female nurse who regarded me observantly while she questioned my status. After she left me with the usual goop to eat, I'd look out to the mountain ranges.
Who am I?
How come I don't remember?
Why are birds and sunrises familiar to me, but not my name?
I questioned myself each day until one authoritative man walked in.
How are you feeling Sukuue?" as he sat down gently on the leather stool besides my bed.
Is that my name? Soo-koo-eh?" I voiced, looking at his brown eyes masked behind a pair of black-framed glasses.
Well, that's what we saw on your records-" he started.
What records? Who was I? What happened?" I couldn't help myself; things needed to be answered, needed to be completed.
He chucked, "Don't worry, I'm here to explain to you everything. Your name is Sukuue Duskone. You were a student studying biology in your final year. Unfortunately you were knifed one night in the back. That was 3 years ago, the last time you were fully conscious when you were 21. In the past several years while your body was frozen and preserved in ice, we've developed a piece of technology that can make you walk again- like a normal person. We've inserted a mechanism in your spine that aligns your ligaments; the user interface is in the shape of a butterfly's wings so we can adjust your settings in case of any other emergencies.
I sat up to see what he meant. Looking behind me, I saw a pair of purple wings: each illuminated pink design was a discreet button. I stared at him quizzically, trying to take everything in, "So... this means...
This means that you're free to go. The mechanism has been installed successfully. But obviously we contacted your school for you; they told us they're still quite willing to have you back on their full scholarship program and your dorm is still the same. I just need to give you one final injection and you'll be driven back to your place," he explained. I nodded, not knowing otherwise what to do.
Adopted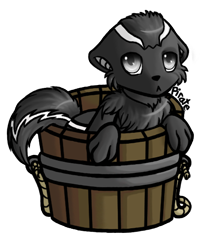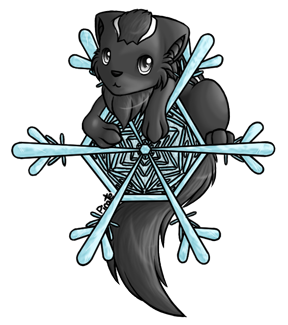 Link Back?


It seems like this butterfly wants to go with you...


Family






Other Xweetoks







8.13.11- File 004 completed.