Introduction
Catch a falling star
and put it in your pocket
never let it fade away.
Catch a falling star
and put it in your pocket
save it for a rainy day.

Completion
★= complete
☆= wip
Checklist:
[★] Layout
[★] Coding
[☆] Music- ♫ Catch a Falling Star (need .mp3) or maybe some other music
[☆] Content
-[☆] Introduction
-[☆] About Rie
-[☆] Occupation
-[☆] Story
-[☆] Collection
-[☆] Containers (adoptables)
-[☆] Adieu~
Content/Plans
Story Idea:
Rie's a star, but she has a shell. The essence of the star is her soul that is contained in her body. Each star in space is created with a purpose and given life letters (I haven't decided if I want to use Japanese or Chinese~ probably chinese trad) such as happiness, life, sorrow, destroy, etc. The life letters tell the stars the purpose of lives, but it doesn't a definite meaning of how they will live their life; they influence the personality, and how the stars want to live.
For Rie, her life letter is Compassion. By her surroundings (a supportive family environment), she's a kind-hearted person with an extremely cheerful attitude but she's very diligent and obedient in the sense that she's a perfectionist. Always trying her best to please others, she likes everything neat, tidy, and simplistic; she gets flustered with complications and intricate things. She's a rather gullible person and trusts that everyone has a heart as kind as her in nature. Striving to become a better person, Rie takes a job that deals with complicated matters so that she can over come and improve. Thus she becomes a star collector, garnering fallen stars-wandering souls that have lost their life letters. Rie, feeling their sorrow heals them until they regain purpose again. And so she's like a rehab center nurse/counselor lawl.

In her spare time she likes making paper stars (pfft I do at least) so I'm probably going to put a paper star making tutorial up there sometime and enter her into petpage spotlight.

8D

MBT Winter Camp!

Entered for Rainbow Sunday! ;o
Art by Mitsuki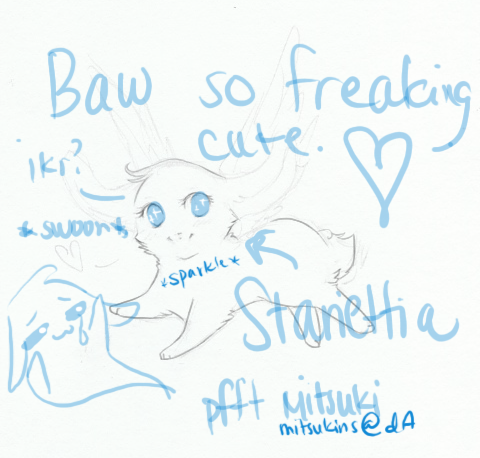 (Rie's old layout)


Fan Art
By the lovely Lana. 83