TPOSG
Navigation

TPOSG Info | Links | Screenies | POSG Easter Eggs
| Fonts | Poems | Ollie Avvie Petition List | Site Awards |

Hello guest! This page is dedicated to the one and only POSG!

You may be asking yourself: "Who is this POSG?" Let me tell you:
Oliver "Ollie" Brodhage (A.K.A. The Phantom Orange Shirt Guy) used to be a Neopets staff member. Have you ever seen this guy:



Pop up in random Neopets games? That's Ollie! That means he made the game. He also used to play Guitar in the band Red Hot Roxy:


Isn't he so awesome?
Information provided by the official Red Hot Roxy website:
Hometown: Duesseldorf, Germany
Top 5 Musical Influences: The Beatles, AC/DC, Van Halen, Skid Row, Extreme
Favorite Food: Bagels for breakfast. German 'Sauerbraten' with dumplings and red cabbage for dinner. Powdered sugar jelly doughnut for desert.
Hobbies/Interests: Video games, all kinds of sports, eating powdered sugar jelly doughnuts
Biggest Pet Peeve: Unreliability
Other Random Facts:
- He loves cheesecake. New York cheesecake in particular.
- He only owns one orange shirt.
- His birthday is August 19th.

Carrie's Red Hot Roxy Music:


Ollie's favorite RHR song is "Take It All" (Currently Playing)
Link My TPOSG Page:



Star's POSG Page



Star's POSG Page
Screenies:
Heh, here are all the screenies of Ollie quoting me. :D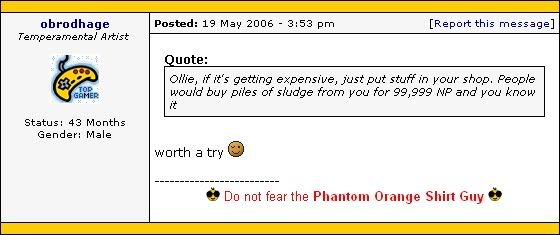 Ollie quoted me!

Ollie quoted me again!


I bought a Bucket of Sludge from his shop for 99,999 NP. I told him I would so I did!
It's in my SDB right now. XD

Again Ollie quoted me. :)


This is why Ollie pwns ;)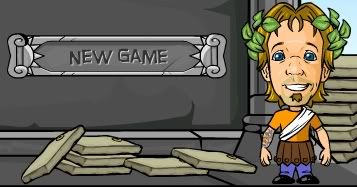 Altador World Cup
Click on the eye of the Techo at the end of the game.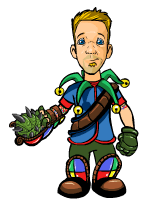 Ollie won the staff tournament! Yay Ollie!

Attack of the Revenge
Click on the eye of the Bruce.

Destruct-O-Match II
Click on the bottom right corner of the right bone.

Faerie Caves II - Fyora's Quest
Click the jewel in Fyora's crown.

Ice Cream Machine
Wait in between levels - the chia will turn into Ollie!

Meepit Juice Break
Click the eye of the green Meepit.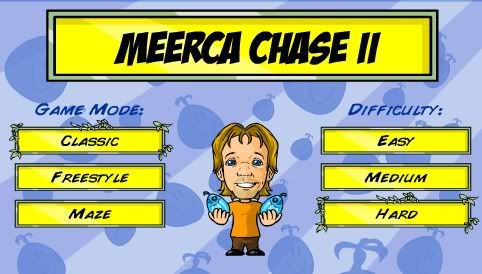 Meerca Chase II
Click on the Meerca's eye.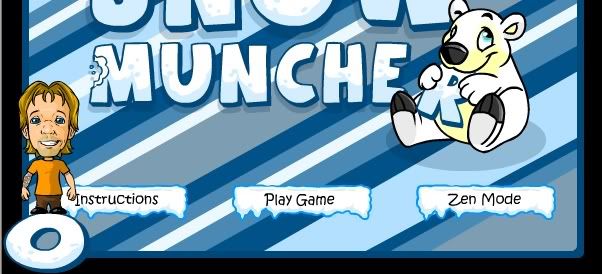 Snowmuncher
Click on the Polarchuck's eye.
Other Ollie Games:
| Attack of the Slorgs | Attack of the Gummy Dice | Bagatelle | Black Pawkeet Slots | Brucey B Slots |
| Buzzer Game | Coconut Shy | Faerie Bubbles | Frumball |
| Gourmet Club Bowls | Grand Theft Ummagine | The Great Qasalan Caper | Hannah and the Ice Caves |
| Petpetsitter | The Return of the Return of Dr. Sloth | Ruins Rampage | Scamander Swarm |
| Skarl's Scramble | Snowball Fight | Spell or Starve | Sutek's Tomb |
| Trouble at the National Neopian | Tyrannian Mini-Golf | Whack-A-Staff Member |
* * *


neoHTML:
[center][font c=#FF0000][b][u]Time is Ticking, No Relief...[/u][/font][p][font c=#000000][i]neoHTML[/i][/font][
Signature:
][p][font c=#FF0000][b][u]...It Alters Me Beyond Belief[/u][/b][br][sup]Red Hot Roxy[/sup][/font][/center]

neoHTML:
[center][font c=#FF8C00][b][u]POSGaniac[/u][/font][p][font c=#000000][i]neoHTML[/i][/b][/font][
Signature:
][p][font c=#FF8C00][b][u]Forever Orange[/u][/b][br][/font][/center]

neoHTML:
[center][b][fontc=#FF0000]This still isn't...[/font][br]neoHTML[br][fontc=#FF0000]...a POSG avvie[/font][/b][
Signature:
][p][b][fontc=#FF0000]Check star_wars_gurl_2468's POSG site![/font][/b][/center]
I can and will make custom POSG fonts. All you need to do is ask. :-)
* * *
Ein Mann kam aus Deutschland
Er isst sehr viel Kaesekuchen
Und er schaut die Fussballweltmeisterschaft zu
By: star_wars_gurl_2468
- - -
Olli
Er spielt Gitarre in einer Band
Er spielt das Beste in unserem Land
Er faehrt Motorrad
Er faehrt gern auf dem Pfad
Und er liegt sehr gerne auf dem Strand
By: star_wars_gurl_2468
- - -
THE MAN NAMED OLLIE:
He is the man with the plan
He pwn for good and to until to the end
He is the ollie man
If you bought him, you would know that he is very good buy
because he is the man thats out of sight!
By: megin197
- - -
Ollie is sooo pwnful!
Hail to thee O TPOSG
The most pwnful TNT member
The one who eats cheesecake and
Talks to his followers
By: dragon_blade995
- - -
The Man named Ollie
T.P.O.S.G. pwns us
He wears an orange shirt
By: dragon_blade995
- - -
His name is Ollie
He talks to his followers
He's from Germany
By: dragon_blade995
- - -
Feel free to send me your poems/songs!
* * *
Here are the names of people who want there to be a POSG avatar for use on the neoboards.
If you want your name added, please neomail me! I will add you as soon as I can.
1) star_wars_gurl_2468
2) arynraynes
3) statedglory
4) carrie5483
5) squirrly_2003
6) fonnyfox
7) frozen4now
8) banana_phone
9) desotospitfire1
10) emilymanis
11) cphilic
12) stonewall01
13) kitkat2131
14) fashionkitty101
15) gelertsrock15
16) _vegetable_
17) doggygirl131131
18) kneesoxrock
19) the_salvation666
20) dragon_blade995
21) themountaindragon
22) gothinthedark
23) lilith_999
24) pcakes
25) jessicacortesromero
26) san_407
27) chocolate_muncher
28) rabbitdiving
29) alakrity
30) fonnyfox
31) call_me_summer
32) eggowaffleemb
33) knights_who_say_ne
34) girdoggiesuit
35) o_x_anne_x_o
36) rowenas
37) sierramist66
38) jessew92
39) moonlight_cat796
40) takanuva206
41) alikayk
42) desert_faerie482
43) american_idol_2005
44) madashgar
45) kawaii_chan121
46) chickadee72690
47) stbernard3000
48) loki_fire_star
49) hubberts
50) ottergirl327
51) luvmykids244
52) sariberry773
53) shooshoobear23
54) aaminal_lover4_ever
55) kitty_kat12130
56) hatpc_master
57) gingerflowerpal
58) caramelfroufrou
59) faeriewolfgirl
60) tokaytokay22
61) elizza123456
62) spirt_bender
63) sarahlouhoo73
64) rossdag
65) matchbox2062
66) tyipibozu
67) coolpup989
68) the_meepit_queen
69) srgt_squirrel
70) _no_mind_
71) canadiangoul
72) tormundlover
73) kittycatmeow12
74) bob_nekochan3000
75) re4p
76) callah_e_bella
77) bellabeyhave
78) hiddenking
79) abanastuh
80) harrypottersgurl13
81) nightmareb4chrimbo
82) clarebear31791
83) thienky44
84) saint_bernard_lover
85) lucky7362
86) robin_fisher
87) snowwaterflower
88) yomi_daoih
89) monkey_magic_cool
90) dude_aquaheart
91) yoyoyo936
92) 4ng13_o_o
93) sev3nty
94) soilpete9321
95) tangles34
96) jojo_rock_kid
97) madisyndanyluk
98) tink_in_purple2
99) deer1993neo
100) vincenzo0o
101) weazle2435
102) xkona_kofeex
103) pirate_girl9
104) potatohead2
105) dragon_blade995
106) crazy_525
107) dawnpfahey
108) pugmaster013
109) gplova24
110) kaya__wdw
111) boxie_reborn
112) tottolini
113) msbeckie
114) mr_findle
115) ilikelaptops
116) awesome_maraqua
117) orange01028
Fan-Made TPOSG Avvies:

star_wars_gurl_2468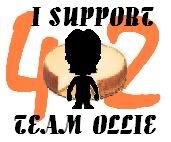 Brought to you by