Hello guest
I am Stacy377 the Scorchio, and I am 153696 hours old.
I come from a long line of Scorchio's that originally came
from the hot Volcanic region in Tyrannia. I am now living
with my owner toxicate1337 who is very kind to me.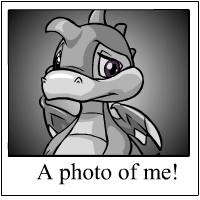 This is toxicate1337's favourite photo of me.
I think I look very smart, don't you? I read loads of books and my
intelligence is currently 36! As well as reading, I like to visit
the PetPet shops. I really want a Spoppy but toxicate1337 says
I can't have one as I am already spoiled enough :)
Why don't you neomessage toxicate1337? I can play a mean
game of Kacheekers and I have done a little bit of training for
the NeoPets Battledome.