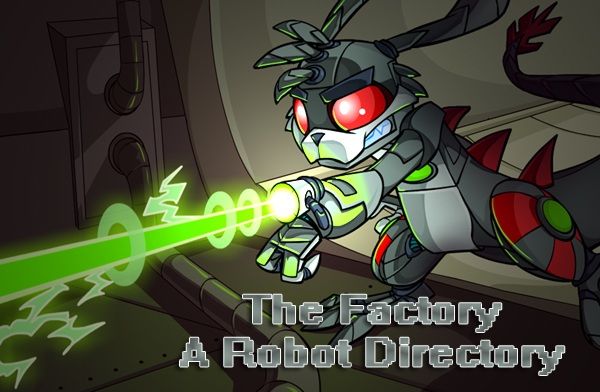 Intro
Welcome to The Factory, a directory of the robot pets of Neopia.
The Factory went online on the 27th day of Awakening in Year 9 (that's February 27, 2007 for you non-Neocalendar savvy folks).


How do I get a robot pet?

Well that IS the question, isn't it? There is no robot paint brush, and the Fountain Faerie doesn't have the nuts and bolts in her fountain. One way to get a robot pet is through the lab ray.



The lab IS random, so if you want a robot pet you'll have to be very, very patient.
Then again, that's what makes them so special.

Or if you're the impatient type with plenty of spare neopoints, you might want to consider the Flask of Rainbow Fountain Water.



This item is random, just like the lab ray, but unlike the Fountain Faerie you CAN use it to turn your pet robot. Again, let's hope you're very lucky.


To join The Factory:

Simple! Just neomail me with the name and species of your robot.
Pets on side accounts are welcome, as long as they are yours.

Please DO NOT submit pets that are still under lab treatment.

Well, onto the directory. Note that none of these pets are up for adoption or trade.
They are simply here to look pretty.

Pets listed: 111
Most popular species: Lupe


Acara
Aisha

card_hvg_a73

Blumaroo
Bori
Buzz
Chia

Geronomonious

none

Chomby
Cybunny

fairysprite

Draik
Elephante

none

none

Eyrie
Flotsam

Tecmushi (#100) TRA1N PockittPurrzickKamaida

(double painted - royal)

Gelert
Gnorbu
Grarrl
Grundo
Hissi
Ixi

Strumpette

Jetsam
Jubjub

Boswaliia

Kacheek
Kau
Kiko
Koi

Cyphle

_scritch_

Korbat
Kougra

none

Krawk
Kyrii

none

Lenny
Lupe
Meerca
Moehog

none

ifrit__99

Mynci
Nimmo

xixij

Peophin
Poogle
Pteri
Quiggle

DunklePfote

Erysion

Ruki
Shoyru
Skeith
Techo

ChadiePuff

none

Tonu
Tuskaninny

none

none

Uni
Usul
Wocky
Xweetok
Yurble
Zafara
Affiliates
Neomail to become affiliates
Pet directories and petpage directories only please


NEOPETS, characters, logos, names and all related indicia
are trademarks of Neopets, Inc., © 1999-2013.
® denotes Reg. US Pat. & TM Office. All rights reserved.
PRIVACY POLICY | Safety Tips | Contact Us | About Us | Press Kit
Use of this site signifies your acceptance of the Terms and Conditions