Keyquest Help/FAQ

So, you've made your way here in hopes of learning something about Keyquest? Good, because if you haven't I'd advise you to turn back now. I'm not here to explain the gameplay, TNT has created a wonderful tutorial for that right here (click)

I would like to start off by saying that Keyquest is currently BETA. This means that the staff are testing everything out. Unfortunately testing big games like this involves the need to open them to the public before they're perfected. This is the easiest way for them to find glitches, test the servers etc. Along with that I would like to mention that Keyquest also requires quite a bit of memory. If your computer doesn't have a very good internet connection, little available memory, bad graphics card or even a slow processor, the game will run slow for you. Staff are trying to make it run as fast as possible, but there's only so much that can be done.
Outside the Game
How do I change my token?
Changing your token to something other than the default that was randomly assigned to you when you joined the game (green cybunny, blue bruce, red meerca or yellow poogle) can only be done when you redeem the specific keyquest token codes that can be found in certain neopets merchandise.

Okay, I've got the tokens in my case. Now how do I change my token so it works in the game?
You need to go to your collectors case here and start off by unselecting the automatic token that was given to you. Then you can press the key button that is located under each of your collected tokens. Check the box that says "Key Quest Quick List" and it will be added to the list in the game.

Once Keyquest is out of beta, will I have to buy a token in order to play?
TNT has stated that they have no plans for making the game available only to people who can buy the merchandise with the codes. That would be unfair to people who live in countries who don't have access to the merchandise and to people who generally can't afford it. That being said, I'm not staff and do not know for sure.
Loading Problems
How can I make the game run faster?
Again I would like to mention that investing in some RAM might not be too bad of an idea. But as far as for right now I was informed of a way that you can change the game quality to low. Follow this link: click. Once it's opened you can right click and go to "Quality" then "Low". I don't know how much of a difference it makes but there you go.

All I see is a white page and sometimes hear the music?
You most likely need to install the latest version of flash. Keyquest only works with a specific version so even if you have updated recently, try installing it again. It can be found here: adobe.com/products/flashplayer/

The game has loaded fine for me in the past, but now I just see a blue screen?
Try refreshing the page a few times. If you see no change the servers are most likely down, or the game has been temporarily taken offline. Just wait it out a few minutes and check back later. It may be down from a few hours to a few days.

I can't join games from the lobby?
Try returning to the main screen and re-entering the Game Topics. Still no luck, pressing quick game usually works. **Theory: The games that you are unable to join might be games that are 'private'. As in the people allowed to join need to have received an invite from the creator. Making it impossible for you to join. Remember, this is only my theory. No solid proof in any way.

The game won't load for me after I've selected tokens in the waiting room?
It's quite common for the game to not load for people after they've selected their token colours in the waiting room. If that white circle has been spinning for a very long time you can probably predict that it's not going to load. That's fine, just refresh and return to the lobby. Find a new game (or the same one) and try again.
Starting the Game
I sent invites to people, but they never seem to get them?
I personally have been having quite a few problems with this. Just make sure when creating the game you type the exact username, specify correct number of players etc. Also, try making the game in a less popular lobby like Fan Clubs. Then, if need be, you can open it to the public and let them find the game.

What house should I choose?
Everyone develops their favorites after a few rounds of the game. The usual favorites being the faerie house or the neohome.

How do I mute the sound?
Changing the sound volume can be done quite simply. While you're in a lobby you can change it by clicking the 'S' button that is in the chat box. Scroll down and there is a volume control slider that you can adjust to what you wish.
During the game or in the waiting rooms, you can change the sound by clicking the circle that has a head shot of your character in it. That will also take you to the setting screen where you can adjust the sound and window opacity etc.
The Map (5-key beta version)
(In all of it's paint-made glory)
*The colour of keys will change depending on the number of key game you have selected.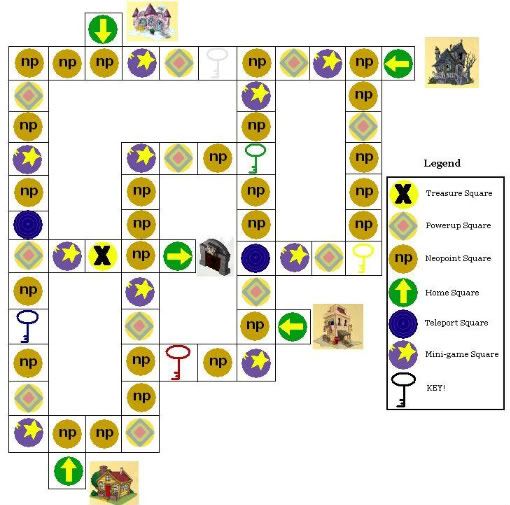 Back to Top
During the Game
How do I type in the chat box instead of selecting from the lists?
Unfortunately, as of right now, those lists are your only option. There were a few reports of people randomly being able to type before the down time but that has since been fixed. This may be changed once it is out of beta, only time will tell. I've heard rumours of TNT implementing actual chat boxes in the future but because it's still in beta they need to focus on other things besides monitoring chat.

My turn keeps getting skipped, but no window showed up for you to start your turn?
This is quite common after playing minigames. There is nothing you can do to fix it but wait for your turn to be skipped. Remember: the game is in BETA

Everyone keeps quitting the game when they're losing?
There are some greedy neopians out there, unfortunately there is nothing you can do about it. Your best bet is to go on the game boards and find some friendly people who, like you, wish to complete an entire game of Keyquest. Even if they win or not.

What does the teleport square do?
The teleport spaces (pictured above} take you from one to the other on the board. However when going from the space on the right to the one on the left, your character will move upwards, away from the Quest Door, instead of what you are most likely hoping for and straight home.

What does the treasure square do?
The treasure space is very convenient, especially because it is located so close to the Quest Door. When you land on it you are given neopoints, a power-up and the choice to choose any key you wish. Unlike when minigames are won and you are only given 5 seconds to choose a key, you get the luxurious 17 seconds to decide.
--Minigames
How do I get my computer to stop freezing whenever a minigame is activated?
My apologies but if your computer manages to freeze every time and you have done all you can to free up some memory on your computer, you might just be out of luck. Hopefully staff will be able to make Keyquest less demanding in the future so it will allow people with older computers to still be able to play.
After the Game
**The button now works!! Click it and it will take you the vault, in the same window/tab mind you.
I can't click the button to unlock my prizes?
The button isn't working as of right now. No worries, the vault can easily be accessed here (click)

Do I still get prizes if I don't win?
Yes, every time you complete a game you will receive a key. That is why it is completely unnecessary to be quitting when you're about to 'lose'. Prizes are as follows:



1st - Gold Key - 4 items
2nd - Silver Key - 3 items
3rd - Bronze Key - 2 items
4th - Lead Key - 2 items


Can I redeem my excess keys on a later day after using my 10 keys for the day?
Yes, you can play Keyquest all day long accumulating keys. Even after you've redeemed your 10 keys for the day your unredeemed keys will stay in your vault to be redeemed on a new day or whenever you choose.

Will playing a 4-player game yield better prizes over a 2-player game?
Each key has a different list of prizes that is awarded when you redeem it. There will be no change in your prizes if you play with 3 or 1 other player(s), if you collect 5 of each key instead of 1 etc. The prizes will not change.

How are the placements determined in 3 or 4 player games?
After the first person enters the Quest Door and is awarded a gold key and first place, the following spots are determined solely upon key count. Second place is awarded to the player with the second most amount of keys etc. If two players have the same number of keys it is a tie and both players are awarded the same key.

I have redeemed 30+ gold keys, why no paintbrush!?!
This one should be pretty obvious, getting a paintbrush is random and rare. There is a very long list of items that can be won from gold keys, paintbrushes included, but the percent chance of actually attaining one is extremely low. Staff can't completely throw off the neo-economy with Keyquest now can they.



Back to Top
Keyquest Links
The Game
Main Page
Redeem Prizes/Vault
Tutorial
Collector's Case
Page Navigation
Loading Problems
Outside the Game
Starting the Game
The Map
During the Game
After the Game
Useful Links
Have a Keyquest related link you want here?
Neomail me!
Other Links



Have a misc. link you want here?
Neomail me!
Link Back