Yo, yo, yo! Wassup guest!!!

The name's Solitary2 and I'm a Red Kougra. I'm 97474 hours old and my owner is midnightblue35. Kougra's originate from Mystery Island. It's a really cool place (like the rest of Neopia, I guess), coz there's a gift shop, a food shop, the Marketplace; where you can get lots of great bargains, the Rockpool where some of the best (and expensive) petpets are found, a Trading Post, a Tour facility, and even a Training School. Not forgetting the Tombola dude, of course. There's also this really kind faerie called Jhuidah who watches over this huge cooking pot. It's supposed to be magical, but why don't you try it out for yourself.

Oh yea, let's not forget the Island Arena and that strange place called Island Mystic where your fortune is told. There's also this game called Techo Safari, which is an adventure in which you choose what happens. (It doesn't give out Neopoints though, and it takes ages to load!). Another something in Mystery Island is that Flotsam chef that serves Mumbo Pango. His Kitchen Quests are really hard. Anyways, if you want to leave the Island, you can leave in style by taking a ferry from the Harbour
There's even this Haiku Generator that comes up with really wacky haikus! Well, I'll let you be the judge of that...

Anyway, enough of me, if you want to chat to my owner, challenge me in a battle, or just say hi, feel free to neomail midnightblue35. Lookit my little sister's website. Also, come visit My Owner's Shop!!!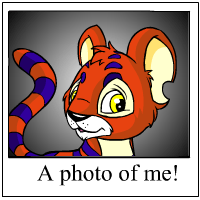 This is a photo of me!