My name is SnowRuff and I am a Cybunny! I am a very lucky Cybunny with a great owner called acexcat13.

Hey! Want to know something that makes me very special? I was the FIRST neopet EVER to wear the whole Cybunny Miner Outfit, AND probably the FIRST neopet EVER to wear the whole Pretty Spring Cybunny Outfit too! They cost a fortune, but I'm worth it! This is what I look like when I have my outfits on!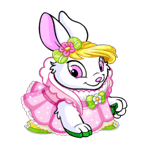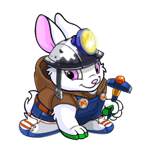 I think I look really cute in the Miner outfit because I like to work hard and I like playing in the dirt; ALL Cybunnies like playing in the dirt because it's fun! I don't mind getting dirty because it means that my owner, acexcat13 has to pay attention to me and brush my fur out to make me all clean and pretty again.

I like the Cybunny Miner outfit, but the Pretty Spring Cybunny is my FAVORITE because I look so pretty in it! I have to change my clothes before I play in the dirt or even play in the snow, but with a dress this pretty, I think it's worth being a good girl.
---
My Personal Views
Ok so some of you may not agree with me, but oh well, this is my website so there :P
CYBUNNIES DON'T JUST EAT CARROTS!!!!
There, I said it! Maybe someone will take notice. I'm sooo sick of people making dumb carrot jokes, and my owner even has a lots of carrots in their Bunny Gallery. I don't have anything against carrots as such, but I mean, they are just carrots, and they get old REAL Fast... not like a Chili Hot Dog with Cheese!!
Pretty Spring
Cybunny Dress
Pretty Spring
Cybunny Shoes
Pretty Spring
Cybunny Wig
Cybunny Miner
Pick
Cybunny Miner
Hat
Cybunny Miner
Clothes
Cybunny Miner
Boots