This is where Dusk is putting her Aisha adoptables! Feel free to take one, but there are RULES that need to be followed!
1. Do NOT edit the adoptable in any way! These are not makeables and are in no need to be changed! If you want a makeable, you can find them here!
2. Do NOT remove the credit! You didn't create them, so don't even THINK about claiming them as your own! That also means no entering them in the Art Gallery, Beauty Contest, Neopian Times, etc! If you're caught, I will ENSURE that you're frozen! If anyone catches an account that isn't mine using an adoptable in ANY contests, PLEASE Neomail my main, gorubeza!
3. If you use any of these, keep the link and coding in tact! The coding won't hurt you, so it's fine as it is. Not only that, but it would also help other fine Neopians find this page! Consider it "free advertising". ;)
4. If you are requesting for an app pet, it must be a TRADE so my efforts aren't wasted. If you don't get the pet, then what's the point of me doing an adoptable? I don't have Aishas, but you can do either art or another species adoptable for me in return.
5. If you want to request one, please fill out the form below and send it to my main account and title it "Aisha Adoptable" so I know that's what you're seeking.
6. To prove that you read the rules, put in the phrase "Plant Eater" somewhere in your Neomail (or post if you find me on the boards).
7. Enjoy the adoptables! It took a while for me to get EVERY colour made, especially with the lack of motivation going on now! :)
UPDATE: Due to limited BANDWIDTH on the image hosting site these are held on, most of these adoptables may not show at times. I cannot afford the Pro on Photobucket, so they will have to suffer through, except the newer additions. THEY WILL COME BACK IN A WHILE, HOWEVER.
The form:
Your name:
Pet's full name:
Reference link:
Request/Trade?:
If a trade, who are you doing in return? (leave this off if it's a request)
Copy and paste this code in the page you want! Replace FULLCOLOR with desired colour, in LOWERCASE letters (8-Bit is done as 8-bit). Elderly has a slightly different code, so you will have to copy the image source and paste it in (they're still on Photobucket). For the Dimensional and Transparent colors, you will need to right-click/copy image source and then paste it into the image code INSTEAD of the Photobucket URL.


Customs:
Do not take any that were not made by you! It will probably be best that you save to your own image hosting site. PLEASE KEEP THE LINK ON!
Neomail Dusk on her MAIN once you've picked up your adoptable!

Xhavn for Shii


Kaelui for Shii


Cozeitte for Shii


Moptrais for Pikey


Zeithi for Pikey

Mite's Profile:
Name: Smiter Madoor
AKA: Mite
Gender: Male
Race: Cyborg/Spellcaster
Age: 15 years old
Homeland: World of Madoors
Parents: Dead
Siblings: None
Personality: Tormented, emotional, scared, dark, cold, sees hallucinations, graphic-minded, keeps to himself, rarely trusts anyone, loyal toward anyone who gains his trust, cautious of anyone around him.
Likes: Shadows, dark corners, people who are friendly to him, his allies, his faithful companion: Castine.
Loathes: Enemies, being disabled, nightmares, scary sounds, lurking monsters, losing his allies, people who abuse him, being teased.
Secret Theme Song: Bring Me to Life by Evanescence
History: Mite was abused for nearly his whole life and never made any friends, no matter how hard he tried. He was considered a "freak" because he saw images of gruesome events, such as someone being destroyed or a monster eating something nearby, and could never converse with anyone for more than half a minute due to his hallucinations. He tried to keep the images out of his head as he met up with someone new, but they would show up some point after he says "hello" and he would end up crying that something was happening.
He grew older and the images grew worse than before, revealing more sickening things than what he saw during his childhood, and he finally saw the ultimate nightmare: A group of shadows that looked like his enemies ambushing and destroying him, then eating him after he was dead. This struck him with great fear and he told his parents what he had seen, but only to be told that it was just a mirage. He tried to explain that his enemies were acting rather strangely and that it could happen, but was again denied the image's reality.
About a day after he tried to tell his parents what he saw, Mite was viciously attacked by his greatest foes, beaten to the point where he couldn't move, and lost his left arm's mobility and the ability to stand straight. He also lost his left eye and had it replaced with a mechanical eye after his parents saw what had become of their only son. However, his parents still didn't believe him about the image he saw and said that things will happen unexpectedly, and that illusions don't predict them.
Ever since he was repaired and his arm was secured in a cast that would have to remain forever, Mite was completely consumed with sadness and loneliness, and never left his room. His parents let him stay inside the house, but could never get him to go outside to play when it was a nice day. They began to wonder why Mite was so struck with fear, even months after the event, and tried to talk to him about it, but could never get anything to come out of him because he knew that they wouldn't believe him. They would then leave his room, and Mite would burst into tears once the door was fully closed behind them.
Castine, my Only Friendly Shadow
I was left alone for the longest time once my parents passed away...Alone and without someone to care for me. I sat in my room, still afraid of the outside world, and cried for help...For love...But no one heard me. I thought I was the only one left in my world after the dreadful battle against the Dark World, and I was...Until I saw his shadow. Yes, the shadow of which is none other than Castine, my faithful companion.
When I first saw him, I was even more scared due to the fact I didn't know who he was or what he came from, but was in for a surprise. He saw that I was lonely, and was actually frightened himself, and we bonded almost immediately. I began to communicate with him and he would reply back like any typical friend would...But he couldn't speak. Not at first.
I learned that Castine was a highly intelligent specie of mixed beasts, and began to teach him how to talk. He caught on right away and learned even more difficult words than I could imagine very quickly. As he began to speak more, I learned why he was in hiding: He had a power...A power beyond words...And he was sought after because of it. He explained this power to me briefly, and told me to never speak of it to anyone else, and I follow this vow to this day. He, in return, granted me some of his own strength so I could fight a little better and defends me as well as my allies. I couldn't ask for a better pet than Castine, and I can only hope I can keep moving forward with my only friendly shadow.
Reflections:
I have been haunted by my past...By the many things that have been said to me and the many images I saw...But now, I'm haunted by the present...And the future.
By Dusk:
By others:
Tortured Monsters: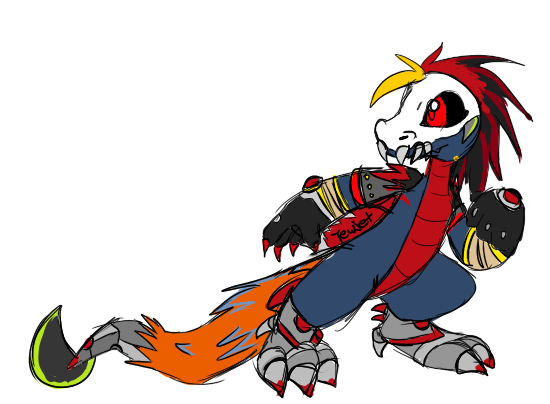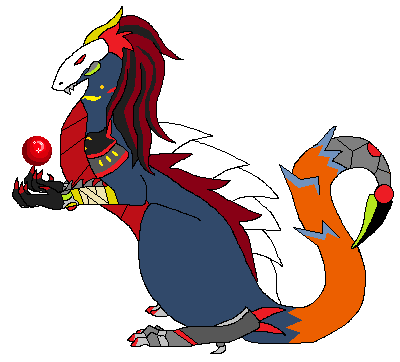 Family:
My parents are dead. My siblings are non-existent, for I have had none.
Allies:
Yes...I have met with someone...Someone like me. He is the only one I can fight for...And he's the only one I can truly call a "friend". Maddie...My sword is yours.
Foes:
Everyone has teased me...So everyone is my foe. There is no one who'll befriend me, but they'll all hate me.
Guardian:
There was one girl that I wanted to get to know better, and her name was Leesha. I tried to impress her when I was young, but she always brushed me aside like I was a pest. I am still heartbroken by her actions and the way she treated me, but I feel something...Something strange...About a very close ally.
Come Back..?
Not like you will.
Somewhere to run...