CODE AA-08: Accepted.
Full Name:
Ayn´at
vNickname/Alias: Miss A, "Flower Alien" (although she doesnt like that one), Ayn
Gender:
female
Real Age:
About 23 human years
Birthplace:
Planet Tzumokan, Prometeus Galaxy
Eye Color:
Dark Muddy geen
Hair Color:
Dark Red
Hairstyle:
She has curly, short hair, and she doesnt tie it...
Distinguishing Marks:
Her left side has some burning marks, but they are hidden by her costume
Memory:
Above average. Almost photographic memory.
Senses:
Average.
Phobias:
Fire
Current Residence:
A room in the Protectors Hall...You could also say she lives in the labs of said Hall, she loves been there.
Family:
Alive, but not in contact since she was exiliated
Friends:
Heroes from "the Protectors"
Enemies:
People from her planet. Enemies from Earth.
Accessories:
A green "tiara"
Relationship Status:
Single
Hobbies/Interests:
Doing research on her lab, reading and trying to understand humans
Skills/Talents:
Very good at biology and chemistry
Likes:
Her lab, plants of any kind
Dislikes:
FIRE.
Sense of Humor:
She can be very sarcastical when she wants
Temperament:
Usually very calm
Stereotype:
Alien who was bad, but now is good and protects the people she intended to destroy in the beginning
Reference
Other Art
Fan Art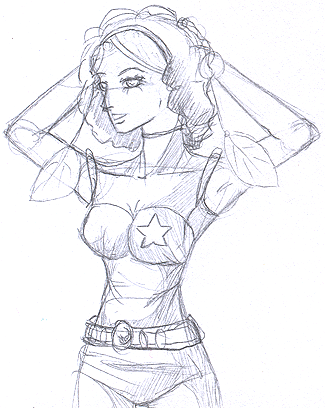 Clones
Since woodland is a new colour and grundos are not that popular, I have replaced woodland with brown/green...and in one case, "Camo Hunter"...

Updates:
17/2: Found out that what I have done in word was erased. Im not feeling the asther at all... I have started my application AGAIN. 10 days to go. Profile done. References, plans, Family&Account history, and Diclaimer&Cia also done. I hate rushing stuff.
18/2: Added the first fan art :) Also, Story summary finished.
19/2: Intro done
20/2: Two more pics and layout done :)
21/2: Worked a bit on the coding, added a few details here and there. I have been gifted the "Hero of Neopia Foreground"!
24/2: Added fan art :) Edited some parts.
25-26/2: Edited more.
28/2: My application was accepted!! WEEE!!!
29/2: Moved the petpage, added customization and petpet; started petlookup. I will enter the BC as soon as TNT fixes everything ;)
2/4: Mass upload of FA :)
NEOPETS, characters, logos, names and all related indicia
are trademarks of Neopets, Inc., © 1999-2013.
® denotes Reg. US Pat. & TM Office. All rights reserved.
PRIVACY POLICY | Safety Tips | Contact Us | About Us | Press Kit
Use of this site signifies your acceptance of the Terms and Conditions