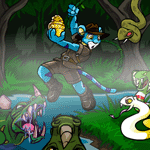 Jake the Explorer
This Kougra Stars in the Game
Caves and Corridors: Mystery Island

Bertie Shurtz
The Mystery Island Team's Centre Forward.With her fellow forwards providing most of Mystery Island's scoring, Bertie's job is to set up their shooting opportunities with plenty of picks and passes. Because teams often double up on Volgoth (or even Nix when he's on a particularly hot streak), Bertie will occasionally get a nice, wide-open shot at the net. When such opportunities come around, she usually makes the most of them.

haiku Kougra
This is the kougra that everyone goes to to get haikus! To see your haiku for the day go
Here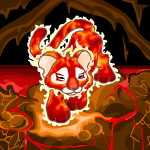 FirePaw
Fire Paw was abandoned in the fiery region of Tyrannia. He was taken in by a group of Scorchios who treated him as one of their own. Now fully grown, Fire Paw has an amazing resistance to heat.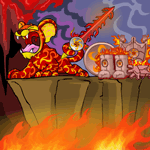 Tyran Far
Far into the Tyrannian Plateau he awaits for fighters worthy of his blazing weaponry.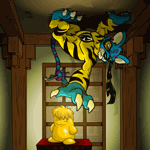 The Masked Intruder
He had almost done it, a few inches more and the bronze statue would be in his paws. All that was left was to escape past the four guards and the angry bearogs roaming the grounds.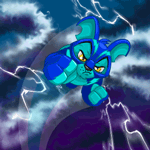 Zeirn the Electric Kougra
After a nasty incident with the lab ray Zeirn can now harness the power of a storm and use it to do incredible things, like flying!
Linae
She is a pink kougra, who starred in the plot "The Cyodrakes Gaze" and was the only link to
Kou-jong
for the first few weeks.
Thanks to stalkering for help with Linae
If you can think of any more please neomail me