Looking for the Maudire Page? It's moved: Here

About Me | My Family | Art | Fan Art & Customs
Links | Link Back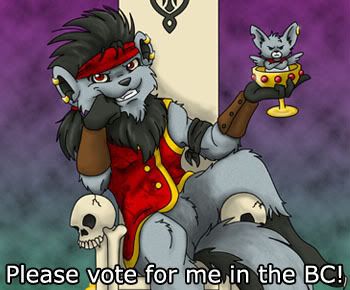 ---
About Me
Name:
Skerrl
Age:
32
Species:
Xweetok
Color:
Pirate
Gender:
Male
Individuality:
Me vest is emblazoned with a pattern of Jolly Roger symbols. I also have a tattoo on me left hip. It's the symbol of me crew.
Eyes:
Red
Other:
I wear 4 gold cuff earings, 2 on each ear.
Personality:
Ahm told ahm pretty mad 'n the 'ead, 'n always wearin' a crazed grin ta boot. Apparently me crew thinks ahm missing more'n a few screws. A "maniac" says they. I like ta set things on fire and carve up any scoundrals try'n get in me way. Oh, 'n did I mention I like to shoot things out'n me cannons?
Likes

Sailing
Looting
Swords
Money


Dislikes

Land
Goody-Two-Shoes
Parrots
Being Poor



Yar, who be ye that walks the decks of a ship without the permission o' the cap'n? Mighty rude, says I. But I suppose I could let ye slide, just this once. Me name be Skerrl and Ah'm the cap'n around 'ere. This little nipper be me first mate, Theo. He makes a mighty fine cannonball when there's no gold to be pillaging, that he does. Doesn't exactly appreciate it, but then agin who asked 'im, eh? I found 'im floating on a piece o' wreckage out in the middle o' the sea. Riddled with scurvey he was, but I plucked him out anyway. He's a mighty fiesty ball of fur that's to be sure, wouldn't take no orders from nobody. Once I chucked 'im back in the water and threatened to leave 'im there, he straightened up right quick.


Theo
Species: Faellie

Me first mate and cannon fodder.


As fer me ship, her names the
Black Gallion
. She's the fastest ship this side o' the seven seas and has ten cannons on each side o' her to boot. She can blow an enemy ship clear outta the water in no time and 'as never been caught. Me crew and I make for dangerous scoundrels, that's fer sure.
---


My Family

(Under Construction)


Me family is actually quite large. I 'ave 19 other brothers and sisters, far too many to discuss 'ere. If you'd like to meet them all, take a trip over to the
Family Album.
However, these are the members of my family who are most dear to me.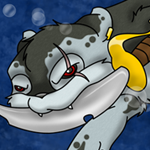 Xawae
Species: Lutari

Xawae is me youngest brother. He's pretty clueless when it comes to most things, got a few screws loose in the ol' 'ead. Not the brightest crayon in the box if ye catch me drift. He is, however, me first mate on the ship and the best swordsman ah've ever seen. We call 'im the "Shadow of the Deep" because of the way he slithers through the water and onto the enemy's ship without them ever seein' 'im.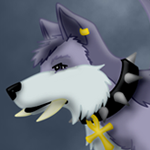 Tsuyo_sa (Tsu for short)
Species: Lupe

Tsu is me younger brother. He's a wild one he is, always causing trouble and pulling pranks on me and the others. Used to be a member of the Maudire Elite Soldiers he did. Decided it wasn't the life fer 'im and he came to live 'ere with us.



Heirgheiz
Species: Draik

Heirgheiz is me younger brother. He's a crazy ol' draik that's to be sure. Always running around and doing evil deeds. Pretty malicious sometimes, though he's a good guy deep down in 'is 'eart.


---
Art
This is art that mom has done of me during our adventures together. All art was hand drawn then scanned and colored on Photoshop CS2, unless otherwise sepcified. If you want to see the full size pictures, drag the pics to your address bar.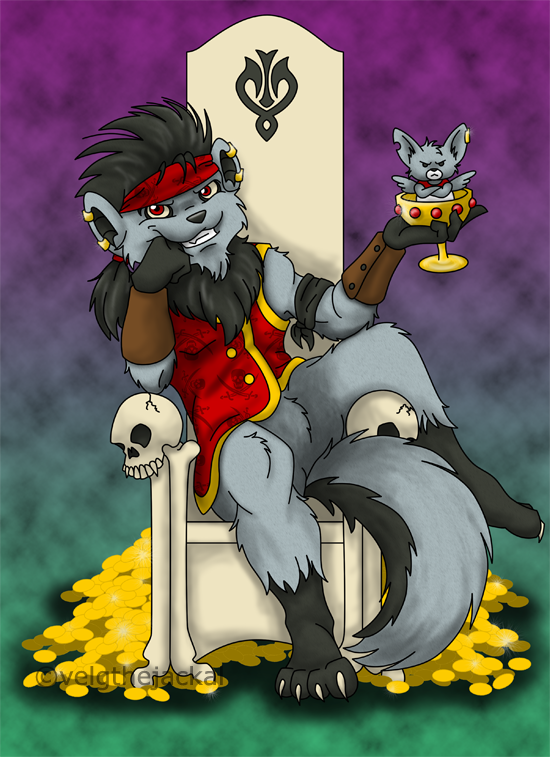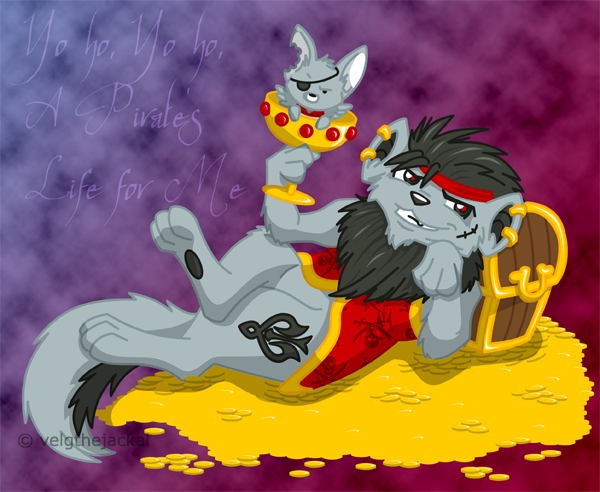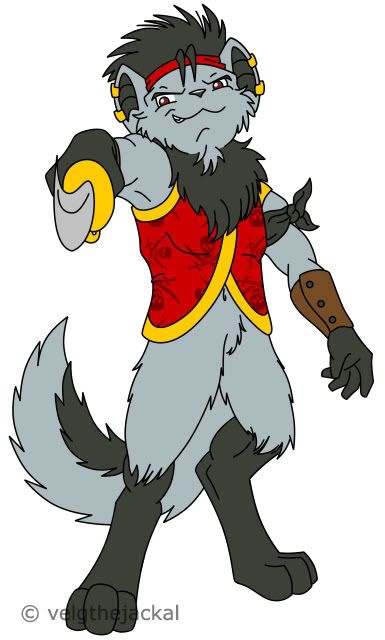 ---
Fan Art & Customs
Mom and I love to get fan art. If you'd like to draw me, you're more than welcome to do so! Just contact
Mom
with any questions.
Fan Art
---
Customs & Adoptables
---
Links





---
Link Back
Quilt Size


Standard Link


---


Right, so here's the deal. All images and content on this page belong to Mom, aka velgthjackal. Anyone caught reusing anything found on this page without permission will be reported for theft and risk all of their accounts being frozen. I am the sole creation of Mom, meaning you are not allowed to reuse me in roleplay or stories of any kind without Mom's permission. You also may not copy my characteristic desgin. Come up with your own, or face the consequences. Savvy? Good.