Welcome guest to dterminator901
Illustrated Game Guide!
Now lets get starting shall we?
Contents:
Requirements
Main Menu
Instruction
Characters
Objects of the Game
Levels
Points
Hints and Tips
FAQ
Credits
---
Requirements:
A Good Computer
Internet Connection
Some nice music (optional)
Quick Fingers

---

Main Menu

Now which game doesn't have a Main Menu? After Loading the game, this comes out... In here, you have three choices!

First is Play Game: This lets you Play the Game.
Second is Sound On or Off: Toggle this to turn the Sound On or Off.
Last is the Instructions: Tells you the Instructions.
Now if you are done... Proceed to the next step.
---
Instructions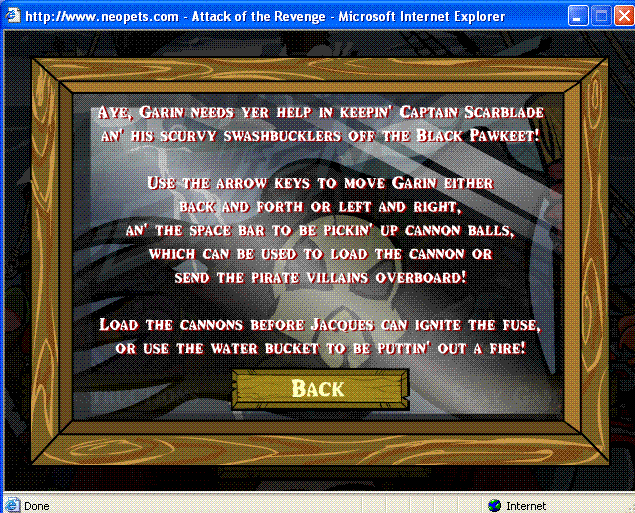 Now if a game has no instructions... That's useless kind of game! To move your character press the Arrow Keys. To attack press Spacebar.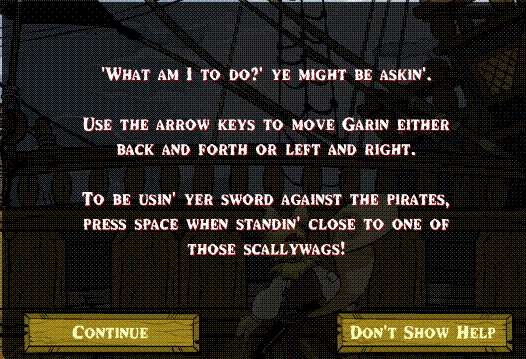 This is what you'll see if you press Play Game.
This is the next one if you beat level one.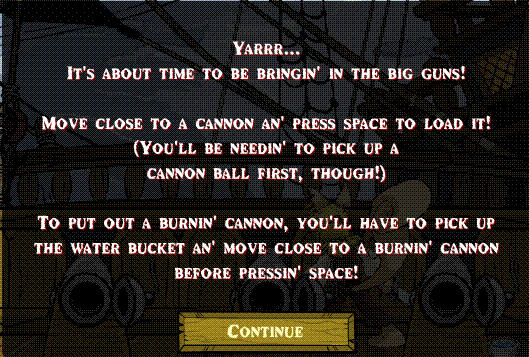 This is the last one, you get this if you finish level two
Now let's go to the next step!
---
Characters
Okay, at least in one game has one or two main characters AND an evil mastermind
The Good Guys
Garin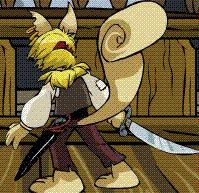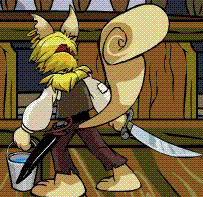 Now this is the main character and YOU control him.
Jacques
This is your ally who'll burn the fuse of the cannon.
The Bad Guys
Nathan

This guy is a Blumaroo... nothing else
Swabby

This guy looks tough... but WHO CARES? You could kill him with one swipe!
Fred

His evil glare could kill Garin... if you can't kill him in FIVE seconds, GAME OVER! Just kidding! He's like the rest of them.

Benny the Blade

This is Captain Scarblade's first mate. He's big, he's mean, he's fat!
Captain ScarBlade

The evil mastermind... He planned to destroy Maraqua and kill that Cute little Blue Koi King of Maraqua (I Don't remember his name).
The Phantom Orange Shirt Guy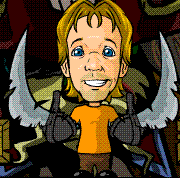 TNT forgot to put this monster in the Maraquan War. He is the REAL mastermind! He has the power to mind control anyone he sees, that means YOU!. Fooled you! Or did I? You see him rarely in the game.
End of discussion .Let's go to the next step shall we?
---
Objects of the Game
Now this game has objects. Which will be shown here.
Cannonballs

To get this, go near the cannonball and press SpaceBar .You need this item to load the cannons and kill the enemies. This give's you double the amount of the original damage (killing them with swords).
Bucket of Water

Like the cannonball, you could kill them with these - which doubles the damage - , you could put out the fire in the Burning Cannon, or you could turn of the fire of the fuse when it still burning.
Unloaded Cannon

Now in this Cannon, you should get a cannonball and go near the cannon and press SpaceBar
Loaded Cannon

All you can do is wait for Jacques to come down and burn the fuse.
Burning Cannon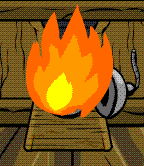 There are TWO options you could choose. First, get a bucket and wash the fire OR You could let it burn the cannon down. Remember, if a cannon is destroyed, one life is out!
Destroyed Cannon
BOOM!
WOOOHHOOOO! We are done! Next step coming right up!
---
Levels
Now, after you got the objectives of the game, you'll be be brought to the next level.
The First Level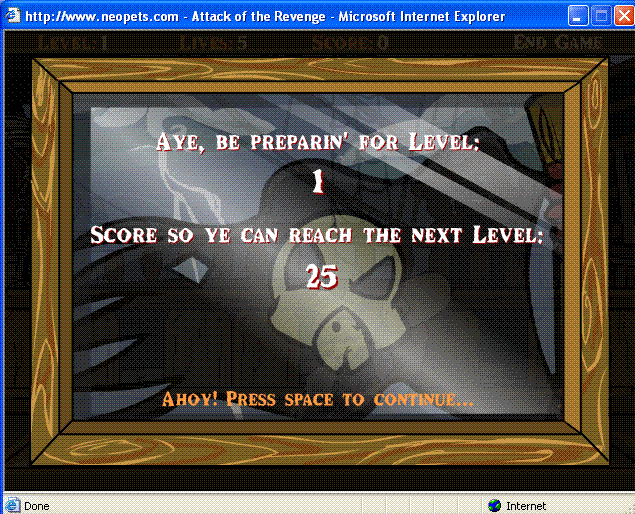 Easy, just kill them all until you reach your objective level.
The Second Level
Simple level, the cannonball and the bucket of water is added on the level. Use those weapons to get double damage.
The Third Level
In this level, cannons are added. So load them and kill them with either with the weapons or your swords.
The Fourth Level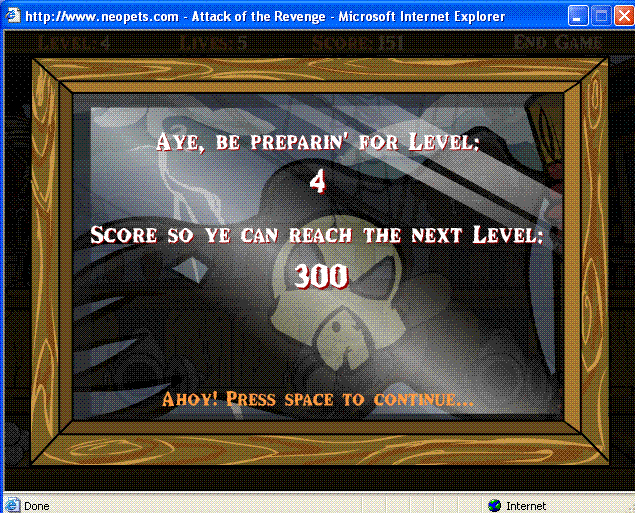 Now, the enemies respawn faster. Again, load the cannons and either use the weapons or your sword to kill the enemies.
The Fifth Level
The enemies respawn faster than Level 4, load the cannons and kill the enemies.
The Sixth Level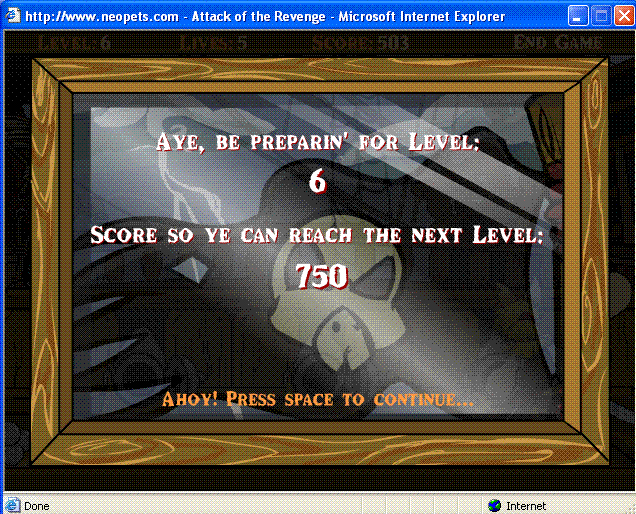 They respawn even more faster! Load the cannons first before killing them, but if they appear fast and you were not able to load the cannons, kill them, then just get the bucket of water and wash away the fire, IF you have time.
The Seventh Level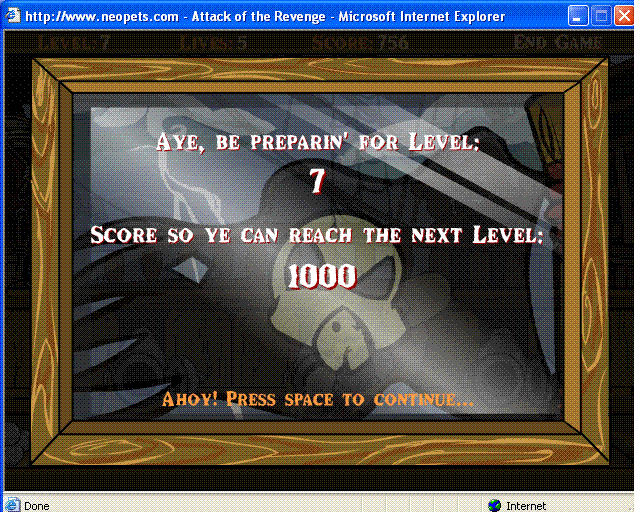 Now you feel nervous and you may keep trembling uncontrollably, before you press the SpaceBar button, calm down. They respawn quick, so kill them all, load the cannons, then kill them all.
The Eighth Level And Beyond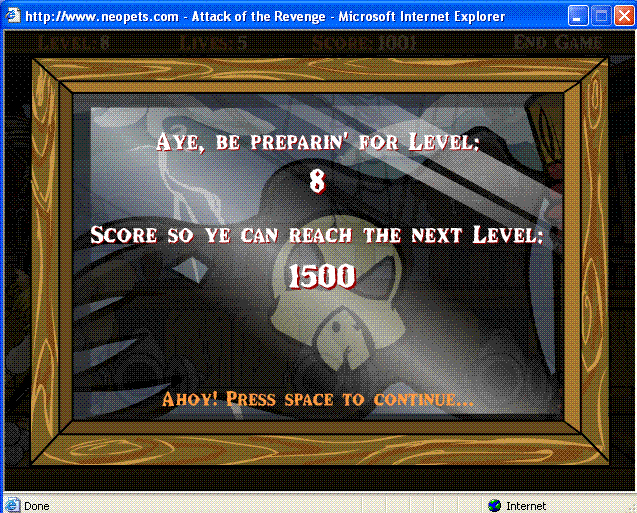 Now you sweat faster, your trembling, your nervous, your heart is pumping like never before. Before you press the button, be sure you don't have any work, no one will call your name, because there is no pausing in this game. If you are done, press the button and kill the enemies, load the cannons, then kill the enemies. If you are lucky to reach Level 10-11, Congrats on your new game trophy!!!
Now the Levels Section is done, 3 more to go!
---
Points
| | | |
| --- | --- | --- |
| Name | Normal Kill | With Weapon |
| Nathan | 2 | 4 |
| Fred | 2 | 4 |
| Swabby | 3 | 6 |
| Benny the Blade | 3 | 6 |
| Captain ScarBlade | 5 | 10 |
| The Phantom Orange Shirt Guy | 10 | 20 |
*Note that when the cannon fires the cannonball, it will gain you 12 points, when putting out the fire in a cannon will give you 5 points.
Since we are done with that, lets go to the Hints and Tips.
---
Hints and Tips
Clicking on the Eye of Benny the Blade's eye in the Main Menu will put out the The Phantom Orange Shirt Guy... Shown here:

When you finish the level, as quickly as possible, get a cannonball, when you are done with the level, you will have the cannonball in your hand, saving time.
Typing blackpawkeet in Level 3 and higher will give you an extra life! When you are in Level 3 type Blackpawkee, when you need the life, type t.
If you have hints and tips, neomail me!
Remember to mind your enemies first, your cannons second, and your life last.
If you keep doing this everday, you'll get 3,000 NeoPoints, and if it's the Featured Game, you'll get 6,000 np!!! Now if you play this for one month, if possible, you'll get around 90,000 Neopoints!!! If you'll play around one year, you'll get around 1,095,000 Neopoints, think about how many Mutant Transmogrification you can get with that!!!!
The last section left: FAQ!
---
Frequently Asked Questions
Q: Why isn't there a pause button? I died in Level 8 because I was called, some meeting, etc.
A: Don't ask this to me, ask this to TNT (TheNeopetsTeam)
Q: Cool pics, how did you get those kinds and what program did you use?
A: That's none of your business... get yer own...!
Q: YAY! I'm on the HiScores Top 30, but why don't I have my trophy in my UserLookup?
A: TNT is reviewing your scores and after one or two days, it'll be there OR you are not on the trophy section.
That's all now! Hope you like reading my Attack of the Revenge Game Guide!
---
Credits
Keit915, and Garmfay, for linking my Game Guide to his Petpage
Wasin123, for letting me remember about this game
Saruman_Orc, for telling me some codes that I forgot
And all of my fans, reading this Game Guide, THANKS!
I shouldn't have made this guide without you guys, once again, I say THANKS!!!
---
DO NOT COPY my images! It took me a long time to get those! All images are copyrighted. Any comments, please neomail me. Making a Logo, Icon, or Link for this Game Guide is highly appreciated!!!
---
Link to this Game Guide

Attack of the Revenge Game Guide by dterminator901
NEOPETS, characters, logos, names and all related indicia
are trademarks of Neopets, Inc., © 1999-2013.
® denotes Reg. US Pat. & TM Office. All rights reserved.
PRIVACY POLICY | Safety Tips | Contact Us | About Us | Press Kit
Use of this site signifies your acceptance of the Terms and Conditions