This is where you will find miscellaneous stories that I submit to the Neopian Times that aren't neccesarily part of an extended series. Usually they are little things that I wrote on a whim, and they vary greatly in tone and quality. Regardless, I hope you enjoy!
Small note, but the titles of incomplete stories are tenative and subject to change. So don't be surprised if you see that one of the listed titles is suddenly different. (Also the picture on this page is a bit old, I'll be replacing it pretty soon.)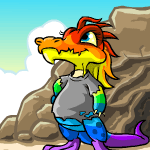 A short story about a rainbow krawk named Perry who has recently run away from home and is trying to survive as a street thief. He runs into trouble, however, when he trespasses on the territory of a local gang.
This story marked the first appearence of my magma kougra, Nylain, in the Neopian Times. He is slated to eventually get his own series, which won't consider Streetwise as canon. Still, it's fun to look back at this relatively simple story, and giggle at Perry's inexplicable girly eyelashes in the preview image.
Everyone knows the story of the Darkest Faerie, the Betrayer of Altador and the Sleeper in the Sea. Few, however, know the tale of the Grey Mage, a powerful sorceror said to have been the Betrayer's right hand...
Status:
Not Started
Roland the spotted lupe has dreams of being a detective when he gets older, in the hopes of using his sluething skills to find his long missing older brother Daniel. Most of his friend and family have given up hope of ever finding Daniel again, until Roland runs into a robot that bears an inexplicable resemblence to his brother...
Status:
Not Started
-Pending-
Status:
Not Started
-Pending-
Status:
Not Started