Welcome! This page has been brought to you by:
Cheshire-Cat Twins
---
*~*~*
---
Now, to occupy your time, here is A little comparison:
Weasley Twins:
Hitachiin Twins:
Fellow readers; Greetings and good morning! (-Slash afternoon, slash night, slash midday, slash 1-in-the-morning, slash whatever time of day it either is, or whatever time you WANT it to be-) My name is 'Koichiitachi' but some call me Koi, others have been known to call me 'Prince Falke' and 'Rylan', or perhaps you have heard of me by the name of 'Spirit_of_the_dragon' or 'twin'. Some have even been known to called me 'Crazy. But whatever you may know me by, you surely know me and therefore I pity you for being so cursed. Anywho, I have been watching the Weasley twins (lord help them if they get any cuter!) and I realized as I watched them that I had seen them before. Where you ask? Why, not in the real world if that is what you were thinking. No, I saw them in the world of 'Anime'. 'Anime' is a glorious and wonderful thing, and it feeds my hunger and soothes my need to view it, calming the hidden beast within. And yet, when we think about it, you never can think of it as real, nor can you know it as real...or CAN you?
Listen Carefully as I explain: The Weasley twins are also CARTOONS of the Anime genre. What? You don't believe me? I understand; after all, how on earth could real people possible become Anime-tions? Well, this my friend is simple:
***~ALIEN ABDUCTION~***
---
Don't believe me? WELL, that is what I am here to prove: That the Weasley Twins MIGHT have been abducted by aliens and therefore look and ACT exactly like the Hitachiin Twins from 'Ouran High School Host Club' because while being abducted they gained the power to be Anime-ma-tized.
You may be wondering why on earth I would be doing this, well, the simplest answer is because it is fun. I mean, COME ON, their likeness is almost scary! But besides that, the second main reason is: THEY LOOK ALIKE. It is that simple, right? WRONG. The Hitachiin twins and Weasley twins not only LOOK alike, but they ACT alike as well. They truly are their clone-copies in anime-form. Don't believe me? Well, if you would kindly scroll down the page, (BRIEFLY please, and kindly don't over do it. GEEZE!) You will learn the reason/s why I believe that they are secretly the same people, because they have been abdUCtED BY ALIeNs ANd ThEReFOre!!!!!- ...erm...carry on then.
(WARNING: spoiler at the end of the page, if you don't like it, DON'T GO TO THE VERY END) ~thanks
Kindly look below as I compare both sets of twins to the other:
Please Take notice of the similarities
---
*~*~*
---
Weasley Twins hair:
Hitachiin Twins hair:
You with me so far?
Ok, so they look alike, big whoop right? Ah, maybe, BUT, do they ACT alike?
---
*~*~*
---
Weasley twins acting goofy:
Hitachiin twins acting goofy: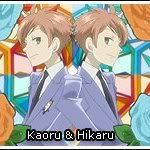 starting to get kind of creepy huh?
BIG PICTURE WEASLEYS:
BIG PICTURE HITACHIINS:
STILL NOT CONVINCED?!?!?! It's ALIEN'S I tells ya!!! *waves cane about*
---
*~*~*
---
Serious Weasley twins: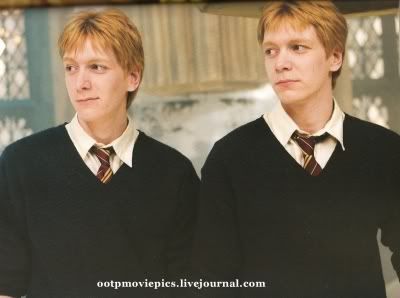 (Ok, so this is as close to serious as they could get)
Serious Hitachiin Twins:
(Notice how both sets of twin's hair parts the opposite way -for Fred and George, see below images to see greater 'partings')
---
*~*~*
---
Look, Weasley hair (short when younger):
look, Hitachiin hair (short when younger):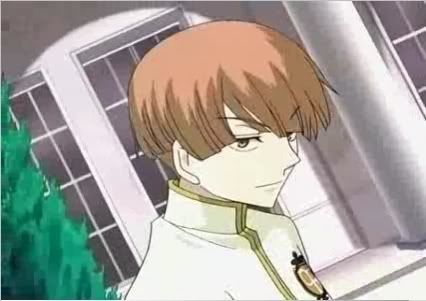 Fred Weasley:

Hikaru Hitachiin: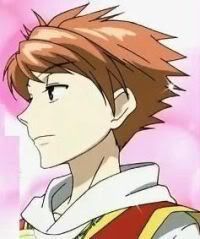 George Weasley:
Kaoru Hitachiin:
PERSONALITIES
---
*~*~*
---
Name: Fred Weasley
age: 20 (at death *SOBS!!!*)
gender: MALE
personality: Mischievous, cunning, brilliant, hysterical, funny, a bit on the rough side, and is willing to do pranks that could even harm others, for the fun of it.
star sign: Aries
status: older twin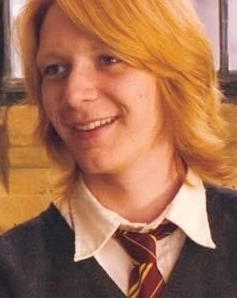 VS.
Name: Hikaru Hitachiin:
age: 16
gender: MALE
personality: stubborn, stubborn and a tad bit aggressive. he is mischievously and fun, though has a slight temper. he is meaner than Kaoru and shows it sometimes.
star sign: Gemini
status: older twin
---
*~*~*
---
Name: George Weasley
age:20+(for future years)
gender:MALE
personality: Quieter than Fred, more moral than his twin, fun and mischievous, cunning and loves a good prank/joke. He is a bit kinder than Fred and keeps his twin's pranks from getting out of hand.
star sign:Aries
status: Younger twin
VS.
Name: Kaoru Hitachiin
age:16
Gender:MALE
personality: Mischievous, fun, quieter, less aggressive and sweeter than Hikaru, he thinks deeply sometimes and LOVES tormenting his friends.
star sign: Gemini
status: younger twin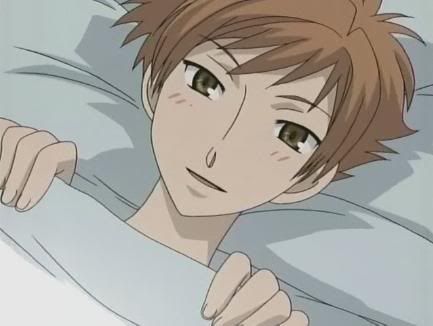 ---
*~*~*
---
Finally, to make all of your doubts leave you henceforth, THE WEASLEYS AS CARTOONS:
---
*~*~*
---
---
*~*~*
---
And just think, when the seventh movie comes out, you will see this scene with Fred and George...*sobs*
---
*~*~*
---
And lastly, Fred and George's (would-have-been-if-Fred-had-not-died)futures:
---
*~*~*
---
---
*~*~*
---
SOOOOO out of all of this, just WHAT have we accomplished you ask? why, ABSOLUTELY NOTHING!!!!! *Yay* *sparkles* Well, as much as I WANT it to be true that they were abducted by aliens, no way is that ever going to be. SO, unfortunately, as similar as they are, the weasley twins are NOT the Hitachin twins and will never be, nor have they ever been. *sigh* oh well, I guess my Fan-girl yet overly-active-imagination was in overdrive again...anywho, hope you enjoyed this...-would you call it interesting, or am I just kidding myself? -page and I DO hope you come again.
~Koi/Falke/Rylan/Crazy/Spirit/whatever-else-you-know-me-as
---
*~*~*
---
Before we go,
And part our ways,
There's one more thing, I ought to say:
Be kind and look
Below to see,
My tribute to Fred especially:
Please accompany me for a moment of silence as we recall the tragic death of marvelous Fred Weasley, whom should never have met the fate he did
(DAG GUMMIT, PERCY SHOULD'VE DIED!!!!!!!! *GRRRRRRR*)
and who was a great person, (even if fictional, but that DOESN'T MATTER!!!!) So please, bear with me and I hope that with all the useless krap you learned here today, that you take it and remember Fred for who he was: George's Twin; the best prankster ever (better than Peeves) and a true friend.
---
*~*~*
---
AND NOW FOR SOME OF MY ART
---
recognize him? yup! It's Kaoru!
Temari from naruto
this is my Darigan Faerie
Mitsukuni from Ouran High
my ice-wolf
the naruto team trio
Sora from the game: Kingdom Hearts
Riku, also from Kingdom Hearts
Kouichi Kimura from DIGIMON