I was born like any normal pup, in a den on a sunny morning out in a field. Once my mother, Toyabe, gave birth to Fendreon and I, my mother and father were over joyed...Xikeon, my father, always wanted the best for me. But I could never keep out of trouble. Everyone began to call me trouble maker when I was little. Even my own sister began to dislike me. But then, that day...-shudders- Fen and I were playing out in the field, and of course, we wandered off to far and of course we got into trouble. Wait, she didn't I did. MY father always predicted that I cause the trouble. So, we had a long talk out on the entrance of the den. "Sci," he paused. "It is hard to believe, but, I was a trouble maker when I was your age." he stopped, and I thought. 'Ya right, he's just trying to make me feel worse.' Of course I was young then, and after dark, I ran away. I though that maybe if the trouble was me, then get out of that dump. SO I wandered and wandered until I came upon a swamp. It was an enchanted swamp, ones with traps and cages everywhere. I heard the 'men' were the ones that put these up. If you got caughtin one, they would eat you, or torture you. As I wandered about the camp site, the trouble maker that I am, tripped on a button. It launched arrows everywhere. I ducked and tried to get out of harms way. I screamed and yelped but it was soo isolated that no one could hear me, or could they?
Of course they could, or HE anyways. My father knew I snook out. He sat in the front of the den, looking down into the swamp, watching me getting tortured. I thought he would never come help me. "Father! HELP!" I screamed. HE finally snapped to his senses and came to hlep. He ran through the thick brush and finally came to the battle I was trying to fight. He plugged up all of the holes that the arrows were coming out of, but missed one. HE though he got them all, but hen he came over to talk to me AGAIN he got shot. I stood over his motionless body and poked him. "Dad?" I asked in my puppy voice, I began to cry, lying over his body in peril.
Still in the den, my sister awoke, hearing the rustle in the jungle down below the den. She decided to be curious and wander down there. She found me lying over father's body. "What happened?" she asked. I was in to much confusion at that moment to think of anything to say. "Come on," she pulled my paw, "We have to get help."
Mean while, my mother heard Fen get out of her den, she became worried not seeing anyone. She ALSO traveled into the jungle, finding dad quickly, smelling the scent of blood. She hovered over him lifting his head to try and make him speak to her, "Xikeon! Are you alright?" he studdered, making his head shake. "Toyabe, the kids....they..went...to get help." he said in a mumbled voice. Toyabe gasped and lyed over his mangled body, waiting for a miracle for er children to save the life of another..
Fen made me follow her into a small town....we rushed into one of the shops and found a Kougress there. "May I help you?" she asked...but I just blurted out..."MY FATHER IS DYING!" I was out of control. While my sister tried to calm me down, she tried to say calmly, "Do you have a remedy for arrow shooting?" she asked. The Kougress quickly grabbed a jar of herbs and followed our tracks to find my father. Once she got there, my dad's life was fading. She hovered the herbs above the wound, then gently dropped in the remedy. In 5 minutes, his eyes lit back up. "W..Wha?" he asked. We all made a sigh of relief...I turned back to the shopkeeper, but, she vanished. I though of that to be strange. We were glad dad was alright...but I knew that I was in for it. During that whole ordeal of thank goodness and yay, I ran off once more, but towards the den. I grabbed supplies and the blue orb that my father used to foresee the right path. The light little ball glowed around in my paws, I grabbed a golden thread and tied it around my neck. I also grabbed the feather that my father broke while meeting Toyabe. I strapped it to a little bracelet that I carried around with me. I smirked down to the jungle and said these words, "If you think I can become a trouble maker, watch me become a demon." I figured out fom there, that I was never meant for lgith and goodness. Besides, I feel good when I get into troulbe, or make trouble. I vowed right there that I would never want anyone's help again, NEVER..
From there I ran off, ran off into the blizzards, deserts, mountains, and plains. I never stopped running. I then began to think of a future....I kept running ever since. I am a traveler, not bound to any land or area. I'm Sciai, the lone wolf.
~:.Companions.:~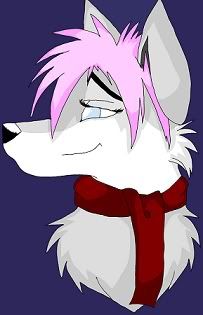 Asavina, she was always sweet to me. I met her a long while back when I was running away from my family. She has spread her feelings for me, but, I don;t think I feel the same way back. She has gone through all of these obstacles just to win my heart, well, I just don't think she is the one for me anymore. I am too much of a troulbe-maker for her anyways. Vina, sorry, but I am after all, a lone wolf. She has been my longest known friend at the moment, and I will still love her forever, as a friend.
Ashly, she is a very nice and sweet fea. She has been gone for a very long time, and I haven't seen her in ages. I hope one day she will return to me once more. She has a very beautiful personality, always wanting to get into an adventure. She will always be one of my best friends, I will stick by her, through thick and thin. I love going on adventures with her. We were trying to find a wonderland so where could stay together, but, since she left, I don't know what to do anymore. I long to see your face just once again.
~:.Feelings.:~
Hmph, I know a girl who loved me. It sounded nice at the time, but now, I, I don't think anyone LIKE ME could ever fall in love. Love is just a waist of energy, chasing after people...-pause- I just don't have love, okay?
~:.Leave.:~
As he finishes his long story, you look up to the dark, cloudy sky. "Sounds like a hard life you got..." you reply. HE lookes up with you, "You know it..." he sighed, seeming to calm down that a human was still in his presence. But then, he soon feels the urge to continue his chanting, "You...must..go.." he mumbled...You ask, "Huh?" He answeres, "GO!" he yelled. You quickly scramble to your feet and run off. He chuckles to himself while you run in fear, "My life is worth it.." he finishes.
~:.Adoptees.:~
Okay, there are adoptables, Fwee! O.o Ahem, excuse me. Alright, I know they are cute but you must follow these rules
│ No entering in Beauty Contests (They probably wouldn't win anyway)
│ Do not take off the link.
│ And please enjoy them, do not claim them as yours....
│ Do not request one if there are more than 3 people on the waiting list.
Kay! Have fun!
~List~
1. Courtney
2. OPEN!
3. OPEN!