Welcome to Morale's Website
Welcome to the Morale webbie, I'm Mace the guild leader and I'm here to show you around the place so you get a feel for the guild. So you're probably here to get a sense of what this guild is about and I've tried to make this easy for you with a name that represents what we stand for.
Morale n. "The capacity of a group of people to pull together persistently and consistently in pursuit of a common purpose"- Alexander H. Leighton

Thus our guild is about experienced members of Neopia pulling together with the common purpose to create a unique community, this is why you will see us labelled as a community based guild. We incorporate account improvement as well as many other Neopet's related aspects within a mature and literate haven for the adult neopian. We encourage improving, learning, sharing and helping out other guild members as well as people who might have just started Neopets, and this is encouraged through the activities that will be available for members to participate in. So if you like what you hear, please click on the Apply link above and see if you fit our requirements.

Now that you're in
To Do List
Make your first post in the guild!
Read through the majority of the guild website so you know what is available to you.
Neomail Mace so that she can add you to the member directory! You can find all the questions you need to answer on the directory page itself.
Add your birthday to the calendar so we can help you celebrate it!
Neofriend Mace so that you can get in on the 1NP auctions!
Have fun!
If you have been following closely you must be thinking what else is left to know? I've introduced myself, sent in my directory, put up my birthday, and read all the rules. You need to remember that we all need to help this guild grow. Being active and recruiting new members is an important part to helping Morale get on it's feet, we all know it's a great guild why don't you go out and tell the rest of Neopia?
Ranking Up
To move from one rank to the next you must complete any of the criteria posted beside the rank you are aiming for. Most of which you can get simply by participating in the guild alone but as you move farther up the scale the requirements increase.
We are currently deciding on the names of our ranks so please be patient as we make our decision!
Welcome to Morale!
Welcome to Morale! We are so thrilled that you decided to join us and become a part of our family. The following are some of our basic rules and guidelines please follow these as well as the rules set by TNT.
Be active! Just pop in every day or two and say hello. If you're gone for more than 3 weeks you will receive a neomail from Mace, if no response after a week and no further posts on the guild board you will be removed from the guild. But don't worry, you are more than welcome to join back once you are able to be active again.
Try and be literate. We are a literate guild so please try and avoid most chat speak.
No guild drama. The usual no bullying, swearing, black-mailing, scamming, teasing etc. We want this guild to be enjoyable for everyone please
No spamming (neomails). This mainly applies when applying for a pet or applying for avatar lending. By this we mean mail the person once, getting to the point in your message. No one wants a full inbox.
No spamming (guild boards). Please don't post guild messages over and over again talking to yourself. We would prefer if you have no more than three messages in a row on the guild boards. Of course, we are lenient with this as we understand some have very glitchy computers. But try your best.
No unnecessary posts. This comes under the same circumstances as the rules above. Please no single word posts, try and answer in full sentences.

First things first, you will want to post a message on the guild board to introduce yourself to the other members. Don't worry we were all new at one point or another, so just dive right in and join the conversation! After that you can head back here to see what else there is to do around here!
Get more involved
Below are some of the ways you as a member can help the guild out by getting more involved in what we do. If you are interested in applying for any of these please follow the correct instructions and
neomail
Mace. Please title all neomails with the appropriate name, for example if you are applying for a council position title the neomail
Council Application.
Council Positions
All council members are chosen by the owner herself, to apply for one please fill out the following form before sending it to Mace via neomail. Understand that if your application is rejected it is not a reflection on you as a person, you just might not fit the qualifications we are searching for.
What position are you applying for? (Council Member, Activities Director, etc.)
What do you have to offer the position/guild? (ie do you have any special talents?)
How long have you been in the guild?
How active are you?
Avatar Host
This job will hopefully attract someone who has a very high avatar count. The person will not only be responsible for running the avatar lending board but should be eager to share their knowledge. Maybe run an 'avatar of the week/month' activity to share how they got that trick avatar, guides people could use or any other avatar themed activities.
OPEN:
Now!
Activities Director
Seeking creative people who are interested in running short or long term activities for the guild. Can you get the guild involved in one of your creations?
OPEN:
Now!
Pound Operator
This person must be active, and willing to keep the guild 'pound' updated regularly. People can send in their UFA (or later on UFT) pets for other members of the guild to check out.
OPEN:
Now!
Recruiting Committee
These people will shortly be released onto the neopets world! We are looking for a few creative, people friendly members to help spread the word of the guild. You must be super active and not only work on getting members in, but on creative ways to keep recruitment boards active.
OPEN:
Soon!
Graphics Committee
These people will working with Angel to help complete any graphics required for the guild. This could include new layouts, guild pages, guild banners/blinkies and anything graphics related.
OPEN:
Now!
Newspaper Staff
Seeking interest in those creative people looking to begin the guild newspaper.
OPEN:
Seeking interested members!
Member Rank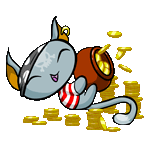 Below are the Morale ranks and how you are able to work your way up. If you have any questions or feel you're ready to rank up please neomail Mace and she will help you out.
Green: You have just joined the ranks of Morale. You're fresh, new and excited to be here to head on down to the message board to introduce yourself to the rest of the guild. You will need 100 posts and 170 avatars to move up to the next rank.

Dedicated Civilian: You know most people now and you're becoming a part of the Morale community. Show your dedication by completing 3 activities, hosting or running something and posting 250 posts.

Courageous Soldier: Morale is your home and it's members are you're Neopia community. Show how you're ready to support Morale by recruiting 5 members, creating a page on something you're knowledgable about and posting 600 posts.

Knight of the Realm: You're one of Morale's most senior members, with knowledge, values and a generous spirit. This is the highest rank a member can reach without being within the sub-council.

Sub-Council: The sub-council is for members who have reached the rank of Knight of the Realm and wish to contribute more to the guild. If you want to know more about how to apply for this Rank please neomail Mace with your interest.