Before starting the game:
what is it about?
You have to wander over the field with the little girl-usul and visit all of the rooms to find the hidden items there.
You can choose if you want to go 1, 2 or 3 fields.
Within the easy-mode, that is equivalent to 4-, 5- and 6-letter words
Within the hard-mode, that is equivalent to 5-, 6- and 7-letter words.
To exceed a field, you'll have to solve the anagramms.
What? You do not know what an anagramm is?
That's easy: an anagramm is a 'scrambled word'.
A word, that is shaken completely and therefore not recognisable.
Simple example: 'ionpst' will be re-scrambled to 'points'.
Got it? Fine.
The playing field: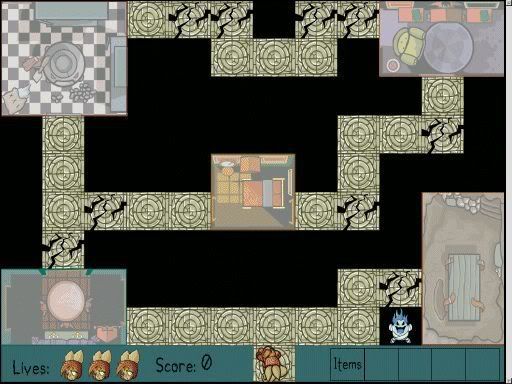 On the left bottom you can see the little heads of the usul, that shows, how much lives you still have.
Next to the heads: the score (your aim for the ava: 1200•)
In one edge, you can also see these pictures:

- if you choose this one, the sound will be on

- if you choose that one, the sound will be off
On the right side, you can see all items you've already collected.
(it is not really important which ones these are)
All the rest of the field is the card of the castle.
When you wander there around, a square pops up,
where the anagramm you'll have to solve is shown.
Here is an anagram for you, pathetic mortal
Your Guess:
Type your answer there in that line and press Enter.
You also can use the button "letter hint", by clicking it you will be shown the first letter of the answer.
________________________________________