This is a test marquee! But this is going to be a little update ticker, I suppose.
I forbid my tongue to spill what now I conceal from those two who filled my life with hurt...

Opinions and thoughts don't mean much,
when you're trapped inside your parents' clutch,
The only option? Escape of course,
No longer living out of force.
I bid you both a silent farewell,
And hide secrets I don't dare tell.

With no love,
Your darling daughter~

I am no longer yours, you can't tell me what to do.
[ Just a second ]
Sae is Egyptian, so imagine an Arabian accent through this - often placing stress incorrectly on a syllable.


Alright, here is your food. I hope you enjoy it - if you need further assistance or a simple new refreshment, I'll come right back. (5 minutes later) What you already need m-- I mean.. sure I'll get you a refill on that right away, be right back. Okay, here's your drink and I hop-- what? You.. you found what in your food? A hair? Certainly not mine, I'm no cook, and hey no need to insult me! Well look, being a waitress is no easy task, y'know. It requires skill, balance, speed, and everything else. Now I don't need someone like you critiquing me and insulting my speed, I'm faster than many! So if you'd like to quit complaining, you best do it now. I just.. I didn't mean it like that. Well what I meant was, uh, I'd rather not be.. degraded and such by my customers. And I can leave that up to my boss, that greasy, chubby man over there. Yeah, he does the judging fine around this place. (Sarcastic) Nicest guy. You just can't get enough of his pleasant attitude and hilarious jokes. Don't mind me, I practically live in this little cafe. - I don't want to talk about it. I don't want to tell you how I wound up here or why I do not look for another job, because you could be here for hours while I explain it. Anyways, just don't tell anyone about this, you're the second person I've done this to - it's on accident I just, .. you know. Anyways, we'll get you a new plate. Sit tight.



[ My Background ]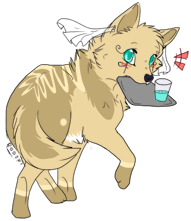 Alright, I got you a new plate, and you will get a discount for that hair, no worries so you can -- what? You do want to here how I wound up here? That's a little.. strange. I am not sure why you would want to know, I am just serving you your food. Hey, I am my own person, I don't need to tell you anything, I mean not that it would make a difference since.. it's not like anyone would find out, but still, that is a little.. well.. bizarre I have to say. What? Alright alright fine, it is just going to be awkward for me, that is all. I must admit, it is kind of odd telling strangers about your personal life I mean.. I don't know. Alright, well.. I guess if you insist, but it's sort of long. Just explains a few things about why I'm so hasty in what I do, and why stress gets a hold of me.

It started back when I was 6, living in Cairo, Egypt, if you could not tell from the speech and accent.. My parents were very controlling, though to an abnormal extent, where it was just inhumane and cruel to a child of my age. And it was ever since my Nanna had gotten me my necklace.. my father thought I was a disgrace for some reason. And the two began to just aggravate me. How could they not? Anyways, at 16, my father made a very bold decision, one without my consent at all, and it could have been how I spent the rest of my life - now I will not go into details about what had happened exactly, but I'll just give you that it was an extremely large decision he was making. And with that, I was forced to agree while my mother watched from the shadows, like a coward she was. Last minute, I denied him, refused everything, sending him into a spiraling verbal rage. And to escape him, I couldn't have just left the city, no. I wanted to leave Egypt all together - and what better place than the states to get that liberty and freedom? My only issue was paying.. and with that, I had a few valuables.. that I can say weren't exactly mine as well as a wallet that I did not possess either. But.. with those necessities I got a key to America - this little town of Boise, anywho.

You see, I spoke English, but with a much heavier accent than I have now, but I could read it well enough to get by and understand it. There was no way for me to communicate back to others clearly though, besides writing. I love - Boise's a beautiful place. And so, on my stroll away from my apartment, I found this same little restaurant, with a big bold sign that read Applications Open and I immediately thought - oh neat, a job! Maybe I can get somewhere. And I walk in, and they are speaking Arabic! Did I think this was my job, destiny had it all set out for me. This is where my life would make that one drastic change that you could never forget. Yet.. I was wrong. I still live in that apartment. I still haven't gotten anywhere. And the manager.. I can not even get started. Training was just absolute torture, getting the meal from when it's cooked to the customer in below a minute and a half, and ugh if you messed up once you'd get spit in your face from that loudmouth's yelling. (whispering to self) Nothing much to expect from a slump, I suppose.

Well, I got that job at seventeen and I'm still here at twenty-one. Now if that is not pathetic, I'm not sure what pathetic is, and -- what's that? Something off the dessert menu? Were you even listening to me? You wanted to know so bad and I -- alright alright. I'll go get it. (returns after 8 minutes) So anyways, that's how I wound up here, serving food. And being so stressed, let's not forget. It' is terribly pressuring here, so next time your service isn't fast enough, don't complain. Be thankful you're getting your food at all, some others aren't as fortunate.. and do not get second chances.
[ Identity ]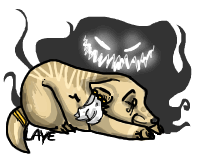 [Name]: Saenire

[Alias]: Sae

[Gender]: Female

[Age]: Twenty-Five

[Personality]: Sassy

[Occupation]: Waitress



[Height]: 5 foot 6 in.

[Weight]:112 lbs.

[Likes]: Company, walking, clothes

[Dislikes]: Solitude, Working, Home

[Color]: Light tan

[Features]:Adorns veils on her ears


[ The Cafe ]
Oh, that is right! The cafe itself. Well, it's an interesting place, and I can say I have made a few acquaintances with a little of the staff here, besides the cook and the manager that is. The manager's just always on me about something, yelling at me or complaining that I didn't do something correct. But the other waitors and waitresses are sort of fun to be around, actually. They'll agree with me too about those two other guys. Just not so pleasant to be around, I suppose. Now the physical appearance of this place, I must admit, is pretty nice. I mean, you have Arabian designs hung here and there, and you get seated at some fairly nice tables. But I have to admit, those little camel paintings have to be my favorite thing in here. The exterior design is run down, and the sign tends to blink occasionally, but it is nothing mm.. how do you say..unattractive. Hm.. the food is decent as well, but I may think that only because I've tasted original Arabian cuisine. Though I must say, I find a little of the stuff to taste like it just came out of Egypt! And well.. of course I must admit there's a bit that.. doesn't quite make the cut.

Well, I would still totally recommend checking the menu out, we do have a large variety of stuff to eat. And the dessert menu is delicious, not quite Arabian, but really good. So all in all, you could say the restaurant or cafe or.. whatever you want to call it in particular is pretty good. It's just that.. the guy who runs it isn't. And it's funny, you may hear us babbling in Arabic in the back, which makes it feel a bit like home. I know of one other Egyptian worker here, and then a few other Arabians from other parts. It in a way is like my home, though.. not exactly loving and tender. It's just somewhere where I can get away, speak my native language and talk to others. While I don't necessarily like working, I cannot complain too much, I mean.. look now, at least I have a job.
[ Boise ]
Well, if I have to be completely honest, I wouldn't quite consider Boise as my home, but it definitely holds a place in my heart. You see, I know I am not living in some fancy place, or working in some great, five-star restaurant, but opposed to all of that, walking around the city is nice, especially at dusk when the sky is a rich red, with those silhouettes of the mountains. And during the day, it's a bright green, like a shiny new emerald just waiting to be further polished. And during the winter, the snow falls so gently, like delicate butterflies silently dropping with ease. I also met someone very special here, a friend of mine who's name is Rylexio. But.. you could call him Rylex or Ry. Sweet boy. It's funny, because when I first met him, his guitar was in his hands, left hand busy fretting the chords and right hand creating even more of the magic. And might I include he was far from bad at singing. In fact.. he was fairly good in my opinion. And the case at his feet, open.. begging and pleading for cash and coins, though.. more of cash. I would have dropped something in there.. that is if I had anything. And I wanted to say something to him, but my Arabic clouded my head and my English blanked, and there I was gaping at him trying to speak. He was on a bench singing a song by the Red Hot Chili Peppers, and it was a song I'd heard .. before. It rose a little.. hope in me at first, but I couldn't help but disagree as the lyrics flowed through my ears.

I know, I know for sure, That life is beautiful around the world. I know I know it's you You say, "Hello" and then I say, "I do"

And when the shroud of my first language slowly vanished, I stood there, that solemn tone, almost. I simply said that it was not true, and he just smirked and paused with his guitar still at hand. I must say, life.. it's interesting, but it's definitely better in this city than it was in Egypt. Though part of me will always miss my homeland, I know I should never return. Even though I'm practically homeless, life has still turned out better, I do have a few friends and acquaintances, and I sometimes go out with them - I'm not a complete introvert, and I believe Boise has shaped a bit of that in me. And life is rough, I don't expect anything from the world, and I've understood it's going to be a bumpy ride from here, but I'm hoping a few things will stabilize and I'll be able to get another job soon, since.. well.. I speak fluent English now. And I'm maybe thinking about going to college, or just.. community college at least to go on my resume - something small that shows I'm educated so I can go get clothes and a house or something stupid like that.

I think I'll be out of my current state. Boise seems to be promising, and it's a very special place to me. I hope.. that when things do start to unfold themselves, that I'll be able to have a place I call home.

[ Like Turqoise ]

Firstly, I would enjoy to start off with mentioning my great Nanna, who passed away when I was seven. I was very sad for a long while, and I was not quite sure what to do, since she was the only family that ever seemed to care a lot about me. But the amulet, it is darling to me, and I will treasure it for as long as I live - pure turquoise, it is uncut and it is natural despite the little cleaning it has had done to it. It is truly a jewel, though not a perfect gleam is found in its eye - it is dull, smooth and perfect. Why do I appreciate this so much? Well, it was a birthday gift from my Nanna given to me on my 5th birthday, and she told me to treat it with such care that I never dare let it fall into other hands, and I refuse anyone who tries to even handle it, only because I vowed to keep my Nanna's promise. Hmm, turquoise and aquamarine are typically my favorite stones, as teal and light blues are my favorite colors. It is attached to a very small thread, concealed by glittering silver beads, and jade - and from my understanding it was made painstakingly with precision and accuracy.

Now I have quite a bit of jewelry, though it is not all expensive, and neither was this.. for me anyways. At five years old, I got this thinking it was some funny old necklace to toy around with, and as years passed, I realized that she gifted me with it for a reason, a reminder of her so she was always with me. She was quite old, and I expected what would happen, so it was nice to always have a bit of her with me. She was truly my best piece of family, and I will admit.. I miss her a lot. She was a fabulous person, with her old Egyptian folk tales, myths of the stars at night and just.. everything. When I discovered a slight crack in it at fifteen, I began to bawl, my eyes red and bloodshot from sobbing so much - it wasn't as valuable, she must have been disappointed I thought. But.. I think it indicates that even through rough times I gotta keep some faith, you know? And.. I am just hoping that's what's happening right now, just a ravine I have to dig my way out of, and I think I am starting to find the rocks to cling onto.
Adoptables



Rules of use

:
No replacing/editing/removing credit


No entering into the Beauty Contest


Do not edit them in any way


Only use the one(s) I have made for you
You must link back to this page
You may not redistribute or claim them as your own
Eliato




Saenire




Kouzain

Ronehl




Thisk




Naysari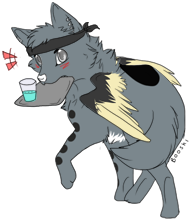 [ Just my Reflection ]
Art for Me
None yet, but maybe you could draw a little something for me out of the kindness of your heart? THE KINDNESS OF YOUR HEART.
Leaving So Soon
I do hope my speech did not bore you and that I was clear in my talking. Before you go, you may want to make people aware before they complain. Just take this little badge.

Others with Stories
In fact, I am not the only one with the story of telling.




Art and Layout (c) Booski ; Lupe (c) Neopets ; All images (c) Respected Owners